JPMorgan analyst Sandeep Deshpande's upgrade of Alcatel-Lucent (ALU) from Neutral to Overweight boosted the stock by almost 4% on July 2. Deshpande explained that his new bullish sentiment on Alcatel-Lucent is because of the company's quicker-than-expected turnaround.
Deshpande pointed out that Alcatel-Lucent is rapidly approaching its cost-reduction target. The company's restructuring plan announced last June 2013 included the provision to reduce fixed costs by €1 billion ($1.36 billion) over 2013-2015. However, Alcatel-Lucent already posted a fixed cost reduction of €335 million ($456.77 million) in 2013. The company also achieved additional fixed cost reduction of €143 million ($194.4 million) by the end of 1Q14.The cumulative reduction by end of 1Q14 is $651.17 million.
Alcatel has already delivered 50% of its $1.36 billion fixed cost reduction target of 2015 in just five quarters.
Deshpande also noted that Alcatel Lucent's accelerated fixed cost reduction efforts has helped reduce 1Q14's operating expenses by 12% from 1Q2013. Furthermore, he justified the -17% YTD drop in ALU's stock price as due to profit taking, not because of a slowed down recovery.
Upside Potential to $5.98
Deshpande maintained his price target of €3.30 ($4.49) but he said ALU has the potential upside to €4.40 ($5.98). He explained that Alcatel Lucent's strong Edge router business (12.5% CAGR over the last 10 years) has made the company the #2 player in routers.
His bet is higher than BMO Capital's $5.50 price target. Deshpande explained that his $5.98 bet is strongly feasible if management can deliver a 12.5% margin and €7 billion ($9.52 billion) for its Core router business.
On the other hand, he also called for Alcatel-Lucent to sell its Wireless equipment business. His reason is that ALU is better off focusing on Core routing business because the company's LTE business is only strong in China and U.S.A.
No to Selling Wireless
I support the bullish call of Deshpande. His original PT of $4.49 is close to my $4.50 price target. However, I strongly disagree with his call for Alcatel-Lucent to sell its Wireless division. I believe that Alcatel Lucent's 4G LTE is not only confined to China and the USA.
Alcatel-Lucent has contracts to deploy 4G solutions in 40 countries. I am also convinced that Wireless sales will outpace the Core router business of the company. The rapid rise of 4G subscribers for the next 6 years is a bonanza for ALU's LTE products. Statista is predicting that the world will have more than 1.8 billion 4G subscribers by 2020.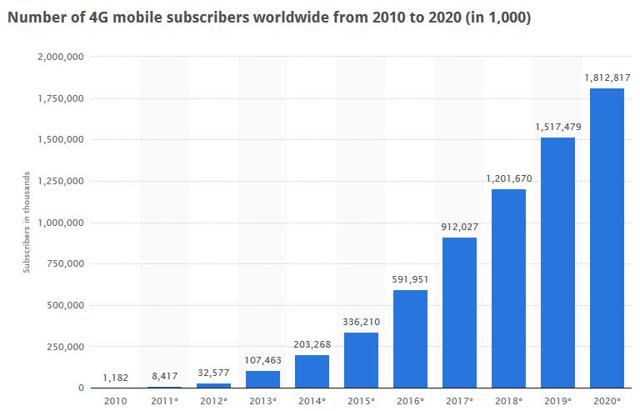 Source: statista.com
Selling the Wireless division will deprive Alcatel-Lucent of a solid growth catalyst. Deshpande forgot that Software Defined Networking (SDN) already poses a strong threat to the future sales of expensive hardware routers.
His recommendation of relying on Core routing business might be dangerous to Alcatel Lucent's long-term outlook.
Alcatel-Lucent already has Nuage Networks to offer SDN solutions. However, the 4G LTE rollout business is far more lucrative than the projected $35 Billion SDN market.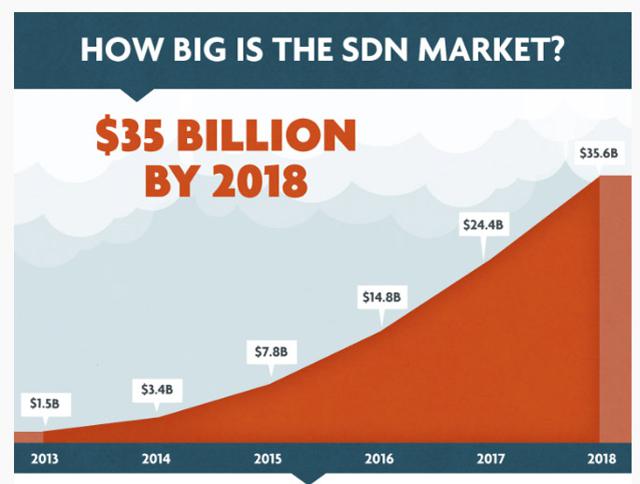 Source: SDN Central
Research and Markets is predicting that the projected CAGR for global LTE from 2013 to 2020 will be 58.2%. The LTE market can grow as high as $997 billion by 2020. Selling the 4G/LTE assets now will prevent Alcatel-Lucent from profiting from this massive growth industry.
Conclusion
The thumbs-up from JPMorgan should convince more investors to add ALU to their long-term portfolio. The company is recovering much faster than expected. The $4.49 price target of Deshpande is lower than the average price target of Finviz s $4.90, so it is more achievable.
Unlike Cisco (NASDAQ:CSCO), Alcatel-Lucent is not a pariah in China. Alcatel-Lucent has a favored status in that country - which should help the company win more LTE contracts in the future. China's five-year plan for its telecommunications sector includes investing more than $323 billion in infrastructure upgrade by 2015.
Alcatel Lucent's hardware routers will probably replace Cisco's routers and switches because Chinese firms intensely dislike NSA's alleged spying activities. It is to the great advantage of Alcatel-Lucent that Cisco still suffers from bad propaganda about its routers allegedly being modified by the NSA for spying purposes.
I am one-eight Chinese by blood. I worked for a Filipino-Chinese boss for more than 10 years. In my experience, Chinese customers carry grudges forever. I do not expect Cisco routers to ever win back the trust of Chinese clients in this lifetime.
Lastly, the euphoria over JPMorgan's positive assessment of Alcatel Lucent's future prospect should continue next week. Macroaxis' Naïve Prediction forecast engine is very bullish on ALU. It is guesstimating that ALU can hit $3.97 in the next eight trading days.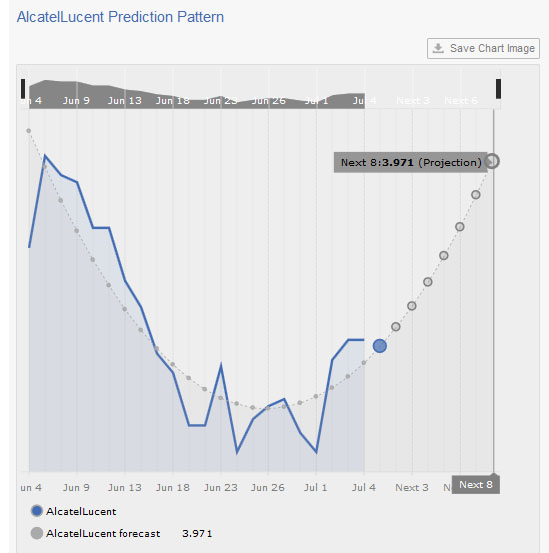 Source: macroaxis.com
Disclosure: The author is long ALU. The author wrote this article themselves, and it expresses their own opinions. The author is not receiving compensation for it (other than from Seeking Alpha). The author has no business relationship with any company whose stock is mentioned in this article.