The Singing Machine Company (ticker: SMD) which develops, distributes, markets, and sells consumer karaoke audio equipment, accessories, and musical recordings reported Q4 2005 results on June 30th. Here are key quotes from Interim CEO Y P Chan on management's earnings results conference call:

On reports of labor, water and power issues in Shenzhen (China)
....with the increased trade with China, especially in the consumer electronic business, China experienced significant shortage of labor, electricity, and water last year, and this year the situation is a little bit better because, I think, for some of the factories we use especially, one section we use they have their own power generator on site. And also to help with the situation one of the our major suppliers in the beginning of the year that we do the season, the season normally for consumer electronic generally be June, they were able to get some substantial business with one of their customers. They were able to keep their operation running. That means they were able to bring up their labor, labor force and in the slow season retain them during the peak season, and this will help to....resolve the issue in China.


....consumer electronics is a highly seasonal business, that production season started now until the end of September and October. There's no guarantee that they will get what they need in the short period of time, but so far based on our production capacity and based on our forecasts, we were able to meet the demand for now.

(Quotes are from the CCBN StreetEvents transcript.)
SMD chart.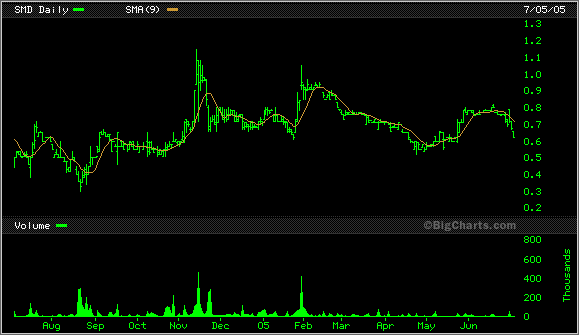 Not subscribed to The China Stock Blog? You can get updated headlines for free by adding The China Stock Blog to your My Yahoo page. Just log into your My Yahoo
page, then go to The China Stock Blog and click on the "+ My Yahoo"
button on the top right of your screen. You can do the same for other sites, such as The Internet Stock Blog, ETF Investor, and Sound Money Tips.
Traveling to Beijing, China? Read the Radical Travel Guide to Beijing, China here.