It was recently noted that the 10-year Treasury yield had stood at about 2.50% just last week, but since then has risen right near the 2.70% mark and following the strong jobs report on July 3 in which unemployment reached 6.1%, a number of well-known Mortgage REITs have demonstrated fairly bearish behavior. With that said, and in the wake of its recent downtrend, I wanted to highlight several reasons why I've actually chosen to stay bullish on shares of Annaly Capital (NYSE:NLY).
Recent Trend Behavior
On Thursday, shares of NLY, which currently possess a market cap of $10.48 billion, a forward P/E ratio of 9.67, and a dividend yield of 10.85% (1.20), settled at a price of $11.06/share. Based on a closing price of $11.06/share, shares of NLY are trading 2.30% below their 20-day simple moving average, 2.35% below their 50-day simple moving average, and 5.11% above their 200-day simple moving average.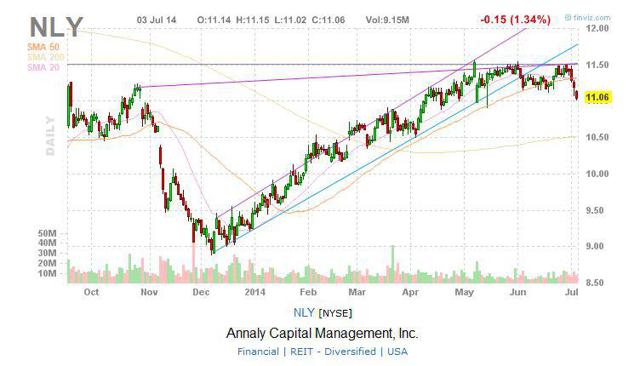 Although shares of Annaly Capital have demonstrated downtrends of 2.30% in the near-term and 2.35% in the near-to-mid-term I actually think there's somewhat of a buying opportunity based on where I estimate both the jobs number and 10-year Treasury yield to be by December 31, 2014. I strongly believe that if the 10-year Treasury yield were to fall back below the 2.50% level and the unemployment rate were to rise to a level of at least 6.3% there's a very good chance the recent downtrend in shares of NLY could see a turnaround.
A Few Thoughts On NLY's Dividend Sustainability
If the company can continue to maintain or even slightly reduce its current leverage levels (which currently stands at around 5.2x) and become less exposed to rates there's a very good chance the company's current quarterly payout of $0.30 can be maintained as has been the case over the last three quarters.
If the yield curve increases over the next 6-12 months the company would have the ability to buy higher yielding bonds and could see its leverage ratio rise to somewhere between 5.7x and 6.0x which could very well support a quarterly payout of $0.33 to $0.36 share. It should be noted that NLY's most recent dividend payout of $0.30/share was the first time since 2002 that the company paid the same exact distribution in three consecutive quarters.
Upcoming Earnings Outlook
When it comes to the company's upcoming earnings, there are a number of things potential investors should consider. For example, analysts are currently calling for NLY to earn $0.27/share in terms of EPS for its Q2 earnings that are due out on August 4 (which is $0.04/share higher than what the company had reported during Q1 2014, and $0.20/share lower than the company had reported during the year-ago period).
In order to meet and/or exceed its quarterly EPS estimates, I'd like to see an increase in the company's core earnings (I'm looking for at least a 3% increase from the previous quarter and a suggested range of at least $246 million-to-$250 million), a slight decrease in the company's book value (I'm looking for at least a 1% change from the previous quarter's book value of $12.30/share and for the latest book value to fall into a suggested range of at least $12.06/share-to-$12.18/share), an annualized core return on average equity of at least 7.75%, an annualized interest rate spread during the quarter of at least 0.90%, and lastly, a leverage ratio that falls within the range of 5.5x-to-6.0x since such a ratio could support a reasonable dividend increase of at least $0.03/share per quarter.
Conclusion
For those of you who may be considering a position in Annaly Capital, I strongly recommend keeping a close eye on the company's recent dividend behavior which has demonstrated somewhat of a bottom over the last three quarters and its ability to demonstrate reasonable increases in its core earnings and annualized core return on average equity as both of these segments will fuel future earnings growth.
Disclosure: The author is long NLY. The author wrote this article themselves, and it expresses their own opinions. The author is not receiving compensation for it (other than from Seeking Alpha). The author has no business relationship with any company whose stock is mentioned in this article.