AirlineFinancials.com estimates the nine largest US airlines, starting next week, will collectively report $2.4 billion in profits from $33.3 billion in revenues. The average net profit margin is projected at 7.2%.
Assuming these projections are somewhat accurate, they would be an all time record profit and the 2nd highest revenue for any 3rd quarter.
For this report, the nine largest airlines are: Delta (NYSE:
DAL
), American (NASDAQ:
AMR
), United (NYSE:
UAL
), Continental (NYSE:
CAL
), US Airways (
LCC
), Southwest (NYSE:
LUV
), JetBlue (NASDAQ:
JBLU
), Alaska (NYSE:
ALK
), and Air Tran (AAI). Note: United and Continental merged at the end of the 3rd quarter.
3rd quarter 2010 highlights
(based on AirlineFinancials.com estimates):
First 3rd quarter since 2007 that all nine airlines will report profits.
First time since 2007 all nine airlines will have two consecutive profitable quarters.
Delta, Continental, US Airways, Southwest, Jet Blue, and Alaska will report record high 3rd quarter profits.
Southwest, JetBlue, Alaska, and Air Tran will report record high 3rd quarter revenues.
The estimated 7.2% average 3rd quarter profit margin would be the highest margin for at least the last 15 years.
Over the last decade, 2007 was the only other year the airline industry had a 3rd quarter profit. Note: The 2nd and 3rd quarters are typically the best for the airline industry.
Since 2000, the nine airlines noted in this report accumulated over $2.4 billion in losses for 2001, 2002, 2005, and 2008.
After accounting for the $2.4 billion profit for the 3rd quarter 2010, the nine airlines noted here have accumulated $8.7 billion in Q3 losses since 2000.
The following chart provides 3rd quarter 2010 estimates for each airline.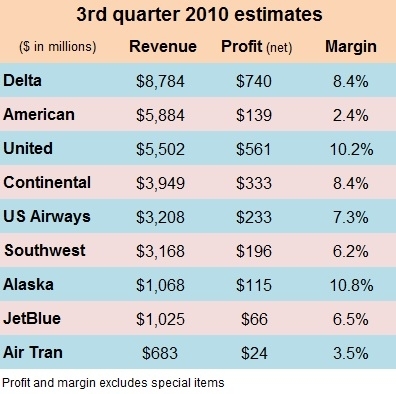 Disclosure: The above opinions and comments should not be used to determine the worth of any stock or investment. At the time of writing, the author and his family did not hold stock and/or derivative positions in any of the airlines covered in this article.