When I first came across the Borderfree (NASDAQ:BRDR) opportunity I wasn't sure I would get the chance to initiate a long position at an attractive price as the stock IPO'd at $16/share and immediately shot up to over $20/share at market open. After watching the stock close lower and lower on no volume, I decided to add BRDR to my short list of stocks to add if the stock itself could establish decent support, which I was hoping was lower and lower as I was confident that most of the negative momentum was coming from the macro environment. I also liked the fact that it wasn't just BRDR caught in the share price destruction blender; at the time of that article, all IPOs - specifically SaaS and yet to be profitable IPOs were getting hammered. Myself, and a few astute commenters (especially and particularly SA member Robin Heiderscheit) were looking at or around $11/share as the sweet spot for a BRDR long and if you go back to that article you can see the equivalent of "live commenting" the actual technical developments that took the stock to exactly $11.01 on May 7th, the lowest close posted since inception. Without detailing my exact cost basis (would you believe me if I told you I bottom ticked the stock anyways?), the stock is up 13.2% since the writing of that article and in the opinion of this author has plenty of room to run into the balance of FY14 and into FY15. This continuing coverage article will make the argument that based on highly visible revenues, unusually excellent cash flow generation, and an improving logistical and operational environment that BRDR presents one of the better long-term investment opportunities currently available.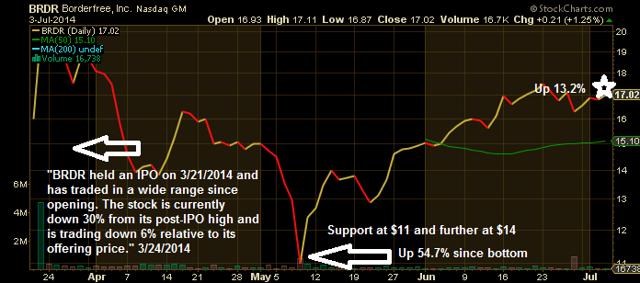 A History of Execution
So, what had the IPO community so bulled-up that it was willing to pay a 30% premium to offering and had guys like me salivating for an open position when the stock looked like hell technically shortly after? In a word, history. The historical performances from a fundamental standpoint at BRDR were really impressive and showed a few of the characteristics that make for that special buy and hold position that everybody looks for. Some of this was covered in the initiation article but it helps put the recent quarter and guidance into perspective so I feel like going over it again still adds value.
First, "Borderfree, Inc. provides cross-border e-commerce solutions. The company sells contractual access to its software platform that enables retailers in the United States to transact with consumers across the globe. Its customers include retailers, department stores, apparel brands, and lifestyle brands that sell a range of physical goods online, including apparel, handbags, jewelry, sporting goods, home décor, and toys." (SOURCE: Yahoo! Finance Stock Summary BRDR)
Historically, BRDR has been profitable at year-end two of the last three years but in such small ranges (outside of a single year where the company benefited from the sale of a business) that the profitability of the company isn't what has driven interest. That being said, the company has never operated with large overhead losses either: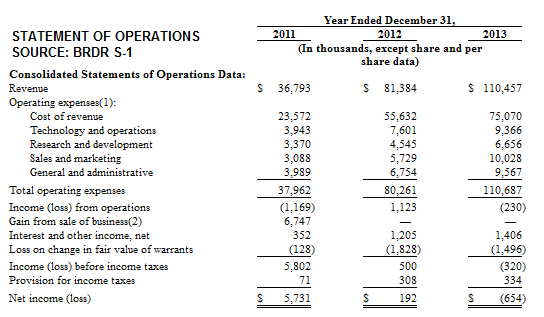 The company usually sits right at breakeven when it's all said and done on a FY basis, which is hugely positive because when it comes to income statements, anybody with experience will tell you that with a little hard work BRDR could have shown three straight years of being "profitable," whatever that means. For clarity, the income statement is largely an accounting exercise (when looked at in aggregate, not line by line) and BRDR could have put some lipstick on this and really made themselves out to be something that they don't need to appear to be on this level - profitable to a level of mattering. Instead, the company opted to show exactly what it has shown, consistent increases in top-line growth, consistent increases in operating expenses as a result of scaling up, and consistent improvements in metrics that show long-term viability.

A look at the quarterly performances of operations historically shows another level of consistency that was touched on in the FY results. You can see that BRDR doesn't really have "seasons" when it comes to growth slope-line, this is largely a fact of the diversity of clients across industry and size, and that they show a slow but defined curve of increasing average revenue that steps up to a new front number usually every fourth sequential quarter. What I mean by this is all the revenue numbers posted until Q412 started with a "1", then for the next three quarters started with a "2", and then in Q413 the number changed to having a "3" as the front number (BRDR recently broke the sequential streak during Q114, which will be discussed later). This shows excellent consistently in growing the top-line even with the bottom line having slight gyrations as a result of BRDR slowly increasing or decreasing operating expenses on a quarterly level. All of the above are positives that an investor should be looking for when breaking down results on an intimate level.
Further and possibly making the operational improvements more clear, take a look at Adjusted EBITDA progression and some of the operational metric performances as a percentage of total revenues:


Embedded within the Adjusted EBITDA graphic, which shows growth consistently and exponentially on a three year basis, is also some indications of other benchmarks of operational success - specifically the gross merchandise volume and number of customer growth data. BRDR has been able to grow its overall presence Y/Y/Y with very little fluctuations in income statement output which is rare and a key driver behind the idea of initiating a long-term position. This isn't easy to do and it's even harder to do while making it hard for the investment community to poke holes in and that's exactly what BRDR has done historically. One of the important general concepts that's further underlined by the final graphic here is that while doing all of the above, driving total top-line growth, driving total merchandise volume growth, winning new customers, implementing services at scale, etc., BRDR has been able to keep operating expenses at an average of 99.92% of revenues - a key execution that has been the catalyst behind the company being able to remain out of debt, to close full years so close to the profitability line, and to showing excellent ROI. That fact in particular is encouraging beyond descriptions, furthered by the fact that BRDR has been able to hold the expenses in such a tight range while increasing the scale of revenues to the level it has, to longs and to the multi-year bull thesis.
What has it all meant historically to the company? Everything we have talked about to this point has been leading us to the primary pillar in the bull case being presented and the number one reason I like BRDR long term - cash management and cash flow generation: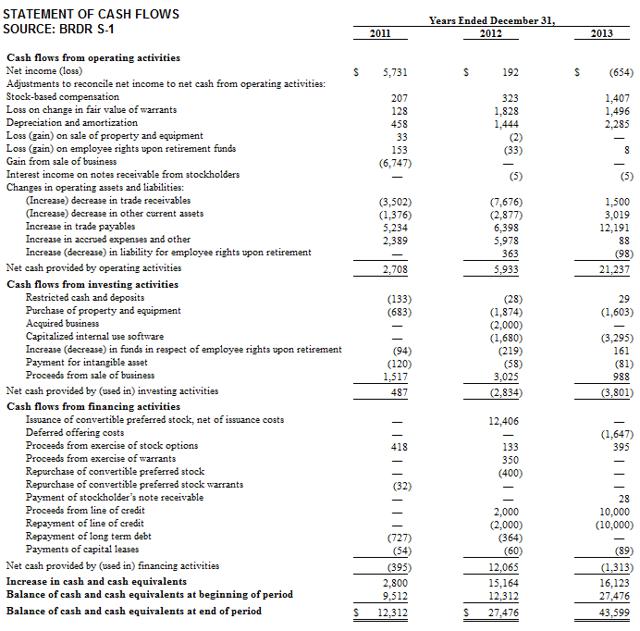 I'll try to keep this brief because I want to get to the most recent quarter but the cash flow generation being so important I think it's important to go over the historical results and I don't believe this has been touched on yet.
Cash provided by operations historically has been solid, although I never liked the idea that BRDR was consistently putting off paying bills (shown in the increases in Trade Payables line). The one saving grace and the reason behind me letting BRDR slide on the increase was that BRDR was consistently delayed in collecting receivables (shown in the cash flow decrease for that line as well). Because these two line items were largely offsetting I took the operational cash flow, noting that nothing else was unusual or manipulated, as a true number - and the numbers were good all three years. Cash flow positive prints on the operational level are my number one indicator of company health when everything looks normal, and again all line items do for all three years. One year to make note of is FY13 where the increase in payables was not offset by a cash flow decrease (delay) in receivables (skewing the total contribution from operations) but even net of the payables increase (meaning subtracting the amount from total cash flow generation) the operations cash flow was still positive, so another overall bullish indicator. It's also bullish that cash flows from operations have been growing and doing so consecutively.
Cash flows from investing have looked typical for a company in development stage with outflows growing Y/Y/Y as investments into the business have always shown to be fruitful, driving top-line growth.
Finally, cash flows from financing haven't had a large skewing effect on the net change in C&CE overall but definitely made a difference in FY12 with the company raising ~$12 million in cash via the issuance of convertible preferred stock, the entirety of the issue was converted at the IPO and is no longer in existence. That being said, if we were to subtract the inflow provided by the raise done in FY12 from the net change at the conclusion of FY12, we would still have a positive net change to C&CE. The broader point I'm trying to make with the cash flow statement is that without any major irregularities (the payables built in the operations section is annoying to see but not a major issue because of the receivables growth) BRDR is generating positive cash flow consistently and in growing size - especially if you zero out the effect of the raise done in FY12 and compare net change Y/Y/Y. That should, in conjunction with the IPO, give BRDR plenty of funds to execute its growth strategy in its entirety for the next several years including if they wanted to get aggressive with acquisitions, which I think was the real driver behind the IPO. BRDR had the cash on hand to maintain its preferreds and had no debt worth mentioning so, for me, the entire purpose of the IPO outside of rewarding insiders (which they deserve) was to build the cash to execute rapid expansion via acquisition. This is complete speculation and has never been mentioned by management but it makes sense. What you should take from the historic cash flows is that BRDR didn't need the IPO, has no need for further debt or dilution at this point, and should be able to continue to generate positive cash flow Y/Y. Operating under these conditions and assumptions should slowly push the bear case further and further down the road and further and further away from becoming a reality. Cash flow and what it means to BRDR is my number one reason to own the stock.
Recent Developments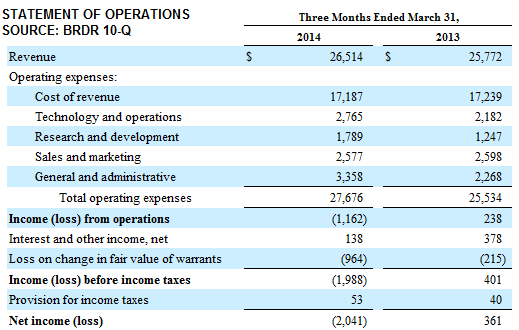 More recently, BRDR has continued to show a consistency of overall performance but did have its first miss from a top-line volume standpoint, posting a total revenue figure under $30 million - which failed to fall into the 8 quarter trend-line talked about above. Anytime you have a trend line miss you want to make note of that and look into what may have caused it and assess if it was company specific or something more macro. The drop Q/Q when compared with Q4/13 was significant, $12 million, but overall revenue generation was still greater than Q2/13 and Q1/13 and greater than all but 3 of the last 8 quarters in aggregate, so that makes the miss less alarming when looked at in context. Management, and I agree with them, blamed the general economic uncertainties in Europe and weather for the slowdown in numbers. I don't feel like the revenue print was all that bad, not bad enough to need an extensive explanation, other than it breaking the sequential growth and trend-line prints. Overall, I'm not as concerned with Q1 results as many may be. I will, however, be very closely watching Q2/14 results for a print over the $30 million mark or I may have to adjust my revenue growth projections downward from where they stand now - I have BRDR posting at least $30 million in revenue each quarter into year end. This is probably the number one line item I'm watching for next quarter.
Speaking of those cash flows, Q1 was not going to be a positive print without the proceeds from the IPO but traditionally Q1 is a negative cash flow quarter: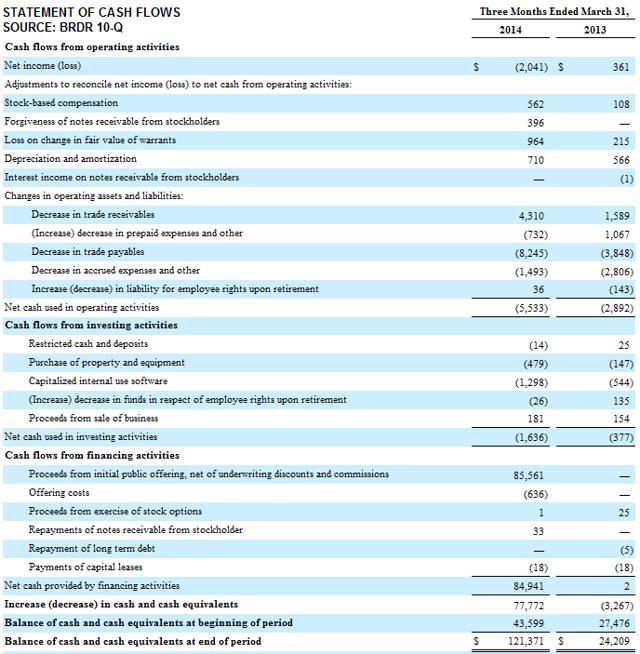 A quick review of the Q1 cash flows, despite the large net loss that starts the operations section and weighs heavily all the way down, does show one very positive thing happening - BRDR paid all of those delayed bills resulting in a material decrease in accounts payable. The company also collected a good portion of its receivables. If BRDR had decided to pay down the payables in larger size they could have shown a positive cash flow generation from operations but this is the quarter that it traditionally pays payables in large amounts, so that's fine it just needs to be understood.
Investing activities continue to look healthy with historically in-line amounts of cash being reinvested back into the business.
Finally, financing activities obviously swung the net change in C&CE largely into the positive and left BRDR with a net build of $78 million for the quarter and a total C&CE balance of $121 million. Again, considering the company's history of managing cash flow and having two consecutive years of legitimate positive cash flow, liquidity is of no concern on any duration. It's also worth noting that BRDR is currently being valued at $535 million or only ~4.5X cash - which in my opinion is unjustly low.
Management Guidance
Management recently gave the following guidance (in millions):
Q2/14:
Revenues between $30.1-$30.7
Adjusted EBITDA between $0.1-$0.3
Non-GAAP Net Loss between $0.8-$1.1
FY14:
Revenues between $141.3-$143.5
Adjusted EBITDA $7.4-$8.2
Non-GAAP Net Income $2.9-$3.7
Taking the recent $26.5 million out of the FY14 guidance mid-point projection of $142 million, that leaves $115.5 million of revenue left on the board. On average that would equate to an average of $38.5 million per quarter if the revenues were spread at perfectly even rates over the remainder of the year. That's in line with my projections of at least $30 million per quarter on the conservative side of projections and in line with my revenue projections per individual quarter with an allowance for variance during Q2 which I expect to be the second highest quarter on the year, Q3 which I expect to be the second lowest (next to Q1), and Q4 which I expect to be the highest quarter of the year and to break the $40 million in revenues barrier - which would be a first for the company. I fully expect BRDR to hit all management given guidance for the FY, to post the largest net income the company has ever reported (subtracting the gains from the sale of one of its businesses from FY11 results), and for cash flows minus the IPO proceeds to be the largest on record.
Where's the trade?
As indicated by the title, I continue to think BRDR is a great opportunity to get long global growth and the continued mobile and online revolutions. I think BRDR has proven enough historically to get the benefit of the doubt when it comes to the revenues miss from Q1 and that they'll right the ship on an FY basis.
I also like that management has driven down shipping costs 12% Y/Y and plans to have shipping costs down another 10% by the end of 2014. Shipping costs are the number one reason that customers decide not to purchase online, which is what BRDR does as a business - initiate, implement, and increase online ordering. If they can continue to find ways to reduce the cost and by way of that decrease the largest barrier to growing total volumes, that will do nothing but increase valuation.
Management also believes that if they can drive down shipping costs to the goal level that they will be able to expand the inventories that can be shipped in aggregate, furthering order totals and the company value proposition. They didn't elaborate in great detail on the Q1 call with analysts but did say that the reductions would come almost exclusively via the international channel, meaning once the items have left the US, and that they would come from two channels in particular: an expansion of carriers and in-country distribution channels. That's far as they were willing to detail the plan but it was enough to keep my interest. I think management has a very granular plan and that they'll hit the mark they have in mind. I'm really looking forward to any progress made on this front and any further detail given - lookout for this on the Q2 call.
In summary, I like the fundamentals at play with BRDR and I like that it now has a full tool chest to work with. I like that it can expand without restrictions and that its cash balance allows it to compete on a serious level if an acquisition opportunity comes available. I also like that the company can use cash, in a situation where it would benefit the company, to make concessions with high volume customers on the front-end (covering portions of costs) while they establish any medium-term strategies that would help them retract the concessions later. That hasn't been mentioned as a use for the cash raised from the IPO but it isn't out of the questions logically.
I recommend BRDR for anybody looking for growth tethered to global economic activity increasing and for global consumer spending. As always, good luck to all.
Disclosure: The author is long BRDR. The author wrote this article themselves, and it expresses their own opinions. The author is not receiving compensation for it (other than from Seeking Alpha). The author has no business relationship with any company whose stock is mentioned in this article.