The IMF recently established an informative web site called "Global Housing Watch" that promises to provide quarterly updates on housing conditions around the world. The update for Q4 of 2013 shows that Australia has one of the most expensive housing markets in the world in terms of both price-to-income (third highest among the IMF's selection of countries) and price-to-rent (fifth most expensive).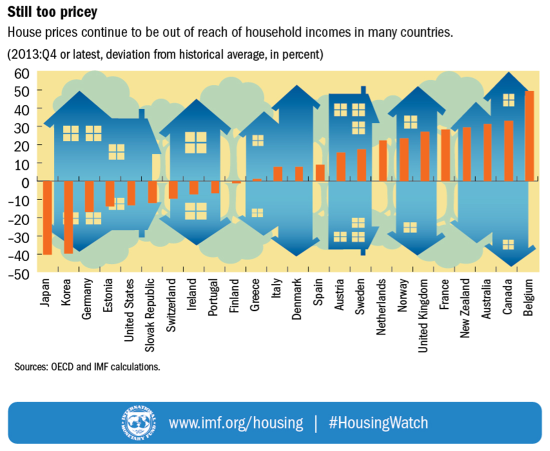 Price-to-income ratios in select housing markets around the world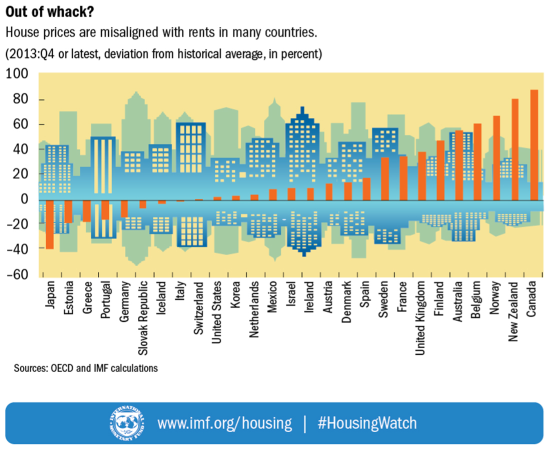 Price-to-rent ratios in select housing markets around the world
Source: IMF Global Housing Watch
These ratios are aggregates across entire countries and cannot speak to the broad range of conditions across local markets within a country. In the case of Australia, Sydney has the most focus…at least from the Reserve Bank of Australia (NYSE:RBA).
On July 3rd, 2014, Stevens provided an "Economic Update" at The Econometric Society Australasian Meeting and the Australian Conference of Economists at the University of Tasmania. Despite the ominous looking ratios reported above, Stevens and the RBA have concluded that on balance the housing market is generally fine. Moreover, the bank does not see the need to take any action as a specific response to the housing market:
"Overall, the Bank has not seen developments in the housing market as warranting higher interest rates than the ones we have had, in the current circumstances. This isn't because we think that financial stability considerations should be ignored in the policy decision. On the contrary, they should be, and have been, given due weight, along with all the other factors we have to take into account, in deciding the interest rate path we have chosen. We judge that path to have best balanced, to date, all the various considerations."
Stevens reminded the audience that the RBA has been very consistent on four points regarding Australia's housing market:
Housing prices fell from 2010 to 2012, so a pick-up in prices is a welcome incentive to developers to build more housing.
The RBA will only get concerned if soaring house prices lead to over-confidence in future house prices that in turn leads to excessive leverage.
The 20% year-over-year increase in the value of loan approvals is less significant when compared to the amount of credit outstanding. Stevens provided the chart below to seal the point.
The Sydney market IS a focal point of concern: "The total value of credit approvals for investor loans in New South Wales as a whole is about 130 per cent higher than in 2008, and it is in the investor segment where there has been evidence of some increase in lending with loan-to-value ratios above 80 per cent in the past couple of quarters."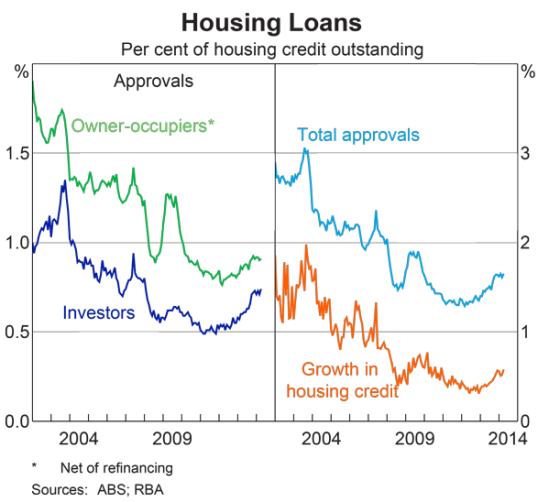 Housing loan data for Australia over the past 12 years
Source: Reserve Bank of Australia
Stevens went on to remind and warn his fellow Australians that housing prices can and do fall. He also admonished banks to maintain strong lending standards. Finally, Stevens took some tentative comfort in the recently slowed growth in housing prices in several Australian metros, including Sydney.
The RBA's attitude toward housing is important because it reveals that housing conditions are not nearly hot enough to motivate the RBA to deviate from its highly accommodative stance on monetary policy. Indeed, it is much more concerned with the tightening impact of an over-valued currency than in the expense of its housing markets.
Central banks across the globe face the dilemma of over-heating local housing markets embedded within slow-growth economies. It is partially a function of the rapidly increasing attractiveness of city living as an "escape" from the expense of suburban living. The irony increasingly facing advocates of higher density living is that market forces are essentially eliminating the supposed savings from an evacuation from suburban living (commute times, gas, energy costs in large homes, etc…) as demand rapidly outpaces supply chains still broken from the financial crisis. A January Guardian article from a young Sydney resident is emblematic of the affordability issue in the most popular cities. The byline reads:
"To buy a house in big Australian cities is not a Generation Y issue, and not even a Generation X issue. It's an issue for every single one of us not born rich."
Author Bridie Jabour goes on to lament:
"Why do I even want to own a home, you ask? Well, as much as I enjoy rental house inspections and being kicked out of where I live with a few weeks notice when the owners decide to sell or renovate, there is also the issue of where I'm going to live when I retire. I'm probably going to have about 15 years of retirement and therefore a much reduced income to now, when I already barely struggle to pay my ever-climbing rent. Judging by rent rates now, I expect to be paying thousands of dollars for a rented one bedroom when I'm 85 on an income of perhaps $750 a week, give or take a few dollars. This makes home ownership appealing."
In other words, owning a home is the ultimate security from the scourge of inflation and a likely buffer of security for retirement. Yet, slow-growth economies are making it increasingly difficult to achieve this security at the same time renting is increasingly unattractive. Bridie's is just one of the faces of the high price to income and rent ratios reported by the IMF. I have spent a lot of time in the past several years writing about the opportunities in the housing market for those positioned to take advantage of them. I hope in future weeks and months to shift more focus on the challenges faced by those not well-positioned to benefit (and I am not talking about the housing bears who expect imminent collapses in housing markets!).
Be careful out there!
Disclosure: The author has no positions in any stocks mentioned, and no plans to initiate any positions within the next 72 hours. The author wrote this article themselves, and it expresses their own opinions. The author is not receiving compensation for it (other than from Seeking Alpha). The author has no business relationship with any company whose stock is mentioned in this article.