Let's discuss silver's short-term outlook first. Here is how silver is trading now from a technical standpoint. Silver printed its daily cycle low on June 2nd when iShares Silver Trust (SLV) bottomed at $18.02. Since a normal daily cycle lasts between 18 and 28 days, we are due for a daily cycle top in silver. Nevertheless, I believe the next daily cycle will be swift and will not make another low. This is essential because if $18.02 is breached in the next daily cycle, we may have a left hand translated cycle in play. Left hand cycles are bearish and often produce lower lows and lower highs.
Therefore, if we get our daily cycle in the next few days and silver rolls over, $18.02 is the price we should watch for on the chart. However, I can't see us revisiting those levels anytime soon. This has been a very powerful start to this intermediate rally. Silver has rallied over 10% in 4 weeks and silver investors are returning to the sector again as they believe the 3 year decline we have had since 2011 is over.
Nevertheless what is required now is prudence. When you look at the Relative Strength Index (RSI) level on the chart, we are well over 70 which usually means lower prices ahead in the short term. Any time this technical indicator is over 70 (we are presently around 80), we are deemed to be overbought which indicates that lower prices in the short term are probable more than possible.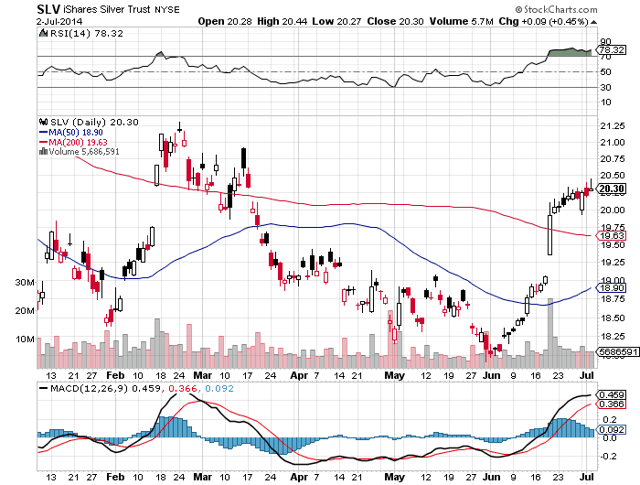 Also the dollar index is due to have its own daily cycle low any day now. The dollar index has been declining since early June so we may confirm a daily cycle low in the next few days. As we stand, the dollar has bounced off $79.81 on July 1st. If the July employment report is positive, this may strengthen the dollar which may confirm that July 1st was indeed the low. A strong dollar will put pressure on silver, so the employment report may be the catalyst for the dollar to rally and silver to decline.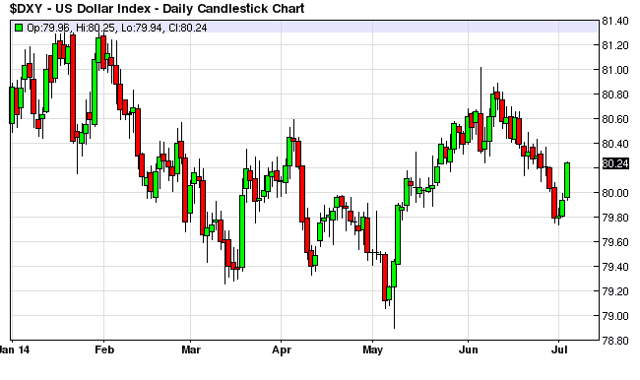 My long-term outlook is that silver has resumed its bull market. I for one will be holding on to my shares during this impending daily cycle low. For me the risk is too high trying to time a perfect exit and entry like technical traders do. If you are long, my advice is stay long and weather the draw down if it comes.
I don't foresee this bull market topping until at least 2017. Commodities and specifically silver will do well whether world economies start to recover or we enter a depression. If we recover, economies will grow and commodities will be more sought for. Countries like China, for example, will roam the earth looking for commodities if it makes commercial sense to them. Silver is also a widely used commodity and is becoming increasingly used in lights, phones, etc. If we enter a more serious depression, central banks will increase their quantitative easing measures which will result in inflation and increased silver prices. Smart investors know this and long-term investors such as Marc Faber and Jim Rogers are the likes that never sell their gold or silver even if the sector in question suffers a sharp decline which it has since 2011.
The historical chart below still shows that silver is a real bargain at these prices when you consider the money that has been printed by central banks since 2008. The European Central Bank has now a key interest rate below zero with the aim of producing inflation. Inflation is ultra-bullish for silver.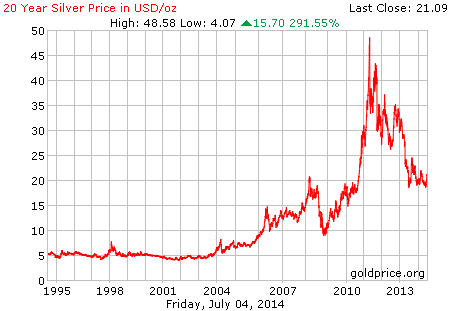 One of the main reasons I think we have many more years to go in this silver bull market is the following chart.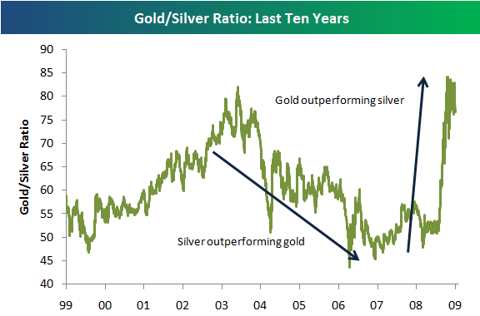 As you can see from the chart, Gold has been substantially outperforming silver recently. The present ratio is approximately 1:62 whilst the historic average ratio is under 1:20. This means that geologists believe that there is 20 times more silver than gold on the planet. I think this information is ultra-bullish for silver. Even if we don't get a big increase in the price of gold over the next 5 years, the historic ratio alone should ensure that silver closes the gap between its price and Gold's price. "I'd buy silver because it certainly has gone down more than gold," says Jim Rogers. Informed investors know this, they know that silver is more undervalued than gold at these levels. All markets revert to the mean, meaning that silver on a historic adjusted basis should be valued at $60 per ounce. In saying this, my long-term target for silver will be at least three digits per ounce.
Disclosure: The author is long AGQ. The author wrote this article themselves, and it expresses their own opinions. The author is not receiving compensation for it (other than from Seeking Alpha). The author has no business relationship with any company whose stock is mentioned in this article.