The Dow-Jones 30 Index breaks 17,000 for the first time
So what? Records are made to be broken. New highs mean even bigger expectations of what is to come. The train is leaving the station, get aboard or be left behind.
"The trend is your friend." "Markets climb a wall of worry." You've heard all the "trusted" technical-analysis shibboleths. Maybe they're right this time.
Like they were(n't) for AAPL at $700. Or for the S&P 500 at 1565 (on its way to 676).
Boogeyman? Big bad wolf? Monster under the bed? Who's trying to scare us so they can buy our shares on the cheap, knowing there's greater times ahead?
Emotion is the enemy, but who can you trust?
"What, me worry?" There is big money riding on the DJIA; its stocks are the biggest-caps in the world's most important and influential securities market. These globally-present names are all too big to fail; they live through every trying time, leading the world onward and upward.
Suppose, just suppose, the best-informed players in that most important market came to a reasoned, experienced, decision that market prices generally were approaching a breaking point. What would they do?
They'd play it safe; hedge their bets.
Especially if their (very nice) livelihoods depended on bets they had to make to serve their customers. Customers they would quickly lose to the competition, if not served.
These players are the market-makers [MMs], who to prevent being raped by their better-informed clients, over decades have developed global, continuous, hyper-communicative information gathering systems. And they have the well-trained, well-paid staff worldwide to continually assemble and re-evaluate all that information.
Most importantly, every day they talk with those clients, the ones with the money muscle to really move prices (of big-cap and small-cap investments alike), hearing what the clients want to buy and to sell. Over time they develop an insight into the people involved, so they have a good notion of how far the clients are willing to push prices, and how urgently they need to do it, in specific securities. In the trade this competitive intelligence is called "order flow" and is a unique, valuable resource available to only the several hundreds of trader-professionals in the market-making community.
Those pros as individuals typically earn million-dollar-plus annual compensations because they know how to turn what they know (and how to do it) into profits for their employer-firms of multiples of what they are paid. Like all humans, they too make mistakes, but they know how to keep the errors small and infrequent.
So what are they saying now about market levels?
Nothing. They follow the old street adage: Those who don't know, talk. Those who know, don't talk. They act.
Their actions take the forms of arbitrage and hedging. It is in these arcane crafts where the bulk of their profits are found. Their continual market presence, support resources, and developed experience provide a perspective that deserves respect. Respect that is most often acutely felt by those on the losing side of their strategies and (legal) tactics.
Well, if they don't talk, how can we know what their actions are?
Their actions leave footprints in the markets that are the means by which they pursue the protective hedges so important to them. Increasingly important actions, apparently, at times like the present. We know how to track their footprints, have been doing it consistently, daily, since the start of this century. Weekly, even before.
Their self-protective hedging actions, on the bets they must make using employer-firm capital, tell the story, stock by stock and ETF by ETF, of just how far they think the clients are likely to push prices. Both up and down.
We have plenty of consistently-produced records of their implied price range forecasts, which can be directly compared with one another, and a cumulative scorecard for each security of how well the MMs' forecasts actually have been borne out in the forge of subsequent market actions.
Of particular interest to us are their outlooks for those ETFs that are structured so that the price changes of the fund's holdings are magnified by 2x or 3x in the ETF's price. Here is how those ETFs looked back in November, when the DJIA and the S&P500 were some 9% lower: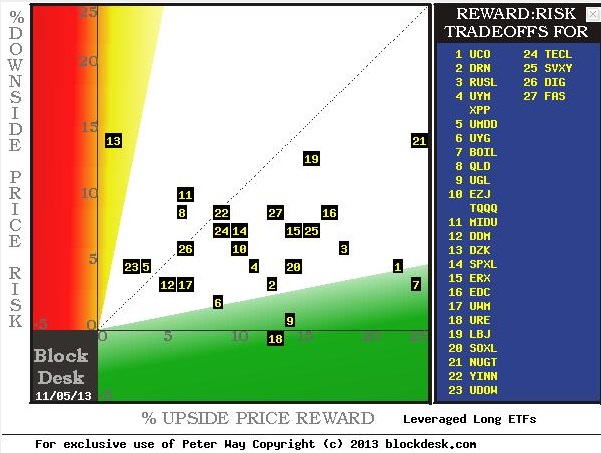 (used with permission)
This November picture contrasts what the MMs thought were likely upside price changes in coming weeks and months (the horizontal scale along the green), with the actual price drawdown worst-case averages of each ETF when they had prior forecasts with upside-to downside balances similar to those of the picture's time. The dotted diagonal line separates forecasts where there had been worse experiences (on the red vertical scale) than what was expected on the upside green scale.
Generally, the outlook was quite constructive for most of these leveraged long ETFs back in November. Now let's look at the present: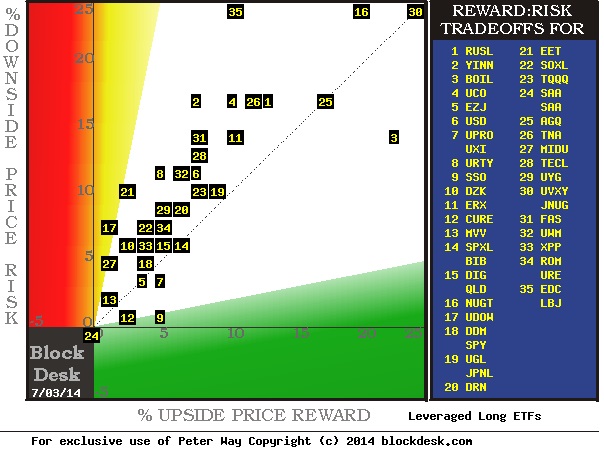 Not so encouraging now, eh? Here's the past 6 months day-by-day MM forecasts (vertical lines) of likely possible prices for ProShares UltraPro Dow 30 (NYSEARCA:UDOW), a 3x leveraged tracking ETF of the DJIA index at [17] in the Reward~Risk map.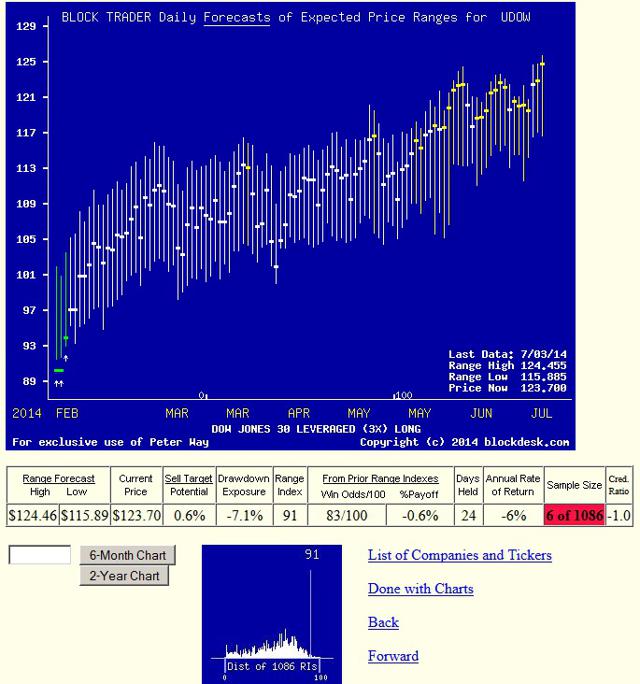 First, for those new to a Block Trader Forecast [btf] picture like this, the vertical lines are price range forecasts of likely coming prices, not historical records of past prices so common to most stock "charts." The forecasts are implied from the self-protective hedging actions taken by the market-makers as they must expose firm capital to market risk in order to "fill" orders by their big-money portfolio-manager fund clients.
Each of those price range forecast bars are separated into implied upside and downside price change prospects by a heavy dot of the end-of-day market quote at the date of the forecast. The separation has a measurement label we call a Range Index [RI] that tells what proportion of the whole range lies below the current quote. The smaller the RI, the larger is its upside prospect.
The current RI of 91, as seen by the thumbnail at the bottom, is a pretty rare event. Out of the 1086 market-day entire life of this ETF, in only 6 times has there been so extreme a reading of coming price expectations. There are still upside possibilities, +0.6% from $123.70 to $124.46, but prior exposures to -7% drawdowns make the long-side proposal unappetizing. The win-odds of 83/100 say that 5 of the 6 priors actually made profits , but 5 x 0.6% or 3% gains don't cover one -7% loss.
Well, what to do if we're worried?
The ever-commercially-alert investment products market has provided just the trap they would like you to fall into - the leveraged-short Exchange Traded Fund. Siamese-twin to UDOW is ProShares UltraPro Short Dow 30 (NYSEARCA:SDOW). It has been engineered to provide 3 times the inverse (opposite of) price change experienced by UDOW. Which it can do - on a one day at a time basis. If UDOW falls 10 points in a day, then SDOW may rise about 30 points that day.
Ahh - but there's a problem. The leverage is on a day-at-a-time basis, and in order to re-establish parity of changes from day to day there has to be a rebalancing of holdings every day. Because the holdings are not actually shares of the stocks in the DJIA index, but instead are of futures contracts on the DJIA index, there is a price-differential cost (beyond simple transaction costs) of doing the rebalancing.
Without getting into the complications of the transactions involved, please accept the reality that there is a persistent cost bias to the detriment of leveraged short ETFs. A bias which only modestly benefits the leveraged longs a bit, and much more for some knowledgeable speculators and arbitrageurs. For the notion of using the leveraged short ETFs as a hedge against a market decline (which we are not sure when - or that - it will arrive)? This history of SDOW over the past two years may put the idea to rest. Perhaps permanently, in a casket, along with virtually all of its soul-mates.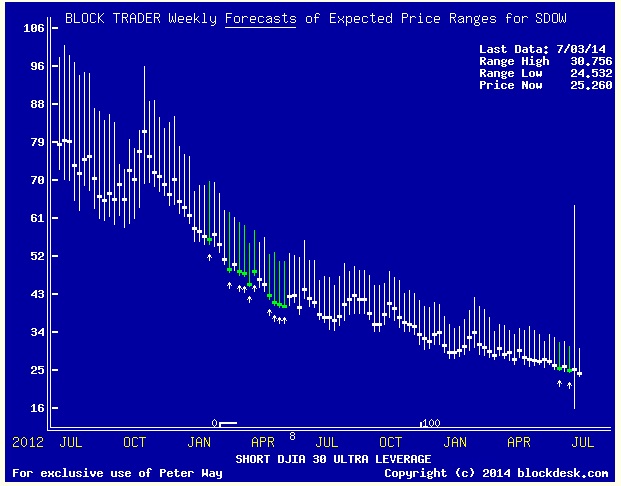 Well, how about selling UDOW short, and just forgetting SDOW and its negative cost bias? The answer to that lies in another reality of the market.
It always takes two for every trade, except when the seller doesn't own what he/she is selling. Then it takes three to do the trade - buyer, seller and lender. If you are the buyer you probably won't accept the seller's reassurances that when you need or want the shares he will get them for you. No, they have to be provided at the time of the trade; which is where the lender comes in, and gets paid a fee, plus all his interim dividends, for the loan.
As a short-seller, what is not apparent at the outset is that along with the sale of the borrowed shares, what else you have sold is control over the subsequent actions in the transaction - in effect, your strategy, whatever it may have been. That is because the lender, under the terms of the shares loaned, has the right to demand and obtain his loaned property at any time of his choosing. The way that often works out is, just about the time that your strategy of repurchasing what had been sold at a higher price becomes attractive for you, it also becomes very attractive for the lender to once again have the shares, and the rug gets pulled out from under your price change profit strategy.
Or worse yet, when the thing sold short rises and shows no sign of going the way (down) that you intended, the lender decides that it is now time for him to sell the loaned shares that you must repurchase and deliver to him. This is the dreaded "short squeeze" from which there usually is no escape.
Conclusion
Please don't get me wrong. I don't like to be the bearer of bad news. Our stuff works best in happy market times. But very few things have steady, endless uptrends. Some that appear to, like Madoff, have very bad endings. Investors need to be alert to when problems are likely to appear. This soon may be such a time, although no Madoff is in sight.
We seek the help of watch-dogging for trouble from the market pros who do not have the one advantage you have over them. They have to stay in business, and must be players in markets all the time. They are on watch endlessly.
As an individual investor, you have the advantage of "asset allocation." There will be times when you need to use that advantage by "taking some of your chips off the table." You may choose to put capital into US Treasury notes of short to intermediate duration, counting on their probable liquidity when the market outlook looks most terrible - and provides the maximum recovery potentials. Even just reserves held in cash does the job at this point.
Then the MMs may become reassuring, with low RIs on many equity alternatives; the more the better to flag an impending upturn. Done well, you sidestep much of a problem that many others unwisely have chosen to endure. And you get the same kind of recovery rates that they count on to "make them whole once more." But you get the boost on all the capital you took off the table at the far better times. It now is a gain, not just a recovery.
Disclosure: The author has no positions in any stocks mentioned, and no plans to initiate any positions within the next 72 hours. The author wrote this article themselves, and it expresses their own opinions. The author is not receiving compensation for it (other than from Seeking Alpha). The author has no business relationship with any company whose stock is mentioned in this article.