By 2050, the world's population is expected to grow by ~30% and reach ~9 billion mark. With this as a Macro-Economic tail wind, companies with strong management that focus on infrastructure/construction as well as agriculture/farming are poised to do well in this environment.
Deere & Company (NYSE:DE) is one of the world's largest makers of farm equipment as well as being a major producer of construction, forestry, commercial and residential lawn care equipment. The company operates in three business segments: agriculture/ turf, construction/forestry, & financial services.
Creating Profitability
While North America is the main staple for Deere & Company generating upward of ~58% of the company's net revenue and sales, the emerging markets are expected to drive earnings down the road. As stated in the company's June/July investor presentation Deere & Company has spent a significant amount of capital to focus on emerging market growth. Within the past 10 months the company's major invests are:
April 2014 - $40 million investment in Catalão, Brazil to expand sugarcane harvester and sprayer production capacity by 30%
April 2014 - Introduced over 60 new products in South America
October 2013 - $30 million investment in Bruchsal, Germany to expand manufacturing capacity and flexibility
September 2013 - Acquisition of Bauer Built Manufacturing to accelerate growth of planter business globally
September 2013 - $40 million investment to create capacity to manufacture 8R tractors in Montenegro, Brazil factory
As the company has spent a significant amount of capital on developing their emerging market growth, revenue and earnings from emerging markets is becoming a more significant portion of the company's earnings. Over the past five years revenue growth in Africa, Asia and Middle-East has increased at a rate of 17% CAGR, while growth in Central and South America has been even more prevalent with a growth rate of 18% CAGR.
China, India and Economic Development
Back in 2010, China overtook the U.S.A. as the world's largest construction market. This market is almost 3x the size of the Japanese construction market which is the third largest construction market in the world. At this point in time, the Chinese construction market makes up almost 19% of the country's GDP and to add to the size of these figures, this market is forecast to grow at ~8% yoy over the next five years.
Even though the size of the Indian construction market is ~1/3rd the size as the Chinese market, opportunities abound there as well. Currently, construction spending growth in India is expected to be the fastest in the world at around 9% yoy.
As the chart below indicates Deere & Company's management foresees significant earnings growth from China and India.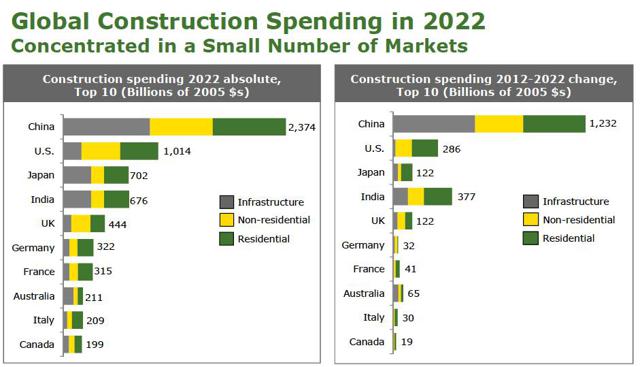 Sourced by (Deere & Company)
At this point, China and India are two key regions for growth drivers for Deere & Company looking forward. With strong investment in these regions, the market share of revenue from developing markets will increase thus driving earnings and revenue.
Over the next five years, the analysts that follow this company are expecting earnings to grow at an average annual rate of 7.17%.
Valuations
In the section below, I will use a couple of different methods to find a valuation of the stock price. In this section, I will use the Discounted Cash Flow valuation model and EV/EBITDA ratios to estimate the current value and target price for each share.
I believe using the Discounted Cash Flow valuation model for Deere & Company to be fair, because DCF analysis can help one see where the company's value is coming from and can generate an opinion based on that.
| | | | |
| --- | --- | --- | --- |
| | FY 2012 | FY 2013 | FY 2014 TTM |
| Operating Income | 4,734 | 6,225 | 5,964 |
| Taxes | 1,659 | 1,946 | 1,750 |
| Unlevered Net income | 3,075 | 4,279 | 4,214 |
| | | | |
| D&A | 1,004 | 1,140 | 1,216 |
| EBITDA | 5,738 | 7,365 | 7,180 |
| | | | |
| Free Cash Flow | -953 | 879 | 1,182 |
| WACC | 7.08% | | |
| Terminal Value 10.49X EBITDA | | | 75,318 |
| Total Cash Flow | -953 | 879 | 76,426 |
| | | | |
| Net Present Value | $62,123.44 | | |
| | | | |
| Total Debt | 36,259 | | |
| Cash and Cash Equivalents | 3,078 | | |
| Net Debt | $33,181.00 | | |
| | | | |
| Equity Value | $28,942.44 | | |
| Shares Outstanding | 372.48 | | |
| | | | |
| Current Value | $77.70 | | |
Even though there are variations in calculating this formula, this model is based off of a terminal value of $75.318 billion and a WACC of 7.08%. The terminal value of $75.318B is based off of the company trading at the current industry average of 10.49x EBITDA. Using this valuation, I have concluded Deere and Company's value to be ~$77.70 per share.
Common Shares Outstanding
Over the past 10 years, Deere & Company has been buying back outstanding shares. On December of 2013 the company's Board of Directors authorized the repurchase of up to $8 billion of additional common stock. The Board also declared a regular quarterly dividend of$.51 a share on common stock, payable February 3, 2014 to stockholders of record on December 31, 2013.
To coincide with the announcement chairman and CEO Samuel R. Allen stated, "Today's action reflects our confidence in the company's long-term future growth opportunities." as well he stated "The decision announced today exemplifies our commitment to creating superior long-term value for investors."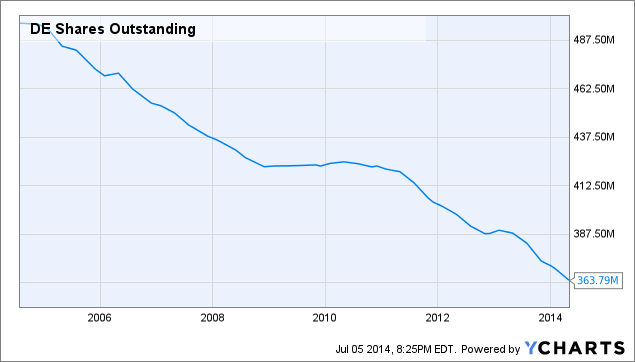 DE Shares Outstanding data by YCharts
Conclusion
Even though at this point in time I believe the shares to be over priced, I still think long-term the company will create significant value for the stockholder. With global population expected to increase by ~30% over the next 25 years, Deere & Company's businesses are positioned well to capitalize peoples needs from many angles. As the world needs to feed the growing population Deere & Company's machinery has a reputation for quality and durability that is second to none. This combined with the massive growth in China and India construction industries, these countries will feed into Deere & Company's construction/forestry, & financial service businesses. The third factor that is of utmost importance for the investor is, management ability to create shareholder returns. With buyback programs and consistent dividend increases in place, even if the stock price does display volatility through the short-term the shareholder will be insulated to a certain extent thus enabling the investor to weather any short-term waves.
Disclosure: The author has no positions in any stocks mentioned, and no plans to initiate any positions within the next 72 hours. The author wrote this article themselves, and it expresses their own opinions. The author is not receiving compensation for it (other than from Seeking Alpha). The author has no business relationship with any company whose stock is mentioned in this article.