I don't know when the next stock market correction will happen, but rest assured that a correction is on the way. In the meantime, I am finding it more and more difficult to find absolute value in the market today. There are only a handful of stocks that I feel comfortable owning and the vast majority of companies that I evaluate are so obviously overpriced that I can't consider them even on a good-sized dip.
A recent SA article also highlights how difficult it is to find value in this market. The title of that article was "What To Do When You Can't Find Anything To Buy" and I certainly have been feeling much like that author during 2014. However, there is always an investment strategy that will make sense for each individual. Even in times like these when I feel that the vast majority of stocks are irrationally priced, there are investments out there that work for me.
Before I get to some recommendations, I'll first look at some S&P 500 (NYSEARCA:SPY) valuation metrics.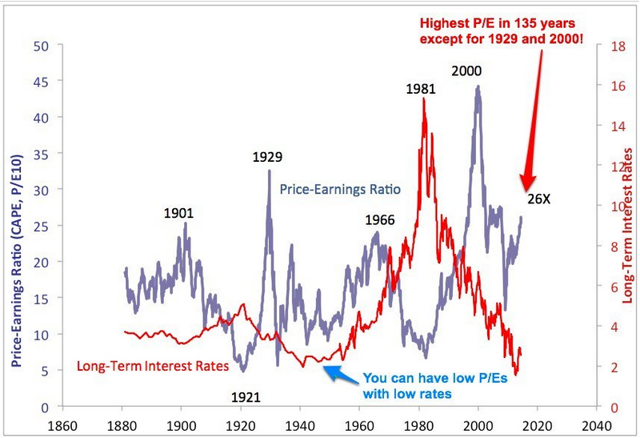 (Source: Business Insider)
The above graph shows the cyclically adjusted price-earnings ratio of the S&P 500 for the last 130 years, along with long-term interest rates. Obviously, the P/E is well into worrisome territory. The chart also shows that low interest rates do not necessarily equate to higher P/E ratios.
The next chart (from the same source) is equally alarming: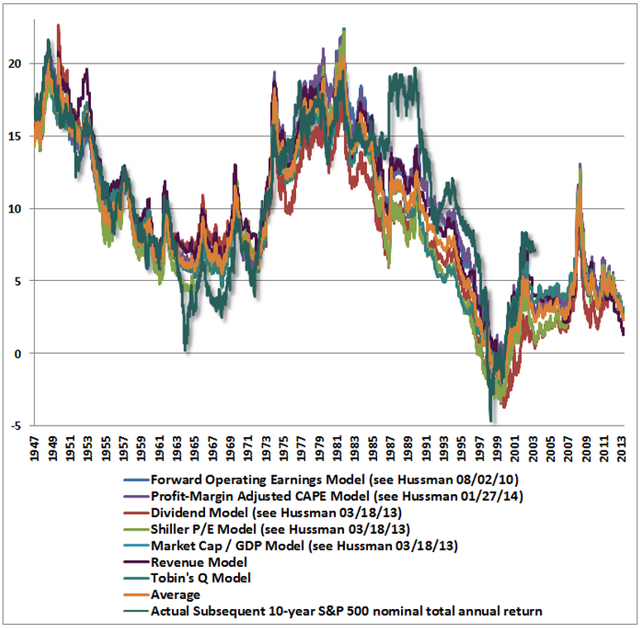 The above chart shows seven different prediction models. The left scale shows the predicted 10-year return for stocks according to each model. The colored lines (except green) show the predicted return for each measure at any given time. The green line is the actual return over the 10 years from that point (it ends 10 years ago).
The average expected annual return from all seven models currently stands at under 2%.
And finally, a look at investor emotion:

(Source: CNN)
Greed and optimism are rising and that makes me fearful.
Stocks are clearly expensive, returns are expected to be low, a correction could be just around the corner. But I don't want to try and time the market, so what can I do about it?
1. Get Defensive
The first, rather obvious, strategy is to be more defensive with individual stocks that are bought and held. In 2014 I initiated positions in Walmart (NYSE:WMT), Deere & Company (NYSE:DE), and Gilead (NASDAQ:GILD). The graphs that follow are two-part for each stock: first from January 1, 2000 through January 1, 2003; second from July 1, 2007 through July 1, 2009. These graphs will show how these companies performed during the major corrections of those time periods.
Walmart is a great stock to have during a recession, as I previously wrote about. Here's a quick look at how the stock performed vs the S&P 500 during the last two bear markets: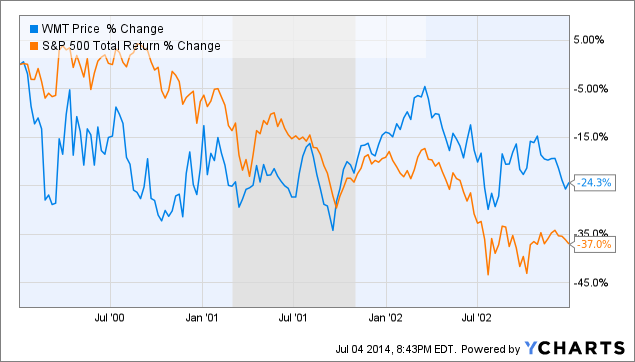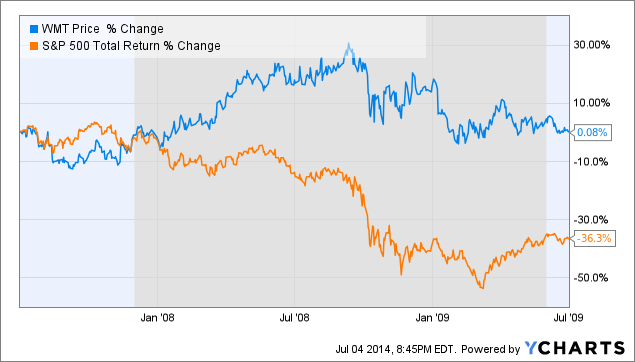 The shaded parts are the official recession periods. Walmart outperformed the S&P 500 by a fair amount in the periods I have graphed.
Everyone has to eat! Here is how Deere performed: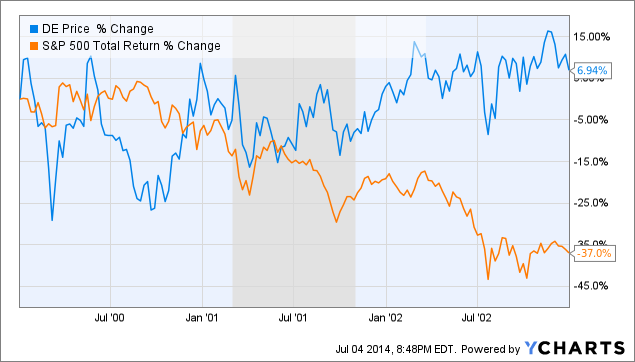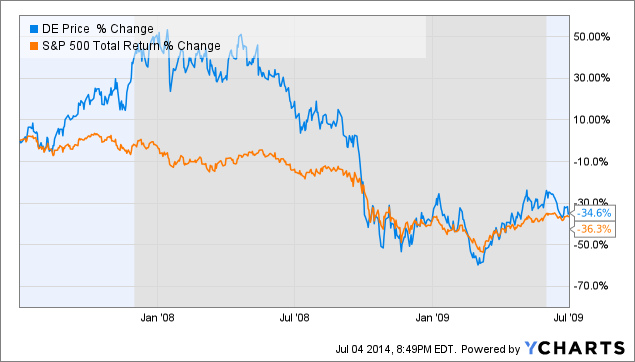 Deere was impressive in the early bear market, but had a big slide right in the middle of the latter one. Overall, I consider it a strong defensive stock.
Gilead might be a surprising addition to this list of defensive stocks, but healthcare often does well during downturns. Also, the recent association of Gilead with momentum stocks is unfair, in my opinion. Here is Gilead's bear market history: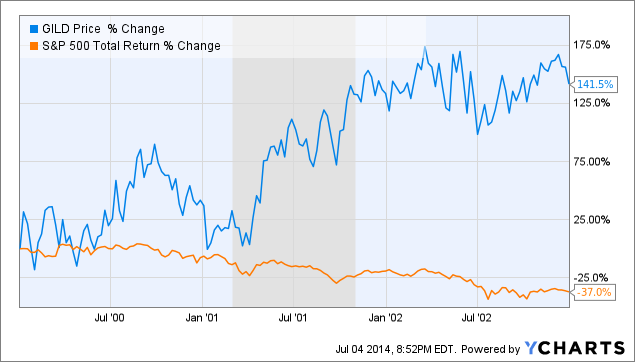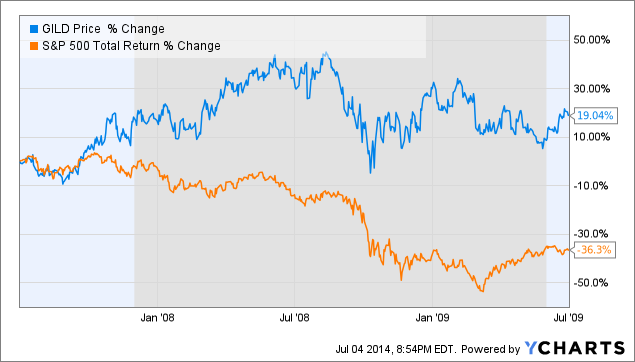 The Gilead charts speak for themselves. I can sleep well at night with GILD as my largest holding.
All three of the stocks I have recommended above are companies that I would be happy to own in any market conditions. They are blue-chip names with solid growth potential and they are all reasonably priced. Here is a chart of the low forward P/E ratios of all three stocks: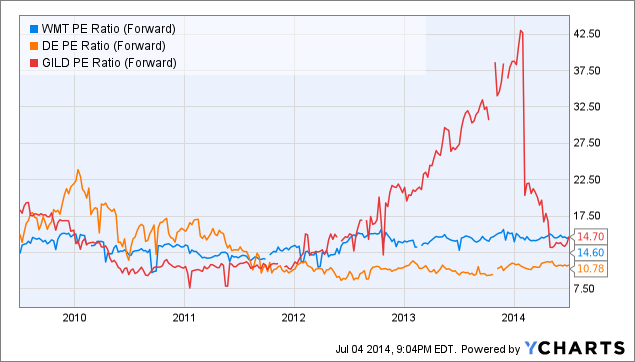 WMT PE Ratio (Forward) data by YCharts
2. Safe Havens
"When I find myself in times of trouble; Mother Mary comes to me; Speaking words of wisdom, let it be" - The Beatles
In times of market trouble, investors typically do not do as The Beatles and "let it be"; investors flock to safe havens such as gold and silver.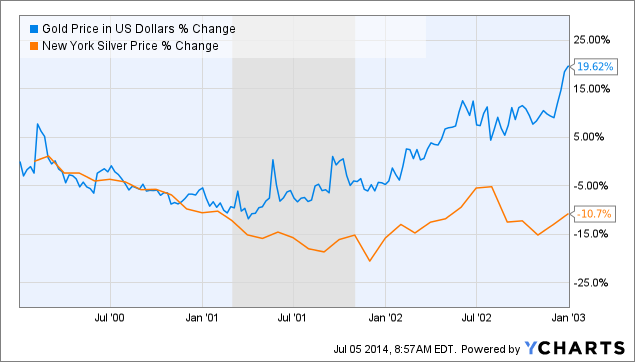 Gold Price in US Dollars data by YCharts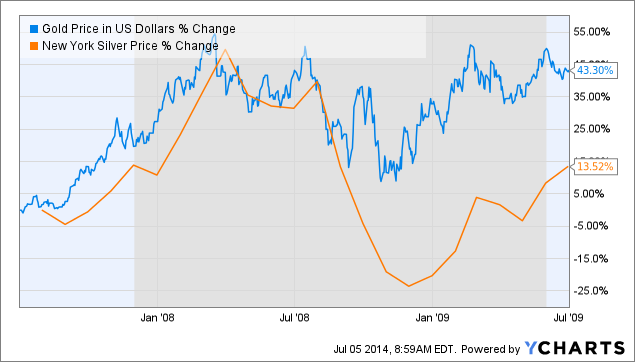 Gold Price in US Dollars data by YCharts
Although gold has outperformed silver during the last two bear markets, both metals handily beat the S&P 500 and I intend to initiate a position in iShares Silver Trust ETF (NYSEARCA:SLV) this week for two main reasons.
First, the gold/silver ratio is near historic highs: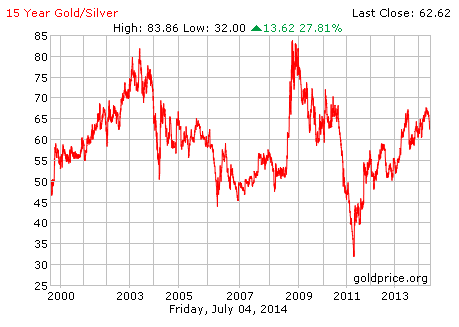 (Source: goldprice.org)
The gold/silver ratio is simply the price of gold divided by the price of silver. As the silver/gold ratio rises, it is a bullish sign for silver. The expectation is that the ratio will, at some point, revert to the mean.
Second, I am bullish about demand: for both the use of silver in industry and the retail demand for physical silver.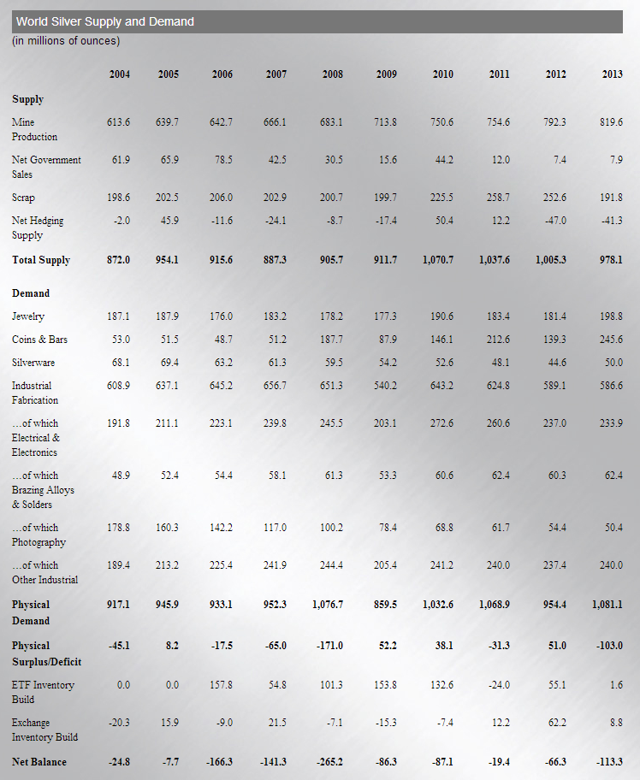 (Source: silverintitute.org)
The above chart shows declining supply particularly from 2010 through 2013. With silver prices at three-year lows, I don't expect to see a major upswing in production, although there are signs that it will increase. The chart also shows a record high in demand during 2013. Retail silver demand (jewelry, silverware, and coins/bars) rose considerably in 2013 as the price declined 36%.
3. Short Individual Stocks
I don't short stocks, so strategy #3 is for those readers that do. I propose that shorting individual stocks a wiser strategy than buying puts against the S&P 500 for "insurance". Who can time the market? Buying puts for insurance of a downturn leads to worthless expiration much of the time. In addition, buying puts on the entire S&P 500 means watering down the buyers hedge. Unless an investor is bearish on every - or nearly every - stock in the S&P 500, much of the insurance that investor buys is being pumped into a bearish bet that includes stocks that he/she is bullish or at least neutral on.
I will only note one short opportunity as, again, I don't short stocks so I generally don't follow many "high flyers". But there is one stock in particular that I feel confident in recommending a short position on: Plug Power (NASDAQ:PLUG). I wrote some articles about Plug recently:
And below are two graphs showing the performance of PLUG during the last two bear markets. Note that on the first graph I changed my convention from above and did not show the comparison to the S&P 500. Due to PLUG's tremendous fall, the scale of the S&P 500 line is reduced to a level that adds very little information to the chart.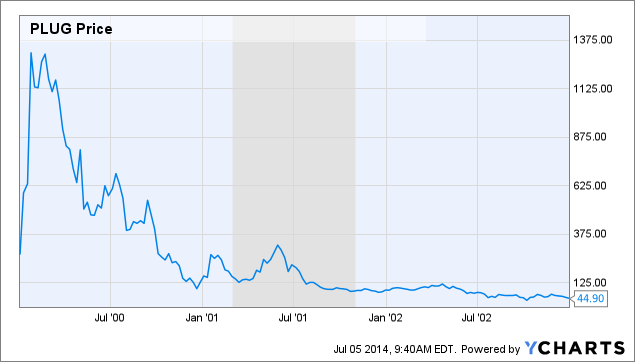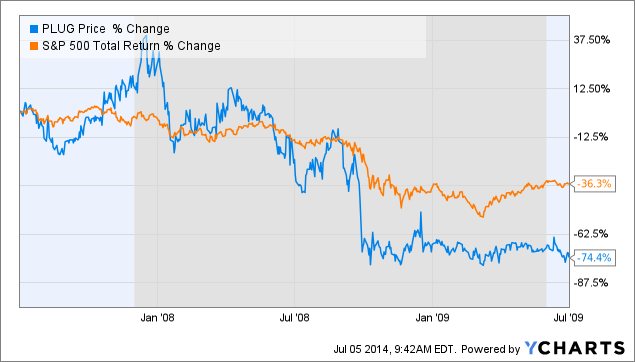 I would certainly expect PLUG to get hammered in any future market correction and furthermore would not be surprised to see the stock decline precipitously whatever the future market conditions turn out to be.
In the current market environment, I am sure there are many solid short opportunities such as PLUG. For those investors that are willing to short stocks, I recommend doing so as opposed to buying S&P 500 puts.
Conclusion
Finding absolute value is - for me - the proper way to invest. If a particular industry is expected to grow at 5% per year, then I don't get excited about a company in that industry that is relatively cheap at, say a P/E of 20 compared to its peers at 25. And yet, relative analysis is rampant in these days of general market overvaluation. To me, it's just one more sign that a correction is needed and would, in fact, be a healthy wake-up call for many.
Because I don't think markets can be effectively timed, I stay fully invested, or nearly so, at all times. Periods like these overvalued ones can be challenging to find value, but surely value is out there. No matter what investment strategy, risk tolerance, and time horizon each individual investor possesses, there are places for the investor to put his/her money. Hopefully I have given some ideas above that will be helpful.
Disclosure: The author is long WMT, DE, GILD. The author wrote this article themselves, and it expresses their own opinions. The author is not receiving compensation for it (other than from Seeking Alpha). The author has no business relationship with any company whose stock is mentioned in this article.
Additional disclosure: I plan to purchase SLV shares at some point between July 7-11.