With Tesla's Model X looking set to hit highways across the globe by early 2015, investors wonder when there will be enough "Superchargers" around to charge those vehicles quickly enough.
Tesla Looking to Up Their Game with an Electric CUV
Every model that Tesla Motors (NASDAQ:TSLA) has released so far has been larger and cheaper than the previous one. The electric motor producer's first offering in 2008 was the Roadster, a two-door, 302 hp and 211 mile range sports car with a top speed of 125 mph. The second offering, that began in 2012, was Model S - a five-door, liftback sedan with a running range from 240 to 312 miles per charge, a top speed between 120 and 130 mph, and a price tag that ranged between $57,400 and $77,400. The pint-sized Roadster, on the other hand, went for a whopping $101,500.
But now Tesla is looking to go bigger than it has ever gone before, with a five-door, falcon-winged CUV (Crossover Utility Vehicle), the Model X. Although Tesla Motors has not unveiled the CUV's price tag just as yet, Edmunds has reported that the Model X base cost and performance cost will start around $71,000 and $96,000 respectively. However, this is before state and federal tax credits.
With higher costs, Tesla has built in service features that facilitate its customers by offering better car charging options.
Tesla's "Supercharger" to Charge Cars Faster - And Free of Cost
"By charging only at Superchargers, Model S owners can drive for free, forever"
This comes from Tesla's official website, in celebration of the opening of the company's 100th Supercharger. The Superchargers are Tesla's electric power stations, built for their customers to charge their cars faster than ever before. The 120 kW charging stations would charge an 85 kWh battery enough to run for 170 miles in 30 minutes. In comparison, a 40A high voltage outlet charges the same battery in the same time period to run for 14 miles, while a 30A public charging station charges it enough to run a feeble 10 miles. The Supercharger's charging speed brings the same car to half charge within 20 minutes, and to 80% within 40 minutes. The importance of such charging outlets to Tesla and its customers cannot be stressed enough, especially with the heavier Model X almost out on the roads.
But How Much of the Supercharger is There for Everybody?
With over a hundred Superchargers set up around the world, today, there is still not enough for all of Tesla's customers. Of the 125 Superchargers functioning today, 98 are in North America, 24 in Europe while only 3 Asia, which are split between Beijing and Shanghai. This means, that there is no Supercharger outlet for Tesla owners in places such as Hong Kong, the first site in Asia to receive its vehicles. However, the company is looking to open Supercharger outlets elsewhere in China as well as in Hong Kong, in order to facilitate its current Asian market. Investors should note that Tesla does show the opening of an additional 11 locations throughout Asia, though the exact dates have not been set. The below maps show existing locations on the left and future locations on the right.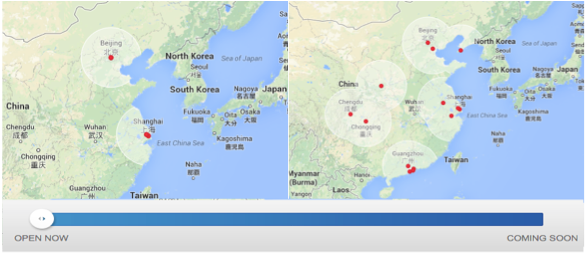 Source: Tesla Motors-Supercharger Network Asia
However, Tesla has very ambitious plans for the expansion of its Supercharger network. By the end of 2014, the company proposes to have enough charging stations for "80% of U.S. population and parts of Canada", while by the end of next year, it seeks to cover 98% of the same area. Furthermore, the company would also look to expand its charging network very soon to Sweden and France in Europe, and looks to hit Spain by the end of this year. All this would happen while establishing more outlets in countries such as Germany, Austria, Norway and England, which are already there on the Supercharger map. The maps below show the rapid expansion of Tesla Supercharger locations that should be in place throughout Europe by the end of 2014.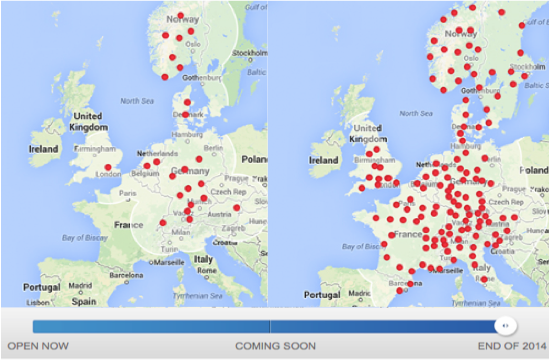 Source: Tesla Motors-Supercharger Network Europe
Although all of these plans look very impressive, Tesla's ultimate goal really should be to establish a Supercharger every 250 miles (which the range of its Model X is predicted to be) in most - if not all - countries that it has released its vehicles in. Nobody would enjoy stopping for 30 minutes every 14 miles to charge their cars, which is the maximum charging speed available in the absence of the Supercharger.
Tesla's Supercharger Patents
Elon Musk just recently added a strong catalyst to the expansion of the Supercharger network by offering the company's patents, related to charging technologies, out to the industry. In his blog post 'All Our Patent Are Belong To You' Elon Musk discussed the move;
Yesterday, there was a wall of Tesla patents in the lobby of our Palo Alto headquarters. That is no longer the case. They have been removed, in the spirit of the open source movement, for the advancement of electric vehicle technology,
The patents are related to how the electric powertrain integrates with the rest of the car, allowing for other car makers to enhance current charging stations and mimic Superchargers. The Tesla Supercharger may become the industry standard with this move. Bigger electric vehicle manufacturers, Nissan (OTCPK:NSANY) and BMW, are "keen on talks" to integrate the patents and create a better charging network that will benefit the EV industry. Musk met with BMW representatives the day before the patent release. BMW, among other EV sellers realize better charging and less waiting is good for the EV movement, issued a statement;
"Both companies are strongly committed to the success of electro-mobility and discussed how to further strengthen the development of electro-mobility on an international level".
If Tesla really wants to help its existing customers, and make new ones, it shouldn't just concentrate on making cheaper cars - it should also look to facilitate its users enough to keep the cars. The patent move proves that Tesla realizes this is the best way to both grow the EV industry but also meet the needs of their customers. This is one more step in making the electric car movement permanent. Investors should focus on the possibility that new markets should open up for Tesla as industry competitors decide to add Supercharging into their existing markets, allowing for the Tesla product line to then be sold. The Model X will be a case study for Tesla, because if the company wants to hit the ground running with the release of a low cost Gen III, they need to have existing infrastructure already in place to serve each user.
Disclosure: The author has no positions in any stocks mentioned, and no plans to initiate any positions within the next 72 hours. The author wrote this article themselves, and it expresses their own opinions. The author is not receiving compensation for it (other than from Seeking Alpha). The author has no business relationship with any company whose stock is mentioned in this article.
Editor's Note: This article discusses one or more securities that do not trade on a major U.S. exchange. Please be aware of the risks associated with these stocks.