Walgreen Co (WAG) and CVS Caremark Corp (NYSE:CVS) are the two largest retail pharmacy companies in the US. Both companies have a long history of paying dividends, but due to recent growth in share price, their current yields have dropped to 1.70% and 1.43% respectively. However, they both grew dividends at a very impressive rate during the last 5 years while keeping the payout ratios pretty low. This definitely bodes well for future dividend increases.
Walgreen Co:
Walgreen's history dates back to 1901 when its founder Charles R. Walgreen, Sr. opened the first Walgreen store measuring just 50 feet by 20 feet on the south side of Chicago, and it went on to become one of the largest national pharmacy retail chains. With a focus on customer service, by 1910 Walgreen had two stores, but grew quickly thereafter to 4 stores by 1913 and up to 20 stores by 1920, though all in the Chicago area. The real growth came in the 1920's when Walgreen became a national chain and had opened over 500 stores all over the nation, including locations in New York City, Florida and other major markets. The company became public in 1927. By 1984, the company had grown to hit another milestone - it opened its 1000th store.
Today, the company operates over 8600 stores, including traditional drugstores, medical centers and health and wellness pharmacies. In the fiscal year 2013, the company had total revenue of $72 Billion with net earnings of $2.45 Billion. Walgreen has paid uninterrupted dividends and increased them for 38 consecutive years, thus it is on the select list of stocks known as Dividend Aristocrats or Dividend Champions.
In 2012, Walgreen entered into a partnership and invested in a 45 percent equity ownership stake in Alliance Boots GmbH with the option to acquire the remaining 55 percent beginning in February 2015. This has provided Walgreen the global presence, including Europe and Asia. In 2013, Walgreen along with Alliance Boots announced a 10-year distribution agreement with AmerisourceBergen (NYSE:ABC). This partnership will likely help Walgreen source and distribute generic drugs in the US and internationally and bring better purchasing power with drug manufacturers.
CVS Caremark:
CVS has two major operating segments namely CVS Pharmacies and Caremark Pharmacy Services, besides others smaller segments like MinuteClinic, a walk in clinic (which operates inside CVS Pharmacy stores). The company operates over 7500 drug retail stores and generates two thirds of its revenue from pharmacy business. CVS history goes back 40 years when the first CVS store, selling health and beauty products, was opened in Lowell, Mass. by two brothers, Stanley and Sidney Goldstein and their partner Ralph Hoagland. At the time, CVS stood for "Consumer Value Stores".
The Pharmacy Services division of CVS is a leading benefit management [PBM] company, providing comprehensive prescription benefit services to over 2,000 health plans, including corporations, managed care organizations and insurance companies, Govt. etc. It generates nearly 1/3rd of the revenue for the combined company. Caremark was acquired by then CVS Pharmacy in March 2007 and the combined company was named CVS Caremark Corp.
At the end of 2013, CVS Caremark ranked as 40th in Global Fortune 500 list. It generated total revenue of $126 Billion in 2013 with net earnings of $4.59 Billion. CVS has paid increasing dividends for the last 11 years. The dividend growth has been very impressive at 28% during the last 5 years.
Earlier this year, CVS announced its decision to stop selling cigarettes and other tobacco products at its more than 7,600 stores by October 1, 2014. According to its press release, this reflected the company's commitment to building healthier communities and aligning products and services with its purpose. As per some estimates, CVS will stand to lose approximately $2 billion in revenues on an annual basis from the tobacco sales, however, for folks who believe in investing in socially responsible companies, this may be one more reason to look at CVS.
Comparison of Key Metrics for the Two Companies
The below table that I created, shows key metrics based on the full financial year 2013, as taken from Morningstar and Google Finance, as well as fair values calculated based on the DCF (Discounted Cash Flow) model. It may be noted that Walgreen's financial year ends on August 31st, whereas that of CVS ends on December 31st.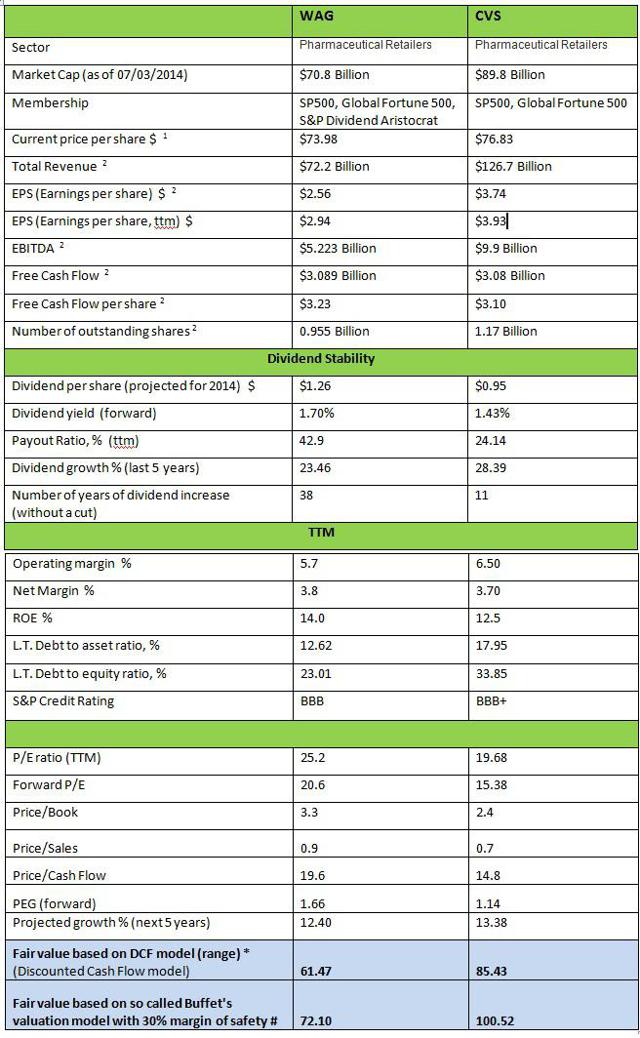 Comparison of the current market prices with the fair value estimates (per the above models) shows that CVS is more fairly priced and there is a better margin of safety with CVS over WAG. Walgreen's share market price is already hovering over the fair-value calculated by these models, so it may not be the right time to put in fresh money in WAG.
Relative Rating
Now, let's assign a rating to each company based on the information that we already have and by feeding them to a simple rating system that I have created for my own use and is available here. This system takes into account three sets of elements; fundamental ratios, growth estimates and the dividend strength of the company. Each of the criteria gets assigned a rating based on certain predefined rules. The net rating is the sum-total of individual ratings and results in a value in the range of 0 - 10, 10 being perfect and 0 being the worst. Like any other mechanical rating system, this system is not perfect by any means and would not substitute other means of research, but what it can do is to offer an un-biased decision point, while comparing two or more companies. Below is a table that I created showing the relative "rating" for WAG and CVS. Please see the complete rules and disclosures about this rating system here.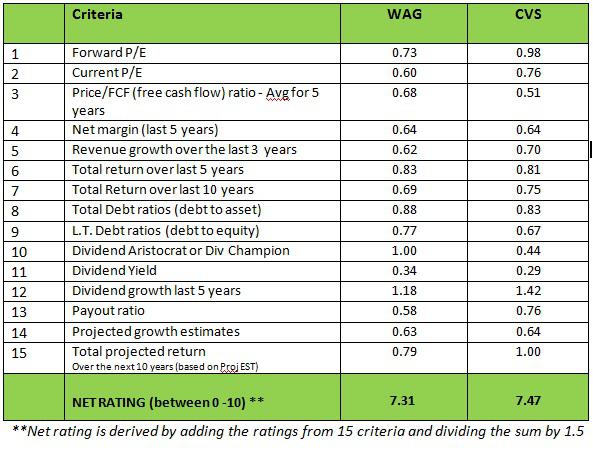 The above model rates CVS only slightly better than WAG. Even though individual ratings could vary widely, the overall rating is an average of the sum total on a scale of 1 to 10. It is important to note that this rating model is heavily weighted towards the past than the future. Only 3 criteria out of 15 are based on future expectations, so, it should be taken with a grain of salt.
Concluding Remarks:
By all measures, both companies are excellent choices to be part of a long-term dividend growth and income portfolio. However, the entry price does matter. At current valuations, both are expensive, but WAG a bit more so compared to CVS. I already own WAG in my portfolio since when it was in low 30's and I would not sell it though I am up more than 100%, as I consider it to be a long term holding. However, I would not be putting fresh money in WAG at current valuations. On the other hand, current price of CVS is still lower than the fair-value (per the above models), I would consider buying in a staggered approach with 1/3rd or ½ position at current prices and then wait for some weakness or correction to invest the rest.
Full disclaimer: The information presented in this article is for information purpose only and in no way should be construed as financial advice. Every effort has been made to present the data/information accurately, however the author does not claim for 100% accuracy.
Disclosure: The author is long WAG. The author wrote this article themselves, and it expresses their own opinions. The author is not receiving compensation for it (other than from Seeking Alpha). The author has no business relationship with any company whose stock is mentioned in this article.