With a niche in Bellevue, Washington, Blucora's (NASDAQ:BCOR) expansion since 1996 has not gone unnoticed. Formerly known as Infospace Inc., BCOR is currently ranked as one of Fortune Magazine's 100 Fastest Growing Companies. A time-line of growth and management changes can be found in the figure below: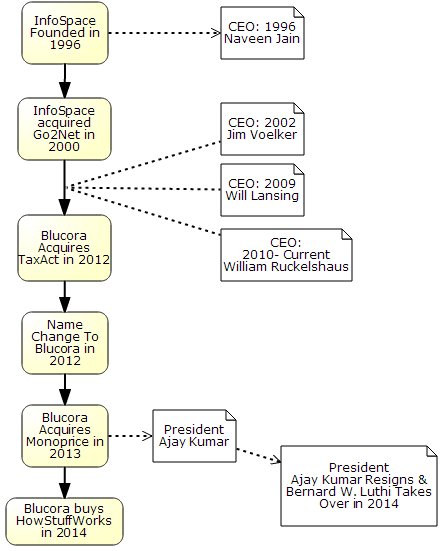 (Image Created By Author Utilizing Signavio BPM Software.)
InfoSpace
InfoSpace provides a number of search engines such as, Dogpile, Zoo, WebCrawler, and Webfetch.
Dogpile is InfoSpace's prized possession. It utilizes metasearch technology to provide pertinent results for consumers.
Zoo is very good at locating trending content.
WebCrawler was the world's first full text search engine
Webfetch differs from the others in respect that it aids native English speakers with search queries in Europe.
Through agreements with companies such as Google (NASDAQ:GOOG) (NASDAQ:GOOGL) and Yahoo (YHOO), utilizing white label search and metasearch technology, and other efficient tactics have resulted in highly relevant search results. Revenue streams are collected from over 100 web publishers and advertisements.
TaxAct
Whenever the month of April rolls around, our nation's residents start learning math. Complexities surrounding addition and subtraction result in tax payers utilizing other services such as software (SaaS) or accountants. A wide moat of user-friendly and affordable SaaS tools adequately support consumer accounting needs at affordable prices.
Cheap and (or) free approaches towards filing taxes as individuals, dependents, businesses, etc., are made available to those possessing the lucrative skill of operating a key board. TaxAct, founded in 1998 and acquired by BCOR in 2012, was the first free on-line federal tax filing service available. Its reputation as an affordable and accurate SaaS has been maintained. TurboTax being its number one competitor is just as effective, however carries a slightly heavier price tag. BCOR's subsidiary guarantees 100% accuracy, state returns, e-filings, and much more.
Monoprice
Monoprice resembles your typical electronic eCommerce vendor. The company sells a wide variety of cables, home theater equipment, networking and IT gear, mobile accessories, PC and gaming accessories, and pro audio equipment.
Monoprice is also playing an active role in aiding growth of the healthcare industry through its manufacturing and sales of 3-D printing. Since 1999, the healthcare industry has demonstrated a growth of 22%. This percentage is just 4% less than the fastest growing industry since '99; Consumer Cyclical.
3-D printing is acting as an effective disruptor within the healthcare industry through many channels, including but not limited to:
Detoxification utilizing

3-D-printed

hydrogel nanocomposites rather than current IV approaches which may affect the liver.
Successful tracheal reconstruction of rabbits by using

3-D printed

scaffold coated mesenchymal stem cells (MSCs) without signs of graft vs. host disease (GVHD).
Formulation of models resembling patient's organs in order to attain a more accurate picture of pathology prior to surgery. Precision and accuracy in model design results in formulating a better strategic therapeutic plan during surgery and clearer procedure demonstrations for patients and family members.
HowStuffWorks
This creative website once owned by the Discovery Channel was acquired this April for $45 million. The on-line site explains "HowStuffWorks" in a variety of industries ranging from healthcare to entertainment. This strategically acquired site will allow synergistic collaboration of data between InfoSpace's search engines and real-time application to articles on HowStuffWorks.com. By conducting an analysis of what people are searching, Blucora will know what its authors should be writing about on the website. The more real-time data a corporation can collect about consumer needs, the more relevant services it is capable of providing.
Insider Trading:
According to Vickers, a lot of insiders have been selling TTM: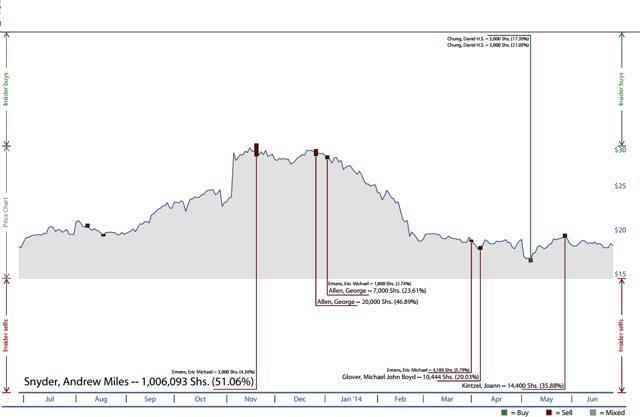 (Image taken from Vickers Analysis via TD Ameritrade's Platform.)
Executive Compensation:
Morningstar, utilizing Reuters financial information, has demonstrated a 91% increase in total executive compensation TTM: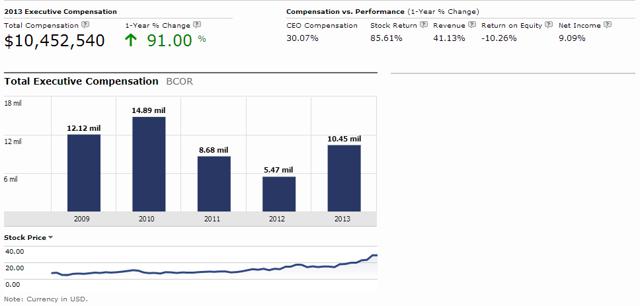 (Image taken from Morningstar.com)
Valuations:
When a company is part of an industry which contains many intangible assets such as intellectual property, P/B ratios may not take into account all assets. This indefinitely results in an unreliable tool for valuation assessment.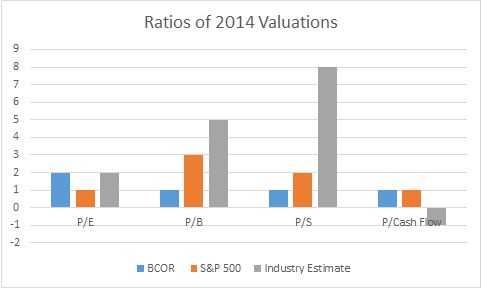 (Financial Data Estimates are derived from 10K Reports unless otherwise indicated. Tables and Graphs composed by Author.)
Since BCOR has a positive net income, the PEG and PE ratios are more reliable for assessing the equity. However, for the same reason, positive earnings make the P/S ratio unreliable in assessing the equity.
Having taken that into consideration, BCOR's P/E (~32) and PEG (~2) ratios are important variables to study; both are in line with the industries values (32 and 2 respectively).
Financials:
| | | | | | | |
| --- | --- | --- | --- | --- | --- | --- |
| Revenue Estimate: Source 10K | Annual 12/2009 | Annual 12/2010 | Annual 12/2011 | Annual 12/2012 | Annual 12/2013 | TTM |
| Revenue (USD million) | 200 | 300 | 200 | 400 | 600 | 600 |
| Gross Profit (USD million) | 100 | 100 | 100 | 100 | 200 | 300 |
| Total Operating Expenses (USD million) | -60 | -80 | -50 | -100 | -160 | -180 |
| Operating Income (USD million) | 10 | 10 | 20 | 40 | 70 | 80 |
| Net Income (USD million) | 10 | 10 | 20 | 20 | 20 | 30 |
| EPS (NYSEARCA:USD) | 0.2 | 0.4 | 0.6 | 0.6 | 0.6 | 0.6 |
| EBITDA (USD million) | 20 | 10 | 30 | 60 | 80 | 90 |
| Total Assets (USD million) | 300 | 400 | 400 | 600 | 1000 | 1000 |
| Total Liabilities including Stockholder's Equity (USD million) | -300 | -400 | -400 | -600 | -1000 | -1000 |
| Net Cash Provided by Operating Activities (USD Million) | 30 | 50 | 20 | 50 | 100 | 90 |
| Operating Cash Flow (USD million) | 30 | 50 | 20 | 50 | 100 | 90 |
| Capital Expenditure (USD million) | -2 | -3 | -3 | -4 | -5 | -4 |
| Free Cash Flow (USD million) | 30 | 40 | 20 | 50 | 90 | 90 |
During the past 5 years all earnings have increased more than 100%: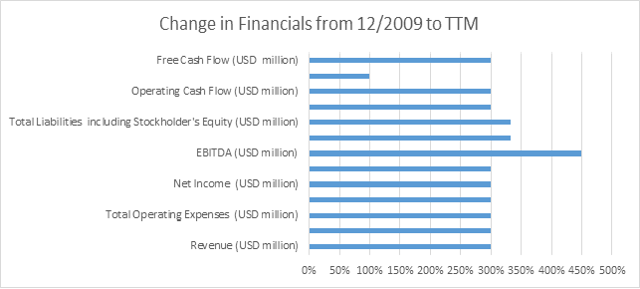 (Tables and Graphs composed by Author.)
Blucora's volatility has resulted in positive upwards trends with very little increase in capital expenditure: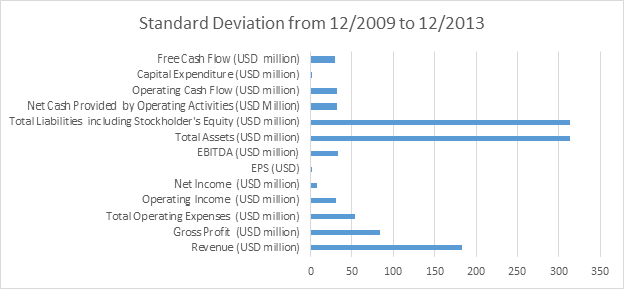 (Tables and Graphs composed by Author.)
In May 2014, BCOR reported actual Q1 EPS of $1.12 surpassing a handful of analysts forecasting an EPS of $1.03. Q2 results should be released towards the end of July.
Technical Analysis:

(Image from TD Ameritrade utilizing Thomson Reuters Financial Data)
Bollinger bands have narrowed, indicating a change in trend. The equity is currently trading more than $10 per share below its 52 week high.

(Image from TD Ameritrade.)
RSI (14), MACD (12, 26), and Slow Stochastic are all in safe-entry territory; neither variables are indicative of being overbought or oversold. Narrowing of Bollinger Bands in conjunction with a positive trending MACD divergence may indicate a positive change in share prices.
Conclusion: Bulls vs. Bears
It's clear that Blucora has wonderful financials and tremendous growth. It is either in line with, or, matches the industry in pertinent valuations. According to The Street, S&P Capital IQ, Ford Equity Research, Market Edge, and Jaywalk Consensus, the equity has been granted status as a buy or stronger.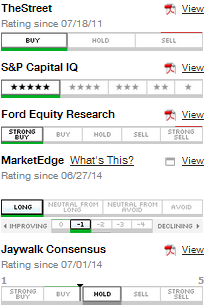 (Image from TD Ameritrade)
With that being said, I personally believe Blucora's pipeline is nowhere near its competitors. InfoSpace may be dominated by other search engines such as Google and Yahoo, TaxAct's progress may be hindered as a result of very successful marketing by TurboTax SaaS. TurboTax brand comfort may also play a role as negative headwinds towards TaxAct's sales. Monoprice may be affected by technology based eCommerce vendors such as Amazon (NASDAQ:AMZN), Best Buy (NYSE:BBY), or New Egg.
I do however believe Monoprice's entry into the 3-D printing market may aid in maintaining their financials and help enhance their stance amongst its peers. The corporation's financials being very stable, having been around since 1996, and acquisitions resulting in a very wide moat of products make it a lucrative and safe investment. This safety net is supported by more than 90% of institutional holdings. I believe Blucora is currently trading at an appropriate entry point, thus my logic behind personally purchasing shares of this equity.
Disclosure: The author is long BCOR. The author wrote this article themselves, and it expresses their own opinions. The author is not receiving compensation for it (other than from Seeking Alpha). The author has no business relationship with any company whose stock is mentioned in this article. Research & Editorial Assistance: Rahul Kadakia - University of Georgia/Aisha Tabba - Emory University/Manaal Tabba - Emory University/Ali Ahmad - Emory University