Most consumers and investors are familiar with Procter & Gamble (NYSE:PG), a corporate giant specializing in beauty, health and family care products that services millions of consumers in over 180 countries and territories. A corporation with a long history of market success, Procter & Gamble accounts for more than fifty percent of the laundry product market and approximately twenty percent of the male shaving market. Despite its rock-solid dividend payments and balance sheet, most investors are reluctant to go for P&G due to its reputation as a blue chip that may be experiencing difficulties holding onto its share of the domestic market. That strategy, however, doesn't account for P&G's rapid expansion into foreign markets like China, India and Brazil, as well as its push to optimize efficiency and cut costs within the firm by focusing on its core markets. Combined with Procter and Gamble's constant emphasis on innovation, this makes for some very optimistic prospects for the P&G stock. The I Know First self-learning algorithm has a strong bullish signal both in the short-term and within a year, as P&G's innovation and cost-cutting strategies develop further.
Business Projections
P&G is one of the most accomplished and credible veterans of the international stock market, paying steady dividends to its shareholders for 124 years and maintaining a steady cash flow and PE ratio. Further, its stock has been consistently going up in the past five years, mainly due to its expansion into the international markets and its ruthless swallowing of smaller competitors. The current yield of dividends and earnings per share, however, has surpassed even the rock-solid five year average, marking a good time for investors to get in before the other changes P&G is planning to make.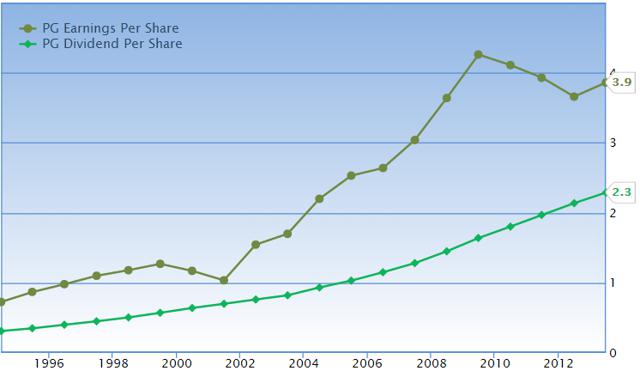 Figure 1. Procter and Gamble's earnings and dividends per share have been slowly growing in the past decade, indicating its status as a stable blue-chip stock.
There are many advantages that Procter and Gamble has consistently been able to claim in the past decade. The company holds one of the broadest and most diverse ranges of products in the world, specializing in five distinct segments: beauty, grooming, fabric and home care, health care, and family and baby care. The diversification often helps P&G avoid the volatility and fluctuation that affect specific sectors. Over the years, it has developed a strong brand portfolio which serves almost 4.8 billion people around the world, including but not limited to Pantene, Olay and Tide. Procter and Gamble also has a strong history of product innovation and consistent expansion into profitable markets, such as its expansion into the feminine care market, of which P&G now controls approximately 30%. Seven of ten most innovative non-food products of 2013 were credited to Procter and Gamble, indicating the strength of the firm's innovation and R&D.
Foreign Market Expansion
One of the biggest concerns investors often have with Procter & Gamble is its slow growth due to the difficulty of keeping domestic market share. In the past quarter, P&G reported growth of only 1% in American market. However, with its recent expansion into giant, largely unclaimed markets such as China, Brazil and India, P&G has reported 5% growth in foreign markets during the same time span, indicating bullish projections for the months to come. Many regional businesses are losing out to P&G's sheer market potential and advertising strength, creating potential for quick stock growth. Approximately 40% of the company's revenues come from foreign markets, and with the potential for growth that is currently open to Procter and Gamble, the company may easily be gaining billions through establishing brand loyalty and improving efficiency in the newly operating countries. P&G's ability to sell through a variety of channels of distribution, including not only traditional venues like grocery stores and drug stores but salons and online distribution, makes it a tough competitor who will likely keep gaining share and increasing its stock value.
Increasing Productivity
Although it should be noted that PG's gross profit margins have declined by approximately two percent from June 30th 2008 to June 30th 2014, Procter and Gamble intend to reverse this trend by exiting markets that don't correspond to their core strengths - even those that have been profitable - and cutting production costs.
Over the past six years, Procter & Gamble have focused their efforts on the development of their core market segments such as beauty, health, and home care. They have exited businesses that have yielded over $6 billion in sales but that have not fell under their core product bundle, such as kitchen appliances, pharmaceutical goods and food items. The focus on core brands that have proven to go well with consumers and yield profits for decades may be a positive shift to a more productive and efficient business that streamlines its manufacturing strategy to yield higher profits. Considering that some of their core products, such as Tide Laundry Detergent, hold over half of the global market share in their respective fields and have amassed significant brand loyalty, a shift to diversification within core brands over an attempt to monopolize too many industries forecasts bullish prospects for investors.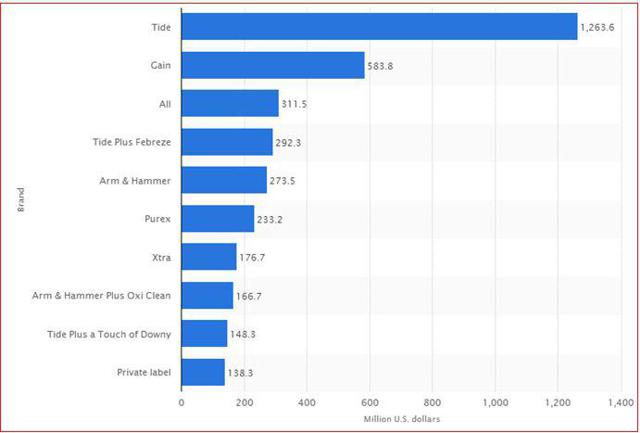 Figure 2. Tide Laundry Detergent, a well-known brand with strong consumer loyalty, holds over fifty percent of the laundry detergent market share.
The second big change that Procter & Gamble has recently went through was identifying their biggest weakness: inefficiency across the company. P&G has lowered its SG&A expenses by 4% in comparison to the past year, which has caused the company's operating margin to decrease by 0.2%. This was accomplished by an ambitious 13% reduction in employment across the corporation, with further reductions planned in the coming years without affecting the efficiency of production levels. P&G is also undertaking some outsourcing projects, such as beginning to produce its core goods and brands like Pampers in India, leading to significant savings in operation costs and an overall improvement to the company's revenue. Finally, Procter & Gamble is trying to increase its efficiency through merging operating divisions that have before been separated and demanded much larger expenditures. For example, P&G has recently merged the Eastern, Central and Western Europe divisions into one larger European branch, which resulted in a significant drop in costs. P&G is currently aiming to save $1.6bln in operating costs by the end of 2014, and is hoping to further cut costs in the upcoming years.
What the Future Holds
P&G has set some ambitious targets in three core areas: foreign market expansion, advertising and efficiency improvements.
Procter & Gamble's current foreign market share, based primarily in East Asia and Africa, accounts for approximately 40% of its overall revenues. Although it is often hard to make any profits in the saturated domestic market, P&G has ambitious plans to begin developing brand loyalty and outsourcing its production to foreign markets, which will likely bring in revenue and cut costs. Large countries that have been mostly unaffected by the domestic recession, are eagerly soaking up P&G products, particularly with the advertising boom on digital media and the recent advertising campaign during the 2014 winter Olympics. P&G hopes to revive some of its beauty and healthcare brands, which have been overshadowed in the domestic market by competitors, through advertising them in foreign markets that have so far been responding well to the company's products.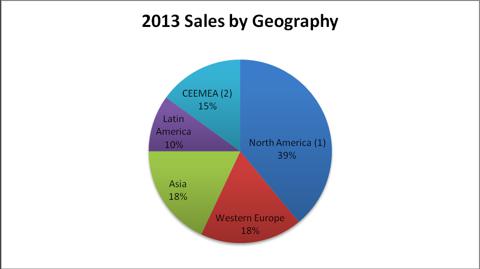 Figure 3. Procter & Gamble has been largely shifting to foreign markets, and will likely experience significant growth as it develops brand loyalty with foreign customers.
The last major initiative that P&G is planning to take on is a range of efficiency improvements ranging from further workforce cuts to global realignment programs, hoping to save over $10 billion through efficiency improvements by the last quarter of 2014 and continue its cost cutting program to 2016. Procter & Gamble's CEO, who ran the company until 2009, has stated that the company further plans to cut costs through a focus on its core markets and exiting costly markets which may not have the same amount of brand loyalty or advertising outreach. For a company that has been around as long as P&G, an improvement in costs may prove to be the quickest way to further growth, particularly in the oversaturated domestic market where the company already spends almost 35% of its budget on advertising and marketing. To sum up, P&G's ambitious efficiency plan may not only deliver revenue to shareholders, but may further streamline production.
I Know First is not alone in its positive analysis of PG stock. As of July 6th, 2014, thestreet.com awarded PG a B+ (buy) rating, synthesizing the recommendations of twelve TheStreet.com analysts as seen in figure 3.1. CNN Money offers a similar long-term forecast for PG with a low of $79, median of $88 and a high of $97 over the next twelve months.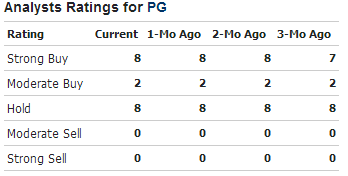 Figure 3.1. Analyst ratings for PG from TheStreet.com as of July 6th, 2014.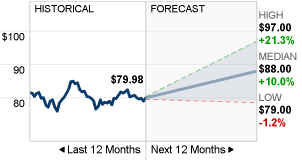 Figure 3.2. CNN Money forecasts PG with a low of $79, median of $88 and a high of $97 over the next twelve months.
I Know First Algorithm
I Know First's predictions are driven by an advanced self-learning algorithm based on Artificial Intelligence (NYSE:AI) and Machine Learning (ML) techniques, with additional elements of Artificial Neural Networks and Genetic Algorithms in order to create an accurate and predictive model of money flow in almost 2000 markets for timespans ranging from 3 days to a year. By removing stochastic (random) noise from the predictable model, the algorithm creates a system that projects the future movement of a market in the multi-dimensional space of other stakeholder markets, outputting the predicted trend as a number that can then be used by traders to identify opportunities or entering and exiting the market in question. While the algorithm can still be used for same-day transactions, the predictability tends to strengthen over longer periods of time such as the 1-month, 3-month and 1-year forecasts, making the I Know First Algorithm an ideal market prediction system for longer-term training in conjunction with traditional forms of analysis. The algorithm is highly beneficial for risk reduction and optimizing returns.
The algorithmic forecast is color-coded, with green indicating a bullish signal and red indicating a bearish signal. Deeper colors signify that the algorithm is very bullish or bearish depending on the color. The signal is the number in the middle of the box and its predicted direction (not a number or target price), while the predictability signifies the historic correlation between the prediction and the real-life market movements. In short, the signal represents the forecasted strength of the prediction, with the predictability representing the predicted level of confidence. Ticket symbols for other assets have been removed; however, the signal and predictability are still visible.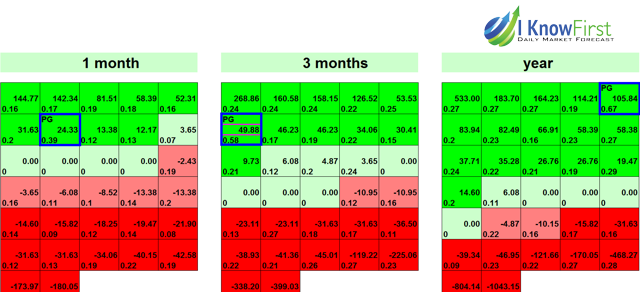 Figure 4. PG can be found outlined in blue. On the one month chart, PG is second from the left in the second row, on the 3 month chart PG is leftmost on the right, and PG is rightmost on the first-row in the 12 month (year) chart. Updated June 29, 2014.
As shown on the chart, the I Know First algorithm suggests that P&G may experience strong growth, particularly in the long term. Algorithmic traders utilize these daily forecasts as a tool to enhance portfolio performance, verify their own analysis and act on market opportunities faster. We never recommend blindly purchasing assets that are endorsed by the algorithm without your own additional analysis. Click here to learn more about using I Know First's algorithm. In June 2014, the average I Know First user's return was 6.98% as compared to S&P's return of 2.59% over the same time period.
Conclusion
Although Procter & Gamble is usually seen as a stable blue chip without much quick growth potential, the initiatives that the company is planning in the upcoming months make worthwhile to consider P&G as an investment. P&G's plans for continued expansion and brand loyalty development in the foreign market, its constant innovation and advertising, and its push to streamline and cut costs internally has the potential to increase returns for investors as the company's revenues and profits increase. On top of that, there is the additional advantage of more than a century of stable dividend payments and a developed core market, which virtually eliminates the chances of loss from the expansion. I Know First's algorithm predicts solid and stable growth, particularly in the long term, making the stock a worthy buy for investors.
Business disclosure: I Know First Research is the analytic branch of I Know First, a financial startup company that specializes in quantitatively predicting the stock market. This article was written by Daryna Kutsyna, an I Know First intern, and edited by Daniel Barankin. We did not receive compensation for this article (other than from Seeking Alpha), and we have no business relationship with any company whose stock is mentioned in this article.
Disclosure: The author has no positions in any stocks mentioned, and no plans to initiate any positions within the next 72 hours. The author wrote this article themselves, and it expresses their own opinions. The author is not receiving compensation for it (other than from Seeking Alpha). The author has no business relationship with any company whose stock is mentioned in this article.