I remain bullish on Frontier Communications (NYSE:FTR). The company has been moderating its total revenue decline. Also, the lined up revenue generation opportunities will uplift FTR's overall revenue base in the future. Moreover, the company's simple pricing and expanded broadband availability has been modestly growing its broadband subscriber base. In addition, the company's plan of acquiring AT&T (NYSE:T)'s wireline business in Connecticut contains attractive synergies and opportunities of expanding its broadband network, which will provide an upside potential to grow subscriber base, average revenue per customer [ARPC] and ultimately the company's revenue. Also, the acquisition will help the company strengthen its cash flows, which will support its current dividend yield of 7%.
Broadband to support revenues
FTR, through its effective policies, has been managing to moderate its revenue decline; the company experienced a total revenue decline of 2.2% and residential revenue decline of 1.1% quarter-over-quarter in 1Q14. Moreover, the ARPC from the residential area modestly decreased 0.6% quarter-over-quarter. The continued promotional spending by FTR has done well to expand the company's residential subscriber base, but has also pressurized revenue and ARPC. Going forward, the company expects to lower its promotional polices, which will portend well for its revenue base and ARPC growth.
However, broadband services, being the core of FTR's product portfolio, have been modestly supporting residential revenues. The company is steadily growing its broadband subscriber with continuous investments in its broadband network capacity. FTR marked its fifth consecutive quarter of broadband subscriber additions, with approximately 37,000 net additions in 1Q14. In addition, the company's simple and flexible pricing plans have been growing its broadband subscriber base at a faster rate than its peers, CenturyLink (NYSE:CTL) and Windstream (NASDAQ:WIN), as shown by the chart below (based on 1Q14 results).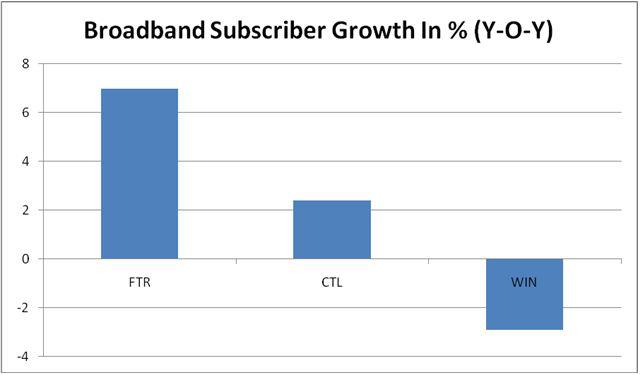 Source: Companies Quarterly Earnings Report
Going forward, FTR remains committed to increasing its broadband market share with its pricing and packaging initiatives, including a $5 increase for the broadband product price and the annual content fee increase, which will support residential revenue growth in coming quarters. These price hikes will not affect the residential broadband customer base, as the company, along with its broadband price increase plan, has undertaken network service improvement initiatives. I believe this will enable the company to not only retain the existing residential broadband customers, but also keep on adding more customers with the improved network capacity of FTR's broadband services. This growing subscriber base will result in profitability, ARPC and revenue growth in the long run.
FTR's business revenue, which makes for 51% of its customer revenue, decreased 3.4% quarter-over-quarter in 1Q14. The decline in equipment revenue, due to seasonality in hardware industry and the reduction in wireless backhaul, affected the overall business revenues. Moreover, competitive headwinds from cable operators also challenged business revenues. However, I believe that as the company stays focused on more product deployments, expansion in alternate channels, targeted pricing initiatives and overcomes the wireless backhaul issues, FTR's business revenue will improve in the future.
AT&T Connecticut Acquisition Plan
Partnering with other carriers has been an important tool to increase market shares in the Telecom Industry. FTR is also trying to follow this industry dynamic by opting for strategic partnerships. The company's partnerships with DISH, Crius Energy, T and Yahoo have done well to improve its operations and market presence. Also, the company has been trying to improve its wireline business in Connecticut by acquiring T's U-verse for $2 billion, which had been driving T's revenues. While the deal is waiting for approval by regulatory authorities, FTR expects to integrate T's operations better than Verizon (NYSE:VZ)'s operational integration, whose wireline assets have been acquired by the company in the past. FTR will be able to acquire 900,000 voice connections of T through the deal.
Moreover, the deal will provide the company with approximately 415,000 broadband connections of T in Connecticut, including 245,000 U-Verse and 70,000 DSL customers. Also, the deal will add T's 180,000 U-Verse video subscribers to FTR's subscriber base. I believe this deal will portend well to grow the company's revenue through considerable subscriber additions. Moreover, the deal will also help expand profitability, increase EBITDA to $525million, including all synergies from the deal. Also, the deal will strengthen FTR's cash flows, which will support its dividend yield of 7%.
Conclusion
The company has been steadily moderating its revenue declines in recent quarters. I believe the expanded network capabilities, intelligent pricing initiatives and attractive packaging strategies will keep on adding to the company's broadband subscriber base, which will drive FTR's revenues and profitability in the long run. Moreover, the T Connecticut acquisition also has significant promise to grow the company's subscriber base and performance. Due to all these aforementioned factors, I believe FTR has strong growth potentials and will perform well in the future.
Disclosure: The author has no positions in any stocks mentioned, and no plans to initiate any positions within the next 72 hours. The author wrote this article themselves, and it expresses their own opinions. The author is not receiving compensation for it (other than from Seeking Alpha). The author has no business relationship with any company whose stock is mentioned in this article.