This is a series of articles to find BDCs to include in my updated "Total Return Portfolio" for Q3 2014. Please read "Part 1" for complete description of the portfolio, but basically, it is for investors that want dependable regular dividends and the potential for special dividends, as well as long-term capital appreciation from increased stock values. The other four portfolios that I will cover in following articles are "High Yield", "Risk Averse", "Value" and the "Underdog" portfolios that will be updated on my "Portfolio Updates" page . This article will cover dividend sustainability using two measurements: the last five quarters' core net investment income ("NII") compared to dividends paid during the same period and the results from my "BDC Dividend Coverage" series.
Last 5 Quarters
There are pros and cons to using historical earnings compared to actual dividends paid. The biggest issue is that there is always a certain amount of one-time income and/or expenses. BDCs know this as well, and should plan their distributions accordingly so it is still a valid measurement. As promised in "Part 2: Historical & Projected Dividend Sustainability" from the last total return series, I have updated this analysis to include core NII that excludes both income and incentive fees related to capital gains, as well as some of the major one-time expenses, and is a more accurate measurement of recurring income to cover dividends. However, I have not spent as much time analyzing BDCs that are less likely to cover dividends in the future, such as MCG Capital (NASDAQ:MCGC), BlackRock Kelso Capital (NASDAQ:BKCC) and Full Circle Capital (FULL). The table below provides some of the detail for my quarterly core NII.
The following table uses calculated core NII from the previous table compared to the regular dividend paid during the same period, to assess historical dividend coverage.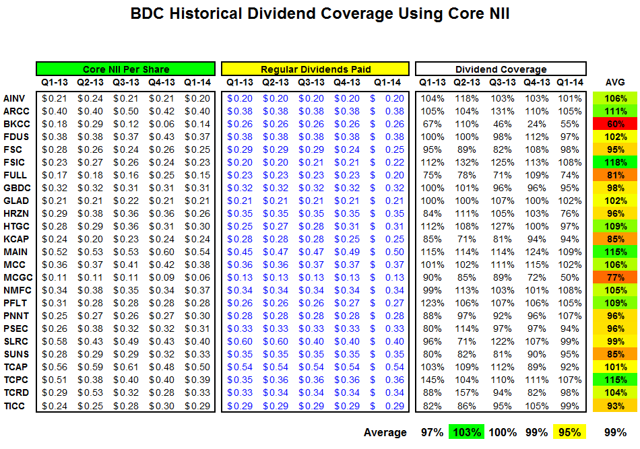 Yield compression has been an ongoing issue in the BDC industry over the last two years, and the table above displays reduced dividend coverage over the last four quarters. As you can see, the average coverage has declined from 103% to 95%, and some more than others. BDCs that have increased or decreased dividends recently will skew the results of this analysis, but I will cover that later in this series.
The table below combines the dividend coverage results from the previous table with my "optimal leverage" analysis that uses the current cost structure and capital expenses for each BDC, along with the amount of equity as of March 31, 2014 (or most recent), a debt-to-equity ratio of 0.80 and the current portfolio yield to project income and expenses. For more information on this approach to projecting dividend coverage, please read "BDC Dividend Coverage Part 1".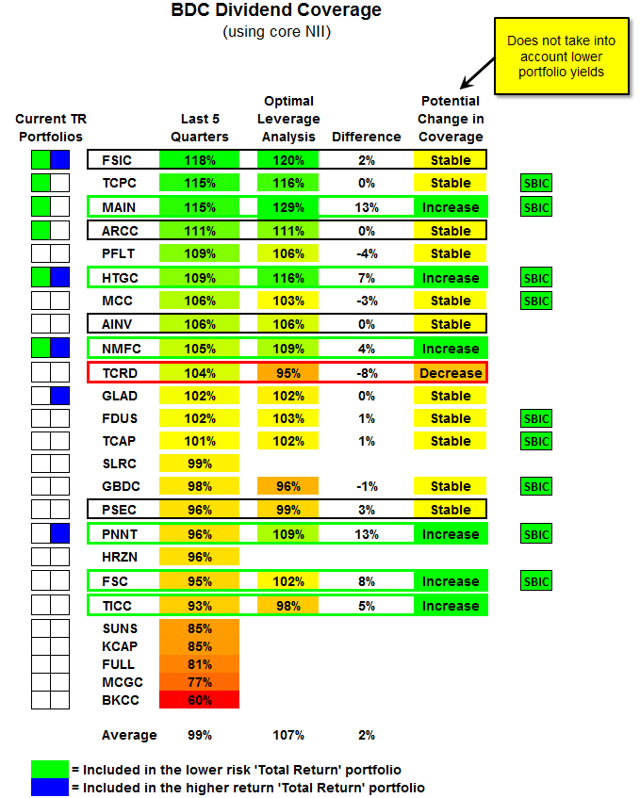 I believe that the table above shows a few things, as well as validating my "optimal leverage" analysis in the previous series. The four largest dividend-paying BDCs (using portfolio size) that I cover are Ares Capital (NASDAQ:ARCC), Prospect Capital (NASDAQ:PSEC), FS Investment Corp. (NYSE:FSIC) and Apollo Investment (NASDAQ:AINV). All of these BDCs are close to their optimal leverage dividend coverage, due to their size and/or maturity. Obviously, FSIC and ARCC have better coverage and are more likely to increase dividends in the future. However, this does not take into account lower portfolio yields. I have also indicated which BDCs use or have the ability to use SBA debentures that allow the company to borrow more than the average BDC to increase returns for higher coverage in the future.
Currently, the BDCs that are components in the total return portfolios are ARCC, Main Street Capital (NYSE:MAIN), Hercules Technology Growth Capital (NASDAQ:HTGC), FS Investment Corp., New Mountain Finance (NYSE:NMFC), TCP Capital (NASDAQ:TCPC), Gladstone Capital (NASDAQ:GLAD) and PennantPark Investment (NASDAQ:PNNT). Most of these are near the top of the previous table, indicating that they have recently covered dividends more than the other BDCs. PNNT is ranked the lowest, but has the potential for increasing its leverage and improving coverage in the coming quarters. It should also be noted that PNNT has recently improved its dividend coverage, as shown in the second table of this article, and is one of the reasons I have continued to upgrade the company.
AINV was one of the four BDCs that were discussed in Part 1 of this series to be potentially included in these portfolios, and ranks above the others, including PSEC, Golub Capital BDC (NASDAQ:GBDC) and Triangle Capital (NYSE:TCAP). PennantPark Floating Rate Capital (NASDAQ:PFLT) also ranks higher than most but has a lower dividend yield than some of the others, but is most likely going to increase its dividend later this year. Medley Capital (NYSE:MCC) also ranks higher and is one of the more underpriced BDCs, but does not have a history of net asset value per share growth. THL Credit (NASDAQ:TCRD) is the only BDC in this analysis that might potentially cut dividends.
The rest of this series will continue to look at historical results and projected performance of each BDC to uncover the best BDCs for this portfolio. The key criteria I will be analyzing are:
Dividend and portfolio growth potential
Special dividend potential
Relative valuations
Risk-to-reward ratio
NAV per share growth historically and projected
I will try to cover each of these areas using available public information, as well as my own analysis, and I will most likely be investing in all of these BDCs personally. Investors should only use this information as a starting point for due diligence and please see the following for more information:
Disclosure: The author is long ARCC, MAIN, FSC, FSIC, HTGC, TCPC, NMFC. The author wrote this article themselves, and it expresses their own opinions. The author is not receiving compensation for it (other than from Seeking Alpha). The author has no business relationship with any company whose stock is mentioned in this article.
Editor's Note: This article covers one or more stocks trading at less than $1 per share and/or with less than a $100 million market cap. Please be aware of the risks associated with these stocks.