As most of you know, I'm not a market timer and that simply means that I'm not trained at picking the bottoms or tops of security prices. Many people believe that the fastest way to the highest market returns is to find short-term trades that are accurately timed; however, as a value investor, I have learned that there is simply no way to accurately and consistently time short-term market movements.
Through trial and error, I have found that it's simply better to be in the market invested in stocks that offer the highest potential returns than play the timing game.
Many of you know that I'm generally a buy-and-hold investor and that means that I like to invest in REITs that I can own for the long haul. It's rare that I bet against securities that will fall in price…that's like gambling that my plants will die. I prefer to plant my seeds firmly in the ground and wait for my crops to grow.
Occasionally, I run across a few plants (stocks) that seem to be deteriorating and, as a result, I seek to avoid the companies all together. I'm not a proponent of shorting REITs as that is RISKY!
Should I Short REITs?
Bill Ackman (owner and founder of Pershing Square) and I are of the same age and share the very same birthday. But that's all we have in common. Remember, I was a real estate developer for 20 years, and after the Great Recession, I traded in my risk boots for "sleep well at night" PJs.
Think about it like this, the outcome of a short sale is basically the opposite of a regular buy transaction, but the mechanics behind the short sale result in extremely volatile risks. In fact, this is the first article that I have written on short sales because generally stocks move up in price. It's somewhat like the law of gravity as the law of investing is inflation (instead of gravity) and that means that betting against the upward momentum is inherently risky. That means that when you bet against the momentum and you keep a short position for a long period of time, your odds get worse.
Also, when you short sell, you don't enjoy the same infinite returns you get as a long buyer would. A short sale loses when the stock price rises and a stock is (theoretically, at least) not limited in how high it can go. In other words, you can lose more than you initially invest, but the best you can earn is a 100% gain if a company goes out of business and the stock loses its entire value.
Finally, and the most concerning risk is leverage or margin trading. When short selling, you open a margin account, which allows you to borrow money from the brokerage firm using your investment as security. Just as when you go long on margin, it's easy for losses to get out of hand because you must meet the minimum maintenance requirement of 25%. If your account slips below this, you'll be subject to a margin call, and you'll be forced to put in more cash or liquidate your position.
For all of these reasons, I'm not willing to risk my hard earning capital to short a REIT. Plain and simple, it's just way too risky and I believe that by patiently taking advantage of the margin of safety, my portfolio will hold more winners than losers.
Regardless of my risk tolerance level, the short sellers haven't stopped betting against REITs and when that feeding frenzy becomes a catalyst, the "squeeze" ensues (as more and more of the short investors buy shares to cover their positions, share prices skyrocket).
These 3 REITs Are Vulnerable
The most complicated aspect to shorting securities is being right too soon. Even though a company is overvalued, it could conceivably take a while for the share prices to tumble. In the meantime, you are susceptible to interest, margin calls and being called away. All it takes is one big mistake and the game is over.
However, Bill Ackman (and his $12 billion hedge fund) has done well. According to Forbes, his fund was up 9.7% net of fees in 2013 and down from the previous year when the fund was up 12% (Herbalife and J.C. Penney hit the fund hard in 2013).
Ackman's market timing strategies have been profitable as the billionaire ranks #392 (according to Forbes) with an estimated net worth of $1.5 billion. Maybe he should take these picks from my short sale playbook:
Glimcher Realty Trust
Glimcher Realty Trust (GRT) is a Mall REIT and that should tell you something. More importantly, the Columbus-based REIT owns a portfolio of 31 properties, mostly B and C assets in secondary markets like Lancaster, Heath, and Dayton (all in Ohio). In 2008 the $1.58 billion (market cap) REIT was hit hard by the Great Recession when Funds from Operations (or FFO) per share dropped from $2.04 to $0.58 (in 2012). At the peak, Glimcher paid out a $1.92 per share annual dividend and the company has maintained a flat dividend payment of $0.40 since 2009.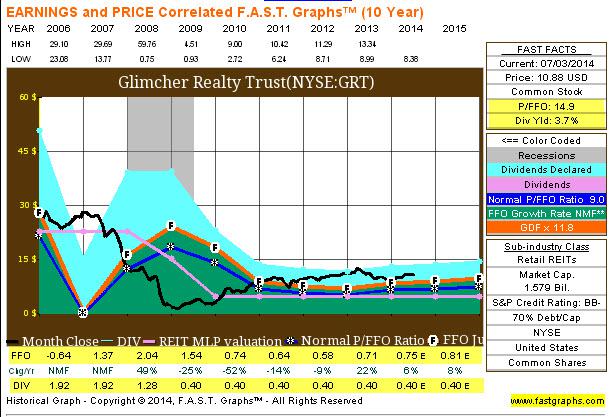 Glimcher is currently trading at $10.88 with a Price to Funds from Operations (P/FFO) multiple of 14.4x. As evidenced by the snapshot below, Glimcher should be trading in line with other B&C Mall REITs like Rouse (NYSE:RSE) and CBL Properties (NYSE:CBL).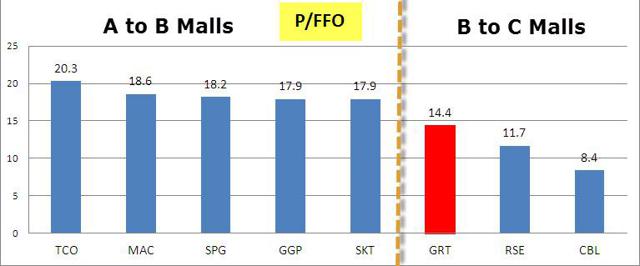 Ackman should consider Glimcher trading closer to a 10x P/FFO multiple. That translates to a price of $7.50 per share.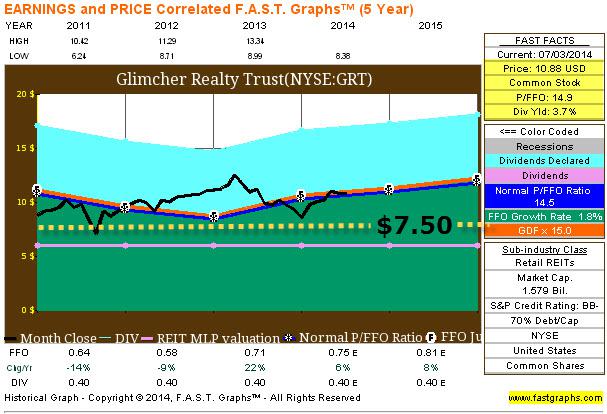 Mack-Cali Realty Corporation
Mack-Cali Realty Corp. (NYSE:CLI) went public almost 20 years ago and since that time the company has evolved into a diversified landlord of 266 office and office/flex properties (totaling approximately 30.8 million square feet) and 13 multi-family rental properties (containing approximately 3,900 residential units).
The majority of the company's assets are located in the northeast and as evidenced by the FAST Graph below, the REIT took a hit during the Great Recession. In 2008 FFO per share was $3.83 and earnings have steadily eroded to around $1.69 per share (as of 2014). More meaningful than earnings (or FFO), Mack-Cali's dividend has continued to decline from a high payout of $2.56 (in 2008) to a much more modest payout of $0.60 per year (annualized).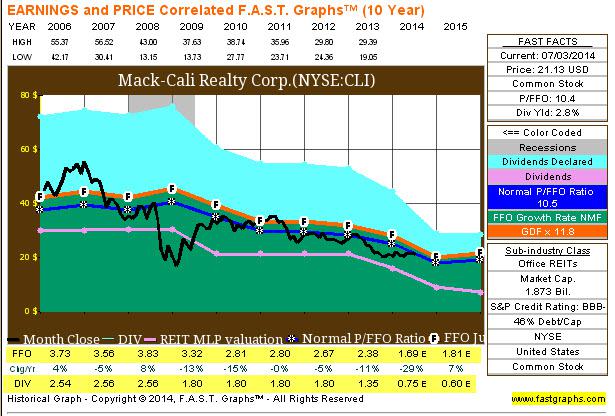 Given the higher risk premium attached to Mack-Cali's balance sheet (51% total debt to total capitalization), this REIT should be trading closer to 8x P/FFO. Especially, considering the unstable dividend history and declining earnings platform.

Mack-Cali's dividend yield is 2.84% and clearly the safety of that yield is uncertain at best. Currently, shares are trading at $21.13 and given the risk of future dividend volatility, I would recommend that Ackman target Mack-Cali's valuation at 8x (P/FFO) or a price of $17.00.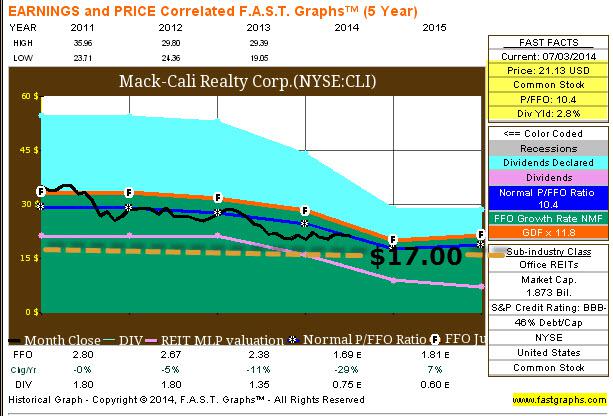 Campus Crest Communities
A few months ago I wrote an article (this is a Pro article) on Campus Crest explaining that this Charlotte-based campus housing REIT had exposed itself to a weak hand. In other words, I recommended shares at $8.62 but I warned that fundamentals were deteriorating and the company was growing too quickly. Remember, Campus Crest is a young REIT (IPO'd in December 2010) and FFO has declined from $0.80 in 2013 to $0.73 (annualized) in 2014.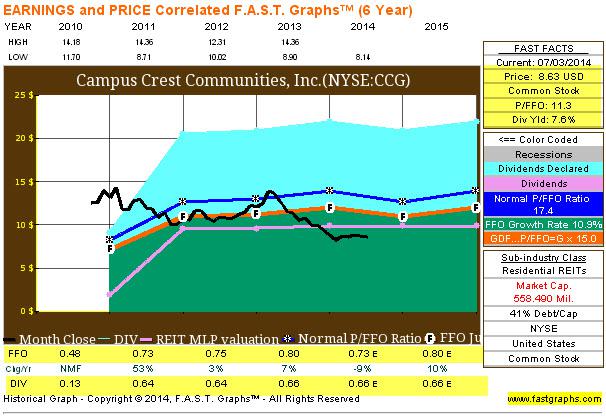 My biggest concern with Campus Crest has to do with high leverage (46% floating debt) and short-term dilution of around $0.17 per fully diluted share due to the closing on the Copper Beach transaction (last year). That has clearly created an overhang on Campus Crest shares and moved the valuation into a more risky category.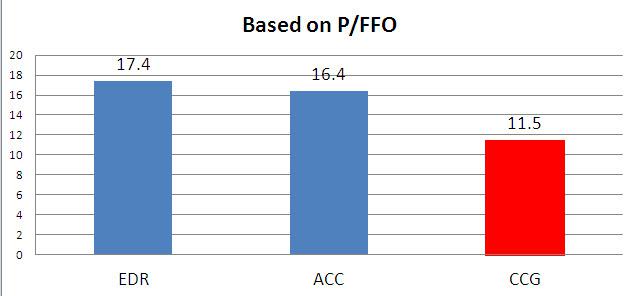 Meanwhile Campus Crest has accelerated growth in Canada and I'm concerned that the management team has not been as prudent with its balance sheet skills. Debt maturity levels are moderately balanced; however, I am somewhat concerned with the debt coming due in 2016. The company has around $100 million a year in development (projected to be $118 million in 2013-2014) and that provides more risk to the capital stack. I could see this stock falling back to $6.00 with a P/FFO handle of 8x.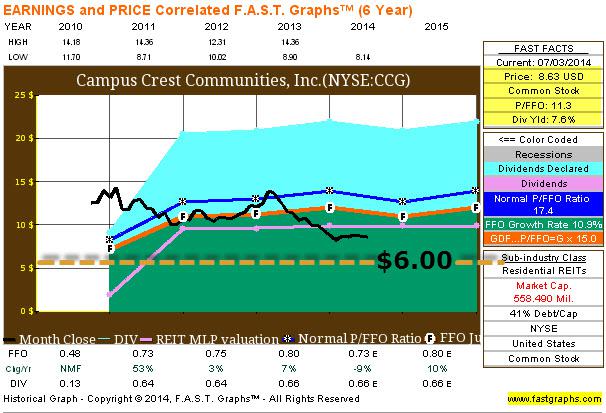 In closing, I won't be shorting REITs anytime soon; however, if Bill Ackman wants to hire me to vet out the best "sleep well at night" real estate companies, I'm all-in. Regardless of whether you're buying or selling, the best way to win is to find companies with the widest moats and then circle the wagons until you see a floor in which you scream the words: "I'm Confident."
At the point in time, you will know that you have an edge over the blind-folded index buyers and you don't have to worry about covering the margin calls. It's important to realize that investors who pay close attention to net profit margins have been able to predict just about every negative event and can rest better than most because you have protected your principal at ALL costs.
To Learn More About Intelligent REIT Investing, check out my newsletter HERE.
REITs mentioned: (NYSE:TCO), (NYSE:MAC), (NYSE:SPG), (NYSE:GGP), (NYSE:SKT), (NYSE:BXP), (NYSE:VNO), (NYSE:ESRT), (NYSE:SLG), (NYSE:CUZ), (NYSE:OFC), (NYSE:HIW), (NYSE:CXP), (NYSEMKT:FSP), (NYSE:BDN), (NYSE:EDR), and (NYSE:ACC).
Sources: SNL Financial and FAST Graphs.
Disclaimer: This article is intended to provide information to interested parties. As I have no knowledge of individual investor circumstances, goals, and/or portfolio concentration or diversification, readers are expected to complete their own due diligence before purchasing any stocks mentioned or recommended.
Disclosure: The author is long O, DLR, VTR, HTA, STAG, UMH, CSG, GPT, ARCP, ROIC, HCN, OHI, LXP, KIM, WPC, DOC, UDF. The author wrote this article themselves, and it expresses their own opinions. The author is not receiving compensation for it (other than from Seeking Alpha). The author has no business relationship with any company whose stock is mentioned in this article.