At the end of June, Google (NASDAQ:GOOG) (NASDAQ:GOOGL) pulled the plug on Orkut, Google's first attempt at a social networking site. The internet giant announced that it would shut down Orkut on September 30, 2014, and encouraged users to download their archive from Orkut servers before the shutdown.
Orkut started in 2004 in California as a "20 percent" project of one of its employees. Orkut, the Google employee after whom the site was named, aimed to connect people from around the world through a website where they could interact with each other. In retrospect, Orkut was launched with optimal timing, just a few months after Myspace and just before Facebook (NASDAQ:FB) and Twitter (NYSE:TWTR) took over the social networking market. However, Orkut never became a leading player in the social networking market and was always perceived as a niche site that was popular in emerging markets.
When Facebook started taking over the social networking market, Google decided to fight back using two strategic decisions. The first one was to transfer Orkut's operations to Brazil and turn it over to be managed by Google Brazil. In that move, Google tried to use its competitive advantage in Brazil and India and increase focus on these markets. The second decision was to launch Google Friend Connect to win the global market. Google's decision to hand over Orkut's ownership to Google Brazil was successful for a short time, and Orkut continued leading the social networking market in Brazil and India until Facebook took over the Brazilian market in 2012 and the Indian market in 2010. Facebook's success in Brazil is impressive mainly because of the effort Google put into Brazil in an attempt to win against Facebook.
In 2012, Facebook defeated Google twice. In Brazil, Facebook took the lead in the social networking market, and worldwide, Google failed to compete with Facebook when it announced the retirement of Google Friend Connect, which gained very little success. Google launched and retired another social initiative named Google Buzz, which was not able to get any traction in the social networking market and was retired a few months after it was launched in 2010. In 2011, Google launched Google Plus. As shown in Chart 1 below, Google penetrated the social networking market quickly this time and was able to obtain a substantial number of registered users in a very short period.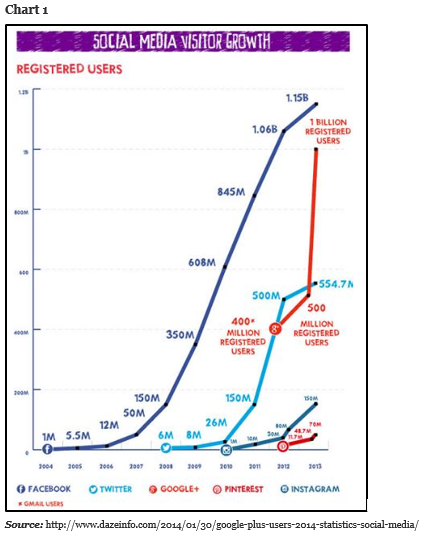 Unlike its previous attempts to win the social networking market, through Google Plus, Google was able to attract new users, increase market share, and fight back against Facebook. As shown in Chart 2 below, Google was able to gain 35% market share by Q4 of 2013, making Google Plus Google's biggest success in the social networking market and leaving behind past failures Google Buzz and Google Friend Connect.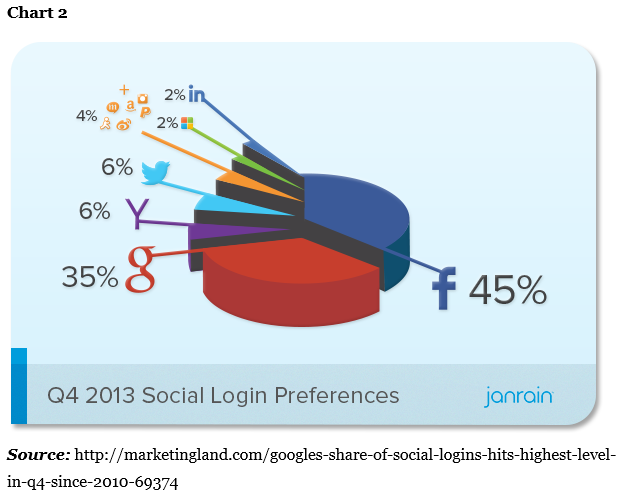 After a few successful years of Google Plus, Orkut is still a leading competitor in Brazil and India. According to a WeAreSocial.sg report from January 2014, Orkut has 12% market share in Brazil and 17% market share in India. Google's announcement of its plans to shut down Orkut is an attempt to shift users from Orkut to Google Plus in order to focus the company's social media efforts under one umbrella and increase market share in two of the biggest markets after China: Brazil and India.
Conclusions
Successfully converting Orkut users to Google Plus and winning the Brazil and India market shares are significant milestones in Google Plus' evolution. Orkut still has substantial market share in Brazil and India, which could be used by Google to increase its market share worldwide. If Google is successful in turning Orkut users to Google Plus, it will come very close to Facebook's market share and will be able to drive companies and advertisers in these markets to increase their use of Google Plus and increase revenues.
Disclosure: The author has no positions in any stocks mentioned, and no plans to initiate any positions within the next 72 hours. The author wrote this article themselves, and it expresses their own opinions. The author is not receiving compensation for it (other than from Seeking Alpha). The author has no business relationship with any company whose stock is mentioned in this article. Information provided in this article is for informational purposes only and should not be regarded as investment advice or a recommendation regarding any particular security or course of action. This information is the writer's personal opinion about the companies mentioned in the article. Investors should conduct their own due diligence and consult with a registered financial adviser before making any investment decision. Lior Ronen and Finro Financial Consulting and Analysis are not registered financial advisers and shall not have any liability for any damages of any kind whatsoever relating to this material. By accepting this material, you acknowledge, understand and accept the foregoing.