(This article is a respectful rebuttal to Rocco Pendola's piece out last week entitled, "There's No Guarantee Apple and Google Will Crush Pandora")
You can read Mr. Pendola's full article using the above link, but the basis is summed up in the title. I like Mr. Pendola, even though we've had some difference of opinions in the past on Pandora (NYSE:P). I secretly think that Mr. Pendola deep down knows that Pandora is toast, despite the headline to his latest piece. He's now a self proclaimed bear on the name - so why pen a piece that seems to ignore the obvious? We're going to take a look at that and quickly identify what's new with Pandora.
First off, I've been calling Pandora a short all the way from $30 up to $40, and now all the way back down to $22 and back up to $29. I'm going to call it a short until I'm proven dead wrong for the long term, or the company finds its way into the single digits, where I believe it belongs.
My last piece on Pandora was entitled, "A Pandora Short Could Still Reap 50% Gains". I made this prediction around $23/share and so far have been proven wrong. Not unlike the first time I called the company a short, however, I believe time to be on the side of the shorts. The two articles prior to that in my non-award winning series were titled, "Pandora Reminds Us Why Shorting it is a Great Idea", and of course my critically non-acclaimed, "I Will Short Pandora Furiously Until the Letter 'P' Falls Off of My Keyboard."
And, what a fine end to the week it was to the endangered species known as Pandora bulls. Despite never turning a profit, the company's stock is once again being systematically marched upward to the $6 billion dollar market cap range. Not exactly where I'd put a company with a shrinking niche, no profits, and direct competitors in Apple (NASDAQ:AAPL) and Google (NASDAQ:GOOG) (NASDAQ:GOOGL).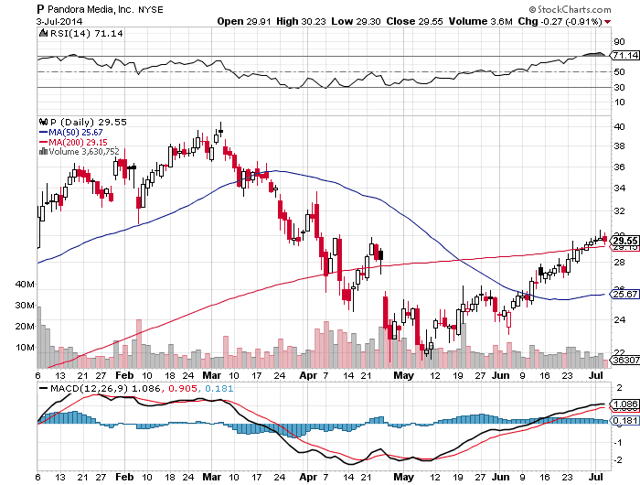 The stock found some fuel under it when Canaccord came out with bullish sentiments on the company last week.
Seeking Alpha reported:
A talk with Pandora's ( +3.4%) IR team has given Canaccord's Michael Graham (Buy, $43 PT) "renewed confidence in Pandora's ability to exceed [Canaccord's] revenue targets over time, especially when viewed through the lens of future local sales capacity."
Pandora has been spending heavily to grow its local ad salesforce: Sales/marketing spend rose 63% Y/Y in Q1 to $61.8M.
Meanwhile, MKM's Rob Sanderson (Buy) believes Pandora could see $5.60/year in EPS one day with the help of rising ad load. He observes that while Pandora has a 9% share of ad-supported radio listening, its audio ad sales "represented less than 2% share of the spending pie last year."
Pandora's 2014 and 2015 EPS consensus estimates are only at $0.17 and $0.48, respectively. Though its ad load has been rising, the company has been taking a measured approach in order not to alienate users who have plenty of alternatives.
Shares have topped $29 for the first time since April.
First off, what kind of a conversation with IR is going to lead you to up a price target on a stock? IR can't deliver any kind of materially improved metrics or guidance anywhere - they can only reiterate what the company has already disclosed. So, short of putting a nice polish job on the heap of information we've already been handed by the company (and maybe picking up the dinner tab somewhere), I'm not quite sure what the IR team could have said that Mr. Graham was so enamored with.
Further, what does Mr. Graham expect IR to say? "Dump this POS, we're going under!?" or maybe "We're about to get our clock cleaned by Apple, maybe you should pick up some December OTM calls - they look cheap!" That would be like me calling my Geico agent and him assuring me that Geico is the best automotive insurance I can buy. It's just a great coincidence and super convenient that he happens to work there.
But in all seriousness, this price target is way off base and absurd. Pandora should be a $9 or $10 stock, as is, right now. If we were in a 2008 market, and not the euphoria fueled bull market we're in now, I'd bet Pandora would be trading even lower. But, this isn't a "show me" market right now, it's a "tell me" market.
The interesting thing about Mr. Pendola's piece over on The Street last week is that despite his headline, he seems to make the opposite argument in the text of his column. Mr. Pendola concludes his piece by basically making my argument for me:
A large part of my Pandora bearishness -- probably the majority of it -- hinges on all of the above, but particularly Apple and Google, doing the right thing with their now diverse and expansive streaming radio platforms.

I'm convinced if Apple and Google properly integrate Beats Music and Songza, they can leave Pandora behind. Or at least critically ding it. I'm convinced that Apple/Beats and Google/Songza as well as Spotify/The Echo Nest, not to mention Twitter (TWTR), can move first on building music-based data businesses while Pandora stands still. But, as the excerpt from the reader email opines, there's no guarantee the big companies especially will make any of this a priority.
It looks like Mr. Pendola could have used my title from this article and kept the content exactly the same.
"You could have called it 'Acting With Acting' - that could be a good title, too."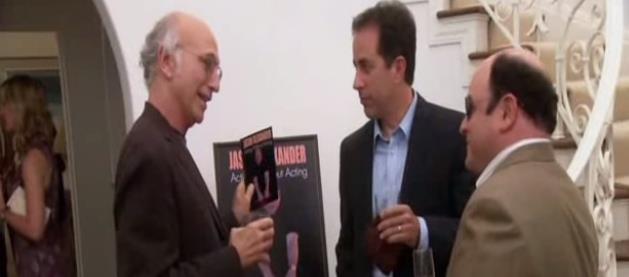 Having said that, making streaming music a priority is exactly what Google is doing. Google, if you recall, just picked up Songza last week. For what reason, you ask? Not to compete with Pandora?
In a sign of growing consolidation in the digital music business, Google said this week that it had bought Songza, a three-year-old app that competes with Pandora and others in making customized playlists of recommended songs. A person briefed on the deal said that Google paid more than $39 million for Songza. Acquiring Songza could help Google improve its ability to offer musical "curation" - the buzzword of the moment in digital music, meaning the ability to generate playlists of songs that are tailored to each user.
Same thing with Apple, Beats, and iTunes Radio. You can't make the argument that these two companies are not trying to get into and monetize streaming music, so where does Pandora fit into the picture?
Not only that, but Amazon (NASDAQ:AMZN) recently threw their name into the hat:
Prime Music will provide ad-free, on-demand streaming to 1M+ songs to Amazon's Prime subs. Mobile streaming is included, as is an offline download option.
As expected, popular Universal Music acts aren't included, and neither are most current hits from other labels. TechCrunch observes only 1 of the top-10 songs in the Billboard Hot 100 is available.
In terms of size, Amazon's catalog is roughly on par with Pandora's , but much smaller than Spotify's 20M+. Amazon's primary goal, of course, is to keep its Prime sub base (reportedly now above 20M) happy, and to give others a fresh incentive to sign up for the $99/year service.
Granted, the company's balance sheet is one of its nicer assets. I can see it being a buyout candidate, but at a steep $6 billion plus premium, who has the firepower and the need to buy them out? Microsoft? Maybe. Aside from that, tough to find a suitor.
And let us not forget that Pandora's audience metrics have failed to impress of late. It's active listeners metric - which I pointed out as plateauing over and over again - is what sent confidence in the name into a tailspin at some point earlier this year.
As I've pointed out in the past, the company has hidden its lagging active user metrics by showing YOY comps instead of quarter-to-quarter comps. Soon, it's going to evident either way - perhaps that's why Pandora stopped reporting these figures in the first half of 2014.

Pandora's last report of metrics did not impress the market on June 4th:
In its last monthly audience report (quarterly numbers will still be given), Pandora ( -2.2%) states it had 77M active listeners in May, up from 76M in April and 70.8M a year ago.
However, listener hours only rose 1.7% M/M (in spite of an extra day) to 1.73B. On a Y/Y basis, they rose 28%.
Pandora's share of total U.S. radio listening (influenced by seasonality) was 9.13%, down from 9.28% in April and up from 7.29% a year ago.
The numbers come amid worries about the Apple/Beats deal, an expected iTunes Radio revamp, and Amazon's reported plans to launch a streaming music service bundled with Prime subscriptions.
So, despite the Canaccord upgrade with its ridiculous price target, I continue to contend that the momentum is working against Pandora here.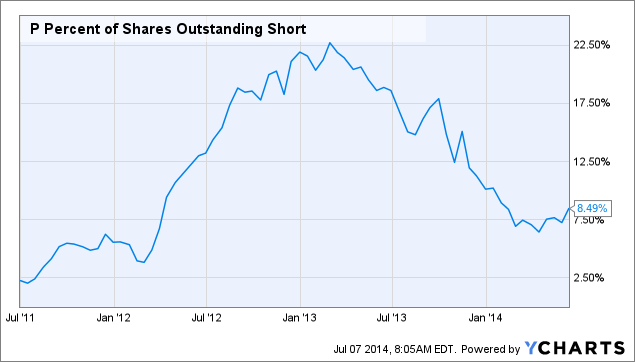 P Percent of Shares Outstanding Short data by YCharts
With a short interest that has declined significantly from when the stock was up near the $40 levels, there is little chance of a squeeze here and even less of a chance the company delivers the only news that it could use to catalyze a squeeze - that of a buyout.
I remain bearish on Pandora under the assumption that Apple and Google will likely become the two prime players in streaming music as time marches on. Pandora does not have the necessary growth to warrant its aggressive valuation and would be a prime candidate to be roped in during any kind of market correction.
Best of luck to all investors here.
Disclosure: The author has no positions in any stocks mentioned, but may initiate a short position in P over the next 72 hours. The author wrote this article themselves, and it expresses their own opinions. The author is not receiving compensation for it (other than from Seeking Alpha). The author has no business relationship with any company whose stock is mentioned in this article. May position long AAPL or short P at any time.