"I was conned all the way, and now both my wife and I are ill, and splitting up because of the pressure. It's fine until the investment money runs out, then you are left to rot. . . . Please look into this organisation and warn people they need $200,000 minimum to make it work."

-Rob Phillips, Herbalife's GET Team
Poor Rob. I'm not quite sure sinking another $200k into the "business opportunity" is the solution to the problem - but I digress.
This article is to comment on the method to Mr. Ackman's madness thus far and point out the results of a little investigative searching about one of Herbalife's Presidents Team members.
If you're looking for an article that's akin to "101 Reasons Why Herbalife is a Pyramid Scheme", you can take a pre-emptive three course lesson on the business model behind Herbalife (and why it's a pyramid scheme) by reading the following three articles:
1. 7 Reasons That Herbalife Fits the SEC's Definition of a Pyramid Scheme
2. The Outrageous Claims that Fuel Herbalife
3. "Will You Walk into my Parlour?" said the Spider to the Fly
In waiting for Mr. Ackman's next planned webinar on Herbalife (NYSE:HLF) - presumably it's going to be about nutrition clubs, as Mr. Ackman has mentioned already - I came across another update to the herbalifepyramidscheme.com website that Mr. Ackman has put up to profile some of the company's top distributors.
I'm sure many of you are wondering, "Is he really still working on this thing during the investigation of the company? Why keep going, Bill?"
Good question.
Let's first not forget the fact that anyone who has read "Confidence Game" knows what kind of an investor Mr. Ackman is intrinsically - when he gets behind something and is certain of his due diligence, he's like a dog that will not let go of a bone. Mr. Ackman is going to fight and fight and fight - and when you think the case is a wrap, he's going to pour it on even harder.
So far, Mr. Ackman has done well to dismantle the company's business model in the U.S., point out potentially borderline accounting fraud issues in China, profile the people that have been hurt directly by Herbalife, and launch a campaign of truth about the company that is multi-faceted and has seemingly prompted the company to make some of its biggest PR boners yet.
What does Mr. Ackman think is next for Herbalife?
"I believe the government will start arresting people"

- Bill Ackman, CNBC Squawk Box
While his general counsel may have cringed a bit when Mr. Ackman made these statements on the air, I'd be willing to bet Mr. Ackman is dead on.
Mr. Ackman thinks that arrests are going to be the next item down the line, and I can't say that I disagree with him. The sheer fact that John Tartol, after making some of the most outlandish claims of any top distributor, remains on Herbalife's board of directors, is astonishing. I'm sure there's even some Herbalife longs out there that can't fathom how a man that once promised $100k/month in income from being an Herbalife distributor can remain on the company's board of directors with the company under this kind of scrutiny.
Questions then start to turn more serious, like Matt Stewart points out in his article, "Did Herbalife Executives Conspire to Commit Mail Fraud?" Mr. Stewart makes a hell of a case and I do have to think that criminal charges may not be too far off in the future. The FBI is likely unamused by wire and mail fraud.
Do you think any one of the distributors that have made their millions while people like Rob Phillips fund their high profile lifestyle will turn on the company? I do. As a matter of fact, I'd bet dollars to donuts that some of the very perpetrators profiled on Mr. Ackman's site are working very closely with regulators as we speak.
You see, for every success case like the one of Mr. Doran Andry's mansion, there's a list of people that have lost tens of thousands of dollars seeking the rigged "business opportunity" that now pays for Mr. Andry's landscaping bills:
- source)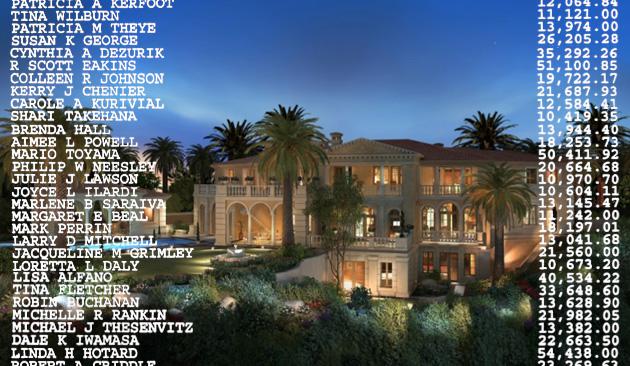 Interestingly enough, if you poke around on Seeking Alpha long enough, you can draw a direct line between many of the pro-Herbalife lot who are actually just distributors high up in the pyramid that are presumably living off the company dole. They defend the company likely not because they believe in the model, but because the company delivers them a fat check every month/quarter/year.
Like, for instance, President's Team Member Mr. Rene Porcile, who comments under the SA name "powershake".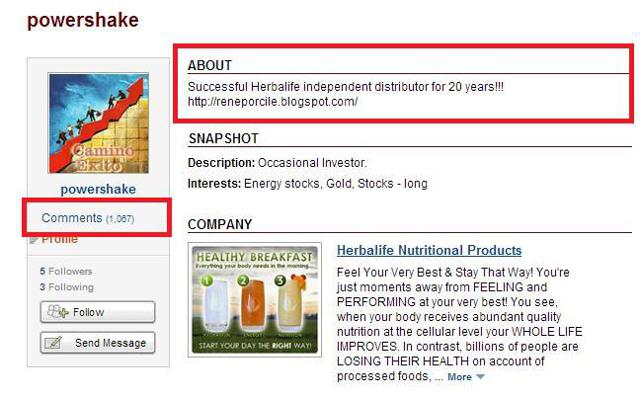 Here's a picture of Mr. Porcile standing happily next to Herbalife CEO Michael O. Johnson: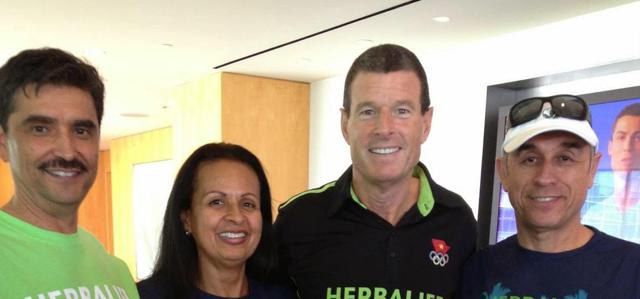 Mr. Porcile's website and Herbalife testimonials can be found at this website here. He's cleaned his site up a bit since last year, but using the Wayback Machine, we can see that as soon as September of last year, Mr. Porcile was recruiting members into Herbalife the same way everybody does - by making up BS claims about medical issues that Herbalife can seemingly help with or cure.
Yes, these were listed right under the spot on the site now that says, "Herbalife products are not intended to diagnose, treat, cure or prevent disease. However, when the body gets complete nutrition that is needed at the cellular level, amazing positive results can and do occur. The Herbalife products are designed to help people look and feel their very best and stay that way! Check it out for yourself."
Yes - check it out for yourself.
Here's some of Mr. Porcile's greatest hits: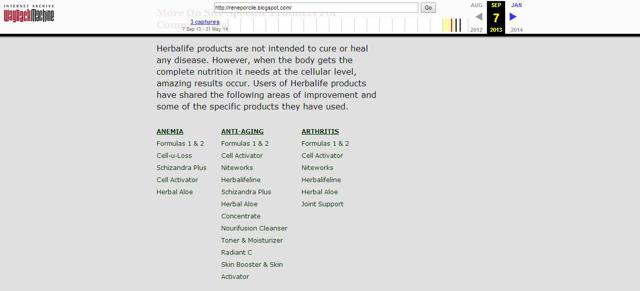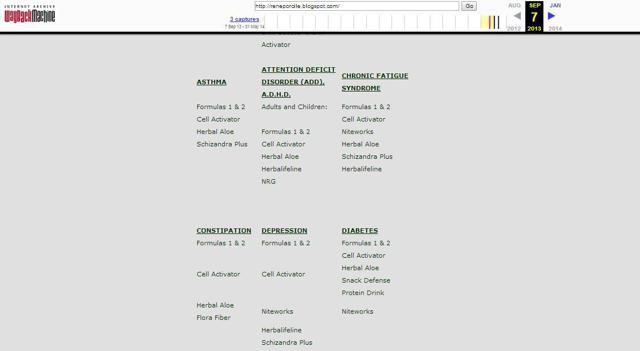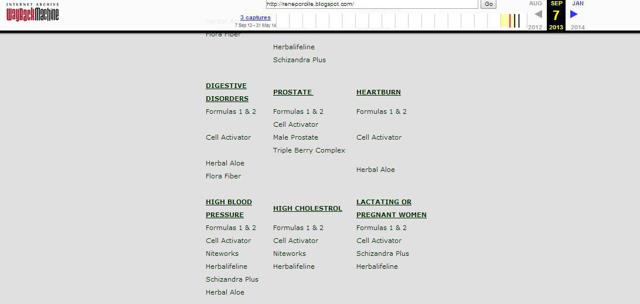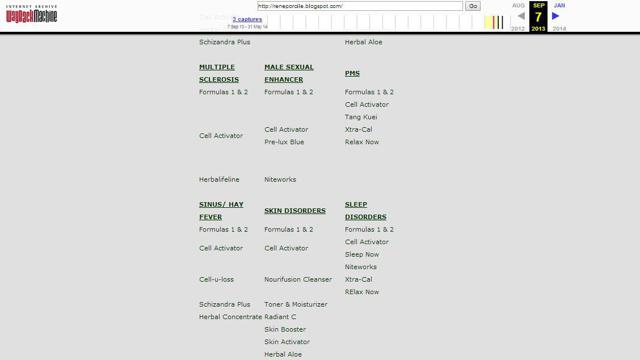 So, Herbalife can't be used to help any of these conditions - but I'm going to list them anyway.
Got that?
Mr. Porcile seems to spend his days now collecting his Herbalife checks and defending the company on a multitude of internet spots; you can generally see him somewhere near me in the comments section of every Herbalife article on the web. His 1,000 comments on SA alone make me look like I'm only "slightly interested" in the Herbalife saga.
So, when you read one of Mr. Porcile's 1,000+ semi-lengthy comments under his pseudonym on SA, remember that this was the guy who less than a year ago was suggesting protein shakes to help with Lupus, mono, post-chemotherapy, lyme disease, and menopause. Holy hell, those are a couple steamers if I've ever seen some.

At some point, I found this funny - like the idea of trying to sell protein shakes and weight loss opportunities in Cambodia, where people are lined up around the corner just to get bread. Then, after I laugh, I realize just how sad the state of affairs at Herbalife has become in the last 30 years.
Again - this is another area where longs will argue that I'm just trying to stand in the way of business! "This is entrepreneurship at its finest," they'll likely claim while raking in discretionary bonuses from corporate. What you need to remember is that this is NOT entrepreneurship. Opening a fruit stand in LA is entrepreneurship. Starting your own business that produces a product with actual demand is entrepreneurship. With Herbalife, the game is rigged.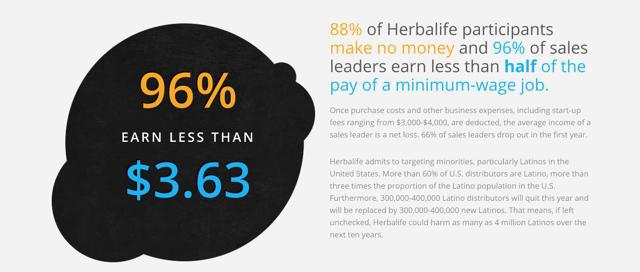 Millions churn over in the bottom of the Herbalife pyramid, and people like Mr. Porcile's equity is derived directly from people like these.
Which brings us back to Mr. Ackman.
Now that the SEC, FBI, DOJ, FTC, and two attorney generals are confirmed to be looking into Herbalife - not to mention the unconfirmed entities looking into the company - why is it necessary for Mr. Ackman to continue his crusade? Shouldn't he just sit back and let the regulators do their job?
In a sense, yes. In another sense, no. Since Mr. Ackman was initially the entity that brought this entire issue to light in December of 2012, he presumably knows more about it than anybody. Mr. Ackman claims to have read and heard everything the company has ever put out - and I believe him. Are you familiar with the amount of due diligence Mr. Ackman did with his MBIA short? Have you read Shane Dinneen's work? He has a grasp on how this company operates that makes Roger Federer only look like he's only "familiar" with tennis.
With that, Mr. Ackman is coaching the regulators, in a sense, and helping them find out where to look. Not like they need the help, but I'm sure the lead investigator for each of these regulator agencies find Mr. Ackman's presentation of the facts extremely helpful. This is very similar to when Herbalife was awaiting their audit from PwC and Mr. Ackman commented to Bloomberg news' Stephanie Ruhle that they've "found some interesting things going on" in the financials and have done their best to "point those out to PwC".
PwC didn't seem to care, as they pushed through an audit that QTR thinks needs to be looked at again. But, the FBI is not ten 22 year old PwC interns on laptops - and the FBI is likely a lot tougher of a sell.
In other words, Mr. Ackman is serving up Herbalife up to regulators on a silver platter.
If you've looked at the list of perpetrators that Ackman has systematically laid out on his site, herbalifepyramidscheme.com, you'd notice that just late last week, yet another "perpetrator" was listed. I'm not going to spend time dismantling Mr. Gain, as Mr. Ackman has already done so, but I encourage you to take a look at it.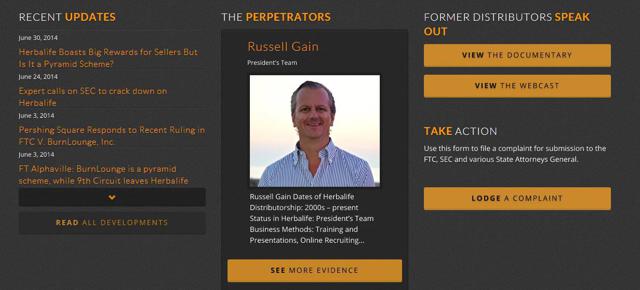 It's the same farce as the rest of them:
promises of wealth
false medical claims about the products
pictures of galas and fancy dinners
company sponsored speaking events
But, the point is, you may have noticed the neat, clean, and concise way the evidence for these perpetrators is pointed out. They use primary sources - either items that you can find via the web now, or items that have been archived and can still be accessed.
No doubt Pershing Square General Counsel David Klafter has made sure that the items listed are done so in a fashion that would easily appease the regulator's counsel. Kudos, Mr. Klafter.
Folks, there a reason Mr. Ackman's fund has returned 25% this year. They don't just hand out Harvard Business School MBAs, from what I understand. Mr. Ackman knows he has this one right and will not back down from it. Similarly, I continue to be as confident as I ever have been that at the very least, massive reform is coming in the MLM industry that is going to prevent Herbalife from ever operating anywhere near the way that it has for the last 30+ years. However, I'm expecting the FTC to shut the company down in its entirety - which I in no way think is any kind of overreaction. The less individuals that are bilked from this scheme guised as a business opportunity, the better.
The sooner the regulators move in here, the better.
Disclosure: The author is short HLF. The author wrote this article themselves, and it expresses their own opinions. The author is not receiving compensation for it (other than from Seeking Alpha). The author has no business relationship with any company whose stock is mentioned in this article.