The focus of this article is to better understand the impact on Antares Pharma (NASDAQ:ATRS) of the dispute between Antares and privately-held Medac Pharma over patents regarding subcutaneous formulations of methotrexate and the impending PDUFA date for approval of Medac's competing product, Rasuvo.
As background, Antares Pharma focuses on developing and commercializing self-administered subcutaneous pharmaceutical products based on three principal technology platforms: (1) Vision reusable needle-free injectors; (2) Vibex disposable pressure-assisted auto-injectors; and (3) disposable multi-use pen injectors. ATRS has four approved products. TevTropin, Gelnique and Elestrin are products sold by partners with ATRS receiving royalty or licensing income. Otrexup, a subcutaneous formulation of methotrexate for the treatment of arthritis and psoriasis, is the first proprietary product that Antares is commercializing on its own. Two major pipeline products include EpiPen, partnered with Teva, and a subcutaneous formulation of testosterone.
A number of fine articles have been written on Antares for Seeking Alpha over the past 2 years. In particular, the article by Smith on Stocks published in August 2013 provides an in-depth analysis of the Antares pipeline and valuation. At that time the stock was trading at $4.50 and has since dropped 40% to its current level below $3.00. The value proposition for Antares has changed since the Smith article - it has improved with the approval of Otrexup and the advancement of the pipeline but is threatened by the potential approval of a competitor's product. A high level of uncertainty regarding the competitor's product and the IP situation has kept many investors on the sidelines. We believe the current price has baked in most of the bad news, largely discounting any significant sales of Otrexup and essentially assigning no value to the pipeline. While there can always be additional bad news that can drive the stock price even lower, we believe the stock of this company can be currently acquired at a price that appears to be a true bargain for a long-term investor.
Setting the Stage: The Legal Battle with Medac Pharma and their product, Rasuvo
Medac Pharma is attempting to introduce a product very similar to Otrexup, a subcutaneous formulation of methotrexate by the name of Rasuvo. The timing of the Medac 505(B)(2) application to the FDA is critical - did it happen before or after the October 14, 2013 FDA approval of Otrexup? If the filing occurred after the approval date, then Medac Pharma would be required to submit a patent certification regarding any potentially infringing patents by Antares in the Orange book (there are several), and would have had to list Otrexup as the "RLD" or reference listed drug in their application. Medac would have been required to notify Antares of their filing. This would have allowed Antares to sue them, initiating a 30-month stay on approval. Medac did not notify Antares of their filing so they either disregarded the regulations or they actually filed prior to approval of Otrexup.
We believe Medac did in fact file their application prior to the October 14, 2013 Otrexup approval. This is based on the PDUFA date of July 10, 2014, which should be 10 months after filing, indicating September 10, 2013 as the likely filing date. Medac was certainly aware of the Otrexup PDUFA date and would have been cognizant of the difficulties of filing an application after Otrexup approval, so it makes perfect sense they would have filed prior to that.
However, to muddy the waters, Medac did not announce acceptance of the filing by the FDA until January 27, 2014. The FDA is obliged to accept or deny an application within 60 days of receipt, so this announcement implied a filing in late November. Most public companies announce the FDA acceptance of a filing immediately after they receive it, but that is generally because it is a positive event for the company and there is no competitive reason not to announce the news. On the contrary, Medac is a privately held company and they had no compelling reason to immediately announce the news. Instead, they had competitive reasons to keep it secret for another 2 months. Further, Medac did not announce the PDUFA date of July 10, 2014, until May 14, 2014, once again keeping this a competitive secret and making sure Antares was not certain of the filing date until late in the game.
Once Medac announced the FDA acceptance of the 505(B)(2) application, Antares swung into action. On March 17, 2014 the company filed a Citizen's Petition with the FDA to request denial of the Medac application. In the petition Antares assumes Medac filed after the Otrexup approval and argues at length about Medac's failure to cite Otrexup as the "reference listed drug" and their failure to notify Antares of their application. Of course, none of this matters if, in fact, Medac filed their application before the approval date. However, with a filing no more than a month prior to the Otrexup approval date, this puts this case into a gray area since clearly Medac knew that Antares would shortly have an approved product when they filed.
Since the Citizen's Petition was filed, a total of 78 documents have been entered by both parties, as shown by the case docket. An injunction hearing was held on June 27 in a Delaware court and a mediation conference is set for July 9, just one day prior to the PDUFA date! In addition, it is clear from the orders issued by the judge that the case will continue beyond the July 10 PDUFA date.
If this is not complicated enough, the two companies hold patents that appear to have overlapping claims and each party has sued the other. The Antares patent was granted before the Medac patent, which was only granted on March 11, 2014, well after the Otrexup approval. The litigation to sort this out could take years if the parties do not come to settlement out of court.
What Does This All Mean?
Based on the on-going litigation and inability of the two sides to reach a resolution prior to the July 10, 2014 PDUFA date, I believe the FDA will issue a "tentative approval" for Rasuvo on July 10, 2014. The FDA issues tentative approvals when the technical package is acceptable but the patent issues have not been resolved. The wording from the FDA website is reproduced below.
Delay approval, give tentative approval if technical package is acceptable. If a generic drug product application is submitted for approval before the expiration of any patents or exclusivities granted to the original, brand-name product, FDA issues a tentative approval letter to the applicant. The tentative approval letter delays final approval of the generic drug product until all patent or exclusivity issues have been resolved. A product that has tentative approval cannot be marketed or sold in the United States.
Time is on the side of Antares. The longer they can drag out the litigation process, the longer Medac will be excluded from the market, allowing Antares to solidify their first-mover advantage. In my opinion, any settlement from the mediation will be very favorable to Antares, since they have the drug on the market and it will be difficult for the FDA to approve a competing product as long as the litigation continues. With both parties having patents with overlapping claims, resolution via the courts could take years - which is just fine for Antares.
CEO Wotton Resigns Unexpectedly
To add to the uncertainty, CEO Paul Wotton resigned abruptly on June 24 to take a position at a smaller development company. Given that he had lined up another position, it appears this resignation had been planned for several months and was not a "firing." Nonetheless, it suggests there may have been disagreements brewing over the past several months between the Board and the CEO and perhaps with his leadership team - maybe concerning the strategy for how to handle the litigation with Medac. The timing seems particularly bad given the significance of the on-going litigation and negotiations leading up to the Rasuvo PDUFA date on July 10. It certainly does not engender a feeling of confidence that everyone on the team is rowing in the same direction. However, perhaps the strategy is set and the legal team is executing on that strategy, and Wotton felt now was as good of a time as any to transition to a new adventure.
Otrexup - Use and Potential Uptake by Physicians
So, what if I am wrong and Antares is bluffing and in fact holding a weak hand? Worst case - Rasuvo is approved and we have two similar drugs on the market. Building on the worst case, we assume there are "x" number of patients and the best Antares will do is to capture "x/2" of those patients. This is probably unlikely as having two companies working to expand the market for subQ methotrexate will likely lead to a situation where the total market expands beyond what a single entrant could achieve on their own. If the Rasuvo product is approved on July 10, I would look for Antares to get more serious about resolving the IP situation over the next few months as the time factor is no longer in their favor. Instead, they will want to clear up the uncertainty for investors and lay out a clear path forward for the future. I think clearing up the uncertainty is probably one of the mandates for the new CEO.
Before exploring revenue models for Otrexup and Rasuvo, we first need to understand the potential market and how these drugs fit into the physician's options for treating arthritis. First of all, let's see what the Antares product looks like and how it is used. The single use injector is shown below. After unscrewing the cap, the patient holds the device either against his/her thigh or abdomen and presses down slightly. This releases the needle and the injection of drug is made over the course of 3 seconds. Once the drug is delivered, the needle retracts. The cap is replaced and the device can be disposed of in normal trash, not in a sharps container. The company has shown that even patients with arthritic hands can make the injections without problems.

Source: Otrexup website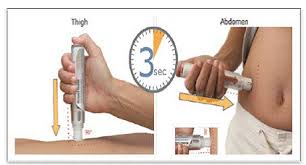 Source: Otrexup website
I have not seen a picture of Rasuvo but Medac has indicated it is a pen delivery system from Becton Dickinson (NYSE:BDX) and it is likely also sleek and simple to use. Becton Dickinson is actively involved with Medac in the on-going litigation with Antares.
A paper by Braun published in 2008 reported studies of a clinical trial where subcutaneous methotrexate was shown to give superior efficacy relative to oral, with similar tolerability. The primary niche for this drug will be to transition patients who are no longer responding well to oral therapy to SubQ therapy, before moving into the more expensive biologics. Antares has carried out market research to estimate the potential use of subcutaneous methotrexate in the US. They estimated about 700,000 patients take methotrexate per year. Antares has provided estimates of 4th year sales of Otrexup of $300 million, so they believe they can achieve 6% penetration based on their selling price. In their June 4 presentation at the Jeffries Healthcare conference, they were projecting about 62,000 patients or 8% penetration. With two companies marketing similar products, it is not unreasonable that this penetration can reach significantly higher levels, perhaps approaching 10-12%. According to the Smith on Stocks article last August, the company estimates a 20% penetration in Europe where subQ methotrexate has been available for over a decade.
In an SA article by Ali Yasar, sales of Otrexup were modeled using an S-curve with a slow uptake initially, followed by an exponential uptake, then a leveling off in 4 years at $300 million. In my view, the first part of the S-curve is likely correct, where initial sales will be slow as physicians are learning about the product. After that, however, I don't see an exponential growth period. I think penetration of Otrexup may be similar to that of a new antibiotic that is entering a crowded market. One example is Cubist Pharmaceuticals' (CBST) launch of Cubicin in 2003, which will reach the $1 billion mark this year after 11 years on the market (first figure below). This drug treats resistant bacteria and is an important medical advance, but sales increases have been steady year after year, never going through a rapid growth phase. Comparison of several other antibiotics (lower figure) shows similar steady increases in revenues over a decade or more. We believe a similar slow and steady use of sub-Q methotrexate will occur and peak sales will likely occur 7-10 years out.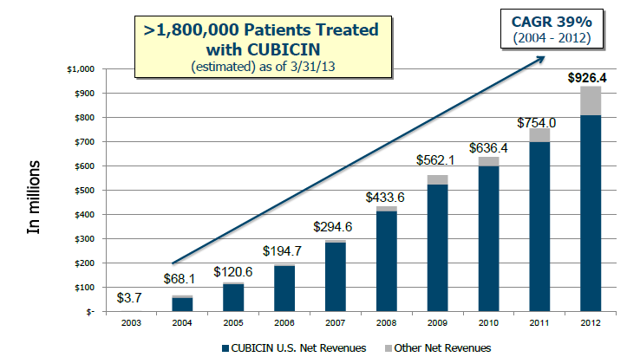 Source: Cubist 1Q14 presentation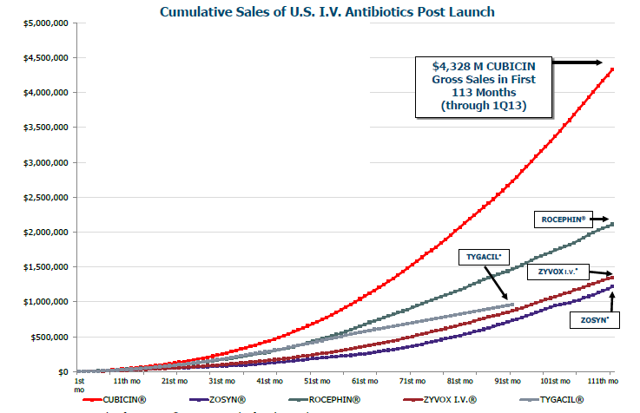 Source: Cubist 1Q14 presentation
Modeling Sales of Otrexup
Antares made Otrexup available to pharmacies in January 2014 and began detailing to physicians in February 2014. In addition, in March 2014, the company agreed to a deal in which LEO Pharma will be responsible for selling Otrexup to dermatologists for psoriasis. According to their 10-K filed in May, Antares had a deferred revenue balance of $2.1 million on March 31, 2014 for Otrexup product shipments to wholesalers, but only recognized $200K in revenue. The company does not recognize revenue until the units are dispensed or the date for returns has expired. The cost per prescription to wholesalers is $137 per weekly dose. Given discounts provided to large insurers and the government, we will model 80% of this cost or $110 per dose, $5700 per patient per year.
We have built 3 models with Rasuvo approval on July 10, 2014, then delayed by 1 year and 2 years. We don't believe a delay beyond that will happen. As the base case we build a capture of 1% of the methotrexate market by Otrexup in 2015 and assume a 1% gain each year if Rasuvo is not approved. However, with Rasuvo approval we believe the total subQ methotrexate market will expand and drive the percentage up to 5.5% penetration in 2018 in the case where Rasuvo is approved this year. In this scenario the two drugs reach combined sales of $220 million in 2018, a very conservative estimate. We assume the two companies will have the same price and split sales evenly by year 2017. If Rasuvo is delayed, then Otrexup will maintain a greater ratio of sales in the outer years as they will be able to build brand recognition with physicians.
Otrexup Sales Modeling
Brief Overview of Pipeline Products
Antares is partnering with Teva on several additional products, most of which have not been publicly disclosed. Modeling future sales is difficult if not impossible. Smith on Stocks has estimated the revenues on partnerships ex-EpiPen will grow to $75 million by 2018 from $15 million in 2014. To be conservative, we are modeling $5 million additional revenue from partnerships in 2015 with a $10 million per year increase for years 2016-2018.
Antares is providing the device for Teva's generic version of EpiPen for anaphylactic rescue. Antares will reportedly receive royalties of 10-12%. Teva has remained mum of potential launch of this product, but may launch in mid-2015 based a deal with Pfizer and Mylan. EpiPen sales have been rising rapidly, from $400 million in 2010 to $700 million in 2012 according to EvaluatePharma statistics. Revenue in 2013 appear to be about $900 million. By 2015 sales will be well over $1B. We can assume Teva will capture 10% in 2015 and 20% of the market in 2016, providing Antares about $3 million in revenue (assuming 6 months of revenue in 2015 but offset by one quarter for royalty payments) and $20 million for 2016. The risk would be if Teva does not achieve FDA approval in 2015.
QS Testosterone is a once-weekly self-administered formulation for testosterone replacement therapy. The total market for testosterone in 2013 was $2.8 billion and growing 20% based on an Antares press release. According to an article by Ali Yasar in June 2013, about 1.7 million prescriptions for IM testosterone are expected to be written per year by 2016. Based on the 1Q14 conference call in May, management expects filing in early 2016 and approval by late 2016 or early 1017. Assuming a realized price of $110 per dose, similar to Otrexup, a 10% penetration into the IM market (170K prescriptions) would generate revenue of $20 million, a good target for 2017, and $50 million (25% penetration) for 2018. POS should be >80% for this drug based on their recently reported Phase 2 results. These estimates are likely conservative since the subQ drug availability will likely capture market share from the gel formulation as well.
Based on these revenue estimates we can derive some potential EPS numbers for Antares. On their last conference call on 1Q14 earnings, management indicated they needed sales of $23-26 million of Otrexup to break even and that they had $63 million in cash on hand. Even in the worst case scenario I think Antares will be able to achieve this level of run rate by the end of this year and will not have to raise further capital to remain a going concern.
As we build more parameters into the model it definitely becomes less accurate, but the idea is to see what kind of valuation Antares should have under different scenarios. For expenses we are using $13 million per quarter for 1Q14 ($52 million for the year) and assuming a 10% rise per year. The sales force for Otrexup is small and focused and will not generate large costs.
Revenues and EPS for Antares - worst case with Rasuvo launch in Jul2014
| | | | | | |
| --- | --- | --- | --- | --- | --- |
| | 2014 | 2015 | 2016 | 2017 | 2018 |
| Revenues | | | | | |
| Legacy business | 20 | 20 | 20 | 20 | 20 |
| Otrexup | 10 | 35 | 60 | 74 | 110 |
| EpiPen (Teva partnership) | 0 | 3 | 20 | 30 | 40 |
| Other partnerships, Teva, PFE | 0 | 5 | 10 | 20 | 30 |
| Testosterone QS | 0 | 0 | 0 | 20 | 50 |
| Total revenue | 30 | 63 | 110 | 164 | 250 |
| Costs (Research, Marketing) | 52 | 57 | 63 | 69 | 76 |
| Income | (22) | 6 | 47 | 95 | 174 |
| 25% Tax | -- | 1.5 | 12 | 24 | 44 |
| Income after tax | (22) | 4.5 | 35 | 71 | 130 |
| EPS | (0.17) | 0.03 | 0.27 | 0.55 | 1.00 |
| EPS discounted 10% annually | (0.17) | 0.03 | 0.22 | 0.40 | 0.66 |
| | | | | | |
Revenues and EPS for Antares - best case with Rasuvo launch in Jul2016
| | | | | | |
| --- | --- | --- | --- | --- | --- |
| | 2014 | 2015 | 2016 | 2017 | 2018 |
| Revenues | | | | | |
| Legacy business | 20 | 20 | 20 | 20 | 20 |
| Otrexup | 10 | 40 | 80 | 112 | 137 |
| EpiPen (Teva partnership) | 0 | 3 | 20 | 30 | 40 |
| Other partnerships, Teva, PFE | 0 | 5 | 10 | 20 | 30 |
| Testosterone QS | 0 | 0 | 0 | 20 | 50 |
| Total revenue | 30 | 68 | 130 | 202 | 277 |
| Costs (Research, Marketing) | 52 | 57 | 63 | 69 | 76 |
| Income | (22) | 9 | 67 | 133 | 201 |
| 25% Tax | -- | 2 | 17 | 33 | 50 |
| Income after tax | (22) | 7 | 50 | 100 | 151 |
| EPS | (0.17) | 0.05 | 0.38 | 0.77 | 1.16 |
| EPS discounted 10% annually | (0.17) | 0.04 | 0.31 | 0.56 | 0.76 |
| | | | | | |
Based on our estimates Antares will generate revenues of $63-68 million in 2015 as the Rasuvo launch is not expected to significantly impact Otrexup sales in 2015 during the initial ramp of Rasuvo. Based on the current market cap of ATRS of $350 million, the price to sales is only 5, a very low number for a growing small pharma company. Antares should become solidly profitable by mid-2015. In 2016 and beyond the sales of Otrexup diverge further depending on when Rasuvo is launched, but the key takeaway is that Antares is not a one-product company and other pipeline products will be generating significant revenues. Testosterone QS could be their largest selling product by the end of the decade if another competitor does not materialize, as subQ testosterone offers a significant advantage over IM or gel formulations.
Summary
With 10% discounted EPS estimates of $0.66 to $0.76 in 2018, a share price of $3 is a P/E of only slightly over 4. If we use a 15% discount rate the EPS range is $0.55 to $0.60 with a P/E of 5. With strong EPS growth starting in years 2015 and beyond, a forward P/E using discounted EPS should be at least 10, which suggests a share price of $6 to $8. While these target values seem high relative to the current share price, we note we have used very conservative revenue estimates for Otrexup and the near term pipeline products such as EpiPen. On the other hand, the company is facing multiple risks which could derail the revenue and income forecasts I have provided, including:
Unfavorable outcome of patent litigation with Medac leading to much lower sales of Otrexup
Poor launch of Otrexup with Medac taking a higher percentage of market share
Inadequate sales of Otrexup to break even in early 2015, requiring dilutive funding
Testosterone QS fails in Phase 3 study, thereby generating no sales in years 2017 and beyond
A significant competitor to testosterone QS (such as Medac) enters the market within a year of Antares
Teva does not obtain approval of the EpiPen - delay by 1 to 2 years
Risks with small pharma companies are high, and some of these downside scenarios are likely to play out, but we believe the uncertainty surrounding Antares has depressed the stock price to a level far below fair value given their innovative subcutaneous technology and a valuable, diverse pipeline. Even if the pipeline does not advance smoothly, and the Medac litigation does not go completely in their favor, a share price of $5 would still reflect a good deal of negativity. If the Medac litigation is positive and the pipeline advances with few hitches, this could easily be a $15-20 stock over the next few years.
Disclosure: The author is long ATRS. The author wrote this article themselves, and it expresses their own opinions. The author is not receiving compensation for it (other than from Seeking Alpha). The author has no business relationship with any company whose stock is mentioned in this article.
Additional disclosure: I am not a financial advisor nor have formal training in company valuations. The opinions offered in this article do not constitute financial advice.