When I entered college 40 years ago, I had no idea what I was doing and selected courses for my first semester based upon what sounded good to me. I ignored the 3-digit numerical prefixes denoting year of study and selected a senior level offering entitled: "Revolutions in History". If I learned anything at all in that class, it was that revolutions almost always ended in disaster.
Perhaps this should have informed my choice of words for the title of my previous article praising Regado's (RGDO) anticoagulation therapy - Revolixys Kit, because this revolution met with massive resistance this past Wednesday evening, when Regado announced an unplanned review of data from the REGULATE-PCI trial. The focus of this full analysis of safety and treatment benefit-risk ratio by the data safety monitoring board, or DSMB, will be on serious adverse events related to allergic reactions.
I want to write this article because a few of you have requested my opinion on where this is going. This surprises me, because I was the last person in the sector to see this coming. Therefore, I'll be brief.
This Event Has Damaged The Company And Stock
The biotechnology sector of the stock market is a quagmire in which there are more sinking dreams than gravity-defying stories of success. Anyone investing here needs to embrace this reality or flee. And after-hours Wednesday evening, through market close on an abbreviated half day of trading Thursday, investors fled their positions in Regado Biosciences.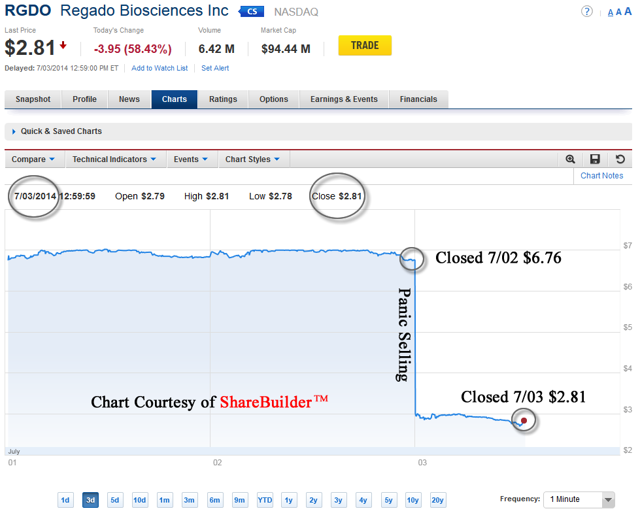 As I see it, this happened for three reasons.
The announcement itself was troubling. Use of the term "serious adverse events" is bad enough, but we all know that allergic reactions are not to be trifled with, and can end in death.
Though Regado has a pipeline with some differentiation, Revolixys Kit is the centerpiece without which the company would be reduced to nano-cap status.
Investors, to their detriment, are prone to panic.
Another factor that may have come into play is fear of the unknown. We simply don't know what the impact of the problem is yet. And CEO David J Mazzo, Ph.D., whom I lauded in my first article, performed poorly under pressure this past Thursday morning, making a brief statement without taking any questions upon concluding his remarks. That was a mistake.
Here's a snippet.
As announced in our press release yesterday evening, after careful consideration and direct consultation with the academic leadership of the REGULATE-PCI trial, we have chosen to voluntarily pause enrollment in all arms of the trial pending further DSMB review of recent serious adverse events related to potential allergic reactions.

Now, clearly the events are considered serious in nature, but I want to take a moment to explain why at this time these events are described as potential allergic reactions.

Remember that we have previously communicated that REGULATE-PCI is designed such that all endpoints and adverse events are collected centrally and adjudicated by a blinded clinical events committee, a process that trails the actual patient treatment date and is used to confirm or modify the coding of events by a local investigator.

Thus, at the time of an event in the clinic, the actual final disposition of the description, that is for example whether it is an allergic reaction or not, as well as whether it is treatment related or not, is not known and won't be known until full adjudication is completed and all laboratory sample analyses are available.
While Dr. Mazzo sounded troubled, it's important to understand what it is he said. He said that the company had "chosen to voluntarily pause enrollment" in the trial. And he didn't say that the trial had been terminated by the DSMB, but rather, that it was under review.
I therefore believe that the market over-reacted to this news. Severe allergic reactions occurred in earlier trials, and if we check the exclusion criteria available to us online, we find this bullet item under identifier NCT01848106.
Known allergy or intolerance to aspirin, to all available ADP/P2Y12 inhibitors (clopidogrel, prasugrel, ticagrelor), or to bivalirudin or REG1 (or any of their respective components);
The symptoms of severe allergic reaction, also known as anaphylaxis, or anaphylactic shock, range from the more common skin disorders such as hives, itching or swelling, to life-threatening reactions such as tightness of the chest and difficulty breathing. Low blood pressure, which is of less concern under the more normal circumstances of say, a bee sting, is of magnified importance in an emergent therapy such as Revolixys Kit.
That said, allergies can often be traced to their origin by careful assessment of the data culled from the study. And more importantly, sectors of the treatment population can often be defined as expressing the causal source, and then quarantined from treatment. But that is the work of the professionals involved, and accordingly, will take 8 weeks to conclude.
What's The Prognosis For Trial Continuation?
I don't think anyone can say with absolute certainty, but what I can tell you after having been in the sector for two years is that the trial is still alive. It hasn't been terminated. The promise of Revolixys Kit is still such that the FDA fast-tracked the treatment, having considered it a needed alternative to today's standard of care - Heparin, which causes easy bleeding and a very real risk of death.
Every effort will be made to get at the root cause of these events and resolve them. The study protocol will likely need amending before enrollment can be restarted.
What Are The Effects On The Company And Stock?
In the weeks ahead, as investors have time to apply reason to emotion, I think you'll see the stock climb, especially because those financial firms who have been there in the past for Regado will restate their support of the company and reiterate their price targets.
Additionally, were it not for the curtailed trading day heading into the holiday weekend, the stock likely would have rebounded considerably. Sitting on a 58.4% fall to dwell upon for 3 days isn't good for those hoping for a quick turnaround.
From the company's perspective, this was disastrous in two very profound ways:
Even under the best of circumstances, the stock likely won't return to the $8-$10 range necessary for an offering to finance REGULATE-PCI to completion. Therefore, a partnership has now become a necessity.
Securing favorable terms has been compromised by diminished confidence in Regado's product and technology.
For investors, this may be a blessing in disguise. Cross your fingers and hope to die that Regado doesn't borrow its way to the REGULATE-PCI finish line. But by being tasked to find a partner through the door of necessity, battered shareholders could be made whole, even as David Mazzo's peace is left in ruins.
On a positive note, we learned that the trial is, in fact, one-quarter enrolled as management indicated it would be, lending credibility to their efforts.
If you bought under $3 as I did, you'll likely see some appreciation as the 8-week clock ticks. You'll then be forced to decide to take profits to mitigate losses, or hang in there till the fat lady sings.
Right now, I'm not sure what I'll do. Surety in biotech, after all, is an illusion few of us can afford.
Always be well...
Disclosure: The author is long RGDO. The author wrote this article themselves, and it expresses their own opinions. The author is not receiving compensation for it (other than from Seeking Alpha). The author has no business relationship with any company whose stock is mentioned in this article.
Additional disclosure: Any information or opinion expressed herein may not be true, accurate or correct and it does not constitute any suggestion to buy, sell, hold or adopt any investment strategy for this stock or any stock that may be mentioned. Reliance upon information in this article is at the sole discretion of the reader. The sole purpose of my article is to entertain by providing information, the accuracy of which is as good as the public sources it was derived from. Do not act on anything I have written. Rather, do your own due diligence and consult an investment professional before making any investment decision. Acting on what any one writer, including me has imparted to you is foolish at best. I have no better access to resources or gift of opinion formulation than you do. I sometimes make mistakes. There are a myriad of things, which can happen in lieu of any forward-looking statement I have made. Any stock featured or mentioned in an article I compose is subject to all manner of influences, which can change its value in dramatic fashion upwards or downwards. These events can be of a wide variety not limited to news-related occurrences, managerial decisions, trial failures, stock manipulations and so on. I make every effort to declare positions I have in stocks I cover or mention in an article but reserve the right to move in and out of said investments at my own discretion based upon the wisdom of doing so. I implore you to do your own due diligence, invest at your own considerable risk attaining the just reward your efforts have wrought.