Business is beginning to pick up for Ladenburg Thalmann Financial Services (NYSEMKT:LTS). The company offers independent brokerage and advisory services. It also offers investment banking, equity research, institutional trading and asset management. Over the last five years, the company has seen tremendous growth, which has been supported by the company's stock price as well. This can be seen in the chart below.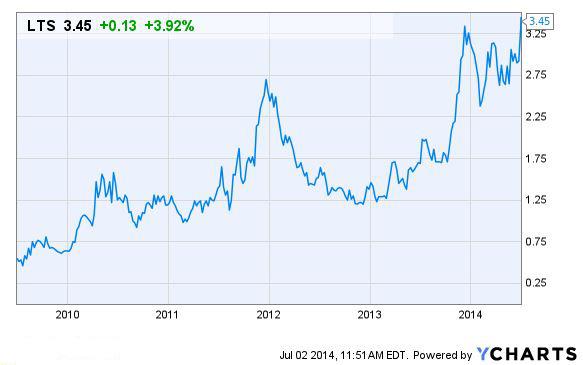 Ladenburg Thalmann supports a rich history extending back to 1876, when it became one of the most influential private merchant banking firms of its day. The company also joined the New York Stock Exchange in 1879. Despite this extended history, the company had struggled over the past decade. Yet, in July 2006, one notable change occurred when billionaire Dr. Phillip Frost (who was the principal shareholder of the company) arose to become the company's chairman of the Board. It was around this time that the company began to reinvent itself.
As shown in the chart below, the company's revenue has significantly accelerated over the past few years. A similar trend can be seen in the company's book value. Most interestingly, it appears that the growth of the company book value was not in part due to a significantly dilutive event for shareholders.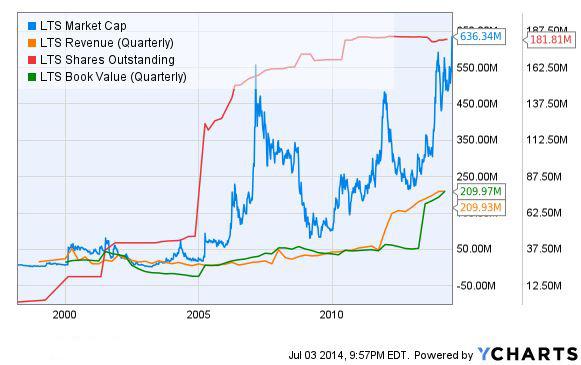 The company has accomplished this latest rise in book value with minimal impact to the existing common stock share structure. Unlike in 2005, when the company was coerced to significantly dilute the existing investor base with common stock, Ladenburg Thalmann was able to raise a significant amount of capital in 2013 through the issuance of Series A preferred stock. This redeemable preferred stock yields 8%, and was originally priced at $25 each.
The preferred stock offering significantly helped improve the company's balance sheet, while also proving to be more shareholder-friendly than using the company's common stock. Indeed, the company now maintains an ongoing share repurchase program. In Q1 2014, Ladenburg Thalmann repurchased 292,609 shares of common stock, and maintains the authority to repurchase an additional 3.46 million shares under the current program.
A Look At The Company Now
For Q1 2014, Ladenburg Thalmann saw record revenues of $211.8 million. This represented 13% growth year-over-year from the $187.3 million in revenues for Q1 2013. The company's net income for Q1 2014 also rose to $4.3 million, compared to the $0.1 million in net income for Q1 2013. Leading the way in this growth was Ladenburg's independent broker dealer business, which experienced strong recruiting activity for the quarter.
The growth in this business segment can also be witnessed by the trend in recurring revenues. These revenues are derived from advisory fees, trailing commissions, cash sweep fees, etc. Altogether, these high-margin revenues accounted for 68.5% of the company's brokerage and advisory services business for Q1 2014. For Q1 2013, this figure only accounted for 63.6% of the associated business.
Ladenburg Thalmann now trades with a market capitalization of $632 million, as of the intraday price of $3.48 for July 2. As of March 31, Ladenburg Thalmann recorded shareholder equity of $210 million. This figure has progressively climbed quarter-over-quarter and year-over-year. In December 2012 and December 2013, Ladenburg recorded shareholder equity of $51.2 million and $193.4 million respectively.
For the year-end of 2012 and 2013, this increase in shareholder equity was accomplished by both an increase in total assets and a decrease in total liabilities. Total assets grew from $338.1 million to $360.8 million. In contrast, total liabilities fell from $286.9 million to $167.5 million. As of Q1 2014, the trend has continued. As of March 31, total assets have increased to $368.4 million and total liabilities have fallen to $158.5 million. Ladenburg continues to improve upon the financial health of its balance sheet.
Insider Purchases
One last indicator of growing confidence comes from a series of insider purchases made over the past few years. A snapshot of the last 2 months alone shows multiple insider purchases made on the open market. Of particular interest is the growing position of Dr. Phillip Frost.
As of the latest Form 4 filed here, the chairman now controls a little over 55 million of the company's nearly 182 million shares outstanding. He also holds 800,000 shares of the company's 8% Series A Cumulative Redeemable Preferred Stock. His holdings in the company have been steadily growing since he was awarded the position of chairman. In May 2006, Frost controlled approximately 45.3 million of the company's common stock, according to the filing found here.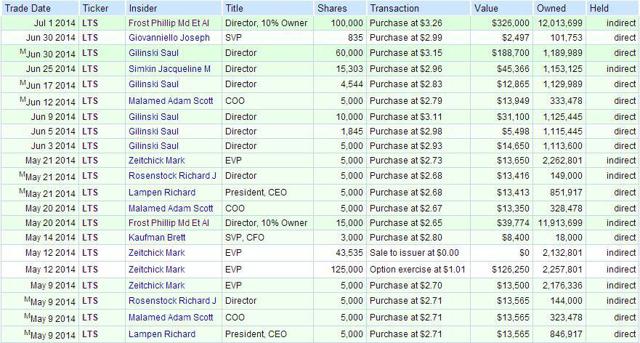 Final Thoughts
Altogether, Ladenburg Thalmann Financial Services appears to be a recovering company that growth investors may want to consider. The company has begun to establish a solid record for growth, while improving upon its financial health. A glance at the company's insider transactions also suggests that those in the know are quite confident of its future success.
Disclosure: The author is long LTS. The author wrote this article themselves, and it expresses their own opinions. The author is not receiving compensation for it (other than from Seeking Alpha). The author has no business relationship with any company whose stock is mentioned in this article.