In the first of a series of articles that pitch S&P 500 firms against their key rivals, we ask whether there is an alpha opportunity on offer at McDonald's (NYSE:MCD), Burger King (BKW) or Yum (NYSE:YUM).
Why Does This Opportunity Exist?
As shown in the chart below, the last two years have seen shares in Burger King make the biggest gains of the three stocks. It is now 79.17% higher than it was in July 2012, which is considerably higher than the 45.18% return on the S&P 500. Meanwhile, Yum! has managed gains of 27.40% over the same time period, while McDonald's has disappointed investors, being just 13.08% higher now than it was in July 2012.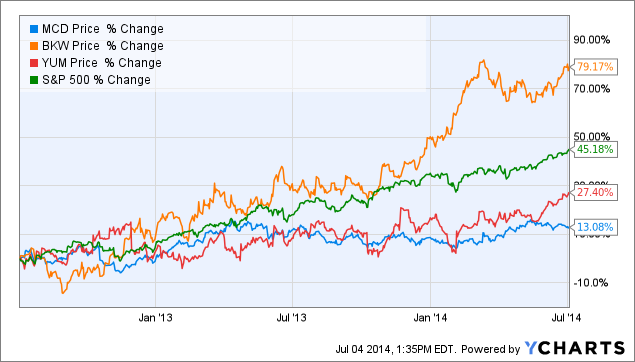 The discrepancy in share prices is reflected in the price to earnings (P/E) ratios of the three companies, with Burger King currently trading on a P/E of 37.53, McDonald's on 18.33 and Yum on 32.79. This is highlighted in the chart below.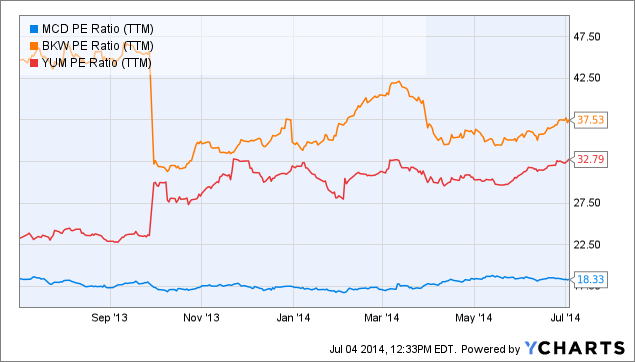 MCD PE Ratio (TTM) data by YCharts
However, the P/E ratios do not seem to match the respective growth rates of the three companies, since Burger King and Yum!'s earnings per share (EPS) growth rates this year and next year are very different. For example, Burger King is forecast to increase EPS by 31.9% this year and 16.8% next year (compounded rate of 54%), while Yum! is expected to increase EPS by 47.0% this year and 14.6% next year, which equates to a compounded rate of 68%.
McDonald's, meanwhile, is forecast to grow EPS by 4.7% this year and 8.6% next year. This is in keeping with the S&P 500 growth rate and means that its current valuation (which is only slightly below that of the S&P 500's P/E of 19.4) appears to be sensible.
The Scope of the Opportunity
Taking into account its forecast growth rate, Yum appears to offer good relative value. Due to its forecast EPS growth rate over the next two years being higher than that of Burger King, a higher P/E than Burger King could be justified. However, we prefer to be more conservative and generate a price target of $94.41 for Yum, which is 14.5% higher than the current share price of $82.49. This is based on a P/E ratio of 37.53 (the same as that of Burger King), which is realistic given the strong growth expectations that may not yet be priced in for Yum.
Of course, there is a risk that Burger King's valuation has become too high and that it falls as opposed to Yum's valuation moving upwards. However, the five-year price to earnings growth (PEG) ratios don't seem to indicate an overvaluation of either Yum or Burger King, since their five-year PEGs are 1.4 and 1.8, respectively.
What Might Drive the Change?
The catalyst for an upward move in Yum's share price could be a realization among investors that the company has a large amount of long term potential. Sure, the U.S. market remains relatively challenging, with price continuing to be a key feature even though the macroeconomic outlook is improving. However, in emerging markets such as China, there appears to be considerable potential for Yum and, more importantly, it is well-placed to benefit in those markets.
For example, Yum is set to increase its number of stores in China by 700 (11%) this year and the landscape in China appears to be improving for the business after a tough 2013. Indeed, revenue from the Chinese division increased by 17% in the first quarter of the current year, so the continued investment by Yum could pay off over the medium term. Investment thus far has already made Yum the largest restaurant chain in China (with 6,300 stores), making the company well placed to benefit from future improvements in Chinese growth prospects.
Of course, the same could be said for Burger King and McDonald's. However, they do not have the exposure to China that Yum currently does (in terms of numbers of restaurants) and so, while they may benefit from an improvement in outlook for China (which was reflected in strong sales growth for Yum earlier this year), they are unlikely to benefit to the same degree as Yum.
Time Frame
With Yum forecast to deliver 47% earnings growth this year, the market could be waiting for confirmation of its annual figures before taking positions in the company. Therefore, while there is the potential for shares to head north between now and the end of the year -- especially if markets continue to take a more "risk-on" approach -- this appears to be a medium term alpha opportunity in our eyes.
What do you think of Yum, McDonald's and Burger King as future alpha opportunities? Please comment below -- we learn so much from hearing your views.
Disclosure: The author has no positions in any stocks mentioned, and no plans to initiate any positions within the next 72 hours. The author wrote this article themselves, and it expresses their own opinions. The author is not receiving compensation for it (other than from Seeking Alpha). The author has no business relationship with any company whose stock is mentioned in this article.