Early this year, I offered Seeking Alpha readers a group of 8 stocks that I believed harbored unusually bright prospects. At that time, I wrote an article about each one, outlining an investment thesis based upon fundamental research.
I suggested these stocks were aligned with 3 equity investment strategies that would play out favorably in 2014:
Understand the current phase of the business cycle and overweight stock sectors that historically outperform;
Identify and seek contrarian stock values; "the most hated names of 2013";
Maintain discipline when evaluating securities in a market that's run up 30%; don't chase the hot tickets
The specific picks included: Eaton Corp., PLC (NYSE:ETN), Union Pacific Corp. (NYSE:UNP), International Paper (NYSE:IP), Apple Inc. (NASDAQ:AAPL), Energy Transfer Equity (NYSE:ETE), Intel Corp. (NASDAQ:INTC), Caterpillar (NYSE:CAT), and Annaly Capital Management (NYSE:NLY).
Previously, I categorized these shares into 2 broad buckets: those aligned with my view that North America was transitioning to the mid-cycle phase of the economic business cycle, and stocks that appeared to be contrarian value plays.
Following is a table summarizing the 2014 first-half performance for all 8 stocks: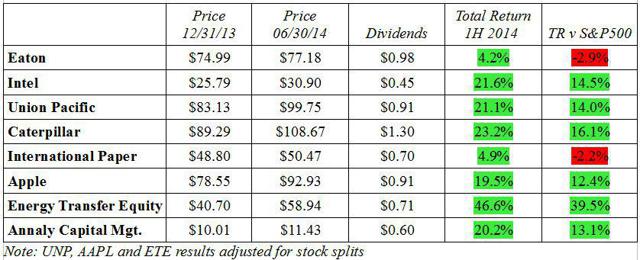 In aggregate, this group provided investment returns almost triple of those corresponding to the 7.1% total return for the S&P 500.
Within my portfolio, these stocks represent significant core positions.
In Part 1 of this series, we reviewed the performance of the 4 stocks I selected whose businesses appeared best aligned with the mid-cycle phase of the economic business cycle: Eaton, Union Pacific, International Paper, Energy Transfer.
Now, we will review the share performance for those 4 stocks selected as "contrarian" picks.
What's the Contrarian View?
Contrarian picks are counter-intuitive. Identify the "most hated" stocks by investors and the media, and you're on your way. Typically, relentless negative news, often a result of some overhang, mark the shares. The TV "talking heads" pound the theme; sometimes major investors pile on while shorting the stock.
The tricky part is separating stocks down on near-term events, misconceptions and excessive negative sentiment versus those down due to long-term, broken fundamentals or indeterminate asymmetric risk. For example, after the Macondo tragedy, BP plc (NYSE:BP) shares got rocked... for good reason. As events unfolded, it became apparent the problems ran deep, and could not be resolved easily.
For the investor, there is no silver bullet that separates a broken stock from a broken company. However, I can offer a few general process guidelines:
Companies with strong franchises have far better chances of righting the ship than companies in competitive, day-to-day dogfights.
Out-of-favor cyclical stocks are safer bets than declining secular growers seeking a turnaround.
Don't listen to the media. Do the research and try to understand the underlying problems facing a business, what can be done about, and what management is doing to fix it.
Be flexible: have the confidence to follow your research, but don't be stubborn if the facts change.
The Rubber Hits the Road
Now let's do a performance snapshot and check forward prospects for the 4 "contrarian" stock picks listed above.
Intel Corporation: Intel shares saw a strong first half rally, crushing the overall market by 14.5 percentage points. A big chunk of the run-up came after June 13, when the company revised 2Q revenue guidance and provided an upbeat 2014 forecast. Analysts piled on with upgrades. 2014 first-quarter earnings had already shown a good beat. Reports trickled in that the PC market wasn't dead after all.
Previously, many pundits had given up on Intel, stating the PC chip business was in terminal decline. The shares were labeled "dead money."
Investors began to bid up the shares in May. The rally got another assist due to a short squeeze; Intel had been a highly shorted big Tech name for months. The stock blew right through the high water $28-and-change marker that stood since the dot-com bust.
My view is that investors finally got what they wanted: brighter top-line growth prospects along with strong margins. Such line-of-sight to improved earnings justifies P/E multiple expansion.
Under the leadership of new CEO Brian Krzanich, Intel has been aided by capex discipline and better product focus. The company leveraged its enormous R&D budget and cash flows. Some may have forgotten that Intel has always been the 400-pound gorilla in the room.
This company went after PC chips... and dominated the market. Next, management targeted server chips: Intel owns 90% of that business currently. If senior leadership now has set hybrids, tablets, and "the Internet of Things" in their sights, which side of that trade do you want to be on?
The 2014 2Q earnings release will be critical. In the meantime, my opinion is the shares have reached fair value. A 10-year F.A.S.T. graph illustrates why: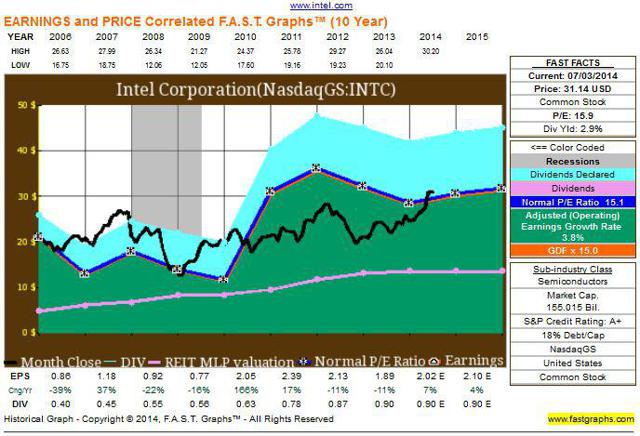 The average normalized P/E is 15x. Earnings are projected to increase after 2 years of declines. The forward EPS growth rate is projected to be as follows: 2014 (+7%), 2015 (+5%), and 2016 (+6%). A 15x multiple on 2015 forecast EPS of $2.10 appears reasonable. That yields a $32 stock: not much upside without revised figures.
A dividend raise? Management targets ~40% of free cash flow to the payout. My math says don't count on it this year.
Caterpillar Inc.: In 2013, Caterpillar's stock may have been the most-hated name out there. This year, CAT shares have staged a remarkable 23.2% first-half return. Frankly, the strength and magnitude of the move surprised me, and my readers know I've long been a patient bull.
Primarily, I attribute to rally to 3 factors:
First, cyclical stocks can be peculiar. These names may ascend quickly on faint whiffs of potential economic improvement, well in advance of hard results. Indeed, CAT shares are the consummate cyclical, as supported by a 1.6 beta.
Second, I believe many investors did not fully appreciate the breadth and depth of this Industrial sector company. Caterpillar fortunes don't hinge just upon mining equipment or China sales. This biggest of global heavy machinery companies has very long tentacles.
Third, I suspect some investors underestimated Caterpillar management. Senior leadership demonstrated they could cut expenses, tighten the supply chain, force dealers to get more efficient, and run for cash.
Nonetheless, the shares are looking stretched after a huge run-up. Recently, I explored this in a recent Seeking Alpha article, "Is Caterpillar Stock Overvalued?" I do not expect a first-half repeat performance. The following 10-year F.A.S.T. graph highlights the shares appear above historic fair value, currently trading about $111 each while the FV target on 2015 EPS is roughly similar.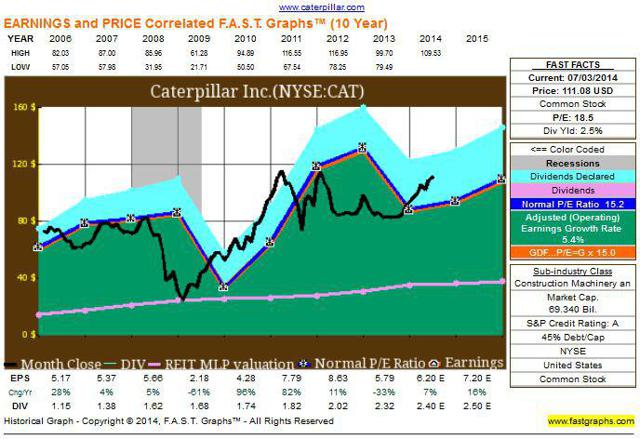 While not a buyer of Caterpillar stock, I'm not bailing out either. I have trimmed my position on the advance, and sold some short calls against some more of the holding. Volume has been trending down during this first half rise, another signal the shares may need a rest.
Apple Inc.: This old-line Tech company exasperated investors (including yours truly) after garnering a $700 pre-split price in 2012. A subsequent $385 low was reached in April 2013. Commentators hammered the company: its products, its management, and its future. Certainly, another 2013 "most hated" stock.
In 2014, AAPL shares have gained nearly 20%. Why? I submit the stock rallied for many of the same reasons Intel did. Improved top-line expectations, anticipated strong margins, and resultant EPS growth. Shares got another boost when CEO Tim Cook reported the board directed management to opportunistically buy back stock and turbo-charge shareholder return of capital.
Last year, traders bid the shares as if the company would never grow earnings. In 2013, the trailing P/E ratio had been driven down below 10x. Broadly, a PE 9 implies a company has little to no earnings growth potential for the foreseeable future. Note the yellow highlights on the chart below.
All sounds a little silly now, doesn't it?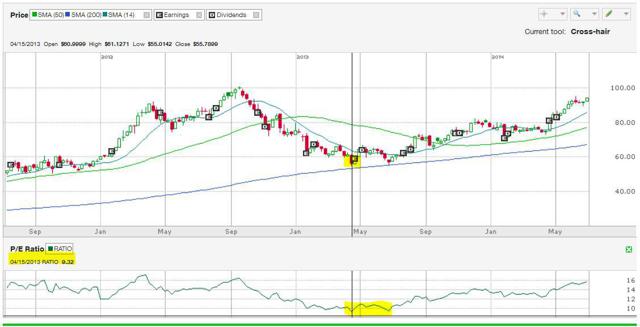 courtesy of ameritrade.com
Rightly, the multiple should have compressed to reflect competition, innovation questions, and the law of large numbers. But below 10x trailing earnings? No.
Analysts now expect 2014-16 EPS growth of around 10 or 11% a year. This is sufficient to warrant a 15x multiple and a $100 to $110 per share price target. The dividend should continue to rise, there is the possibility of upside surprise in the form of new products, and the balance sheet remains rock-solid. I submit these shares are not undervalued.
Annaly Capital Management: NLY shares rolled up a 20% total return for 2014 1H. The superior return performance reflects several changed circumstances versus 2013, when the stock was folded, spindled and mutilated.
I believe the following contributed to last year's debacle, setting the stage for the subsequent rebound:
In May 2013, interest rates (namely the 10-year treasury), spiked; unlike anything seen in recent memory. Indeed, mREITs are interest rate sensitive, and these investments are not suited to absorb rapid moves in rates. Here's a graph that captures the recent path of the 10-year rates: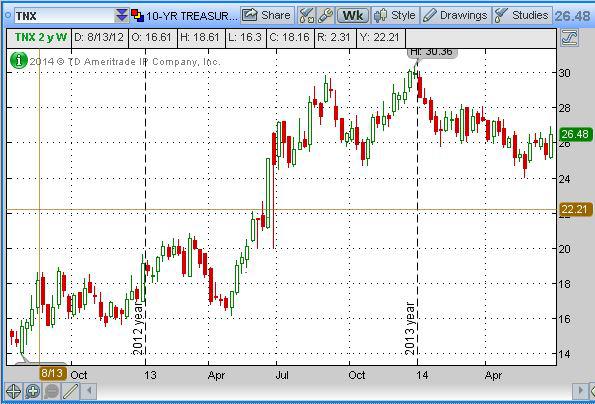 Weak hands shook out. Given historic low interest rates, yield-hungry retail investors piled into NLY common stock without fully understanding the associated risks. Upon initial share weakness, some sellers wanted out fast, resulting in a rout.
Panic exaggerated the move down. Calls that Annaly could become insolvent scared some shareholders. The actual dividend cuts further worried investors. At one point, the price fell below $10 a share, with an associated Price/Book ratio ~0.75.
This year's share price recovery simply reflects a snap-back from the 2013 over-reaction.
Interest rates rose remarkably quickly in May 2013. That move wasn't aligned with the Fed's objectives, nor historical precedent. Subsequently, rates have eased. Weak hands owning Annaly common stock eventually sold out. December 2013 tax loss selling marked the lowest prices and highest share volumes. Finally, panic abated and buyers emerged realizing that the shares got too cheap. A 2014 fundamental-based rebound was inevitable.
Going forward, I have mixed views of this stock. The shares remain undervalued as measured by price-to-book. The dividend has stabilized at $0.30 a share; unless net interest margins tank, I suspect the payout is at low ebb. Management has reacted to the situation (mREITs are not passive investments analogous to long bond funds). Sans more wild interest rate gyrations, they have the tools to cope with gradually rising rates.
Perhaps the most compelling reason to view NLY shares as undervalued is a long-term look at the relationship between interest rate spreads (the 2-year and 10-year Treasuries) and Annaly common share price.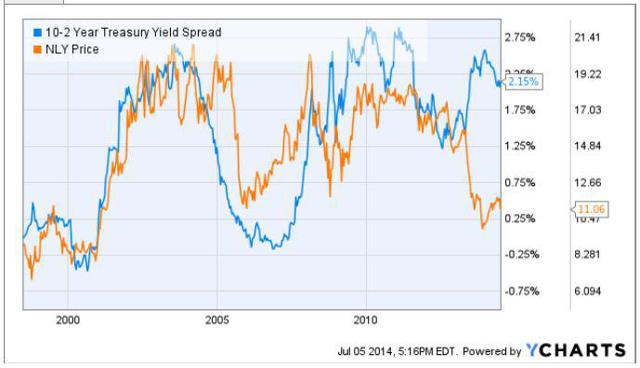 Going back to Annaly's genesis, there has been a relationship between price and rate spread. Currently, it has become completely disconnected, unlike any time before.
On the other hand, last year's lesson taught us how little the Fed can truly manage long rates. What if rates don't "behave?"
In addition, I am unimpressed with Annaly Capital's management. I found their compensation packages unacceptable and the disclosures opaque. I believe management appears generally indifferent to stockholders.
In 2013, a stockholder non-binding advisory vote on executive compensation failed. Currently, the management team hired under contract as an external organization. Annual compensation is set at 1.05% of the corporation's equity. How the equity is distributed is not communicated. While this arrangement received shareholder consent, under the premise it would save Annaly money, I am uncomfortable with its optics and implementation.
Please do you own careful due diligence before making any investment. This article is not a recommendation to buy or sell any stock. Good luck with all your 2014 investments.
Disclosure: The author is long INTC, CAT, AAPL, NLY. The author wrote this article themselves, and it expresses their own opinions. The author is not receiving compensation for it (other than from Seeking Alpha). The author has no business relationship with any company whose stock is mentioned in this article.
Additional disclosure: Author also owns NLY-D preferred stock.