As one of the gee-whiz high tech companies, Apple Inc. (NASDAQ:AAPL) is well known for its innovative consumer products such as Macs, iPods, iPhones and iPads. It is also a known fact for many high tech workers in San Francisco Bay Area that Apple provides wonderful employee benefits. In this article, we take a closer look at Apple's 401K plan's fund lineups and its rating. We then discuss how participants in Apple 401K can achieve reasonable investment results using asset allocation strategies. We will also discuss how those portfolios are positioned in today's market environment.
Apple 401K's 401K plan consists of 14 funds. These funds enable participants to gain exposure to 4 major assets: Fixed Income, US Equity, Foreign Equity, REITs. The list of minor asset classes covered.
Foreign Large Blend: EFA, VEU, GWL, PFA
High Yield Bond: HYG, JNK, PHB
Intermediate-Term Bond: AGG, CIU, BIV, BND
LARGE BLEND: IVV, IYY, IWV, VTI, VV, SPY, DLN, RSP, SCHX
LARGE GROWTH: [[IVW], IWZ, JKE, VUG, ELG, QQQQ, RPG, SCHG
Moderate Allocation: AOM
SMALL BLEND: IJR, IWM, JKJ, VB, DSC, PJM, DES, SAA, UWM, SCHA
As of 10/12/2010, this plan investment choice is rated as Average based on MyPlanIQ Plan Rating methodology that was designed to measure how effective a plan's available investment funds are . It has the following detailed ratings:
Diversification -- Rated as above average (80%)
Fund Quality -- Rated as poor (9%)
Portfolio Building -- Rated as above average (75%)
Overall Rating: average (57%)
The chart and table below show the historical performance of moderate model portfolios employing strategic and tactical asset allocation strategies (SAA and TAA, both provided by MyPlanIQ). For comparison purpose, we also include the moderate model portfolios of a typical four asset SIB (Simpler Is Better) plan . This SIB plan has the following candidate index funds and their ETFs equivalent:
Performance Chart (As of 10/12/2010)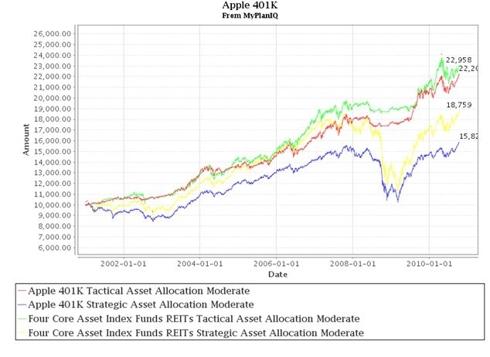 Performance table
Currently, asset classes in REITs, Fixed Income and High Yield Bonds are doing relatively well. These asset classes are available to Apple 401K participants.
To summarize, Apple 401K plan participants can achieve reasonable investment returns by adopting asset allocation strategies that are tailored to their risk profiles. Currently, funds the tactical asset allocation strategy over weighs include REITs and High Yield Bonds. However, Apple can do better to her employees by improving its fund selection such as making better funds available.
Disclosure: No positions