International Business Machines (NYSE:IBM) is no longer the superior computer giant it has been throughout its 103-year history. With declining revenue in recent years and an inability to capitalize on the cloud-computing industry, IBM has realized it must change their business strategy to stay competitive in the ever-changing technology space. This has put IBM in a state of transition of sorts where the only returns to shareholders are through dividends and share buybacks.
As a young investor targeting growth and value, IBM no longer fits into either of these categories and I believe I can find substantially higher total returns elsewhere within the Information Technology space. While I ultimately agree with the direction IBM is attempting to position themselves in the cloud and mainframe sector, it will take years to derive significant revenue growth from this strategy.
How IBM Is Trying to Change
IBM is currently attempting to emphasize software within its business strategy, specifically targeting cloud computing. Cloud computing is in effect the development of servers hosted on the Internet so that users can access these servers from remote locations anywhere. According to analysts at IDC, overall IT spending is expected to grow just under 5% annually through 2017. While this may seem like a favorable trend towards IBM's top line, their current position within the cloud computing space would say otherwise.
The companies that will be able to capitalize are the ones who have already built out consumer-friendly products, not IBM who must spend considerable R&D over the next few years to catch up to the competition. Since the barriers to entry are extremely high and many of the successful companies operate in niche industries, it will be hard for IBM to develop a competitive advantage, especially considering they are basically "late to the party."
The sale of the x86 server business to Lenovo (which may now be in jeopardy) is a big step in the right direction as IBM sheds a large part of their hardware division. Investors hope this move will generate momentum to expedite the transition towards software, but I do not foresee this happening. With substantial debt over the next five years of approximately $20 billion and long-term debt of $40 billion, it will be difficult for IBM to acquire a major player within the cloud space, which would prove the quickest way to become more competitive.
Also, with a strong focus on dividends and share buybacks, considerable amounts of capital are simply being returned to shareholders instead of invested in R&D, which would lead to EPS growth and ultimately higher returns in the long term. Unless you are an investor who is completely satisfied with a 2.4% dividend and a share price trading between $170 and $200 for much of the last three years, I don't see the benefit from holding IBM in the current market where there are considerable opportunities elsewhere.
IBM's Technology
Within the IT space, the success of the company basically boils down to one thing: the quality of the product. The only technology that IBM truly has a competitive advantage in is Watson, which is a data analytics super-computer. While management expected Watson to prove a sure catalyst, its biggest claim to fame to date is winning a game of jeopardy. With under $100 million in revenue over the last three years, Watson has not proven to be a reliable source of revenue and does not even run in parallel with data-center solutions offered by SoftLayer. In addition, the training is extremely rigorous which has led potential users adopting other, albeit less capable, IT solutions.
In recent years, IBM has manufactured growth in the cloud space through acquisitions in an attempt to capitalize on what could be a $200 billion market by 2020, evident in deals such as SoftLayer and Cloudant. Again, these are steps in the right direction, but not enough at this point in the game to make considerable leaps to catch up to the competition. In the same link above, IBM mentions an expectation of $7 billion of revenue derived from cloud services by 2015, but now even this is looking bleak following disappointing earnings over the last quarters. Even if this goal of $7 billion is met, it will only lead to marginal appreciation in the stock price considering IBM collects approximately $100 billion in revenue the last three years.
Valuation
I used both comparables companies' analysis and a DCF to value IBM's potential upside/downside. The peer group I selected for IBM are all mature tech companies including Hewlett-Packard (NYSE:HPQ), Oracle (NYSE:ORCL), Microsoft (NASDAQ:MSFT), Accenture (NYSE:ACN), EMC (EMC), and Cisco (NASDAQ:CSCO).

Source: Created by author.
Based on the peer group and multiples I selected, IBM seems to be trading at a slight premium. I discount comps slightly and only factor it about 20% in my overall price target due to many of these companies offering a diverse range of products, which do not always overlap. Instead, I weight my DCF more heavily using both the Terminal Value method and the Perpetuity Growth method. To err on the side of caution, the forecast drivers below overestimate Wall Street expectations since my investment thesis began as a recommendation to sell IBM.

Source: Created by author.
Using a WACC (discount factor) of 8.59% and applying an EV/EBITDA multiple of 10 (above the peer group average of 9.53), the result was a target price of $190 from the terminal method. This method constituted 40% of my price target. The remaining 40% came from the perpetuity growth method. I used the same forecast drivers and WACC, and applied a 2.75% perpetuity growth rate. The model resulted in a target price of $191.95, which is extremely close to that of the terminal method. Below is the sensitivity analysis based on WACC and the perpetuity rate. At its current price level in the upper $180s, IBM is extremely fairly valued by my estimations.
Source: Created by author.
One interesting trend is the increasing amount of short interest in IBM, which is currently trending towards 30 million shares. This is well above the five-year average, and the highest it has been since it spiked in 2008. While I usually do not put much thought into short interest, it does show increasing pessimism towards IBM's near-term plans.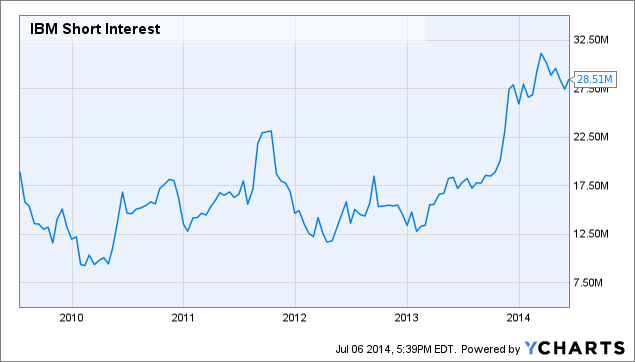 IBM Short Interest data by YCharts
Conclusion
At the moment, IBM is in the process of a company-wide transition in its business strategy. While this transition is exactly what IBM needs, it is not conducive to shareholders in the next two- to four-year period, which is usually my targeted holding period. If as an investor, dividend payments of 2.4% with minimal capital gains satisfy your investing goals, I would recommend you continue holding IBM. However, if you are a current shareholder searching for more immediate catalysts and growth, I suggest you look elsewhere within the IT space and revisit IBM farther down the road.
Disclosure: The author has no positions in any stocks mentioned, and no plans to initiate any positions within the next 72 hours. The author wrote this article themselves, and it expresses their own opinions. The author is not receiving compensation for it (other than from Seeking Alpha). The author has no business relationship with any company whose stock is mentioned in this article.