I have owned shares in Mesa Laboratories (NASDAQ:MLAB) for several years and I have liked what I have seen from the company. Mesa designs, manufactures and sells electronic instrumentation and disposable products for healthcare and industrial markets. The company is headquartered in Lakewood Colorado and was established in 1982.
Mesa operates in a very competitive market space where much larger players with larger resources typically dominate. But despite this Mesa has found a way to thrive through select acquisitions and subsequent organic growth. Over the last 5 years Mesa has grown sales by 16.5%/year, earnings by 16%/year, and cash flow by 18.5%/year. Over that time period the stock has soared over 76%. That growth earned Mesa the 18th spot on the 2009 Fortune Fastest Growing Small Public Companies list. Two key acquisitions were the purchase of Raven Biological Laboratories in 2006 and the more recent (April 2010) purchase of SGM Biotech.
Even with the growth and recent acquisitions Mesa only has a market cap of about $76 million. That is about 3.5x 2009 revenues. But the company appears to be gathering critical mass and could represent a nice acquisition target in the future for a larger instrumentation company.
In its most recent quarter Mesa reported a 50% increase in revenues A large part of that was due to the SGM acquisition, although organic growth of existing product lines came in at a respectable 7%. EPS rose to 0.40 versus 0.32 in the same quarter prior year. While experiencing some softness in its business during the economic downturn Mesa held up well with only a 2% decline in earnings from 2008-9. Management is optimistic on prospects heading forward based upon statements made with their last earnings announcement in August 2010:
Looking forward, I am excited about Mesa's prospects for fiscal 2011. We should see continued improvement in both sales and profits, as the full effect of these two new acquisitions is realized and we start to see the positive impact of our integration efforts on profitability.

Mesa has a solid balance sheet with no long term debt. The company currently pays a 1.9% dividend. Dividends have increased at a 30%/year rate over the last 5 years but only increased by 5% in the last year.
Insiders own about 23% of the float. I like this level of insider ownership since it acts to align management and shareholder interests. Small cap specialist Royce owns 13% of the shares – something I would consider to be a good endorsement of the company.

Management is solid with Chairman Luke Schmeider having been with the company since it founding CEO John Sullivan has been with the company since 2004. Sullivan has a technical background but headed up sales and markeing prior to taking the CEO role.

Mesa is trading at about 16x trailing earnings. I recently added shares around $23. I think the stock is good value below $25. Mesa is a thinly traded stock so use of limit and all or none orders is advisable for purchases.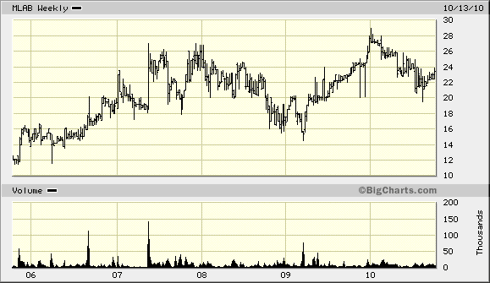 (Click to enlarge)
Disclosure: Author long MLAB