By Omar Venerio
According to The International Council of Shopping Centers and Goldman Sachs Retail Chain Store Sales Index, U.S. retail sales had their biggest gain in three years at the end of June, rising 4.6% year over year. In this article, let's take a look at the luxury athletic yoga wear and apparel maker Lululemon Athletica Inc. (NASDAQGS: LULU) and try to explain to investors the reasons this is an apparently appealing investment opportunity, when rumors that companies such as Nike (NYSE:NKE) or VF (NYSE:VFC) could buy Lululemon (Bloomberg). Days ago it was reported that advisers to founder Dennis "Chip" Wilson have been speaking with private equity firms, including Leonard Green & Partners, about taking the company private (Bloomberg).
International Expansion
The chief executive officer, Laurent Potdevin, said on his first post-earnings conference call with analysts, that he plans to speed up the yoga-wear retailer's move into new markets around the world (Bloomberg). Lululemon plans to expand internationally to continue driving up revenue. It has recently opened operations in Shanghai, Singapore, Munich, Frankfurt, Berlin, Amsterdam, and London. Further, this year Lululemon is planning an expansion of the iviva concept, with 10 stores (2 in Canada and 8 in U.S.) and 25 showrooms opening. This is on top of the 12 stores already opened. Moreover, three new stores created are larger than existing stores, and have more square footage primarily allocated to men's product.
The Company's Largest Shareholder
Founder Chip Wilson is fighting for control of Lululemon, he is working with Goldman Sachs as he fights for control said (The Wall Street Journal) reports. He owns 28% of company shares and was ousted as chairman of the board in December for making disparaging remarks about the company's clientele, Wilson will partner with a private equity firm in the effort to take Lululemon private.
Foreign Exchange Risk
U.S. retailers with operations in Canada and Asia may face foreign exchange risk when converting the financial statements into U.S. dollars. This is a major risk for Lululemon, which has the largest percentage of foreign sales (34% from Canada).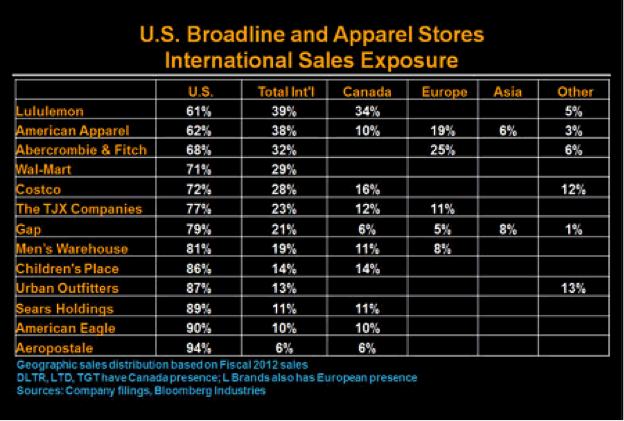 Source: Bloomberg
Relative Valuation, Earnings and ROE
Lululemon's stock had its "strong-sell" rating (Zacks) but continues to be one of the best investments from a valuation standpoint, trading at a 24.1 P/E, which stands at a discount compared to the industry mean, which indicates that other companies operating in the same sub-industry are much more richly valued.
Some of its major competitors include Nike, Gap (NYSE: GPS), and Adidas (OTCQX:ADDYY). The following table compares the current valuations:
| | | |
| --- | --- | --- |
| Ticker | Company | P/E Ratio |
| LULU | Lululemon | 24.1 |
| GPS | Gap Inc. | 16.1 |
| NKE | Nike Inc. | 26.9 |
| ADDYY | Adidas AG | 22.5 |
Consider that Nike trades for almost 27 times trailing earnings, Gap trades at a P/E of 26.9 and Adidas at a 22.5 P/E. Gap looks the most attractively valued looking back at the trailing ratio.
With respect to earnings per share (EPS), Lululemon has significantly decreased them by 60% in the first quarter compared to the same quarter a year ago. After reporting first-quarter earnings below analysts' estimates, shares traded lower, with an earnings report that clearly disappointed, the market sent shares down 16% on the day of the report.
In the next table, we can appreciate Lululemon's earnings estimates based on Wall Street analysts' analysis. These estimates are used as a benchmark to measure a firm's performance relative to how experts expected it would do. A good candidate for investment might be a company with five years of solid earnings growth and strong earnings growth estimates for the coming years (at least two years).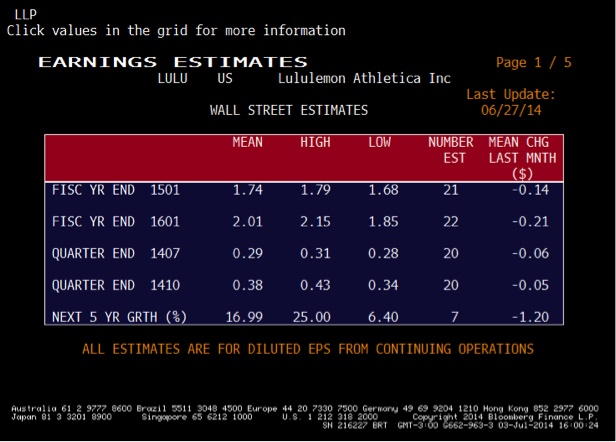 Source: Bloomberg
Comparing actual earnings to analyst estimates is also helpful. An earnings surprise can move a company's stock price.
| | | | | |
| --- | --- | --- | --- | --- |
| Earnings History | 13-Jul | 13-Oct | 14-Jan | 14-Apr |
| EPS Est | 0.35 | 0.41 | 0.72 | 0.32 |
| EPS Actual | 0.39 | 0.45 | 0.75 | 0.34 |
| Difference | 0.04 | 0.04 | 0.03 | 0.02 |
| Surprise % | 11.40% | 9.80% | 4.20% | 6.30% |
In the next chart, we can appreciate a very interesting upward trend in the last five years. Year to date, Lululemon's stock has been on a steady decline, falling close to 32% in 2014 and many investors are wondering if it is the appropriate time to buy it now.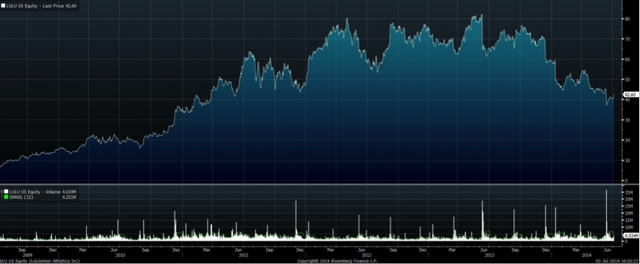 Source: Bloomberg
Although the company is not rapidly expanding as it had done in the previous years, we can see that it has the best price performance among peers.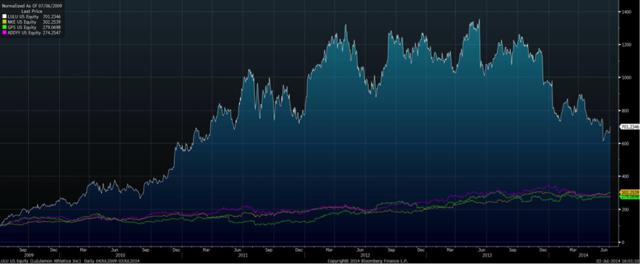 Source: Bloomberg
Finally, I always like to see one of the most important financial ratios applying to stockholders, the best measure of performance for a firm's management: the return on equity. The ratio has decreased from the same quarter one year prior. This is a clear sign of weaknesses within the company.
Let's compare the current ratio with the peer group in the next table:
| | | |
| --- | --- | --- |
| Ticker | Company Name | ROE (%) |
| LULU | Lululemon | 24.1 |
| GPS | Gap Inc. | 41.8 |
| NKE | Nike Inc. | 22.28 |
| ADDYY | Adidas AG | 14.36 |
Lululemon has a quite good ratio of 24.1% but still lower than the one registered by Nike. We think that a ROE greater than 30% is quite enough to provide dividends to owners and have enough funds for future growth of the company. For investors looking for a higher ROE, Gap could be the option with an impressive ratio.
Final Comment
Although Nike is the world's largest seller of athletic footwear and apparel, with a presence in more than 160 countries worldwide, as outlined in this article, there are too many reasons not to ignore Lululemon.
Lululemon plans to regain the trust of consumers, which increasingly have a negative perception of the brand. Lululemon plans to expand internationally and it has recently opened operations in several countries and we hope foreign exchange risk would be reduced. Moreover, Mr. Wilson has a major incentive to see Lululemon do well. Whether it's through a private acquisition or a significant board restructuring, his efforts should prove beneficial to investors in the long term as incentives are aligned.
According to the P/E ratio, it is better for investors, as there are chances of higher appreciation. Because the stock market is forward-looking, stock prices are established based on the expectations that investors have for the future earnings power of the firm. A proxy for the market's expectations is analysts' consensus earnings estimates, which we see are starting to increase their predictions in the upcoming future. In addition to consistent and growing earnings, a high return on equity (ROE) is one of the most important characteristics of a business. A return on equity of more than 20% is usually a sign of good corporate management. Its stock price performance growth over the past five years was the highest between peers and actual price levels maybe indicating a good buy at this moment.
All these reasons make me feel bullish on this stock in a competitive environment, which becomes more challenging.
I would recommend investors to consider adding the stock for their long-term portfolios. Hedge fund gurus have also been active in the company in the first quarter of 2014. Gurus like Joel Greenblatt and Ron Baron have taken long positions on it.
Disclosure: The author has no positions in any stocks mentioned, and no plans to initiate any positions within the next 72 hours. The author wrote this article themselves, and it expresses their own opinions. The author is not receiving compensation for it (other than from Seeking Alpha). The author has no business relationship with any company whose stock is mentioned in this article.