Introduction
As is well known, the U.S. Oil and Gas industry is undergoing revolutionary change. The advent of fracking and horizontal drilling combined with significant advances in seismic technology have made massive reserves of oil and gas in the United States commercially recoverable. In basins like the Bakken in the Williston Basin in North Dakota, Marcellus and the Utica in Pennsylvania and Ohio, Eagle Ford and the Permean in Texas, and the newer finds such as the Tuscaloosa Marine Shale in Louisiana, the production of oil and gas is soaring. Energy independence in the United States is indeed a possibility in the not too distant future. Furthermore, important costs of production continue to decline with various improvements. The improvements in fracking include better fracking materials, longer lateral length of horizontal wells, closer spacing of wells, and improved seismic techniques. The improved seismic techniques allow wells to be drilled faster and in more productive locations. Thus, the rate of return on new wells drilled continues to improve. Many companies have taken advantage of these opportunities and have seen their stocks double or triple in the past three or four years. I believe that the growth in this industry is far from over and that there are significant investment opportunities for well above market appreciation in the next one to three years.
However, I am fully cognizant of the risks of making commitments into these stocks when stock prices have increased so much in the last five months. Indeed the industry declined 4% on 6/24/2014, which indicated the possibility of a significant correction in these stocks. Nonetheless, we should realize, according to the recently released BP Statistical Review of World Energy 2014, that in 2013 world oil production increased by 557,000 barrels per day (bpd). The US production increased by 1,100,000 bpd, primarily due to fracking, which means that production in the rest of the world declined 553,000 barrels per day. World global oil consumption increased by 1,400,000 bpd and this disparity in supply and demand explains why oil prices continue to exceed $100 per barrel. Even ignoring the turmoil in the Middle East, especially Iraq, I believe the outlook for the U.S. Oil and Gas Exploration and Production industry is bright.
For these reasons a financial comparison of the 105 companies that make up the U.S. Oil and Gas Exploration and Production industry, as defined by William O'Neil's MarketSmith, was undertaken. Master Limited Partnerships were excluded and only companies with market cap greater than $400 million were considered. This reduced the number of companies to be considered to 70. For each company the enterprise value divided by the trailing twelve-month (ttm) EBITDA was computed and used as my primary valuation screen. However, as explained below, several other financial data points were used to obtain relative valuations.
Two sources were used to retrieve company data for this study. MarketSmith was used as my source for relative strength, 2014 and 2015 consensus earnings estimates, and Q4-2013 and Q1-2014 revenues and earnings per share growth. Yahoo Finance was my source for enterprise value (EV), EBITDA, and net debt. It is important to note that Yahoo's numbers for EBITDA and net debt are trailing twelve-months. I recognize this is an important limitation of the study and I tried to offset this historical focus by using 2014 and 2015 earnings estimates and PEs. However, one should note that the EBITDA number is an actual value, not an estimate.
Data for all 70 companies having market caps greater than $400 million are given in Table 1. I divided the 70 companies into three groups: companies with market cap greater than $4 billion, between $4 billion and $1 billion, and between $1 billion and $400 million.
Table 1
(Data as of 7/2/2014)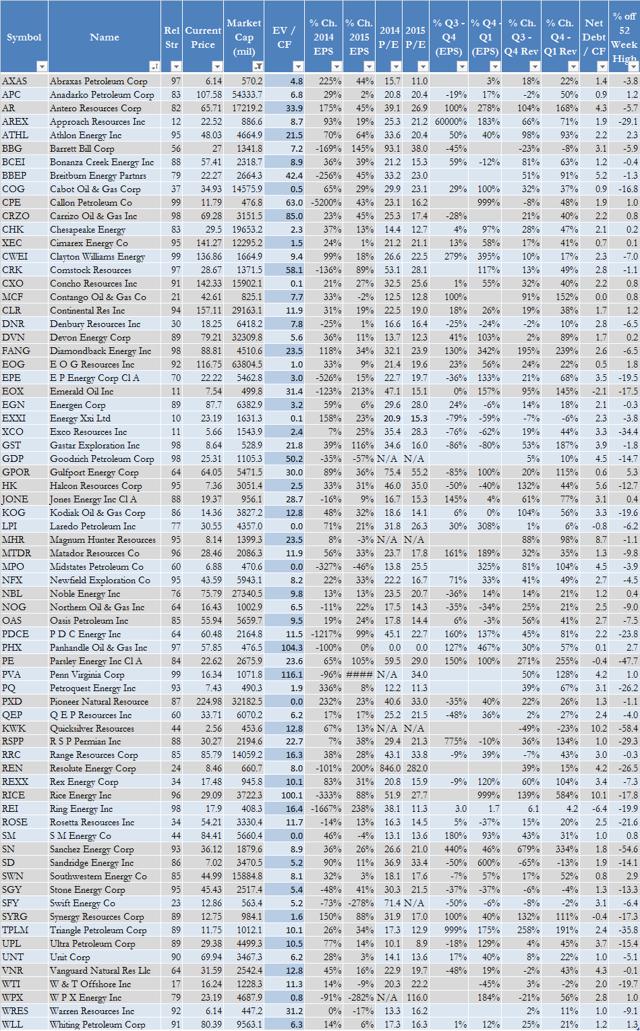 - Created by Joseph Duncan
The goal of this study was to divide the companies, within the market cap groups defined above, into three groups of relatively expensive, relatively average, and relatively inexpensive values of EV/EBITDA. I emphasize the word relative with respect to the valuations. One should not necessarily consider the relatively low valuations as "buys" and those with relatively high valuations "sells". The valuations of each group are only relative to the overall average valuation for the stocks in the industry. While I strongly believe the industry will significantly outperform the stock market over the next two to three years the data is presented so that each investor can make their own decisions as to the valuation or outlook for any stock in the study.
Stocks with EV/EBITDA greater than 14.4 were considered relatively expensive, stocks with EV/EBITDA between 14.4 and 7.7 relatively average, and those with EV/EBITDA less than 7.7 relatively inexpensive. The median EV/EBITDA for the industry was 9.2. It should be emphasized that these groupings were completely arbitrary and other investors might want to use different numbers. Since the companies were grouped by market cap and then by EV/EBITDA for each market cap group that this gives us nine groups of stocks. I then selected several stocks, in each of the nine groups; I considered the most attractive for potential investment. The factors I considered most important were projected 2014 and 2015 EPS growth, 2014 and 2015 P/E, and revenue gains for Q4-2013 and Q1-2014. In a number of cases I ignored one or more of these factors when the other factors seemed particularly strong. I attempted to select the faster growing, more profitable companies from the total of 70 companies and place them in smaller groups with similar characteristics, which could be more easily analyzed. These definitions seemed sensible to me. My lists of stocks in the nine groups are presented in tables 2, 3, and 4. For those that disagree with my categories or selections I again refer you to table 1 with the data for all 70 companies.
Table 2
(Data as of 6/30/2014)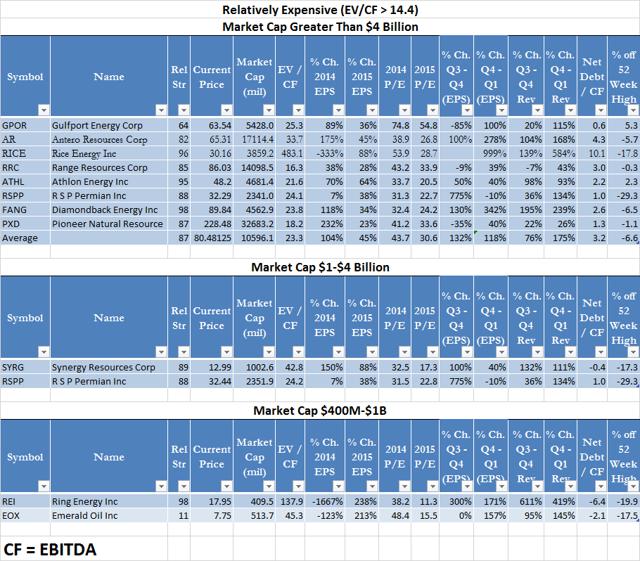 - Created by Joseph Duncan
* Data for Rice Energy (NYSE:RICE) excluded from EV/CF, change 2014 EPS, and % Ch. Q4-Q1 EPS
Table 3
(Data as of 6/30/2014)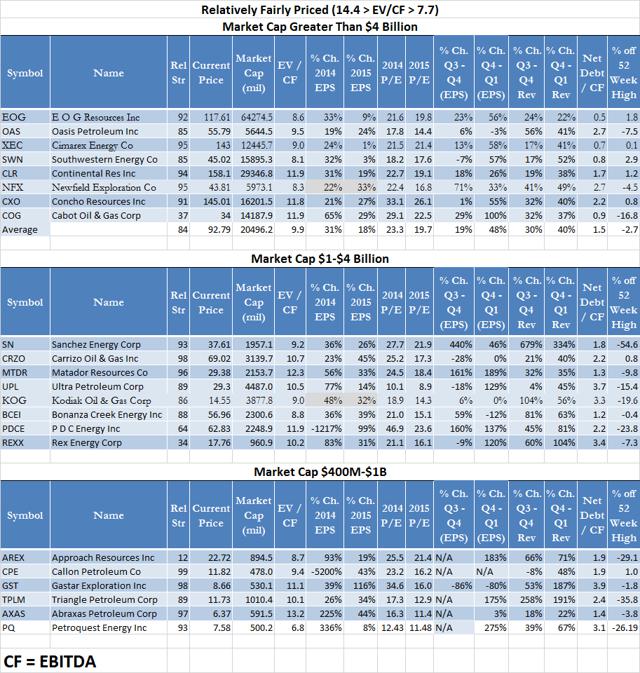 -Created by Joseph Duncan
Table 4
(Data as of 6/30/2014)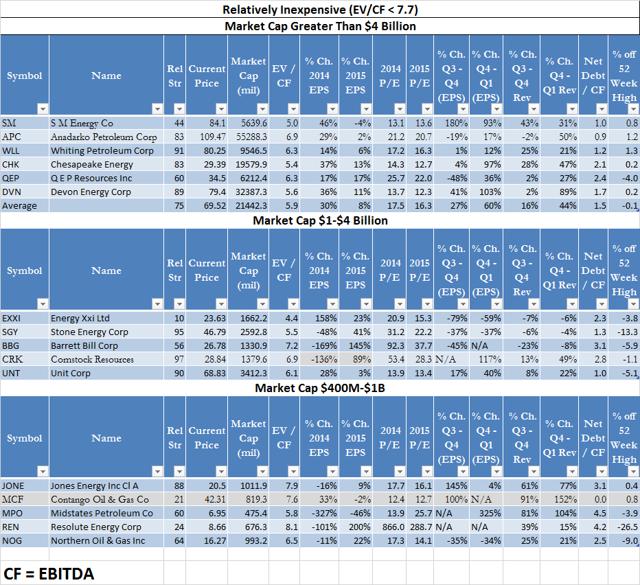 - Created by Joseph Duncan
Before we get to the results of the analysis, a number of disclaimers need to be made. First, and obviously the most important, is that I recognize the only reason these companies have value is due to the quality of their reserves, the current reserve life, and the expected future success in their exploration. In general, I have not attempted to analyze these factors. Also, while I placed great importance on 2015 P/E, percent increase in 2014 EPS and 2015 EPS, and Q4-2013 and Q1-2014 revenue gains, many of the companies, in table 1 that are attempting to grow their production rapidly may well have the above financial results substantially reduced by start-up costs in 2014 and 2015. These companies will not seem impressive in my analysis, even though they may prove to be outstanding investments. I clearly understand that further study of these companies is likely to be needed before an investment decision could be made for a specific company. I am trying to provide a road map guide to a portfolio manager or analyst to specific companies where his or her additional research would be most productive and efficient. However, I do believe the value screens and date presented here have great value in helping to determine the relative value of companies in the U.S. Oil and Gas Exploration and Production Industry.
Discussion of Results
When I began this study I expected to find that a number of strong buys in the relatively inexpensive group and a number of stocks that seemed overvalued in the relatively expensive groups. However, when I analyzed each of the nine groups and, in particular, looking at the projected 2014 and 2015 earnings growth, and the Q4-2013 and Q1-2014 revenue growth, I did not find this. It seems that for my nine groups of companies the market is far more efficient than I thought.
I originally wanted to compare the averages for each of the nine groups. However, I discovered there were too few stocks in my relatively fair and relatively inexpensive groups for averages to be meaningful. For the large market cap stock group, market cap greater than $4 billion, I believe the averages of the stocks I picked are worth analyzing. Table 5 gives the average values for the stocks I chose in each of the three EV/EBITDA values.
Table 5
Market Cap Above $4 Billion (Averages)
| | | | | | | | |
| --- | --- | --- | --- | --- | --- | --- | --- |
| | EV / EBITDA | % Change 2014 EPS | % Change 2015 EPS | 2014 P/E | 2015 P/E | % Change Q4-2013 Rev | % Change Q1-2014 Rev |
| Relatively Expensive | 22.7 | 104 | 45 | 44 | 31 | 76 | 175 |
| Relatively Average | 9.5 | 31 | 18 | 23 | 20 | 28 | 40 |
| Relatively Inexpensive | 6.1 | 30 | 8 | 18 | 16 | 16 | 44 |
- Created by Joseph Duncan
Looking at the table above there is an almost perfect correlation in every column as one goes from relatively expensive to relatively fair value to relatively inexpensive valuations. Note, average projected earnings growth for 2014 and 2015 for the relatively expensive stocks are 104% and 45% respectively. These same figures fall to 30% and 8% for the relatively inexpensive stocks. A similar decline occurs for Q4-2013 and Q1-2014 revenues growth with revenue growth of 76% and 175% respectively for the relatively expensive stocks and 16% and 44% respectively for the relatively inexpensive stocks. The 2015 P/E for the relatively expensive group is almost twice that for the relatively inexpensive stocks. In fact if one wants to compute projected 2015 EPS growth divided by the 2015 P/E, a fairly common valuation factor in the investment community, one gets 2.4, 1.3, and 1.7 for 2014 and 1.5, 0.9, and 0.5 for 2015. These values are displayed in table 6 below. Using this type of valuation the relatively expensive stocks appear to offer better value (higher growth per unit of P/E) than the other two groups, ignoring risk. I understand the sample is quite small and with only 24 stocks in the three groups. I find it surprising how efficiently the market has priced these stocks, and that there appears to be better value in the relatively expensive stocks. Looking at the data another way and comparing the relatively expensive group to the relatively inexpensive group using 2015 EPS estimates one gets 5.9 times the average projected earnings growth (45% versus 8%) for only a 90% higher P/E (31.0 versus 19.4). I invite the reader to consider the above numbers in any way he or she desires, but to me they offer a strong indication that one does indeed get what one pays for.
Table 6
Average Projected EPS Growth / Average PE
2014

2015

Relatively

Expensive

2.4

1.5

Relatively

Average

1.3

0.9

Relatively

Inexpensive

1.7

0.5
- Created by Joseph Duncan
The data seems to make it clear that one should not exclude, from one's portfolio, companies of exceptional quality and which offer high growth merely because their valuations are relatively expensive. For the smaller cap companies it is highly likely that there are exceptional bargains available there if one has the research skills to identify them although I suspect they will come with increased risk.
Summary
I believe all the companies in table 2-4 are deserving of careful research as to whether they should be purchased. As stated I believe significant production growth in shale oil and gas will occur over the next 3-5 years. Of the 54 companies I selected in my nine groups in tables 2, 3, and 4 only 6 have their relative strength below 80 and in the large market cap, relatively expensive group, of 8 companies the average is 87. This is not an industry whose growth is determined by a few companies. There are a lot of very good to extremely good companies. Remember the market cap of this industry is a huge $550 billion. I believe a tactic of extreme diversification has a very high probability of succeeding while substantially reducing the risk of earnings disappointments.
Let me stress again that I have not done any company specific research. I do not know the quality of the reserves of these companies, their reserve life, whether they have access to midstream facilities, pipelines, or rail to get their production to market. I also do not have estimates of 2014 and 2015 EBITDA. EBITDA is the number most experts believe to be most important in valuing oil and gas companies and their ability to finance their production growth. I agree with this opinion and it is unfortunate that I could not obtain 2014 and 2015 EBITDA estimates for this study. I strongly believe the industry will grow production rapidly, will finance that growth, and will grow EBITDA and earnings. If the above statement proves true, I believe the industry will continue to grow and will provide attractive returns over the next 1-3 years.
However, as noted at the beginning of this study, many of these stocks have doubled or tripled in the last 2 or 3 years. More importantly, most of stocks in tables 2, 3, and 4 above are trading near their 52-week high, especially the high-quality larger market cap companies. According to MarketSmith the industry is up 25.7% year to date, the second best industry performance during that time. As note one would think the industry is due for a significant correction and there is no way I can argue against that. However, due to the situation in Iraq, oil prices seem far more likely to rise, perhaps significantly, than to decline and if that happens it is hard for me to see a sustained market decline in these stocks. Furthermore, a number of stocks had disappointing results in the first quarter, most due to harsh winter conditions. The second quarter seems to be progressing smoothly and I suspect that we will see a number of companies raise their guidance when they release second quarter earnings. If that happens it would further mitigate the probability of a significant market reaction.
Where does that leave investors wanting to enter this industry? First, they can wait for a market reaction in this industry. I recommend against this, as it is too easy to be left at the gate. Second, investors can study all the stocks in table 1 and choose from those significantly off from their 52-week highs like: Rice , RSP Permian (NYSE:RSPP), Synergy (SYRG), Ring Energy (NYSEMKT:REI), Emerald Oil (NYSEMKT:EOX), Cabot Oil and Gas (NYSE:COG), Ultra Petroleum (NASDAQ:UPL), PDC Energy (NASDAQ:PDCE), Approach Resources (NASDAQ:AREX), Stone Energy (SGY), or Resolute Energy (NYSE:REN). That is quite a list to choose from and many are probably good companies with short-term problems.
Given my belief that oil and gas prices are more likely to rise than decline, and that many second-quarter results could easily exceed current guidance, I would take a different approach. I would pick a group of stocks, from those in tables 2, 3, and 4 and dollar average into each stock buying, say, a 25% position per month in each stock over the next four months in order to end up with full positions by mid-October. I would diversify broadly picking one or two stocks from each of the nine groups.
I do hope that this study has helped to bring some degree of order into a very large fast growing industry. Given the strong projected growth I do not believe this industry is near high tide. Good luck! I am long Rice Energy.
Disclosure: The author is long RICE. The author wrote this article themselves, and it expresses their own opinions. The author is not receiving compensation for it (other than from Seeking Alpha). The author has no business relationship with any company whose stock is mentioned in this article.