As an investor inspired by Benjamin Graham's The Intelligent Investor, I follow a simple and straight-forward investment doctrine: identify good companies and buy them cheap. I decided to utilize Porter's 5 Forces to determine whether or not Lululemon Athletica (NASDAQ:LULU) is a "good" company and a subsequent free cash flow to the firm analysis to identify an intrinsic value.
Porter's 5 Forces specifically help understand the industry structure the subject company is in. The drivers of profitability can be determined this way as well as what levers affect them. Through this scope, my goal is to see how well Lululemon has positioned themselves to be profitable in the long term.
Bargaining Power of Suppliers
Lululemon reported in its most recent annual report that it relies on approximately 65 suppliers for the fabrics used in the production of their products. Coupled with the fact that they do not have any long-term contracts with any of their suppliers, it would seem Lululemon is somewhat immune to the bargaining power of suppliers. This contradicts their use of the popular Luon fabric, which in 2013 represented 30% of the fabrics used in their products and was supplied to garment factories by a single third-party supplier. Luon fabric is a prime component of their "Full-On Luon" pants and leggings (created by a limited number of manufacturers) that sell anywhere from $82-$98 depending on style and utility.
In March 2013, Lululemon blamed Eclat Textile Co. for producing a shipment of pants that were too sheer and ultimately recalled. Eclat Textile CFO Roger Lo responded accordingly:
"All shipments to Lululemon went through a certification process which Lululemon had approved. All the pants were manufactured according to the requirements set out in the contract with Lululemon."
The defensive nature of the response was a signal for shareholders to monitor the relationship between the aforementioned customer and manufacturer.
As Lululemon continues its global expansion and increases their reliance on manufacturers such as Eclat Textile Co. they could see pressure from those above them in the supply chain seeking to capture more of the value for themselves by charging higher prices and/or limiting quality. For example, Eclat Textile Co. boasts major customers such as Adidas, Nike, Under Armour, and Reebok and does not depend as heavily on Lululemon for its revenues, whereas Lululemon obtained a majority of their Luon-based products from Eclat prior to the sheer pant scandal.
Based on data from January to September 2013 that captured the top 20 shippers to Lululemon, it appears that they have proceeded to lessen their reliance on Eclat Textile, with their subsidiaries (E-Top Co. Ltd. and Unison (Wuxi) Textile and Garment Inc.) accounting for only 9% of the total metric tons by the top 20 shippers. Note: this list represents all products and their respective manufacturers (See Green Industrial provides yoga mats).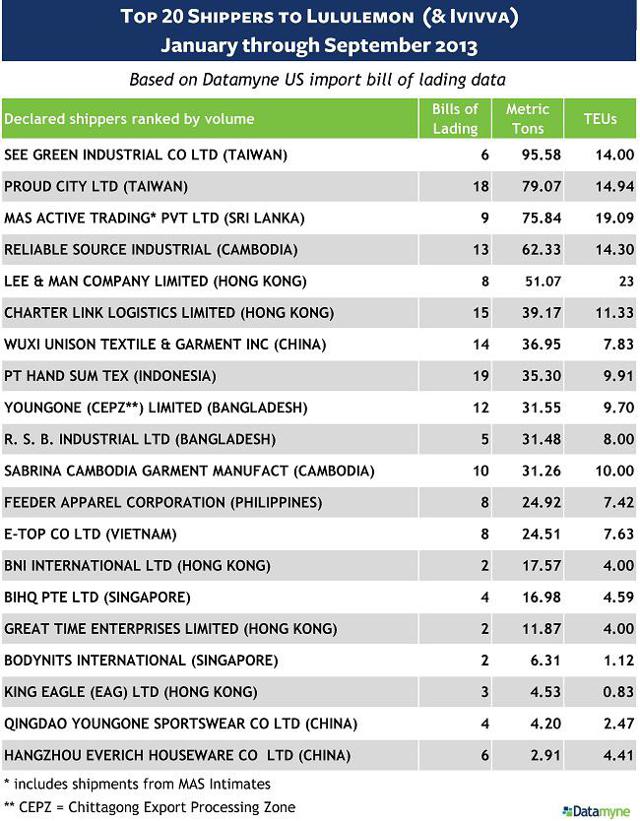 Bargaining Power of Customers
With more options, customers can play industry participants against one another leading to declining prices and hurting profitability. There are virtually no switching costs for customers as competitors Victoria's Secret (NYSE:LB) and Athleta (acquired by Gap (NYSE:GPS) in 2008) have begun to chip away at Lululemon's market share with similar products selling at slightly lower price points. While this has the potential to tempt price conscious buyers to jump ship from Lululemon, it is beside the point in my opinion. Lululemon has been and will continue to be a luxury brand with clientele that are generally not price conscious. Similar to the Apple-paradigm, consumers are willing to purchase an iPhone for 300+ even though they could get a similar less-costly alternative. To many customers, Lululemon is a lifestyle choice that promotes well-being through their grassroots approach to marketing that include local networks built through social media, sponsored events, and in-store community boards.
Threat of New Entrants
As mentioned before, Victoria's Secret is a prime example of a relatively recent entrant into the technical athletic apparel industry that features limited to no barriers. The main source of new entrants is well-diversified apparel companies looking to break into the high-end yoga apparel market niche that Lululemon has created for itself. There also exists the ubiquitous threat of a similar specialized retailer with a comparable business model.
Threat of Substitutes
This threat is the weakest of the five forces and should be disregarded relative to the other four, as there aren't really any practical alternatives to athletic apparel, unless some celebrity promotes doing yoga in old clothes and it becomes all the rage.
Rivalry among Existing Competitors
While the athletic apparel industry is quite competitive as a whole, Lululemon has done a good job of focusing on a particular segment: educated and active women looking to lead a healthy lifestyle mainly through yoga and running. Their products have historically been home-runs among their clientele on the basis of brand image, product quality (albeit with the minor setback in March 2013 with the sheer Luon pant incident), innovation, and style. Increased competition from established direct seller behemoths such as Nike (NYSE:NKE) and Under Armor (NYSE:UA) will always be a concern to Lululemon as the former leverage their existing capabilities. Retailers focused solely on women's athletic apparel (i.e. Athleta) will continue to create headwinds for Lululemon by attacking their market share and squeezing their profit margins. Many competitors have longer operating histories, and therefore enjoy greater economies of scale, larger/broader customer bases, better supplier relations, and other superior operating/financial resources. That being said, Lululemon's continued focus on their target segment and strong execution of their growth strategies described below will determine how they fare against their competition.
Growth Opportunities
There is promising growth to be had for Lululemon: expanded product categories, increased offerings for men and youth, increased range of athletic activities their products target, and most importantly: more stores. Swim, tennis, and golf are areas in which Lululemon are looking to make strides, especially with their existing customer base that already partake in those activities. Ivivva athletica, their youth brand launched in fiscal 2009, features dance-oriented apparel for female youth; another growth opportunity. I personally prefer Nike and their subsidiary Jordan for my athletic apparel and honestly had never heard of Lululemon until 2012, when my girlfriend at the time was obsessed with their running clothing. I was skeptical a store boasting the name "Lululemon Athletica" would have men's clothing but low and behold: a quarter of the store was dedicated to men's offerings. It is one thing to offer such clothing but another to actually secure a substantial share of the lucrative men's athletic wear segment.
Lululemon had 263 stores worldwide as of May 4, 2014 (up from 211 on February 2, 2013). 88% of these stores are located in North America. While in New Zealand in December 2012, I was shocked to see a Lululemon Athletica store in Queenstown. It turns out, that region of Oceania (Australia and New Zealand) is the only other part of the world Lululemon has significant retail operations, though they've recently opened a store in London to spear European expansion. Increased presence in North American cities and suburbs coupled with a global expansion strategy gives Lululemon enticing growth potential.
Valuation
I chose to apply a free cash flow to the firm (FCFF) analysis of Lululemon for three main reasons:
Lululemon does not pay dividends.
Free cash flow reasonably aligns with profitability during the past three years.
Lululemon does not have any debt meaning free cash flow to the firm is theoretically equal to free cash flow to equity.
A few remarks regarding my 2014 FCFF estimate: I used the average of the most recent full-year outlook as my revenue estimate ($1.77-1.80 billion), to determine my 2014 net income estimate I utilized the three-year average of profit margin, working capital investment components and fixed capital investment were also three year averages, and non-cash charges (depreciation) was an average of 2011 and 2013 as I omitted 2012.

For my valuation, I performed a sensitivity analysis coupled with a single-stage FCFF model to arrive at a range for the share value at the end of the 2014 fiscal year: $41.18-61.46. The range for beta was obtained from the chart below, risk-free rate from the 10-year treasury note, and equity risk premium from Aswanth Damodoran's website.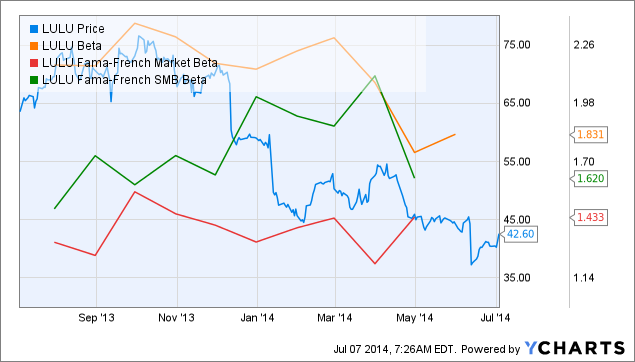 LULU data by YCharts
While this valuation makes some crude assumptions, I believe it is a strong foundation on which to build upon for further analysis when determining how the current share price relates to intrinsic value. The 8% growth assumption is derived from the recent revenue outlook and corresponding 2014 FCFF estimate relative to the 2013 FCFF. This is a conservative estimate that helps validate the range of estimates obtained from the FCFF model. A 47% upside suggested by the target ceiling ($61.46) is quite overzealous, but I think it accurately depicts the fact that Lululemon's financials are quite strong and should be valued accordingly.
Risk Factors
The big elephant in the room has been founder Chip Wilson taking shots at the current management. There's been speculation about him trying to regain control of the company, recently working with Goldman Sachs on strategies to do so. Also, CFO John Currie will be stepping down at the end of the current fiscal year. These issues have been covered in countless other articles and I do not seek to rehash them here.
Expansion may not go as planned, with incorrect regions targeted, lack of experience with international regulatory environments, or inability to determine foreign guests' preferences. Current clientele may jump ship to cheaper alternatives or Lululemon may simply fall out of favor with consumers. There is always the risk that another mishap with the quality of products may occur as well, driving away customers. Clearly, these issues make an investment in Lululemon at this point in time inherently more risky and should be factored into the investment decision.
Conclusion
With the way Lululemon have positioned themselves within their industry over the past few years, I am excited at the opportunity presented with their stock near its 52-week low. I believe they have a sound strategy in place to continue to grow and provide their target segment with the innovative products the latter desire. The range of price targets for the end of the current fiscal year provide a potential investor with a good start in their own analysis of the company. Their expansion plans (geographically and product offerings) will drive profitability in concert with their share price.
My recommendation (with an investment horizon from now to the end of Lululemon's current fiscal year): "BUY"
Disclosure: The author is long LULU. The author wrote this article themselves, and it expresses their own opinions. The author is not receiving compensation for it. The author has no business relationship with any company whose stock is mentioned in this article.