Many investors who are approaching retirement or are in retirement do not have exposure to small caps. Small caps have historically outperformed larger companies, they can enhance portfolio performance. Owning small-caps helps diversify a portfolio. Owning a closed end fund that invests in small caps can provide income investors with exposure to an asset class they often overlook while providing the income they require.
Basics

Royce Micro-Cap Trust (NYSE:RMT) was formed in 1993 and Chuck Royce has been the portfolio manager since inception. The assistant portfolio managers have been around since 2009. We can have more confidence projecting future performance based on past performance when the same management team has been in place over a long period of time.
Total Returns
Return on NAV

RMT has outperformed the Russell 2000 (RUT) over all time periods shown above. It has outperformed the S&P 500 over all time periods greater than 5 years. Small caps are more volatile but historically outperform larger companies over longer time periods.
Return on NAV by Year

RMT had better returns than Russell 2000 seven of the past ten years.
The ADJ TTR 2013 column above is an estimate of what RMT 2013 total return would have been, if it did not use leverage. Its adjusted total return of 39.71% still beats the 37% return of the Russell 2000. The calculation used to estimate the adjusted total return is:
TTR * (1-leverage)
RMT is volatile, above we can see that in 2008 RMT suffered larger losses than both the Russell 2000 and the S&P 500. Comparing the returns from RMT and the iShares Barclays 20+ Yr Treas. Bond ETF (NYSEARCA:TLT) we can see that in the years when RMT had negative returns, TLT had very strong returns. For investors that want exposure to small-caps, but want to limit the volatility and risk, pairing an investment in RMT with an investment in treasuries should make for smoother sailing.
Discount

RMT's discount is less than its historical average. A patient investor may want to wait to get a better entry point or spread the purchase over time to average in.
Distributions

According to the latest quarterly report: Royce Micro-Cap Trust pays quarterly distributions at an annual rate of 7% of the average of the prior four quarter-end net asset values. I'm not a fan of managed distributions as it is an attempt by management to provide consistent returns based on underlying assets that will not have consistent returns. In the end, a fund like RMT relies on capital gains to provide distributions and if the capital gains don't materialize distributions will be cut.

As we can see above, distributions were severely cut back in 2009 and 2010. RMT has provided very good total returns over a long period of time, but income investors should not expect consistent distributions. Small caps are volatile and we can see below RMT is almost totally dependent on capital gains to pay distributions.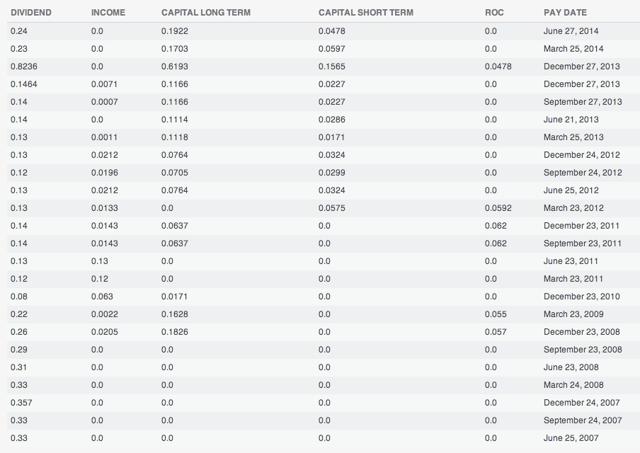 Expenses
In response to my last article, there were a number of comments questioning why I cared about expense if a fund's total returns have been good. I wrote an instantapost addressing this. My brief answer is total returns are a backward-looking measure that has limited value as a predictor of future returns. Expenses are more definitive, the money management pays itself or spends on luxury office suites comes directly out of investors' pockets.

RMT's last reported baseline expenses .96%, on the low side for an equity CEF.
RMT adjusts expenses based on the fund's performance below is the explanation from their fact sheet.
"The adviser's fee is "at risk" and is determined by the Fund's performance relative to its benchmark, the Russell 2000 Index. In general, if the Fund outperforms the benchmark over the measurement period (a rolling 36 months), the fee is increased. If the Fund underperforms, the fee is decreased. This performance-based structure can increase or decrease the adviser's base fee of 1.00% by up to 0.50%."
Leverage

RMT uses a small amount of leverage. Leverage is a double-edged sword that should enhance performance in an up market and lead to larger losses in a down market. When investing in a volatile asset class like small caps I want the use of leverage to be minimal.
Portfolio


Holdings are as reported 3/31. Weighted average PE of holding on 3/31 was 21.5 and the weighted average book value was 1.8 (from Royce Fund literature). For small caps, these ratios are relatively low and show management has a preference for value stocks.
Conclusion
RMT provides a way for income investors to diversify their portfolio by adding small caps, while still generating significant income. Income investor nearing or in the distribution phase may want to pair the purchase of RMT with a purchase of Treasuries.
Chuck Royce has managed the fund since inception and has managed to consistently beat the Russell 2000 in total returns. The fund managers and families own 4% of the funds outstanding common stock indicating they have confidence in what they are doing. The fund has reasonable expenses that adjust based on performance. It is selling at a discount that is less than its historical discount so purchasers may want to wait for a better entry point or spread out their purchases to average in.
Unless otherwise noted - all data is from Morningstar.
I encourage all investors to do their own due diligence and please share your findings. I strongly feel the best thing about Seeking Alpha is the sharing of ideas. Please comment. Divergent opinions are welcome.
Disclosure: The author is long RMT. The author wrote this article themselves, and it expresses their own opinions. The author is not receiving compensation for it (other than from Seeking Alpha). The author has no business relationship with any company whose stock is mentioned in this article.