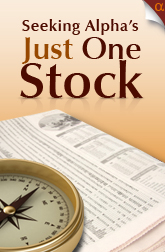 Several times a week, Seeking Alpha's Jason Aycock asks money managers about their single highest-conviction position - what they would own (or short) if they could choose just one stock or ETF.
---
Josef Schuster is founder of IPOX Capital Management, a Chicago-based RIA and manager of the Direxion Global Long/Short IPO Fund. A former member of the Chicago Mercantile Exchange, he pursued academic work on IPOs in the Financial Markets Group at the London School of Economics.
Which single asset class are you most bullish (or bearish) about in the coming year? Which of your stock positions best captures that?
We are bullish on Asia Pacific Consumer Discretionary stocks. We particularly like Wynn Macau (OTCPK:WYNMY), which is a luxury resort in Macau Peninsula in China; it's the first Las Vegas-style resort in all of Asia. Wynn Macau captures this realm well because it benefits directly from the ascent of the Chinese consumer, which is independent of the ups and downs of the stock markets.
How does it fit into your overall investment approach? Tell us a bit about your strategy and goals.
The Direxion Long/Short Global IPO Fund (DXIIX) is for investors who want exposure to a diverse set of IPOs. Our goal is to achieve capital appreciation through a risk-controlled portfolio, investing in IPOs and spinoffs using a combined long/short strategy.
We believe that many IPOs behave similarly as they progress through a typical four-year life cycle. This life cycle has three basic stages.
Stage 1 includes IPOs that we participate in at the syndicate level, in order to take advantage of potential underpricing in the global IPO market. Stage 2 includes our "long" stocks; these stocks are typically in their first year of a public offering with the potential to outperform during a time when the company has a limited track record on the market. Stage 3 encompasses stocks that we short; they're in the second to fourth year of a public offering and we expect them to underperform as a result of the effects of the going-public event.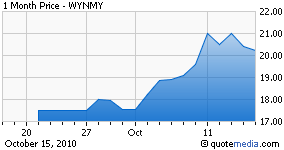 Wynn Macau, which went public in October 2009, is among our long stocks. It raised over $1 billion, making it among the largest IPOs last year. We expect Wynn Macau can continue to outperform from its first year of public trading. While the number of Macau visitors is increasing sharply, the number of new Macau casinos is expected to stabilize. More broadly, Wynn Macau also benefits from asset allocation flows into China consumer stocks, as fund managers look for highly liquid, large companies with limited debt and strong cash flows.
Can you tell us more about the area, and how it contributes to your top pick?
We believe the Asia Pacific region, especially China, is going to continue to experience robust economic growth. China's gross domestic product grew at an annual rate of 10.3% during the second quarter of 2010, following an 11.9% rate in the first quarter. Its population numbers more than one billion people, making it the world's largest country and, combined with its rapid growth, one of the most significant new players on the global stage.
Consumers in this region will continue getting wealthier as per capita income increases and their savings yield returns. As consumers become wealthier in the region, demand for discretionary items and services will continue to increase.
Because of these fundamental forces at play, the Asia Pacific region's growth - both in terms of population demographics and income - is relatively insulated from short-term swings in the capital markets or global economy.
Are there alternative stocks that could be used to capture the same theme? What makes Wynn Macau your first choice?
Yes, we also like Sands China (OTCPK:SCHYY), a resort developer in Macau, and L'Occitane International, a French cosmetics maker trading in Hong Kong and focused on expanding in the Asia Pacific region.
Sands China, which like Wynn Macau went public in 2009, raised $2.5 billion in a Hong Kong IPO. Investor reception toward Sands China was a bit lukewarm; while Wynn Macau has a relatively clean balance sheet, Sands China had a bit over $3 billion in outstanding debt and planned to use some of its IPO proceeds to repay borrowings. We believe that going forward, Sands China may slightly underperform Wynn Macau. We expect similar trading dynamics when compared to their U.S.-traded counterparts Las Vegas Sands Corp. (NYSE:LVS) and Wynn Resorts Ltd. (NASDAQ:WYNN).
L'Occitane International, which went public this year, is a play on this sector as well; it is making a concerted push to open new stores in China and India, as well as expand its reach in developed countries including Japan and South Korea. We like L'Occitane because it's a unique, high-margin, upmarket cosmetics company with a strong brand globally, in general, and in Asia in particular. It is also still mostly privately held and could make for a potential takeover candidate, as its market cap is still relatively small.
China's highly caffeinated growth rate comes with some volatility risk; what effect on your outlook for consumers there is affected by the savings rate, which isn't as high as that of some emerging-market counterparts?
While the savings rate is low, my outlook isn't based on the saving rate. I believe these companies benefit from generational developments, in the sense that consumers will have a higher nominal amount to spend in the future, and more consumers move up the socioeconomic ladder because of the underlying dynamics of the respective economies. The big move up in these stocks over the past months reflects some of these expectations.
Do you think your view differ from the consensus sentiment here?
Overall, there is a broad consensus toward overweighting equities in the Asia Pacific consumer discretionary category. Our view diverges from the current sentiment in that we're focused on the potential of new listings/IPOs in this sector.
We believe IPOs in the Asia Pacific consumer discretionary category represent a unique opportunity to capitalize on growth in the region, because a number of these deals are truly hard to value when compared to stock market-traded incumbents. This implies certain inefficiencies which may result in big upside once these companies achieve a strong growth path.
What catalysts, near-term or long-term, could move this area significantly?
In the near term, we're watching earnings. Strong earnings in this sector could provide the impetus for driving the stocks higher. Over the long term, we are interested in changes to demographics and average income in Asia Pacific.
For instance, demand for cars is significantly increasing across China and Indonesia as people replace motorbikes with cars due to their higher per capita income. Or they replace the cheaper cars with luxury cars. This actually has strongly benefited one of our top China holdings, auto dealer Zhongsheng Group. The company went public March 26 at HKD10.00 and currently trades around HKD18.50.
Gambling revenue in Macau jumped 40% Y/Y in September. Wynn now gets more than 70% of its revenue from Wynn Macau. Steve Wynn says he plans to move headquarters there, and probably not invest in more gambling in the U.S. Could these heavy shifts into China lengthen the time frame when your "stage 3" would arrive - when you would be shorting Wynn Macau for underperformance?
That may well be the case and that is where active management comes in play, where we seek to isolate companies subject to these unique developments. For example, Wynn Las Vegas (WYNN) really had the first big decline when it traded in its third/fourth year after its IPO.
What could go wrong with your pick?
There is always the risk for the Macau-domiciled casino stocks that mainland China could take actions that negatively affect their growth potential. For instance, sudden travel restrictions enforced by the Chinese government for Macau-bound travelers from mainland China could inflict significant volatility on some stocks. That's is why we apply strict diversification rules.
Thanks, Josef, for sharing your ideas with us.
Disclosure: The Direxion Long/Short Global IPO Fund is long Wynn Macau and L'Occitane.
Read more Just One Stock interviews »
If you are a fund manager and interested in doing an interview with us on just one stock or ETF position you'd hold, please email Rebecca Barnett.