On Wednesday Boeing (NYSE:BA) announced the finalization of its $2.8 billion contract with NASA for the development of the core stage of the Space Launch System ((NYSE:SLS)), which will be the most powerful rocket to-date. The SLS will be used to transport cargo and crew for deep-space exploration, including the Lockheed Martin (NYSE:LMT)-built Orion spacecraft. NASA intends to use Orion to carry astronauts to asteroids and Mars, and will launch its initial flight test later this year. SLS's first flight test is targeted for 2017, and the second mission, complete with a crew, is scheduled for 2021.
This development isn't just big news for Boeing and Lockheed Martin. Oceaneering International (NYSE:OII), best known for deepwater drilling, won a heavily-disputed, multimillion dollar contract back in 2009 to create the space suits for astronauts traveling in Orion. Per the contract, valued at over $180 million, Oceaneering's Space Systems division is designing and building the Configuration 1 Constellation Space Suit System (CSSS). If NASA requests more suits and/or asks Oceaneering to build the CSSS Configuration 2 suit-intended for extravehicular activity on the moon - the contract, which lasts for an initial period of six years, can be extended through 2020.
While the launch of a manned Orion expedition is years away, earnings season starts this week. A look at Oceaneering's earnings history over the last year reveals that the company has beaten earnings expectations for the last four quarters. In the second quarter of 2013, Oceaneering reported earnings of $0.91 per share, exceeding the average estimate of $0.84 by 8.3%. At the end of the third quarter, EPS stood at $0.96, 2.10% higher than the average estimate of $0.94. The company's fourth-quarter earnings of $0.86 per share were 2.40% higher than the average estimate of $0.84. And in the first quarter of 2014, Oceaneering reported earnings of $0.84 a share, beating the average estimate of $0.80 by 5.0%. Oceaneering's average earnings surprise is 4.45%.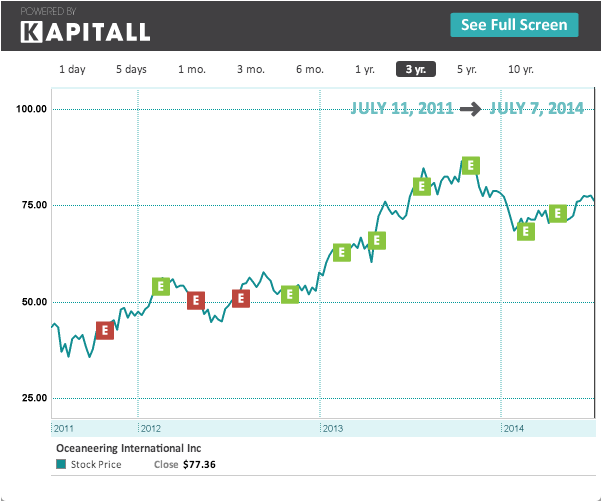 Click here to see the full, interactive chart.
The company's second-quarter earnings are set to be released on July 23rd, and analysts expect to see earnings of $1.01 per share. If the estimate proves correct, Oceaneering's second-quarter earnings will have grown by 10.99% year-over-year. On a trailing twelve month basis, Oceaneering's EPS has grown by 23.96% from its prior TTM, considerably less than its industry (Energy Equipment & Services) average of 33.37%. Yet a look at the same metric for other companies involved with space exploration shows that they're also lagging their respective averages.
The Aerospace & Defense average for EPS growth on TTM vs. prior TTM basis is 59.90%. Alliant Techsystems' (ATK) EPS growth is 25.72%, Boeing's is 8.80%, Lockheed Martin's is 10.75%, and Orbital Sciences (ORB)'s EPS actually declined by 8.77%. Ball (NYSE:BLL)'s EPS grew by 17.34% compared to a Containers & Packaging average of 67.48%. And Boeing and Orbital Sciences both have an average analyst rating of "buy," while the others are given a "hold" rating.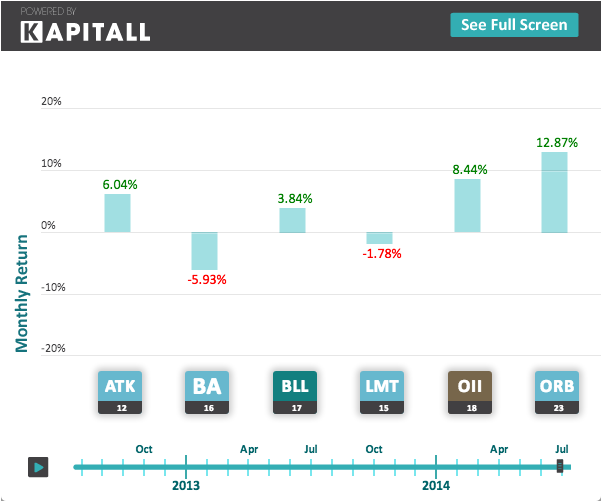 Click here for the full, interactive chart.
Continuing with earnings, Oceaneering has reported rising diluted normalized EPS for the last three consecutive years. During the first time interval - twelve months ending December 31, 2011 vs. twelve months ending December 31, 2010 - diluted normalized EPS rose from $1.82 to $2.16. The following year (ending December 31, 2012), diluted normalized EPS increased from $2.16 to $2.66. In the final period, ending December 31, 2013, diluted normalized EPS rose by its biggest amount yet to $3.42 from $2.66.
Oceaneering also has little debt, boasting encouraging long-term debt/equity and debt/equity ratios of 0.04. Its operating cash flow stood at $82.35 million at the end of the first quarter, down 50% from $163.95 million in the fourth quarter of 2013. The drop in cash flow followed two consecutive quarters of 20%-plus growth.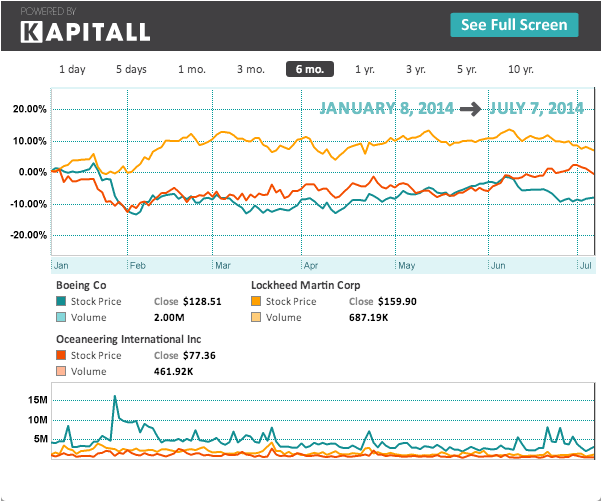 Click here to see the full, interactive chart.
Lastly, analysts expect Oceaneering's revenue to rise to $3.74 billion this year, which would reflect a 13.80% increase from the company's $3.29 billion in sales back in 2013. And while Oceaneering is involved with space exploration, deepwater applications of its technology remains the company's bread and butter. The company's Subsea Projects segment saw the biggest increase in revenue during the first quarter, reporting $138.19 million in sales compared to $88.46 million a year earlier. The Subsea Products segment saw the second-biggest gain in sales, rising from $214 million to $260.01 million. In the first-quarter earnings release, President and CEO Kevin McEvoy commented on the demand for Subsea Products, noting that the segment's quarter-end backlog was $894 million, up from $776 million a year ago.
Disclosure: The author has no positions in any stocks mentioned, and no plans to initiate any positions within the next 72 hours.
Business relationship disclosure: Kapitall is a team of analysts. This article was written by Mary-Lynn Cesar, one of our writers. We did not receive compensation for this article (other than from Seeking Alpha), and we have no business relationship with any company whose stock is mentioned in this article.