InvenSense (NYSE:INVN) announced yesterday that they are acquiring two start-up companies, both in the area of motion sensing and location tracking. The technologies from these two companies, Movea and Trusted Positioning, join InvenSense's already formidable core technology in motion sensing.
Motion-sensing technology, by which a smartphone or other mobile device uses built-in sensors to detect and analyze its movements, is a key component in many indoor location positioning solutions, which are attempting to enable location-based applications and phone features to work indoors. Imagine your mapping and navigation app directing you not only to the nearby mall, but all the way to the coffee shop on the 2nd floor.
To understand how motion sensing relates to indoor location positioning, consider a smartphone that knows its location outdoors based on GPS. When the phone is carried indoors, it can continue to track its location by sensing its movement centimeter by centimeter, detecting the exact distance it moves and the direction in which it moved, and update its location accordingly. This approach is often called "sensor fusion" because it combined data from a variety of built-in sensors, or "inertial navigation" because it tracks locations through motion.
Among the many approaches to indoor location positioning being developed by over a hundred companies in the area, motion sensing is a very strong contender for several reasons. First, it offers the promise of working anywhere, without needing radio signals from Wi-Fi access points or Bluetooth devices, and without needing any preparation for the site in which the phone is being carried. Second, it can be implemented in hardware, in a sensor controller chip, minimizing the drain on the phone's battery and CPU.
While this concept has been implemented successfully, most implementations currently suffer from small errors in motion sensing that build up over time to big errors in location estimate. For this reason, motion sensing is often combined with other approaches, typically based on Wi-Fi or Bluetooth. But research teams are still working on the dream of motion sensing that is accurate enough to track locations effectively.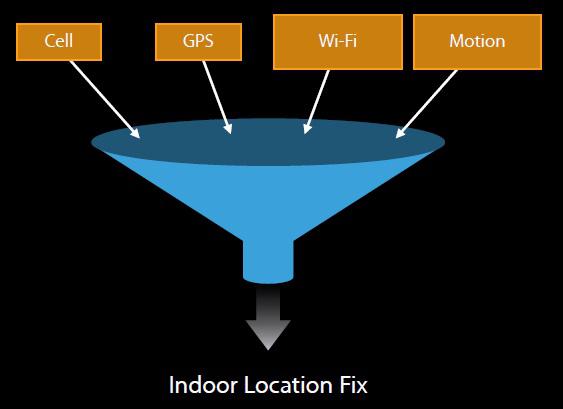 Hardware-based motion sensing for indoor location on smartphones got a big boost last month, when Apple (NASDAQ:AAPL) announced that their new operating system would use motion sensing to track indoor location, based on their M7 motion-sensing chip. The image shown is from a conference session on "taking core location indoors."
InvenSense has a long history of R&D and other exploration in indoor location tracking. Their MPU-6000 and MPU-6500 motion tracking chips integrate signals from gyroscopes, accelerometers and other sensors. They have worked directly on using motion sensing for gesture-based interfaces, and have explored for years the use of their motion sensing chips for tracking location indoors.
Movea, based in France with offices in California, has invested considerable R&D in exploring how to integrate and analyze sensor data to achieve the most effective motion sensing. While most motion sensing simply combines the sensor data to determine the direction and distance of movement, Movea has explored how the height, weight, stride and posture of the phone user, the precise manner that people change direction while walking, the roll of people's arms while holding a phone, and more, all effect motion sensing and location tracking. In addition to their developed technology, they have established a patent portfolio of over 500 patents and patent applications.
Trusted Positioning, based in Canada, has been focusing their research strongly not on mobile applications, but rather on how motion sensing and location tracking can be integrated into chips and embedded software. Their technology integrates signals from a wide variety of sensors, not only the sensors typically found in smartphones but also car odometers and speedometers.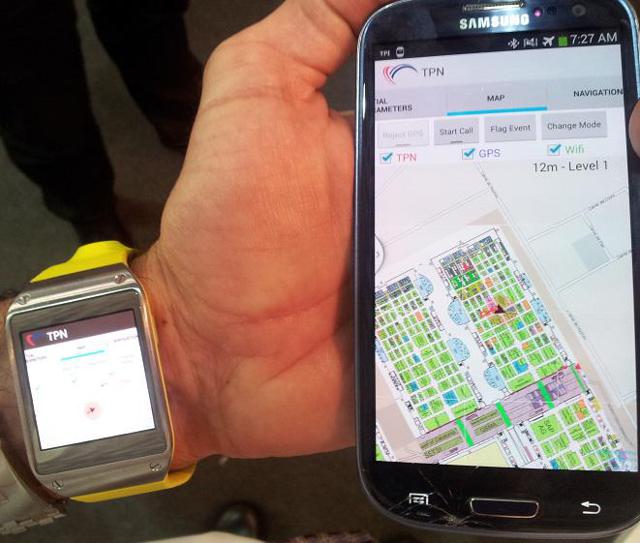 In addition, Trusted Positioning has developed innovative technology that can track motion based on sensors in multiple devices that are all being carried by the same person. One example, in the picture shown, is a system that integrates signals from a smartphone and a smartwatch. The combination gives more accurate location tracking than either device alone delivers.
In short, these two start-up companies will bring InvenSense a combination of innovative motion sensing, improved accuracy, a variety of application areas, and integration to InvenSense's sensor fusion.
The next big question is what other chip makers will do in response. Many other chip makers, including Broadcom (BRCM), Qualcomm (NASDAQ:QCOM), STMicroelectronics (NYSE:STM), Cambridge Silicon Radio ((LON:CSR)), and others, are working on integrating indoor location positioning into their chips, either based on radio signals or based on motion sensing. Qualcomm's IZAT chipsets and Broadcom's AccuLocate technology are but two of the indoor location related chip products that have already reached market. Which companies will follow up with acquisitions of their own, or otherwise strengthen their capabilities in motion sensing, remains to be seen.
What is clear, however, is that there are over a hundred start-up companies in the indoor location area, many of which could be strong acquisition targets for chip companies or other companies trying to keep ahead in this area. Of the dozens of indoor location companies that this author has spoken with, several have developed highly accurate motion sensing technology. Several more have other technologies, such as radio-based technologies, that are fitting for integration into chips.
With these two acquisitions, InvenSense has thrown down the gauntlet in front of the rest of the chip and mobile industry. We expect to see a lot of activity in chip-based motion sensing and indoor location tracking in the upcoming months.
Disclosure: The author has no positions in any stocks mentioned, and no plans to initiate any positions within the next 72 hours. The author wrote this article themselves, and it expresses their own opinions. The author is not receiving compensation for it (other than from Seeking Alpha). The author has no business relationship with any company whose stock is mentioned in this article.