Revisiting Easton Pharmaceuticals
During the peak of the marijuana stock bull market this year, I published an article entitled "Marijuana Stocks: Investing in Canadian Schwag" that discussed three companies that I felt were using the momentum of the pot stock frenzy to boost share price. The term "Schwag" was to denote a company of the low quality, as in the slang term for the lowest grade of marijuana. A company that stood out was Easton Pharmaceuticals (OTCPK:EAPH).
Prior to this, I have publicly expressed fascination with companies attempting to enter the Canadian medical marijuana space. The company that caught my eye as a potential player was EAPH. After looking over the filings, I discovered several red flags that can be seen even in its most up-to-date filing. To quote:
"There have been no revenues related to the L.A.M. IPMTM based products to date."
"To date EASTON PHARMACEUTICALS has not generated material revenues from the sale of products and expects to incur losses until sufficient revenues are earned from the sale of its first product to operate on a net profit basis."
"Management believes that the first product available for marketing and sale will be "Viorra," to be marketed as a cosmetic gel to aid in the alleviation of Female Sexual Arousal Disorder "FSAD". Although not a necessity to market and sell the product, EASTON PHARMACEUTICALS wishes to conduct research, development and commercialization on a pipeline of products derived from the VDM technology."
EAPH acquired in 2009 VDM Products, and has yet to generate revenues from it. The concern for me was not so much how long the company had these assets. The concern was that the company has yet to see any material gains from them. What was even more concerning was that all of a sudden, EAPH started putting out press releases last year, telling investors that it was going into the medical marijuana market. How exactly did it plan on entering the medical marijuana market was unclear at the time. The company has since attempted to clarify its strategy for capitalizing on the green rush. The company has limited capital, and has maxed out on the number of shares it can issue.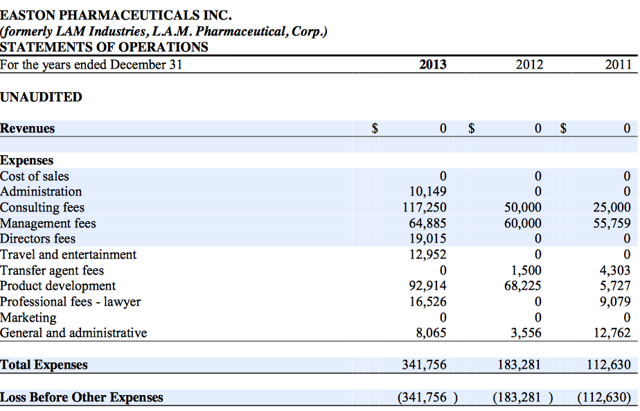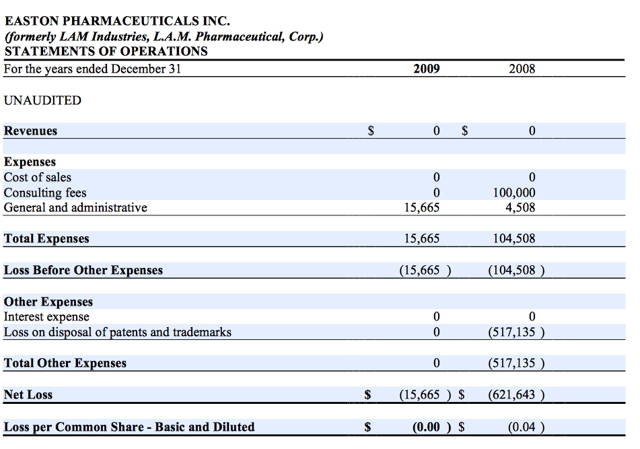 Marijuana Stock Schwag Bringing Down the Market
FINRA has issued numerous warnings to investors to be careful of "marijuana stock scams." In order to tackle the penny pot stock frenzy, they have halted several companies that have put out press releases that have informed investors' interest in the medical marijuana space: Growlife Inc. (OTC:PHOT), Advanced Cannabis Solutions (OTC:CANN), FusionPharm (OTC:FSPM), Fortitude Group Inc. (OTC:FRTD); SK3 Group Inc. (OTC:SKTO).
According to Investors.gov, there are four red flags you should watch out for:
SEC trading suspensions (the SEC has suspended public trading of the security)
E-mail and fax spam recommending a stock
Insiders own large amounts of stock
False or exaggerated press releases
While I never called EAPH a "fraud" or a "scam," I did suggest concern regarding EAPH because of large amount of insider holdings, the stock promotion as recent as July 3rd, 2014, and press releases touting sudden interest in the marijuana space.
Press Releases Galore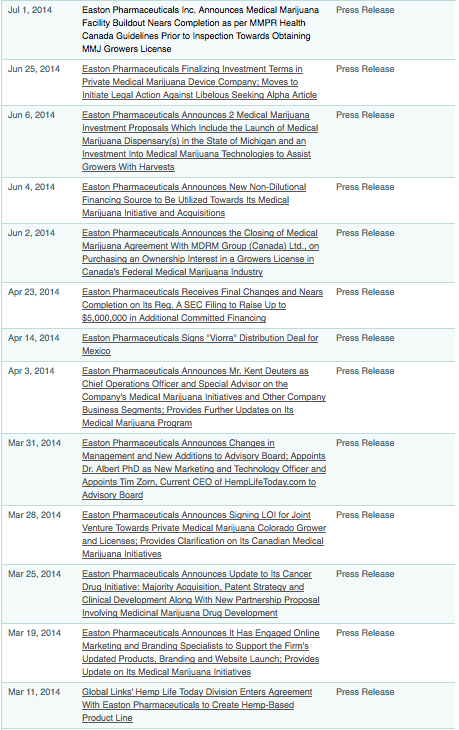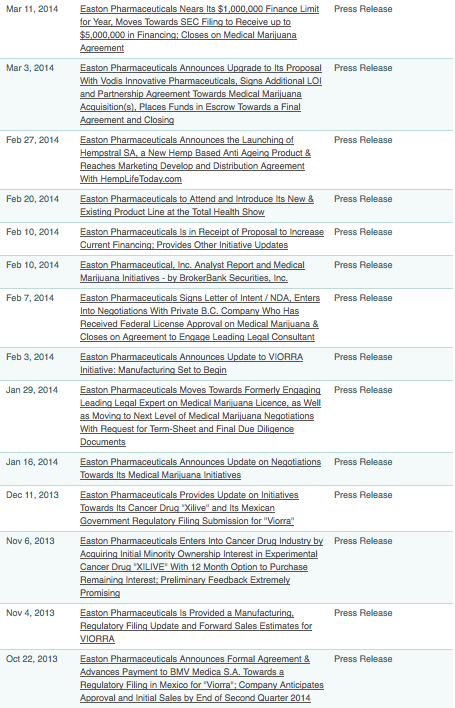 EAPH's Stock Promotion
In my first article, I did use some harsh language. It was concerning that on March 31, 2013, less than a week prior to its April 5th penny stock promotion, the company issue of "10 million shares to Global Links (OTCPK:GLCO) a year before the partnership was announced." I offered an interpretation of this relationship, saying that this "suggests that EAPH and GLCO planned for a manufactured pump-and-dump partnership a year prior to announcing their joint-venture into marijuana." I never stated that this as a fact. At the time, it seemed suspicious that the company would be issuing shares to Mr. Meillor of GLCO a year prior to announcing a partnership on March 11th, 2014. I also found it suspicious that EAPH was attempting to capitalize on the marijuana industry, when it states in its filings that it had yet to capitalize on its prior ventures with its VDM products.
The article "Investing in Canadian Schwag" was published at the peak of the market. Both the $BZMJ and the MJX illustrate that late March represented the height of the marijuana bull market.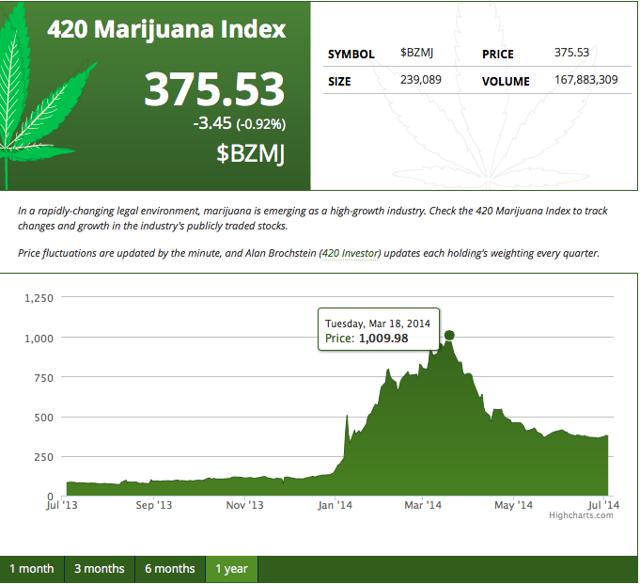 According to the 420 marijuana index, the market has dropped from $1,009.98 on March 18th to $375.53 on July 3rd, or -64.7%. EAPH's stock, along with the entire market has decreased in value since March 18th.
The marijuanaindex.org also shows a similar trajectory.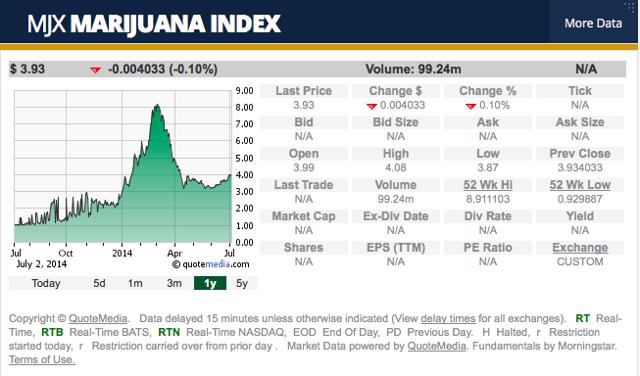 According to the MJX, the market has fallen roughly from $8 a share to about $4 a share. EAPH, just like every other company in the sector, has seen a dramatic drop in value.
Looking at EAPH's chart, while the drop is slightly more pronounced than the market, its trajectory is in line with the two indexes: $BZMJ and MJX.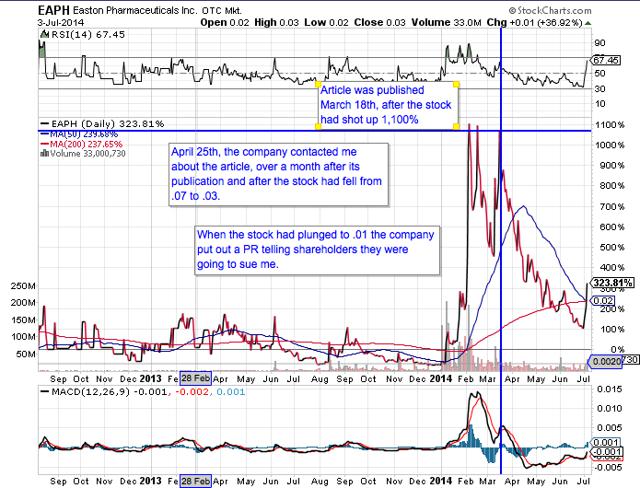 However, the stock price has not fallen below its valuation, as of January 1st, 2014. At the current price, the stock is still up 1235% YTD.
In a previous article, I discussed several catalysts I believed to be the reason for this drop: on the 18th of March, Yellen intimated that interest rates might be raised; on the 27th of March, CANN gets halted; April 10th, PHOT gets halted. EAPH's fall in share price, while correlated to the article I published on March 18th, was in line with the entire market correction.
Dear Matt: "We Are Great, Sincerely EAPH."
Starting April 24th, around the time when the market plateaued, EAPH began contacting me incessantly, first through Seeking Alpha and then through email.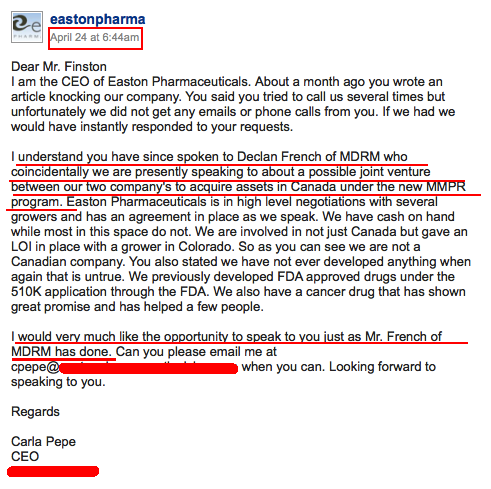 They even offered to fly me out to meet with them so that I can learn about their company. In their initial emails, CEO of EAPH, Carla Pepe, discussed the company's VDM products. She also mentioned: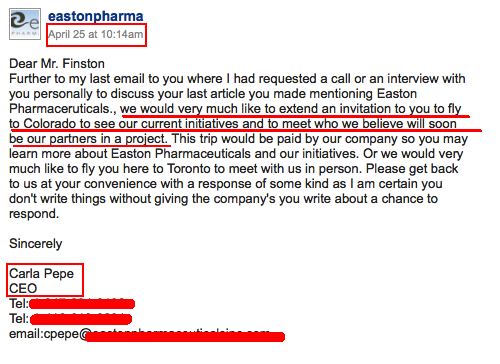 This put me in a very uncomfortable position. I felt that if I took them up on this gesture, they would expect me to write subsequently a positive article.
Nevertheless, I responded the same day that Ms. Pepe, CEO of EAPH, contacted me regarding the article, five weeks since it was published.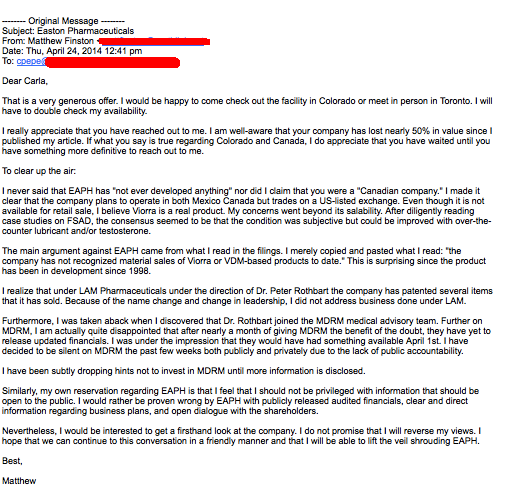 Right off the bat, I said:
"my own reservation regarding EAPH is that I feel that I should not be privileged with information that should be open to the public. I would rather be proven wrong by EAPH with publicly released audited financials, clear and direct information regarding business plans, and open dialogue with the shareholders.

Nevertheless, I would be interested to get a firsthand look at the company. I do not promise that I will reverse my views."
From the outset, I informed the company that I would prefer that they simply go on business as usual and prove me wrong by disclosing what were the nature of these "marijuana initiatives." I also told them that even if the company was to move forward with its business plans, I did not have intentions of suddenly reversing my stance.
Nevertheless, they continued to contact me with similar requests. The company kept informing me of its "marijuana initiatives," without specifying what they were, and offers to fly me out on the company's dime.
"Added to our products is our medical marijuana initiatives. We have some very good things on the go and we would very much like to discuss it with you and possibly fly you to Colorado or here in Toronto to go through everything we have on the go.

Can I request that I have an initial call with you sometime next week to setup some thing whether it be a conference call or having you fly to meet with us in person as we would appreciate the opportunity."
I informed the company that I did not have time to fly out to meet with them at the time, but was still interested. I also told them I preferred it if they sent me any pertinent information in writing. On April 28th, I wrote,
"Feel free to send me any presentations, documents, or pertinent materials you feel are critical to EAPH's buy thesis."
The company did not send me an investor's presentation or any pertinent documents relating to its business. For about a month and a half, the company would write me emails about the, "very good things we would like to make you aware of." In particular, it persistently referred to its "medical marijuana initiative and partnership with OTCPK:OTCPK:MDRM (Modern Mobility Aids, Inc.)." On June 1st, the company told me of a press release that it was going to put out regarding its joint venture with MDRM.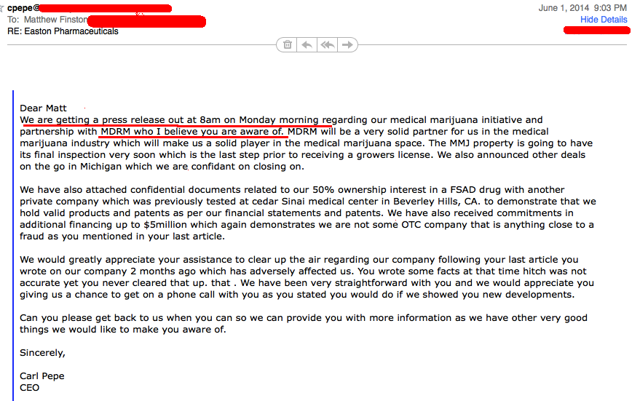 Sure enough, come June 2nd, Monday morning at 7:55 a.m., the company's press release stated, "Easton Pharmaceuticals Announces the Closing of Medical Marijuana Agreement With MDRM Group (Canada) Ltd., on Purchasing an Ownership Interest in a Growers License in Canada's Federal Medical Marijuana Industry."
See, MDRM contacted me immediately after I published an article about their company. What the company shared seemed to border on insider information. I went ahead and wrote about what MDRM discussed with me, with permission from the then CEO, Declan French. I mostly felt that I had a moral obligation to disseminate the information because I could find no sources verifying the information. I put it out there neither confirming nor denying the truth, but stating that if true, the company has a huge upside. I explained that the company was a potential MMPR play, though the extent of how close it was to a license was unknown. It was suggested to me that they may already have the license, but that was never stated, just implied.
EAPH was apparently under the impression that because I reversed my views on MDRM after Mr. French contacted me about their "marijuana initiatives," that I would reverse my views on EAPH as well. However, I made it very clear in my first email that I was no longer bullish on MDRM until the company released more information. As of April 24th, MDRM had not disclosed any information regarding its intentions of entering the Canadian marijuana space. It also had yet to update its financials. I expressed these reservations to EAPH in my first email.
Throughout my correspondences with EAPH, I attempted to intimate that I viewed an association with MDRM as a cause for concern. Whether or not MDRM had a material strategy for entering the marijuana space, I felt that its silence subsequent the publication of my bullish article played into the paucity of trustworthy publicly traded players in this industry. Without any word from MDRM confirming the contents of the article, I decided that I would not publish another article on a company without information that was readily disclosed to the public. I felt personally responsible for the investors who read the article and bought stock in MDRM. I was not going to be pressured into writing about a company simply because it shared its juicy business plan.
After the press release came out regarding the joint venture with MDRM on June 2nd, I told EAPH flat out that until it follows through on one of its many promises, I would not change my position.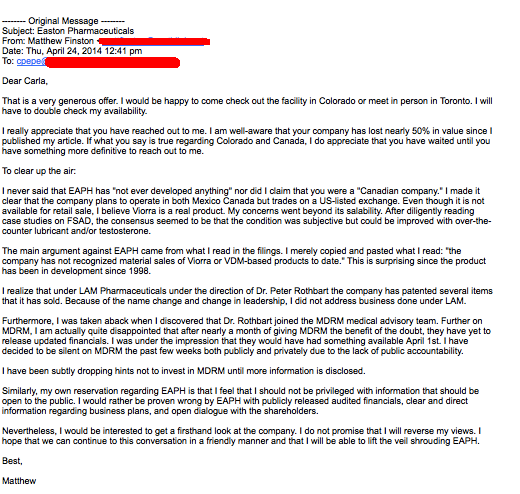 "1) I do not want to know any information that you would deem 'insider info.' Anything you share with me should be information that is already publicly available.

2) Drop the 'fraud' business. I never used that word and I never even implied you were a fraud. I was extremely careful to avoid that.

3) Don't ask me to write another article.

To reiterate, I will write another article that focuses on the company if one or all of the following happen:

1) up-list to OTCBB or higher

2) the MMJ property receives a MMPR license"
If it had something material to discuss, for example, revenues or an MMPR license, I would see reason to write about the company.
CEO of EAPH, Carla Pepe, did not like this at all.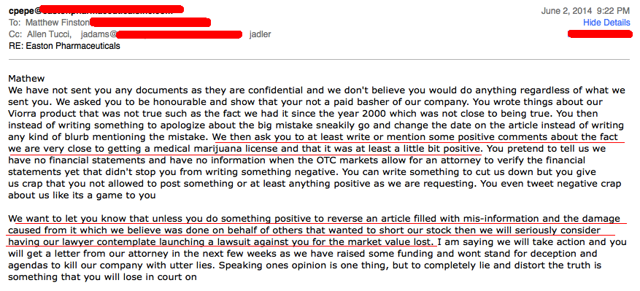 The message was "unless you do something positive," they will "seriously consider" having their "lawyer contemplate launching a lawsuit against [me] for the market value lost." Do something positive? Okay.
To make EAPH happy, on June 3rd (fittingly posted at "4:20" a.m.), I subsequently did write something positive about them on Seeking Alpha.

After this, I never received a letter from their attorney. I did however discover on June 25th, 2014, a press release entitled, "Easton Pharmaceuticals Finalizing Investment Terms in Private Medical Marijuana Device Company; Moves to Initiate Legal Action Against Libelous Seeking Alpha Article."
A touch of irony of course is that rather than following through on the lawsuit, they put out a press release. I do not mean to "dare" the company to file charges. I just find it fitting that they would issue a PR about their intentions before actually following through. It does seem like a pattern in practice. Nevertheless, I do believe that the company could very well decide to use the limited capital they have to go after me in a lawsuit, rather than following through on their business plans. This would mean a very costly and inefficient use of limited shareholders' capital. I think it is a red flag anytime a company on the pink sheets threatens litigation.
To clarify, the major issue EAPH had with me was that I had gotten the date wrong on their acquisition of Viorra. I immediately corrected the mistake, and even wrote on Twitter and Seeking Alpha of this correction.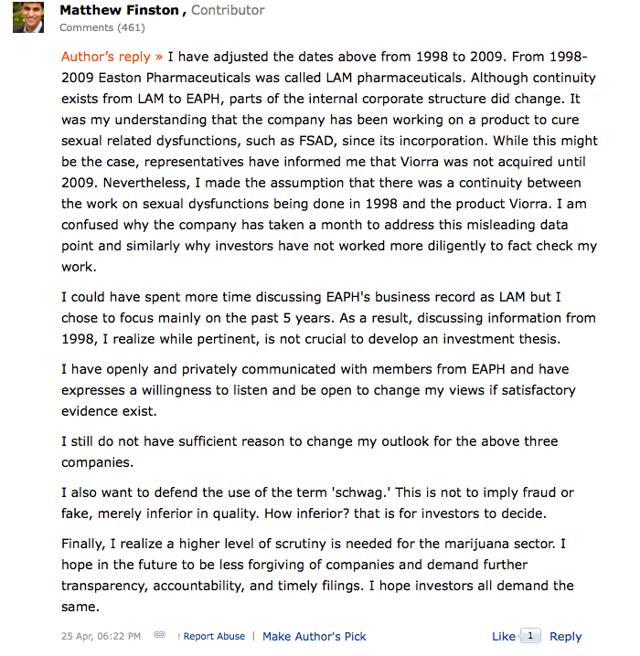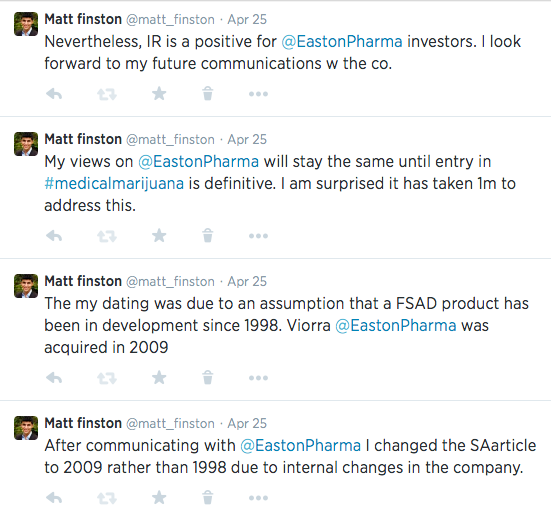 The confusion for me was that in their filings, the company states, "In December 1997, EASTON PHARMACEUTICALS granted an exclusive worldwide license to IXORA with rights granted for the marketing, sale and distribution of certain trans dermal treatments for male and female sexual dysfunction." Add to the fact that their filings clearly state, "To date EASTON PHARMACEUTICALS has not generated material revenues from the sale of products," it appeared that they had not had material revenues since 1998. Nevertheless, I did amend it in good faith. In order to remain on positive terms, I said I would keep an open mind.
Despite issuing these public statements, the company was unsatisfied with my good faith efforts. In their June 25th press release, the company wrote, "Easton's management contacted Mr. Finston about misstating that the company tried to sell Viorra in 1998 when, in actuality, the product's acquisition date was 2009. This writer then changed only the date but made no retraction of any type nor any attempted apologies for the grievous mistake." As the dates show, I did make several attempts to publicly inform of the changes to the article, despite still having reservations that my original assessment was correct. That this press release is filled with unsubstantiated allegations made in bad faith and without a shred of evidence only strengthens my original assessment of the company.
Even more surprising is that the company linked the article to a "short" campaign, wherein I used an anonymous messaging board to defame the company.
"The article's release was at or near the company's peak common stock price, which was followed by countless negative and defamatory postings on several web investor portals namely Investorhub, which continue to this day . . . In addition we believe this to be part of a larger orchestrated effort to short Easton Pharmaceuticals stock so individuals can illegally profit from the company's decline. The company is not against the practice of shorting stocks, but is vehemently against anyone posting inaccurate and defamatory statements to achieve their goals."
Combine unsubstantiated accusations and general paranoia, and you get a reckless press release about an article published three months earlier to blame a "Seeking Alpha writer" for the decline in share value over a 3-month period. What is most surprising is that the company does not even consider that the loss in market value was in line with the overall market sentiment towards penny pot stocks. The marijuana stock indexes have dropped from -50% to -65%. EAPH's share price had fallen -65% since March 18th.
Shorting Penny Stock Paranoia: I am not, nor have I ever been short on the company's stock. I don't short penny stocks, for the simple fact that my Schwab brokerage account requires $50,000 for the margin and would only allow me to short as many shares that would be the equivalent of $2.50 a share. That would mean with $50,000 cash, I could short about 20,000 shares, or the equivalent of $1,000, at $0.05 a share. The maximum upside for that $50,000 would be a $1,000, or a 2% return. I'd rather put $50,000 in a CD account and leave it there for 15 years. Essentially, the idea of shorting a penny stock that trades for $0.05 has an extremely limited upside and a tremendous amount of risk.
Just to humor myself, I even asked my broker if I could short EAPH.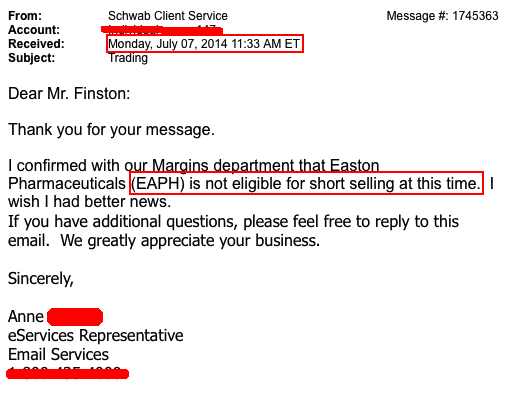 Even if I wanted to, I couldn't short EAPH.
EAPH Dream Team: John Adams and Carla Pepe
There was very little I could find about CFO John Adams and CEO Carla Pepe. Their bios on Bloomberg Businessweek leave much to be desired.
Mr. John Adams has been the Chief Financial Officer of Easton Pharmaceuticals Inc. since March 2014. Mr. Adams served as the Chief Executive Officer and President at Easton Pharmaceuticals Inc. Mr. Adams has a strong background in the field of alternative therapies and treatments, as well as holding a strong belief that many common and serious ailments can be treated with non evasive natural herbal remedies. He has list of strong medical contacts in the alternative therapy field and business experience. He serves as Director at Easton Pharmaceuticals Inc.
Although he apparently has a "strong background in the field of alternative therapies," no mention is made here of Mr. Adams' professional background. In fact, the bio merely states that Mr. Adams holds a "strong belief" in the power of "herbal remedies." This does not sound like Mr. Adams actually has any experience in this field, although I could be wrong. I would like to see a more detailed bio from Mr. Adams regarding his qualifications as CFO.
The bio for Mrs. Pepe too seems fluffy and without substance:
Mrs. Carla Pepe has been the Chief Executive Officer of Easton Pharmaceuticals Inc. since March 2014 and also serves as its President. Mrs. Pepe's business experience has already proven to be a positive impact to Easton as her efforts through the introduction of various consultants has directed it to enter into the medical marijuana industry and other acquisitions. She has been a Director of Easton Pharmaceuticals Inc. since March 2014.
The bio for the president and CEO of a publicly traded company has zero mention of any past experience prior to EAPH. The only material thing mentioned is her "efforts" to have EAPH "enter into the medical marijuana," a feat that as we shall see has yet to be fully realized.
In short, both Mr. Adams and Mrs. Pepe either need a better publicist or have zero executive experience prior to EAPH. Essentially, the experience Mr. Adams and Mrs. Pepe bring to EAPH are "strong beliefs" and "efforts." These qualifications seem fitting with EAPH's general progress over the last few months. I too share "strong beliefs" about the "efforts" of EAPH's medical marijuana initiatives. Maybe I too should run a publicly traded penny pot stock. Of course, the issue with Pepe's and Adams' executive capabilities could be cleared up if the officers revealed to shareholders the extent of their experience prior to EAPH.
A reevaluation: EAPH's New Developments
The company just released a PR on July 1st 2014 that caused the stock to have a reversal.
"Easton Pharmaceuticals Inc. Announces Medical Marijuana Facility Buildout [sic] Nears Completion as per MMPR Health Canada Guidelines Prior to Inspection Towards Obtaining MMJ Growers License"
The price activity also benefited from that July 3rd, 2014 stock promotion from Blue Horseshoe Stocks.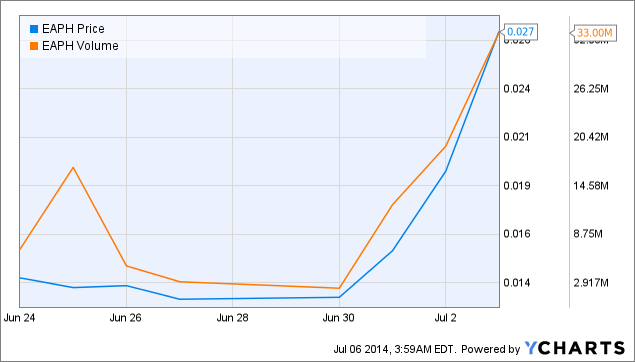 The headline seems to suggest that EAPH's facility is getting inspected for a MMPR license. However, the details of the press release explain that EAPH does not own the facility, but "Easton holds exclusive option to purchase up to 50% ownership interest in private MMPR medical marijuana grower located in Ontario, Canada." Furthermore, the build-out has not been completed but is "near completion."
Although not stated in this press release, the June 2nd press release that EAPH informed me about June 1st stated that EAPH had,
"Entered into an agreement with Canadian based MDRM Group (Canada) Ltd., a wholly-owned subsidiary of Modern Mobility Aids, Inc. (OTCPK:MDRM), a Nevada corporation. The agreement allows Easton to purchase up to 49% of a private Canadian medical marijuana company which has submitted an application for a federal growers license and has received a letter to build from Health Canada under Canada's new MMPR system."
According to the PR, the agreement essentially allows for EAPH to purchase between "10% and 49%" of this private MMPR applicant. The size of the facility is quite small. As EAPH explains, "The application and growing facility of the private medical marijuana company is currently for approximately 5,000 sq. ft. of growing space." Assuming the maximum amount of space is used, a 5,000 sq. ft. space would allow for the production of approximately 537 kg per year, or about 107g per sq. ft. At $7.50 a gram, that would bring in roughly a little over $4 million in revenues. Now, EAPH's option allows it to buy up to 50% (or 49%), that means that this not-yet-obtained asset would add $2 million in revenue for EAPH. Considering that EAPH has had zero revenue, this would be substantial.
Issuance of 372,186,983 Shares
[Note: The following accounting numbers are taken from the most recent filing.]
Looking at the current valuation, at $0.027 a share, with 500,000,000 shares issued, that puts the market cap at $13.5 million. If the facility gets the MMPR license, the current share price seems to be a fair valuation. If the company, in addition, can generate revenues from its VDM products, a higher valuation could be warranted. However, EAPH does not own this MMPR applicant. The company has about $586,628 cash. Since it has not been disclosed how much the 50% stake in the MMPR will cost EAPH, it is possible that this could dry up all of EAPH's cash, leaving no equity for a frivolous lawsuit. The company has a clear choice to make on how it proceeds. If it does wish to pursue this lawsuit against me, it will dry up funds that could be going into the business. On the other hand, EAPH may feel that it is more important to take some writer to court over an article written 3 months ago. Add on top of that, the company has liabilities of $598,055, $310,000 of which are owed to consultants, directors, and officers. To-date, there has been $37,619,146 total paid in capital.

The annual report from May 1st 2013 states that there were 127,813,017 shares issued.

It appears that there has been an additional $756,969 paid in capital since the date of this filing, and 372,186,983 additional shares issued. It appears that the company was able to raise cash through the issuance of shares, because one year ago, the company reported zero cash on its balance sheet.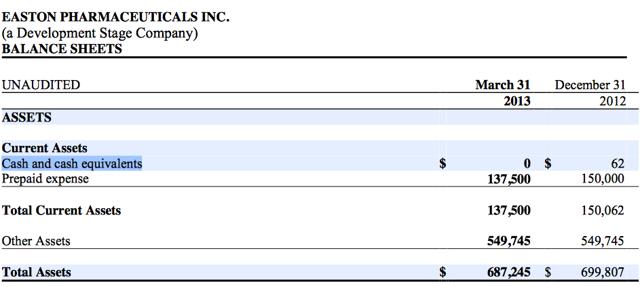 It also appears that they more than doubled the amount of authorized shares from 230 million to 480 million, yet somehow have 500 million issued. It would appear that the cash on hand has been from excessive dilution, although this is unconfirmed.
Conclusions
EAPH wanted me to reevaluate the company based on their new developments. I think first and foremost, a lawsuit would be too costly for the company to pursue.
In fact, a recent article from Seeking Alpha VP in Content, Eli Hoffmann, discusses a ruling from a NY Supreme Court judge regarding the charge against a Seeking Alpha article that the plaintiff claims, "contains defamatory statements about NNVC presented as fact and published for the sole purpose of destroying NNVC's (NanoViricides) reputation and driving down its stock price." The court threw the case out concluding,
It is paramount in an open and free society that we protect the anonymity of those whose "publication is prompted by the desire to question, challenge and criticize the practices of those in power without incurring adverse consequences."
"This ruling," according to Mr. Hoffmann, "affirms that SA articles and comments are seen by the courts as 'protected opinion' and not verifiable fact." This article and every article I have written previously represent my personal opinion based on information that I have obtained from the public record. The fact that EAPH has yet to move on from an article written 3 months ago demonstrates, in my opinion, a failure of management. It is my belief that if the company had material prospects, it would not be wasting its time and energy to battle an article that would have been erased from the public memory, had they moved forward with their business plans and generated revenues. Instead, the fact that they want to blame (in my opinion) their failure in leadership on one article suggests to me a red flag for all current and potential investors.
Nevertheless, the agreement with MDRM seems appealing, if the private company gets a license. However, I would suggest investors would be better off investing directly in MDRM for the MMPR play.
MDRM share count is much lower, currently at 75,480,000. The current share price is $0.15 a share, putting the valuation at $11,322,000, which is $2 million cheaper than EAPH's market cap. In addition to the MMPR that EAPH has the option to acquire a stake in, MDRM has two other MMPR deals. MDRM has a Memorandum of Understanding to purchase 67% of a private company with a pending application. The agreement also provides the option to acquire a 50% interest in a related private corporation, which has received a "ready to build" letter from Health Canada in conjunction with a pending application for a license to conduct research on marijuana. And finally MDRM entered into an agreement to purchase 100% of a private company in the final stage of obtaining their medical marijuana growers license. The company, located in the Province of Ontario, owns a fully functional production facility, and is awaiting final inspection by Health Canada.
MDRM's 10-Q does not disclose the size of the facilities, nor does it disclose the potential revenues that these facilities could bring. I would also deem MDRM a lotto play on these grounds.
There have been more than 800 applications submitted to Health Canada, with 25 new applications being submitted weekly. Health Canada is in no rush to issue new licenses. While I am bullish on the possibilities of Canadian's MMPR program, I do feel that investors should err on the side of caution with companies like EAPH that hype up their potential entry into the Canadian MMPR game.
Investors should also be aware that in the MMPR game, size matters. The quantity a MMPR can produce is limited to the size of its facility. This might be both limited upside for both MDRM and EAPH if either follows through with the MMPR acquisitions.
At this point in the game, investors should be cautious before investing in any company that says they are entering the marijuana market, especially companies that have 1) been halted, 2) pay for stock promotion, 3) insiders own large amounts of stock, 4) release false or exaggerated press releases. 3 out of 4 red flags should be cause for concern.
As I stated to EAPH in our first correspondence, I would prefer that they prove me wrong and go about business as usual and bring in revenues for their shareholders. Now that they have threatened litigation because I chose not to, I feel less inclined to try to see their company in a better light. This is just my opinion. Nevertheless, I wish them the best of luck.
Disclosure: The author has no positions in any stocks mentioned, and no plans to initiate any positions within the next 72 hours. The author wrote this article themselves, and it expresses their own opinions. The author is not receiving compensation for it (other than from Seeking Alpha). The author has no business relationship with any company whose stock is mentioned in this article.
Editor's Note: This article covers one or more stocks trading at less than $1 per share and/or with less than a $100 million market cap. Please be aware of the risks associated with these stocks.