Tesla Motors (NASDAQ:TSLA) has been in and out of media reports over recent months, not always with favorable news. However, the company has been able to overcome what sometimes seemed like a barrage of criticism with a concept and design that is right for the age. Their Model S vehicle has garnered praise from both the public and auto reviewers, despite reports of battery problems.
Tesla's Leadership Advantage
At the heart of Tesla's success has been a management team that has not been afraid to look into the future to glean new strategies for design, manufacturing and marketing.
The company was started in 2003 by a group of Silicon Valley engineers, who devised an innovative battery and powertrain system that would revolutionize the industry. With Elon Musk as CEO, J.B. Straubel as chief technical officer and Deepak Ahuja as chief financial officer, the company has quickly grown to one of the top names in electric vehicle technology in the marketplace.
Tesla's Long View
Tesla Motors has turned the idea of vehicle manufacturing on its head. On June 1st of 2014, Elon Musk caused a flutter by stating Tesla would not initiate patent lawsuits against those who use their technology in good faith. This active effort to expand electric vehicle technology would remove gasoline vehicles from the market more rapidly, a move that would ultimately help the company as more manufacturers utilize Tesla batteries and other specialty parts. In addition, the announcement brings publicity to both Tesla Motors and the issue of patent reform, which often stifles competition and innovation in many industries.
Tesla's shares rose 10 percent on the news.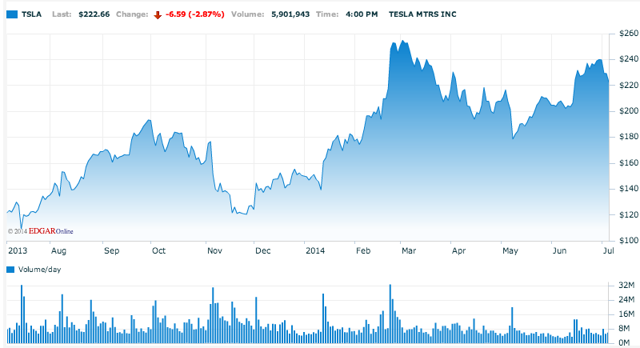 Source: Nasdaq.com
A Conscientious Approach
Concerns about battery design problems resurfaced recently with an incident in Los Angeles in which a stolen Tesla Model S was involved in a high-speed crash, hit several other vehicles and sheared in two, triggering a battery fire.
Tesla CEO Elon Musk stepped in quickly to work with police and fire officials to determine the details that led to the destruction. The Model S received a 5-star rating for crashworthiness from the National Highway Traffic Safety Administration, which is a laurel that Tesla management wants to rigorously maintain. The company recently added a titanium barrier for the battery case in response to reported problems with battery fires as a result of crashes.
Tesla's Outlook
Tesla's stock changed little after hearing the news about the fire, holding at $229.25 on July 3rd.
The stock has risen 52 percent for the year (see above), indicating that investors see significant potential for this auto manufacturer in coming years and strong confidence in the company's leadership.
Tesla has the advantage of a growing understanding that the age of the gasoline vehicle has reached its natural conclusion.
The company will continue to benefit from both the public's and investors' appreciation of its forward-thinking ideas.
We invite readers, wishing to join the discussion on Tesla to click +FOLLOW above the title of this article, and those looking for the latest developments to click +Get real time alerts.
Disclosure: The author has no positions in any stocks mentioned, and no plans to initiate any positions within the next 72 hours. The author wrote this article themselves, and it expresses their own opinions. The author is not receiving compensation for it (other than from Seeking Alpha). The author has no business relationship with any company whose stock is mentioned in this article.