Company Description: Zillow (NASDAQ:Z) operates the leading real estate and home-related information marketplaces on mobile and the Web, with a complementary portfolio of brands and products that help people find vital information about homes and connect with local professionals. In addition to their living database of homes, accessible on Zillow.com, they also own and operate Zillow Mobile, their suite of home-related mobile applications; Zillow Mortgage Marketplace, where borrowers connect with lenders to find loans and get competitive mortgage rates; Zillow Digs, a home improvement marketplace where consumers can find visual inspiration and local cost estimates; Zillow Rentals, a marketplace and suite of tools for rental professionals; Postlets; Diverse Solutions; Agentfolio; Mortech; HotPads and StreetEasy.
Thesis: Zillow, despite being a high growth company operating in an enormous market, already has its stock pricing in massive revenue growth and margin expansion trading at a forward price to earnings ratio of approximately 160. Any slowdown and/or delay in revenue or their profitability timeline could send the stock free falling. Even if Zillow meets analysts' lofty expectations, the stock is not projected to appreciate much from current levels. The stock's recent run appears to be the result of a short squeeze as a result of the stock's high short interest (22%).
Time Frame: 18 Months
Price Target: $100 (Derived From Comparable Company Analysis)
Strategy: GARP
Consensus Opinion: Analysts are bearish on the stock with a mean price target of 106. Analysts are projecting earnings per share of $.29 for 2014 and $.85 for 2015. Analysts are projecting strong revenue growth and margin expansion, but the majority feel the current price captures the growth already.
Catalysts:
· Earnings Misses
· General Market/Technology Sell-Off (Zillow in its bubble state likely to fall much more quickly and further)
· Decline in real estate market
· Increased competition via existing companies or venture-backed competitors
· Real estate, mortgage and rental professionals or other advertisers reduce or end their advertising spending on Zillow
Why Zillow's Growth Is Overpriced: I produced an analysis of Zillow versus comparable high growth internet equities and demonstrated that Zillow was overvalued due to its similar revenue growth and similar large addressable market, but much higher valuation. I waited to short Zillow when it was $100 per share because I was aware a further run up could occur in the shares prior to a major decline. Although it is impossible to know when a drop will occur, the stock is now obviously a much more compelling short than it was before, and in our view has limited upside (short's downside) at the current price.
Revenue growth is also largely being driven by increased sales and marketing, which in Q1 2014 exceeded revenue growth. Essentially, Zillow is buying its users with viral growth, obviously not as large as the company would like.

Partnership Agreements With Real Estate Firms Are A Business Model Error: Citron recently published a great analysis of these agreements, which for the sake of brevity I am not reproducing.
Insider Selling: There has been tremendous insider selling of Zillow at these prices, the most recent being the Chief Revenue Officer selling his options at $136 per share. Additionally, the CEO Spencer Rascoff has been selling shares of his options at these record prices. If management is so confident in the valuation of the company, with the market size validating the current stock price, why is management selling their shares by the lots?
Valuation:
Discounted Cash Flow: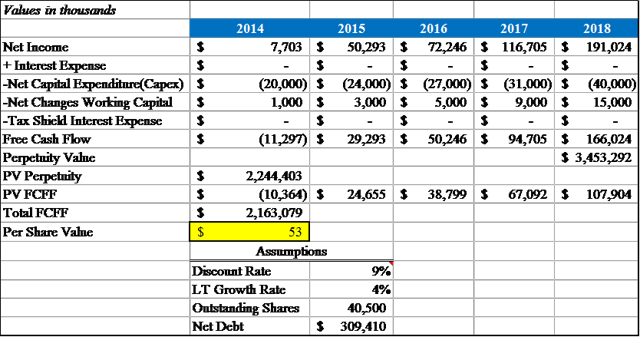 Valuing the company with reasonable assumptions shows the extreme downside that can occur. A discounted cash flow values the company at approximately $50 per share, which is where analysts originally were placing the intrinsic value in 2011.
Comparable Company Analysis:

Zillow trades at a large premium to its other high multiple, fast growing competitors. Using the mean P/E of the comp. set (84) on 2015 projected earnings yields a price of $100 per share
Bull Case: The highest analyst price target is currently $150, 6% above current levels. This price target assumes ARPU growth, margin expansion and expansion of Zillow's rental offerings. This valuation in our view prices in perfect execution, and any decline in these metrics or new product expansions could cause the stock to freefall.
Key Risk Factors: The largest risk factor is that the short squeeze takes the stock to $170, completely ignoring any conventional valuation. This is a legitimate risk, but in the long-term an investor should achieve strong returns because there seems to be a very low probability Zillow can justify a $5.6 billion market capitalization once fundamentals come into play. Even if Zillow achieves 30% EBITDA margins like the CEO discusses and continues strong 20%+ revenue growth over the coming years, that would only justify the current price providing minimal upside.
Disclosure: The author is short Z. The author wrote this article themselves, and it expresses their own opinions. The author is not receiving compensation for it (other than from Seeking Alpha). The author has no business relationship with any company whose stock is mentioned in this article.