Introduction
Raymond James Financial (NYSE:RJF) is among my largest holdings and a stock that I've held for a dozen years. I started buying RJF around 2002 at what seems to be about $12, though I recall the time frame better than the prices and the stock has split a couple of times since then, so I might've paid even less.
I mention my history with RJF shares as disclosure, but also to help convey my conviction level since RJF is one of only two exceptions to my usual rule of not owning financial stocks. The other is Blackstone (NYSE:BX), which I've only owned since early 2013, though I researched both firms for years before investing.
For those who don't often read my articles, I'll point out that this is an update, rather than a full-thesis article. Investors can consider reading my first article on a company, regardless of when it was written, since my theses are always long term and my first article is typically the only one with certain details that support my thesis. My first article about RJF can be found here.
Company Overview
Raymond James Financial was founded in 1962 and became a public company in 1983. The firm's subsidiaries and affiliates are engaged in various financial services businesses, predominantly in the United States and Canada, although the firm also has a significant and growing international presence.

Source: St. Petersburg Times (now Tampa Bay Times)
Raymond James Financial primary subsidiaries and affiliates are investment firms Raymond James Financial Services, Raymond James & Associates, Raymond James Limited and Raymond James Investment Services; asset management businesses Ballast Point Ventures, Eagle Asset Management, Eagle Boston Investment Management and Raymond James Trust; other businesses such as Raymond James Bank, Raymond James Capital, Raymond James Tax Credit Funds and Raymond James Insurance Group; as well as international operations Raymond James Delta Fund Management, Raymond James Asset Management International, Raymond James Latin Advisors and Raymond James Argentina Sociedad de Bolsa. The firm also has offices in Belgium, Germany and Switzerland.
Raymond James Financial has five reporting segments: Private Client Group, Capital Markets, Asset Management, Raymond James Bank and Other. The Other segment includes principal capital and private equity activities, as well as corporate overhead. The firm's reporting segments differed prior to 2013.
For more detail about Raymond James Financial, see the corporate website.
Company Performance Drivers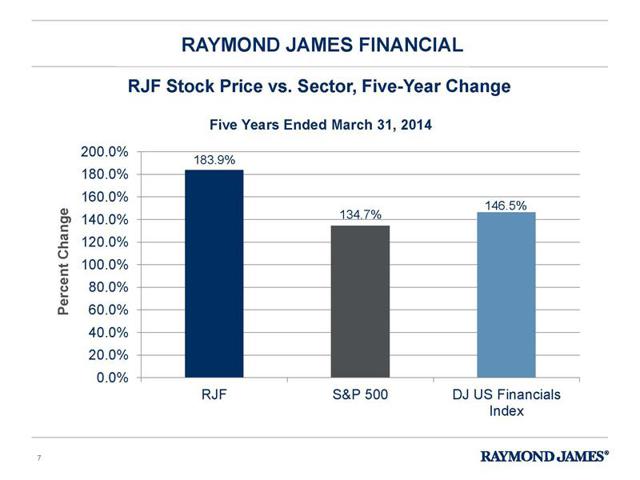 Source: company presentation
The primary components of my thesis for RJF are that growth of the firm has been, and will continue to be, accelerated as a result of: [1] financial advisers increasingly moving their client assets away from big bank-owned firms and to independent firms like RJF; [2] ongoing synergies from the large acquisition of Morgan-Keegan, as well as smaller niche acquisitions; [3] market environment and secular trends driving long-term growth for the financial services industry; [4] achievements in various business segments lead to increasing recognition and awareness from industry professionals and clients, thus more business; [5] exceptional and conservative leadership that is aligned with shareholders.
[1] Industry Trends Help Grow Assets Under Administration
In my first RJF article, I described how financial advisers (and other industry professionals) are leaving bank-owned firms (and taking assets with them) to join the very few independent firms that are left, like RJF. Since I referred to the acceleration of the process during the Great Recession to help make the point, I'll clarify that the phenomenon is not at all limited to that time period.
The shift continues today since the bank-owned firms have a time-honored tradition of extreme over-hiring during boom times and massive layoffs when things level off. If there is any doubt about that, one can just scroll through these pages to see that the bank-owned firms come up repeatedly, yet RJF never does. There are more specific examples here and here.
This is just one reason that, in 2014Q2, assets under administration reached a record $434 billion (up 12% year over year) at the RJF Private Client Group -- the firm's largest business unit and the one that includes all financial advisers.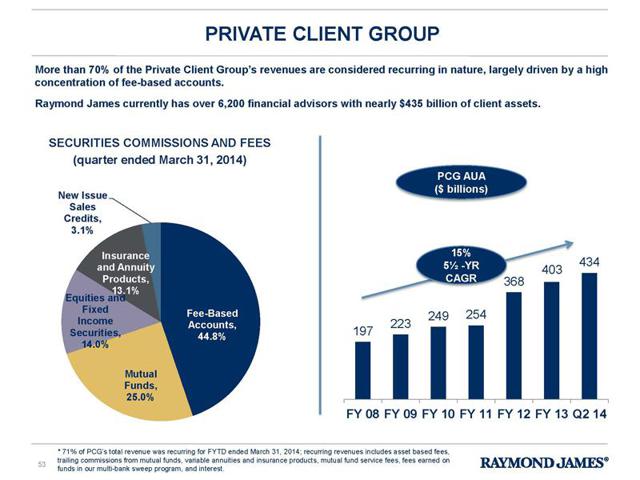 Source: company presentation
[2] Strategic Acquisitions Expand Reach And Bring Synergies
In my full-thesis article, I detailed various acquisitions that RJF has made in recent years, so I won't repeat all of that. However, it is worth noting that RJF has been expanding its Asset Management business and, as Chairman Tom James discussed late last year, the firm is now looking to expand that aspect of its business in Canada. It's important to consider that all financial services firms with larger asset management operations tend to trade at much higher multiples (see related comments in the Price-To-Book Ratio Valuation section).
During the 2014Q2 conference call, an analyst asked about potential plans to increase dividends or increase share repurchases. The question was obviously inspired by the firm's relatively high capital position. CEO Paul Reilly replied:
"[We] tend to be more heavily capitalized than a lot of our competitors. That's a philosophy. But, at some time, if we have cash we can't deploy, we will have to look at returning it. And, our view right now is we have opportunities to invest the cash in niche acquisitions in some of the areas we have talked about. We have looked at particularly asset management and we feel, over a reasonable period of time, we can deploy it. If we can't, we will have to focus on how we return it. Our goal right now is we think there are opportunities to deploy that capital inside the business."
I believe Mr. Riley's response is important in two ways. First, it speaks to the conservative philosophy of how the firm is run, which is discussed further in section five. Second, his answer also makes clear that the firm is focused on deploying capital to grow the business and sees opportunities on the horizon.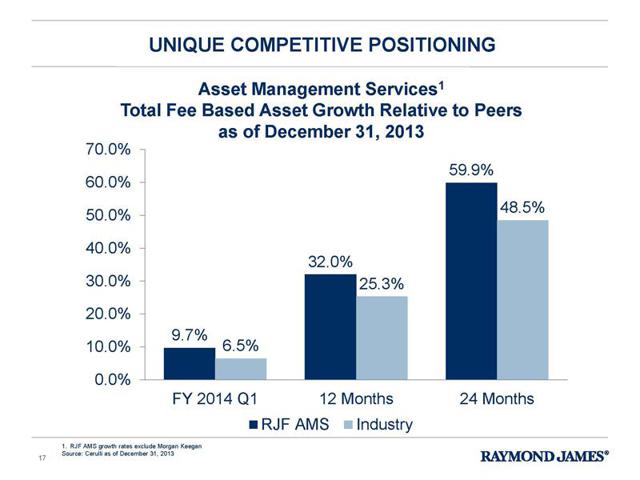 Source: company presentation
[3] Secular Trends Imply Financial Services Industry Long-Term Growth
There are two parts to this subject that combine to contribute to long-term growth for RJF and they both relate to the fact that, unlike many financial firms, RJF earns roughly two thirds of its revenue from fees the firm receives for client assets under management. The business model is very different from the more common commissions-based model, wherein revenue is derived from transactions that clients make (where churning sometimes comes into play).
First, we've all heard about the hundreds of billions in cash that investors are collectively holding on the sidelines due to extreme skepticism for all types of investing after the Great Recession and various investment scandals. Whether or not we think that cash will drive the stock market going forward, it's hard to argue that at least some of it won't gradually make its way back to the leading financial planning firms, even if not for equities investing. As many investors very slowly regain confidence in the recovery years following a very extreme economic crisis, cash inevitably flows to financial services firms and, with an assets-based model, RJF is poised to significantly benefit from that trend.
Second, there are secular trends that are truly long term, even though the current economic recovery and resulting shifts in investor sentiment are likely to take place over at least a few more years. In other words, the first trend described above is likely to take years so it is not short term, but the next trends that I'll describe are likely to last for at least a decade.
According to American Economic Association data, the entire U.S. economy has become very dependent on the financial services sector for growth. In 1950, the sector contributed 2.8% to GDP, that nearly doubled to 4.9% by 1980 and it was on track to double again in the next full thirty-year period to 2010, but leveled off at the 8.3% range in 2006. In addition, as I wrote about in more detail in my articles about HealthSouth (HLS) and Pfizer (NYSE:PFE), the population is also aging quickly and that will undeniably continue for at least another fifteen years. Since people tend to have more money, and also require more help with managing money in our "golden years," a secular demographic shift is among the reasons the financial services industry has been growing and that should continue. The point here is that financial services as a whole is a growth industry and RJF is poised to significantly benefit from the trends.
[4] Industry Achievements Lead To Increasing Awareness, Thus Business
I went into detail about this subject in my full-thesis article, so I'll just offer a few more pieces of anecdotal evidence here.
In 2011, and every year since, Fortune magazine ranked RJF among the five most admired securities companies in the world. Previously, those slots were always filled by Goldman Sachs (NYSE:GS), Merrill-Lynch, Morgan Stanley (NYSE:MS), etc.
The 2013 Bloomberg Riskless Return Ranking showed that RJF produced the best risk-adjusted return of nine U.S. brokerages, banks and advisory firms since 2009. RJF outperformed the big firms like JP Morgan (NYSE:JPM), GS and MS.
In February of this year, thirty three RJF-affiliated advisors were recognized by Barron's as the top financial advisors in the nation.
As reported just last week by industry magazine Investment News, the annual J.D. Power Associates adviser satisfaction survey indicates that both of the RJF main broker-dealer subsidiaries rank very high among financial advisers (the individuals who bring assets to a financial firm, as discussed above).
While it is a slow and gradual process that has been happening for years, such achievements are increasingly getting the attention of industry professionals, as well as clients. That leads to further acceleration of the same process in a virtuous cycle. The result is the continual growth that we've seen from RJF, including during times that many firms are shrinking, or even going under.

Source: company presentation
[5] Exceptional, Conservative Leadership Aligned With Shareholders
As I wrote about in more detail in my articles on Standex International (NYSE:SXI) and Trinity Industries (NYSE:TRN), companies that are led by founders or a direct family member of one of the founders have very consistently been among my best investments by far. The Executive Chairman of RJF, Thomas James, was the firm's CEO for forty years after taking over from the founder, his father.
I believe that the conservative approach to financial services that Mr. James instilled in his team is why RJF survived and thrived throughout times like the 2008 economic crisis, when firms that were much older and bigger could not survive (AG Edwards, Lehman Bros., Bear Stearns, Merrill Lynch). RJF never got involved in risky ventures like proprietary trading or subprime mortgages, which ultimately drove many firms out of business. Very directly related to the points made in the Industry Trends section above, this is one of the reasons that both clients and industry professionals are increasingly drawn to RJF.
Not only does RJF have exceptional leadership, but the firm's leadership is also aligned with shareholders due to unusually high insider ownership, which likely results from the firm's roots as a family business. At 10%, insider ownership at RJF is high for any industry, but especially for financial services. In fact, 10% is seven times the average in the Regional Investment Brokerage peer group and three times the next highest insider ownership in the group.
RJF has been paying dividends for thirty consecutive years, has never reduced its dividend and continued paying its quarterly dividends throughout the 2008 financial crisis. The firm increased its dividends 14.3% in 2013, 7.7% in 2012 and 18.1% in 2010. I think the lack of a dividend increase in 2011 is actually a very positive sign of conservative cash deployment since RJF was obviously focused on its Morgan-Keegan acquisition, which it funded with minimal debt.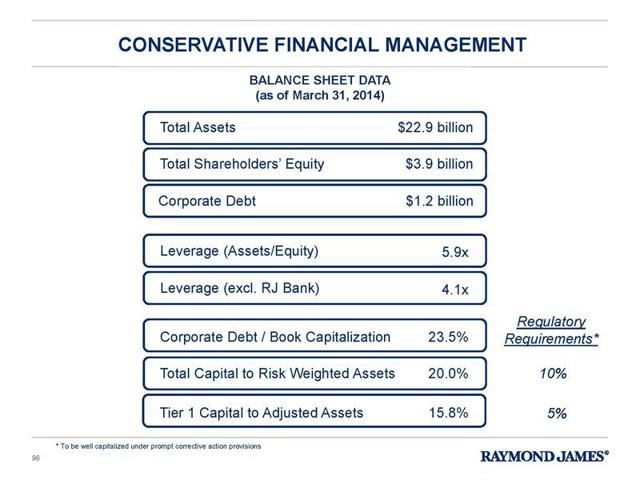 Source: company presentation
There are very many other factors that make RJF worth consideration, but this article has already gotten too long. One example is that the Company Updates section includes some details about the 2014Q2 earnings report, which explain why I believe RJF shares have already traded below where they should be.
Call Performance
Since I didn't start officially contributing ideas to SA until September of 2013, but made many successful calls via SA StockTalks and comments for a couple of years before that, I've included a couple of those RJF calls for verification.
January 2012: I pointed out RJF as a "Low-risk growth financial with strong fundamentals and a decent dividend. A recent acquisition means even better growth to come." RJF shares were about $34 at that time, and one year later they were about $44 (30% return).
October 2013: I suggested looking at RJF again: "Might want to keep an eye on this one. Definitely a stock to own for the long-term if it gets low enough." That was exactly one week before RJF bottomed at $40, and three months before the shares reached a short-term top above $55 (38% return).
As far as my official calls that I track to help readers verify the performance of my calls, I didn't get around to writing my first article about RJF until January of 2014. The business end of that call was as follows:
"If I were opening a new RJF position, I would consider a first buy in the $50-$51 range. If the stock were to continue lower thereafter, I would consider an earlier-than-usual second buy in the $48-49 range. In other words, I think RJF is unlikely to dip much below $50, but the market is weak right now, so one should have a plan for all scenarios. My price target is $63 (22.5% above $51.60) with a twelve-month timeline."
Because no stock goes up in a straight line, it's deceiving to only evaluate call performance on the day a follow-up article like this one is posted. Thus, I also include the peak performance from the time that I made each of my calls. The performance following my call on RJF has been:
[+4% from published call / +14% at peak / +66% peak from initial $34 call]
I suggest always staging into every stock position with a minimum of three separate buys to make each buy less critical to the average cost basis. Thus, performance is calculated from $49 to accurately reflect the call. For example, opening a position within the best price range expected at the time of writing ($48-49); adding with a second buy, as close as possible to the bottom of a subsequent dip ($48-49); and adding with a third buy, when the dip appears to be ending ($49-50). The result is a position with a $49 average cost basis. I've detailed the scaling/staging/averaging method in an Instablog, but at least please note that it is completely different from dollar cost averaging.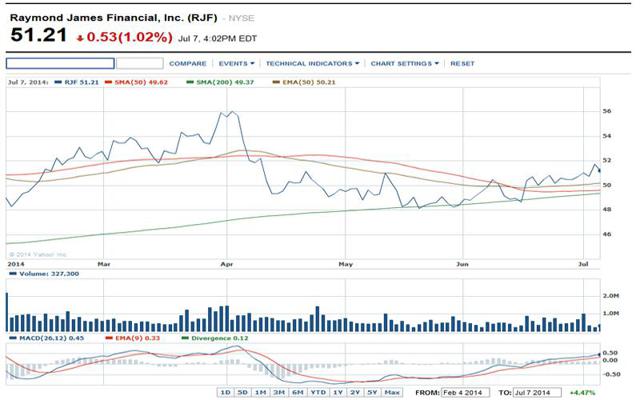 Source: Yahoo Finance
Call Update (Upside Potential, Timeline & Downside Risk)
As of this writing, I'm slightly reducing my RJF price target to $61 with a 9-12 month timeline. My original $63 price target may still be achievable within the remaining seven months of the time frame for that call, but I'm taking a more conservative approach to reinforce the fact that my call was not for short-term trading. So, I'm switching from a 12-month timeline to a 9-12 month timeline and, if necessary, will adjust my price target again within that period.
My new $61 price target is 80% above the $34 price at my first unofficial call, 24% above the $49 buy price from my official published call, and 20% above the current share price of $51. My timeline for the price target is 9-12 months.
My target price for RJF is based on Price-To-Book Ratio [P/B] calculations and Price-To-Earnings [P/E] ratio valuations. I'll review some of those calculations to show that they are fairly conservative, then summarize my conclusions.
Price-To-Book Ratio Valuation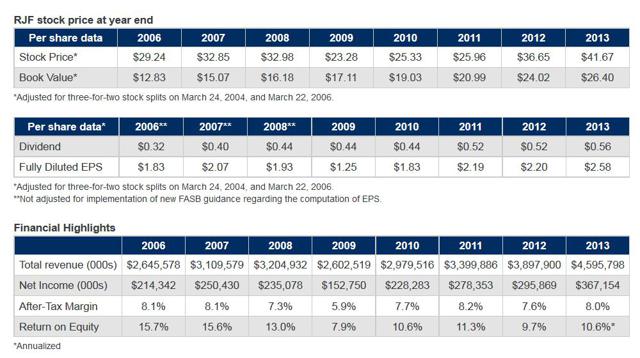 Source: company presentation
Based on the current $51 share price and 2014Q2 book value of $27.75, the current P/B ratio for RJF is 1.85x. My $61 price target is based partially on the likely scenario that RJF will again approach P/B levels similar to 2006/2007, which were 2.27x and 2.17x respectively. RJF was nearly half of the current share price in 2006/2007, so that valuation clearly didn't represent the top.
Valuing RJF with the average of those P/B ratios (2.22x), and the current book value of $27.75, the resulting share price is $61.61. Even if a P/B of 2.22x is a little optimistic, one can simply consider that a 2014Q2 book value of $27.75 is very likely to be significantly higher 9-12 months from now, thus the P/B ratio wouldn't need to reach 2.22x for the share price to reach my $61 target.
It's worth noting that, at the time of my first RJF article, the book value was only $27.07, making the P/B ratio 1.90x (very close to the current 1.85x). The stock subsequently rallied from a low just above $48 to a high just above $56.
It's also worth noting that it is common for larger firms to be valued at 3x-4x book, if not more. As RJF continues growing and eventually approaches a $10 billion large-cap market capitalization, the market may start to apply multiples that are more similar to large firms, though that may take some years. The RJF market cap did literally double in the five years from 2009 to 2013, but most of that increase was due to the Morgan-Keegan acquisition and others. The point is that, all things considered, 2.5x book does not seem out of reach.
Price-To-Earnings Ratio Valuation
I've calculated the P/E ratios for RJF using EPS data shown in the chart below and verified via individual earnings reports. The last four quarters of adjusted diluted EPS from RJF were $0.65, $0.93, $0.81 and $0.72 (total $3.11). With the $51.21 current share price, the trailing-twelve P/E for RJF is 16.47x (not 17.38x as shown on Yahoo Finance). The $3.57 next-year EPS projection for RJF makes the forward P/E 14.34x.
According to ten-year historical data from S&P Capital IQ, the most typical P/E range of RJF is 13-19x, averaging around 16x. The fact that the market values RJF with a 16.47x trailing P/E implies that is a reasonable multiple to estimate for a year from now (my price target timeline). Applying a 16.47x multiple to the $3.57 next-year EPS projection results in a share price of $58.80. On the one hand, that is part of the reason I chose to reduce my price target. At the same time, I also believe that the $3.57 EPS estimate is too low and will trend back toward the $3.70 that I originally estimated (with an admittedly overly optimistic 17x multiple). Applying a 16.47x multiple to a $3.70 next-year EPS figure that I believe will prove more accurate, the share price result is $60.94.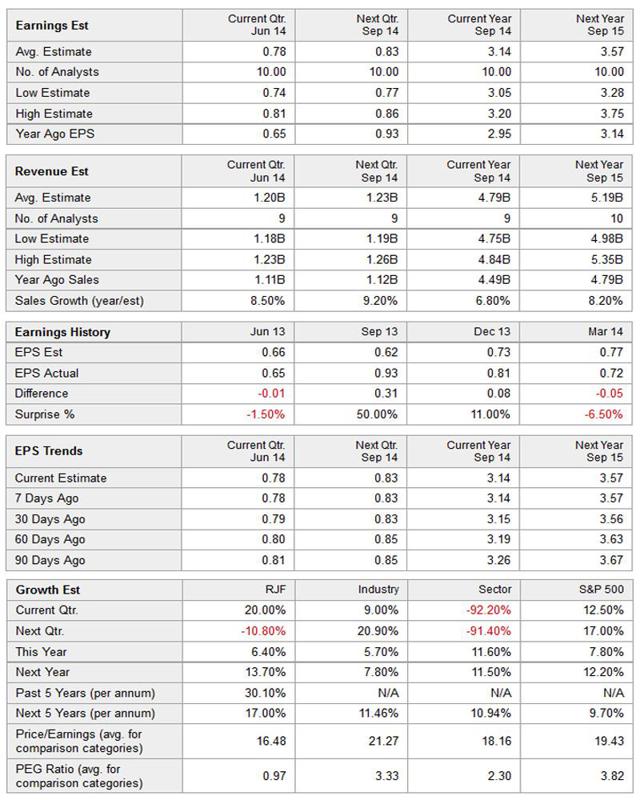 Source: Yahoo Finance
Valuation Conclusions
My opinions are for consideration by long-term investors who build positions over time, so I'm not at all suggesting that that the earnings report in a few weeks will immediately take RJF shares to $61. In fact, I wouldn't add to or open an RJF position unless the shares were to dip to at least $47-49. I'm not predicting that will happen and would be surprised if it does, in absence of a market-wide correction that could indeed happen at any time.
While I never expected RJF shares to shoot up to my price target in a quarter or two, neither did I expect the stock to languish for months the way that it has. Even so, I think the fact that it has presents opportunity, as I believe that RJF is particularly undervalued at this time. What I expect is that RJF shares will make significant progress toward my price target over the next couple of quarters, then achieve my price target somewhere around this time next year.
Downside Risk Estimation
I prefer the 200-day simple moving average [SMA] to estimate downside risk because it is an updateable guide, rather than a single price that only applies for a short time. The Yahoo Finance link under the stock chart above always leads to an updated chart with a green line to represent the 200-day SMA.
Here are my comments about downside risk with RJF from my January article:
"The RJF current 200-SMA is $45.10, but I think it's unlikely to approach that level since it needs to establish new moving averages now that a new price level has been confirmed by exceptionally strong earnings. In other words, the 200-SMA is deceptively low since it has not yet adjusted to the rally recently justified by earnings. I think a more likely downside limit is $47 (9% below $51.60), although how true any downside "limit" holds always depends on the market. In my view, the market would need to drop another 10-15% in order for RJF to go any lower than $47."
The lowest RJF has traded since that call was $48.14. The current 200-SMA for RJF is $49.37 and my opinion is that, in absence of a strong market-wide correction, the shares are unlikely to dip more than 5% below the 200-SMA. At the same time, I also believe that a market-wide correction is now more likely in the coming weeks or months, especially as compared to January.
Analyst Opinions
Four analysts rate RJF a Buy, four rate it a Hold and zero rate it a Sell. The consensus rating is now Buy and the consensus price target is now $53.88. Here are the most recent changes to analyst ratings or price targets:
5/21/2014 Goldman Sachs downgrade to Neutral, with price target of $54
4/24/2014 Credit Suisse reduced Outperform-rating price target to $59
4/09/2014 Citigroup reduced Neutral-rating price target to $53
1/15/2014 Credit Suisse initiated at Outperform with price target of $60
1/09/2014 Nomura initiated at Buy with price target of $60
Company Updates
January 9: RJF announced that Chet Helck, CEO of the firm's Private Client Group segment, had decided to retire. During his 25-year tenure, Mr. Helck was the firm's first head of a combined Private Client Group and led that unit to grow significantly in size and reputation. Mr. Helck also served as chair of the Securities Industry Financial Markets Association [SIFMA]. I have had the opportunity to listen to Mr. Helck speak at various events and my opinion is that he is an absolutely brilliant man so his retirement is a loss to RJF. At the same time, I also believe that a core characteristic of the very best leaders is that they build strong teams and a strong bench, so I'm not at all concerned.
January 22: RJF reported 2014Q1 earnings results, beating the consensus estimate for both revenue and EPS [video].
February 11: RJF presented at the Credit Suisse Financial Services Forum.
February 20: RJF held its Annual Shareholder Meeting.
March 2-5: RJF held its 35th Annual Institutional Investors Conference.
March 25: The RJF Investment Banking business unit won two International M&A Advisor awards.
April 23: RJF reported its 2014Q2 earnings results. The firm beat the revenue consensus estimate, but missed the EPS estimate. Obviously, expenses impact EPS, not revenue. I mention that because I think most of the recent weakness in the stock directly results from anticipation of, and reaction to, a cumulative impact from expenses unique to the quarter. First, higher expenses always hit the second quarter for RJF, such as those related to the resetting of FICO, as well as costs to print and mail annual report and proxy materials to millions of individual accounts. Most notably, several non-recurring expenses significantly impacted the quarter including: high costs of building out a new primary data processing center, upon relocating it to Colorado; high numbers of temporary branch closures from extreme winter weather in areas with high concentration of offices; and a spike in advertising costs due to increased airing of television commercials. Management also noted a seasonal slowdown in M&A activity.
During the 2014Q2 conference call, CEO Paul Reilly commented:
"If you look at this quarter versus last quarter, last year or the first two quarters; our first six months combined, versus the first two quarters of last year, revenue was up 3% or 6% respectively, but net income was up 31% to 33% on a GAAP basis. So, we believe we are in good position … the average of the two quarters has really been more indicative of our operational run rate for the first half of this year."
In other words, revenue continued increasing and, combining the first-quarter and the second-quarter EPS gives us an average that's actually right on target with consensus estimates. For that and similar reasons, I avoid evaluating any company based on events within a single quarter, or even just two quarters.
May 12: RJF held an Analyst/Investor Day at its international headquarters.
May 22: RJF declared its quarterly dividend. The firm has paid its shareholders quarterly dividends for 29 consecutive years (it will actually be 30 very soon).
May 26: Several equity research analysts at RJF wholly-owned subsidiary Raymond James Limited were recognized at the StarMine Analyst Awards.
June 16: Acquisition International magazine named the Investment Banking practice of RJF "Investment Services Provider of the Year - USA." The award is a "Client Choice Award" and is part of the publication's annual M&A Awards.
June 25: RJF reported May 2014 operating data.
July 2: RJF announced that wholly-owned subsidiary Raymond James Limited had hired a new Private Client Strategist in Canada.
July 23: RJF is expected to report 2014Q3 earnings results after the market close and hold the corresponding conference call the following morning.
Final Thoughts
There is one other thing I forgot to mention until now and have included here since it's pure speculation that doesn't fit any of the other sections. I would be surprised if we didn't see another stock split from RJF within the next couple of years, or perhaps once the stock sustainably trades into the mid $60s.
Some investors argue that splits have no effect on a stock, but as I opined in my article about TRN, perhaps lower share prices attract new investors who previously considered the price out of their range for the numbers of shares they prefer to own. If there is anything at all to that theory, more investors being attracted to a stock obviously has some effect on trading volume and share price, though not in any quantifiable way. Perhaps that only applies to companies like RJF that many investors have not even heard of yet and may be hesitant to pay what they perceive to be high share prices. There are likely lots of investors who now own TRN shares who had never even heard of that company a few years ago, though I'm not by any means likening RJF to TRN.
I obviously like RJF and believe it is undervalued. At the same time, my view is that now is a time to be somewhat cautious in the market. I'm very far from among those who've been predicting a deep market correction every day since 2009. However, for only the second time in nearly two years, I do think that a correction is becoming more likely in the coming weeks or months, though still within the context of a secular bull market that I believe will continue another year or three at least. Therefore, my opinion is that staging into positions is as important as always, if not more, and that applies to RJF like any other stock.
Similar to my 2013 Performance And 2014 Updates article, I plan to write an mid-year article by the end of July that includes performance tracking for all of the calls I've made thus far, as well as updates to most of them and my views on the general market outlook for the remainder of the calendar year.
Thanks for reading and best of luck. I wrote this article 6/23-7/7. I apologize in advance that I can no longer spend time on comments beyond the opinions that I offer in my articles. As always, every reader is free to dismiss any or all of my opinions. Or, as SA puts it, "Read. Decide. Invest."
Disclosure: The author is long RJF, BX, PFE, TRN. The author wrote this article themselves, and it expresses their own opinions. The author is not receiving compensation for it (other than from Seeking Alpha). The author has no business relationship with any company whose stock is mentioned in this article.
Additional disclosure: I am long RJF, BX, PFE and TRN and may buy or sell shares at any time, though I currently have no immediate plans to buy or sell.