For a large majority of investors, the main objective in retirement investing is providing income during retirement so the later years can be enjoyed. With people living longer and a low interest environment, financial requirements for retirement have changed.
The US Department of Health and Human Services made projections about the aging population. The population aged 65 and over will increase to almost 80 million in 2040 from 35 million in 2010 and the 85+ population is projected to increase to 14 million in 2040 from 6 million in 2012. Persons reaching age 65 have an average life expectancy for an additional 19.2 years.
The Centers for Medicare and Medicaid Services, Office of the Actuary, study said that improving economic conditions, Obamacare and the aging population will drive faster growth, a 6.2% rate from 2015 through 2022, in health spending. In 10 years, it has been forecasted that 50% of spending by seniors will be on medical related expenses.
During the 20th century, capital appreciation accounted for about 2/3 of investment gains. Not any more. In recent years the drab performance of the Dow Jones Industrials has called into question the role of capital gains. The Dow Jones Industrials began 2000 at 11,497 and at a record 17,068, has gained 48% (equivalent to a 2.8% annual compounded growth rate). By another measure, since reaching the peak in October 2007, the Dow is up 19%, with a similar 2.7% growth rate.
Earning acceptable yields (say 5%) on investment grade bonds and comparable investments was not difficult in the past when fixed returns on investment grade bonds were a major part of retirement investments because safety was important. However in a low yield environment, investors have had to accept additional risk in the search for higher yields or settle for lower yields. It has become more difficult to obtain attractive yields this year because of greater demand for yield securities. The Federal Reserve has reaffirmed that the low yield environment will continue for a minimum of another 2 years and projected interest rates will remain near zero through the end of 2014 and the federal funds rate will be 1.125% at the end of 2015.
Attractive yields in a low yield environment are still available from Dividend Aristocrat stocks (which have been increasing dividends for at least the last 25 consecutive years). Out of thousands of companies, only 54 are S&P 500 Dividend Aristocrats along with a handful not on the S&P 500 list. The streak of continuous increases is impressive after recessions forced many highly regarded companies to cut dividends, highlighted by the brutal 2009 recession when blue chip companies cut dividends.
Below are 2 Dividend Aristocrats with high yields of at least 3.5% (higher than the 10 year Treasury yield), and rising income going forward.
AT&T
AT&T (NYSE:T), up fractionally YTD, represents a consolidation of AT&T, BellSouth, Ameritech and Pac-Bell from the old Ma Bell. While known for its landline business, the company has been aggressively investing in new communication services. AT&T has been buying spectrum to increase capacity for high-speed services. Today 84% of revenue comes from wireless and wireless data/managed IT services.
AT&T has been in the news because of the proposed $49 billion acquisition of Direct TV (NYSE:DTV). This combination would boost its presence in video (from 5½ million in the US) and in Latin America. DTV is the world's largest pay TV provider with more than 20 million US subscribers and 18 million in Latin America. Besides needing approval from the usual agencies, Congress is reviewing the deal.
Q1 AT&T revenue rose over $1 billion above last year to $32.5 billion and EPS was 71¢, up from 64¢ in 2013. 2 million new wireless and wireline high speed broadband connections were made. Growth has been about 1% annually in recent years and the dividend has been increased 4¢ yearly since 2008. The outlook was raised to 4+% for full-year revenue growth, implying a $5+ billion increase, and EPS growth in the mid-single digit range (call that 5%).
Even if the DTV deal is not approved, AT&T is a financially strong company and will continue its dividend increases. Future increases should continue at 4¢ annually (at a minimum). Analysts forecast a 4½% gain for EPS increase to $2.76 next year. The stock chart for the last decade compares favorably with other stocks with familiar names that didn't increase dividends.
AT&T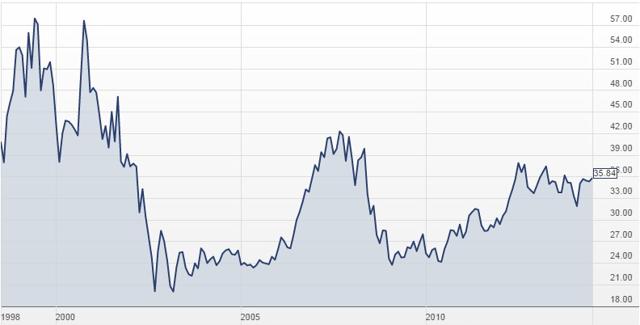 Target
Target (NYSE:TGT), one of the largest general merchandise store chains in the US and Canada, has paid 188 consecutive quarterly dividends since the IPO in 1967 and has been raising dividends for more than 4 decades (including through very difficult recessions in the early 1980s and 2009). The annual dividend was just raised from $1.72 to $2.08 which provides a rich yield of 3.5%. But TGT has been under a cloud after the credit card data breach 6 months ago. The long time CEO was fired and the CFO was promoted to interim CEO to reevaluate the overall business model.
TGT reduced its 2014 EPS forecast to $3.60-$3.90, below the prior guidance of as much as $4.15. Making matters worse is the Canadian division started last year. It has 127 stores and has been losing money, reducing EPS by $1.13 last year with losses continuing this year. The head of the Canadian division was just replaced.
While not for the nervous investor, TGT is attractive for long term investors looking for bargains. The stock dropped from a record high of $73 last year to $59 and the 3½% yield is the highest ever. By way of comparison, at its recession low in 2009, the 64¢ dividend provided a yield of under 2½%.
New management is bringing significant store changes to the 1789 US stores and in Canada, credit cards will be upgraded to MasterCard co-branded chip-and-PIN cards next year and the Canadian stores will be upgraded. The dividend has tripled in 5 years. While that rate can not continue, future increases of 5-10% should be attainable. Based on the low end of the EPS its forecast, the payout ratio would be 58%. The long term stock chart shows management has been rewarding investors for decades (while raising dividends). Analysts are forecasting a 16% increase in EPS next year which will support another dividend increase.
Target graph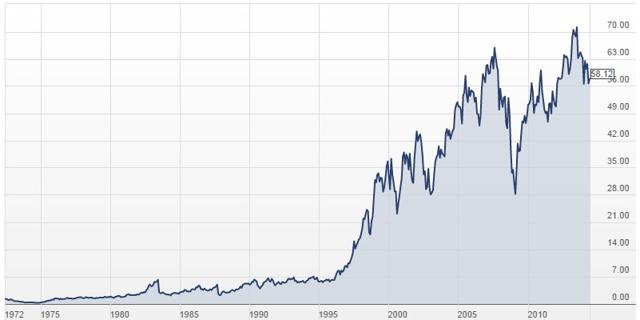 A turnaround for TGT would have similarities to Johnson & Johnson (another Dividend Aristocrat) which languished in the $60s during recent years. It was hurt by numerous product recalls for key OTC brands (such as Tylenol and Motrin), costing the company $1 billion in lost sales. Management has been correcting problems and the stock has risen to new record levels above $100 (while dividends continued to be raised).
Retirement investing has different meanings for different investors. But they share a common objective that money has to last longer and keep provide growing income to pay for rapidly rising expenses in the later years. They share a commitment to reward shareholders with growth dividends. These companies have financial strength which allows them to raise dividends through good years and bad.
With the Dow Jones Industrials at a record, it is easy to focus on your portfolio's net worth. I do, mine is also at a record level. But capital appreciation will not pay bills. Income is needed. These companies can be counted on to provide growing income for a higher quality of life in retirement. As a bonus, capital appreciation should follow.
Disclosure: The author has no positions in any stocks mentioned, and no plans to initiate any positions within the next 72 hours. The author wrote this article themselves, and it expresses their own opinions. The author is not receiving compensation for it (other than from Seeking Alpha). The author has no business relationship with any company whose stock is mentioned in this article.