Introduction
The purpose of this article is to review my investing progress in the second quarter of 2014. I follow a value-oriented dividend growth investing strategy that involves buying the stocks of companies that consistently pay and grow their dividends, but only when those stocks can be purchased at attractive valuations. I strive to achieve two investing goals with this strategy:
My primary goal is to build a sustainable and rising dividend income stream.
My secondary goal is to achieve a satisfactory total return on my investments.
These two goals are not mutually exclusive and I think both can be achieved with a well-executed dividend growth investing strategy. In this article, I will provide an update on my progress toward achieving these goals since my first-quarter review, presenting real results from a real portfolio involving real money.
Input To The Machine
New capital represents the input to my dividend growth machine and allows me to buy stocks. The figure below shows quarterly contributions of new capital to my investment accounts since 2012: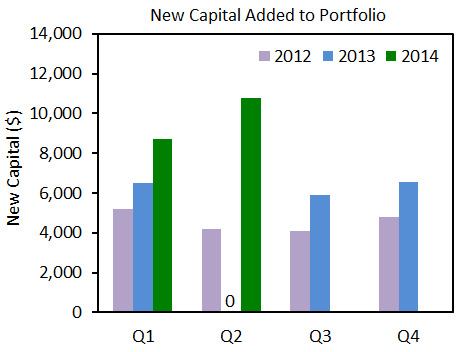 I contributed a total of $10,800 in new capital in Q2 2014, which is a substantial improvement over the $0 contributed during the same quarter a year ago. At this time last year I was in the midst of a major life transition, moving to a different state and starting a new job. I had refrained from new capital investment to pay for my move and to accommodate a month and a half without any job income. A year later, I am fully settled into my new home and new job, enabling me to invest a considerable amount of new capital on a regular basis. I am currently adding an average of $3,254 in new capital each month, which is double what I achieved in 2013. As a result, my year-to-date total of $19,525 already exceeds my 2013 total of $18,965.
Parts Of The Machine
Dividend growth stocks represent the parts of my dividend growth machine. The table below shows the composition of my portfolio at the start and the end of Q2 2014, with holdings in my Roth IRA denoted by [R] and various changes highlighted.
A breakdown of all transactions is provided in the following table: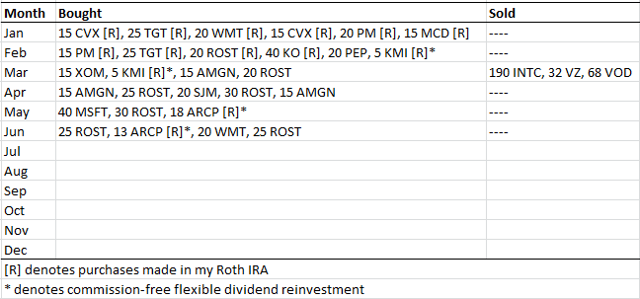 Below I will briefly discuss my portfolio decisions during the quarter:
I aggressively increased my position in off-price apparel retailer Ross Stores (NASDAQ:ROST), making a total of five purchases during the second quarter. It is now the largest position in my portfolio (8.1% weight). Recent earnings have not been well-received by the market, but the company's growth prospects remain bright. The company will be opening about 75 new stores this year, consistent with its long-term plan to expand from 1,309 stores (as of May 2014) to an eventual 2,500 locations across the U.S. With a solid track record of earnings, sales, and dividend growth (it is a Dividend Contender), it is one of the few dividend growth stocks that I consider to be undervalued in today's market. In my opinion, the many positive attributes of the company more than compensate for the relatively low dividend yield, making the stock an attractive long-term, total return investment.
I tripled my position in Amgen (NASDAQ:AMGN), a large biotech company that develops and markets human therapeutics that include Neulasta, Neupogen, Enbrel, Epogen, and Prolia. Its stock became attractively valued after an indiscriminate first-quarter sell-off of biotech stocks. The company is on track to become a Dividend Challenger and I think it has good prospects for continued dividend growth.
In April I started a position in J. M. Smucker (NYSE:SJM), a company that manufactures and markets branded food products such as Smucker's jams, Jif peanut butter, Folgers coffee, and Pillsbury baking mixes. The company has increased its dividend for 16 consecutive years and I expect the next dividend increase to be announced later this month. Its stock was trading around fair value at the time of my purchase.
In May I added to my position in Microsoft Corporation (NASDAQ:MSFT), the well-known developer of computer software and services. I was fortunate to start my position in early 2013, right before the stock began a year-and-a-half trek that moved it above the $40 mark. I think Microsoft continues to be a stable investment in the volatile tech sector, with ample free cash flow that supports a rising dividend.
In June I increased my position in the retail giant Wal-Mart Stores (NYSE:WMT). Several dividend growth investors expressed disappointment over the 2% dividend increase announced earlier this year. I was also mildly disappointed, but I have learned not to give undue emphasis to what happens in a single year. The company's operating results remain decent and I think dividend growth will revert toward the mean next year.
Finally, I made two commission-free flexible dividend reinvestment purchases of American Realty Capital Properties (ARCP), which has grown quickly into the largest net lease REIT. Its stock has fluctuated considerably this year, reflecting concerns about business deals (notably, the Red Lobster sale/leaseback transaction) and executive factors (compensation and the forthcoming CEO transition). I continue to think the stock is reasonably valued and these purchases slightly lowered the cost basis of my position in my Roth IRA.
In summary, I made 12 purchases and no sales in the second quarter, helping to keep my portfolio's turnover rate very low. As indicated in the portfolio table, all but one of the purchases represented additions to existing positions. I try to keep transaction fees to no more than about 0.5% of my total cost; for 2014, the ratio is currently 0.39%.
Besides adding parts to my machine, I want to make sure all the parts are running smoothly. I monitor the operating results of my companies, but I also stay on the lookout for dividend increases. Thus far in 2014 there have been dividend increases for 26 of the 36 stocks in my portfolio, with mean and median increases of 11.4% and 7.4%, respectively. I expect dividend increases to be announced for the 10 remaining stocks by the end of the year.
Output Of The Machine
Dividends and capital gains represent the output of my dividend growth machine, all of which is selectively reinvested when sufficient funds are available. As mentioned earlier, my primary investing goal is to build a sustainable and rising dividend income stream. The figure below shows the total dividends I received during Q2 2014, along with the quarterly totals in 2012 and 2013 for comparison.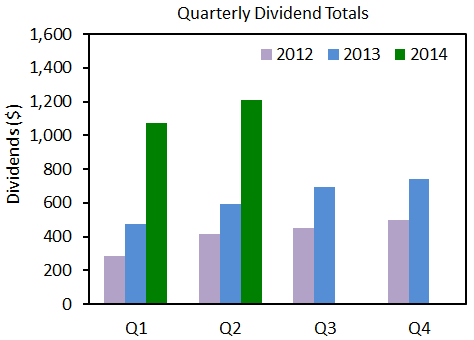 My dividend total more than doubled from the same quarter a year ago. Some of the gain can be attributed to organic dividend growth and selective dividend reinvestment, but the bulk of it reflects the substantial increase in new capital investment. At the end of Q2 2014, my forward 12-month dividend total was $4,743, which is an 11.0% increase from the preceding quarter. By the end of this year I should be able to eclipse the $5,000 mark.
My secondary investing goal is to achieve a satisfactory total return. The portfolio table (see above) shows that my portfolio's value increased by 12.1% during the second quarter, from $145,141 to $162,638. From highest to lowest source, the increase was due to new capital additions (61.7%), capital gains (31.3%), and dividends (7.0%). The figure below shows end-of-month portfolio values and the cumulative amount of new capital added since the start of 2012.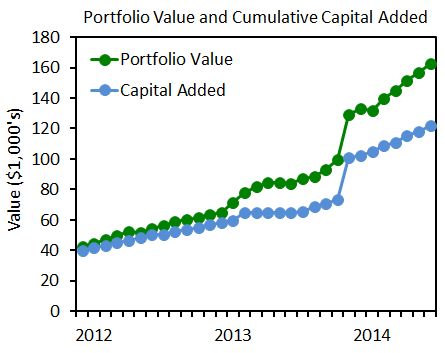 For the sake of completeness, I will also summarize the investments outside of my dividend growth machine. I participate in two retirement plans with my employer. The first is a 403b plan to which my employer makes contributions equal to 10% of my annual pre-tax salary. The second is a 401a plan to which I am required to contribute 4% of my annual pre-tax salary. The investment options for both plans are extremely limited and individual stocks cannot be purchased. Consequently, I have allocated 100% of all contributions to the Vanguard Institutional Index Fund [VINIX], which tracks the S&P 500 index and has an expense ratio of 0.04%. The combined value of both plans was $13,422 at the end of Q2 2014.
Outlook For Q3 2014
Despite the stock market hitting new all-time highs, I do not anticipate any changes to my investing strategy during the third quarter. As I mature as an investor, I find it easier to ignore pundits' prognostications of imminent market corrections. If anything, I would welcome a broad correction because it has become difficult to find attractively valued dividend growth stocks lately. However, I am not a market timer, so I will continue investing new capital and reinvesting dividends on a regular basis, even if it requires digging deeper than usual for value. I will report portfolio decisions via Seeking Alpha's StockTalks, so please consider "following" me to track those posts.
Disclosure: The author is long ABBV, ABT, AMGN, ARCP, BDX, CMI, CNI, CVX, GD, GIS, GPC, HCP, HRL, ITW, JNJ, KMI, KO, MCD, MDT, MSFT, NSC, NVS, O, PEP, PG, PM, ROST, SJM, T, TGT, UNP, UTX, VFC, VTR, WMT, XOM. The author wrote this article themselves, and it expresses their own opinions. The author is not receiving compensation for it (other than from Seeking Alpha). The author has no business relationship with any company whose stock is mentioned in this article.