I do not want to sound repetitive to my regular readers that have heard me say many times my philosophy on the small biotech space. However, I will put my standard disclaimer on this article about two small biotech stocks that are trading way below analysts' price targets.
This sector is simply different than investing in other sectors due to its high volatility. Some hedge funds employ PhDs in biochemistry but still get it wrong as much as they get it right. How drugs/compounds actually do in actual trials is next to impossible to predict consistently. Anyone that says differently is selling something.
The sector calls for a different investing strategy. My philosophy is to take much smaller positions in a larger amount of selections than in other sectors. I also tend to sell out of money calls on a portion or majority of my new equity stakes to further mitigate risk and take advantage of the generally significant premium call premiums available on the stocks in this area.
I find a good place to start to look for ideas in this space is to look at stocks that are way under analysts' median price targets. Here are two small cap equities I own within my speculative portfolio that look intriguing to me here. Both also have had some recent insider buying, which I also view as a positive I like to see before buying an initial stake. Both look good for further due diligence for aggressive investors before possible investment.
Synta Pharmaceuticals Corp. (SNTA) is a small (less than $400mm market capitalization) biotech concern primarily focusing on developing its lead cancer drug "ganetespib" as a treatment for non-small-cell lung cancer, breast cancer and colorectal cancer.
Synta is a core holding in my small biotech allocation and I added to my stake in the biotech sell-off that started in early March and lasted for approximately two months. That decision is starting to be rewarded as the stock has moved up sharply over the past few trading sessions on no real news (See Chart).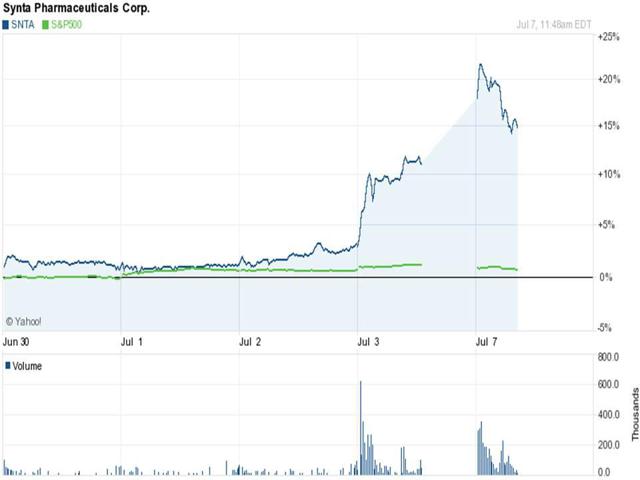 The shares currently go for just under $4.70 a share. The median price target on the shares by the five analysts that cover the stock is $10 a share. Insiders have bought over $25mm in shares over the past eight months. Particularly active is billionaire Bruce Kovner. Like most small biotechs the stock will live and die with the results from phase trials testing the success or failure of its products. The company currently has some $60 million in net cash to help it get through trials.
The company is deep in trials for testing the effectiveness of its lead product against a variety of indications. It is also testing another compound for effectiveness in ovarian cancer.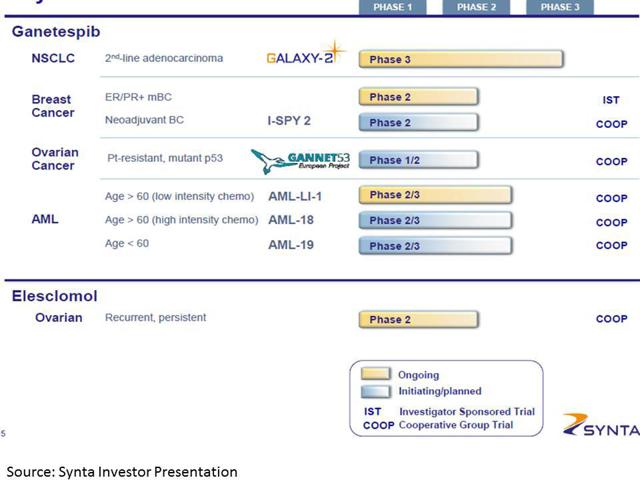 Cytori Therapeutics, Inc. (NASDAQ:CYTX) is a small (~$175mm market capitalization) cell therapy company. Cytori develops cell therapies based on autologous adipose-derived regenerative cells to treat cardiovascular disease and other medical conditions.
I took a small stake in this small biotech this morning during today's sell-off in the overall market. Two things stand out to me that warranted a small investment. First, at around $2.30 a share; the stock is way under analysts' price targets. The median analyst price target on CYTX is currently $9 a share by the four analysts that cover the company. Price targets range from $4 to $10 a share, all significantly above its current price.
Second, the stock seems to have technical support at right around the $2.15 a share level (See Chart).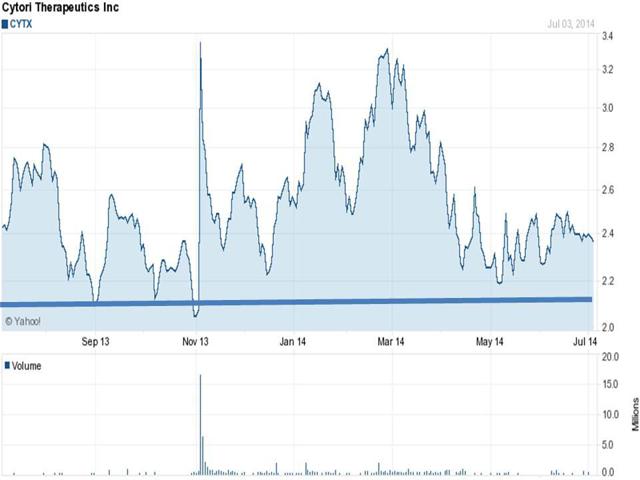 The company should do over $15 million in revenues this year and analysts project over $25 million next year (mainly for milestone payments). The company announced today it has met the base case within a contract with the department of defense that could eventually be worth more than $100 million if it continues to successfully meet milestones.
The company recently raised some $10 million to buoy its balance sheet. Finally, an insider purchased $70,000 in new shares a month ago.
I always take analysts' price targets with a grain of salt. However, when almost every price target is significantly above the current stock price I do take notice and quite often take a small position. This is especially true if analysts are commenting on a biotech that is not a recent IPO that their firm recently helped take public, which is the case for the two stocks profiled above.
Disclosure: The author is long CYTX, SNTA. The author wrote this article themselves, and it expresses their own opinions. The author is not receiving compensation for it (other than from Seeking Alpha). The author has no business relationship with any company whose stock is mentioned in this article.