The healthcare expenditure, as a percentage of gross domestic product (GDP), is climbing in every income bracket as a result of socio-demographic changes which lead to an increase in demand for drugs. This is seen in Walgreen's (WAG) sales growth in its most recently reported quarter and now from the sales growth in the month of June. This prosperity led to a higher return for investors in the form of stock price appreciation, dividends, and share buybacks. The company's stock has appreciated by approximately 29% year-to date.
After analyzing Walgreen's recently reported quarter earnings growth and June's sales growth, it is anticipated that the company's stock has still much potential to go on the upside, bringing even higher returns for investors.
June 2014 Sales
Walgreen had sales of $6.28 billion, compared to $5.77 billion for the same month in fiscal year 2013, indicating a YoY increase of 8.9%. The total front-end sales increased 1.8%, while comparable store front-end sales increased 1.3%. The sales in comparable stores increased 7.5% YoY in June, whereas the prescriptions filled at comparable stores increased 7.3%. The sales growth was positively impacted by calendar day shifts and negatively impacted by relatively lower stores traffic. The consumer's basket size increased 3.3% on a year-over-year basis.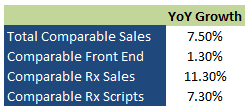 Source: Yahoo Finance
The company's calendar 2014 year-to-date sales for the first six months increased 5.9% to $38.13 billion, from $36 billion in the first six months of 2013. Its fiscal year 2014 year-to-date sales for the first 10 months reflected an increase of 6% to $63.65 billion, from $60.4 billion in fiscal year 2013.

From this impressive year-over-year growth, we can expect a reasonable growth in Walgreen's full-year FY14 net earnings and per share earnings.
Overview of 3QFY14 Earnings
On June 24th, 2014 Walgreen posted its third-quarter earnings results for fiscal year 2014, in which we see not only a good growth in the top line, but also an improvement in the operating income, despite experiencing pressure on margins. This consequently led to a significant increase in net earnings attributable to the company, and diluted per share earnings.
The revenue growth was driven by increased daily living sales and strong increases in both prescriptions filled and the pharmacy's increasing market share. The actual increase in third quarter sales was 5.9% to $19.4 billion while the sales growth in the first nine months of FY14 was 5.6% to $57.3 billion. The year-over-year growth in its bottom line was 15.71% reaching $722 million from $624 million in the third quarter of FY13.
Joint Venture with Alliance Boots
The combined synergies with Walgreen's strategic partner, Alliance Boots, in the first nine months of FY14 were approximately $367 million, and it is now projected that the joint synergy program will deliver second-year combined synergies of $400 to $450 million. This reflects an increase from the previous second-year estimate of $375 to $425 million. The Boots No7 is now in more than 300 stores, and has become the highest-ranked beauty brand on Walgreens.com.
The joint venture with Alliance Boots also helped to improve Walgreen's pharmacy and front-end margins. It contributed 15 cents per diluted share to Walgreen's third-quarter adjusted earnings, and it is now projected that the accretion from Alliance Boots in the fourth quarter of FY14 will be an adjusted 6 to 7 cents per diluted share.
Like Alliance Boots, Walgreen's acquisition last year of Kerr Drug is also expected to improve the company's operating margins, as the retail pharmacy segment provides higher margins than other segments.
Leverage Status
Walgreen's debt-to-equity ratio of 0.17 is very low, and is currently below that of the industry average of 0.31, indicating a strong leverage status and successful management of debt levels. At the end of the third quarter, the company's long-term debt was reduced to $3.7 billion, compared to $4.5 billion at the end of the third quarter of FY13.
Liquidity Position
Despite strong earnings growth and a lower debt-to-equity ratio, Walgreen's liquidity position is not satisfactory. It has a current ratio of 1.42, slightly below the industry average of 1.49. But as a larger portion of Walgreen's current assets are comprised of its inventory, so the quick ratio would be more meaningful for the purpose of analysis. However, the company's quick ratio does portray a poor liquidity position, as its quick ratio is only 0.61. The overall industry average is also not very satisfactory.
Dividends and Share Buybacks
Walgreen has a very good history of paying dividends. In the last 13 years, the company's dividends have grown every year at a CAGR of 17.5%. Now, the company's board of directors declared a regular quarterly dividend of $0.315 per share, reflecting a 14% increase compared to last year's dividend of $0.275 per share. The recent hike marks the 38th successive year of dividend increases for the company.
Walgreen has also started a new share repurchase program that will run through 2015. Under this program, the company will buy back $2 billion worth of stocks.
Conclusion
Walgreen has shown strong growth in its top and bottom line performance in the last reported quarter. The joint venture with Alliance Boots and the acquisition of Kerr Drug will improve its margins as well. The sales growth in the month of June, along with the expectations of margins improvement would result in better-than-expected net earnings for the full fiscal year 2014.
Walgreen has a very satisfactory debt position, and it concentrates on providing value to its investors both through dividend payments and share buybacks. Bearing in mind these facts, it is expected that the company's stock will be profitable for investors.
Disclosure: The author has no positions in any stocks mentioned, and no plans to initiate any positions within the next 72 hours.
Business relationship disclosure: The article has been written by APEX Financial Consultants. This article was written by one of our research analysts. APEX Financial Consultants is not receiving compensation for this article (other than from Seeking Alpha). APEX Financial Consultants has no business relationship with any company whose stock is mentioned in this article.