Thesis: PowerShares S&P 500 BuyWrite Portfolio ETF (NYSEARCA:PBP) is a suitable buy and hold investment that has a proven track record and solid dividend history. This could be an attractive addition to your dividend portfolio.
While reviewing its Seeking Alpha profile I was surprised to learn that only 225 people follow PBP.
I normally have a love hate relationship with ETPs (exchange traded products). I love to hate them. ProShares Ultra VIX Short-Term Futures ETF (NYSEARCA:UVXY), is one that immediately comes to mind. However, this one could be different.
Let's start by taking a look at PBP's performance since inception.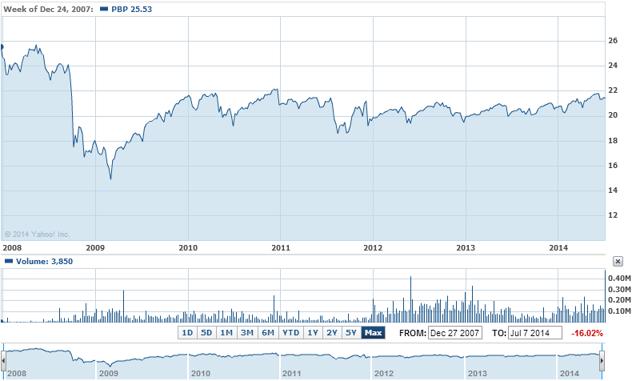 Since inception, the fund is down 16.02%.
Below we can see a total return of the fund including dividend reinvestment.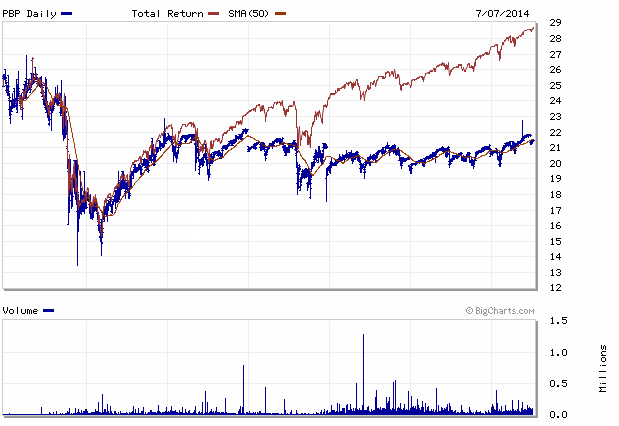 Chart obtained from MarketWatch.com
The total return (dividend reinvestments) of the fund since inception stands at an estimated 11.76% (25.5 vs. 28.5). Annualized this works out to 1.8% (11.76 / 6.5 years). Not impressive but better than any savings account I know.
Recessions
The key take away for me, from the chart above, is not to hold PBP through recessions. This can be done by monitoring current economic data on a weekly basis. My favorite chart is the investing.com weekly calendar, which you can view here.
I catch a lot of flak from readers for suggesting you time your own moves in the markets, specifically recessions and economic data. By simply tracking economic data and familiarizing yourself with key economic measures, you can become better at noticing change and eventually patterns. If you buy lettuce or bananas at the grocery store every week, do you notice when the price changes? Maybe not by a little bit, but you should if it starts going gradually higher or lower each time you visit the grocery store.
Economic data is no different. Learn the range. Analyze the range. Track movement and then analyze the movement. Identify trends and make an educated prediction about where things are headed. Chart the positives and negatives of your positions and then ask yourself, which one do I agree with? Make wise investments, then repeat.
Total Return since 2009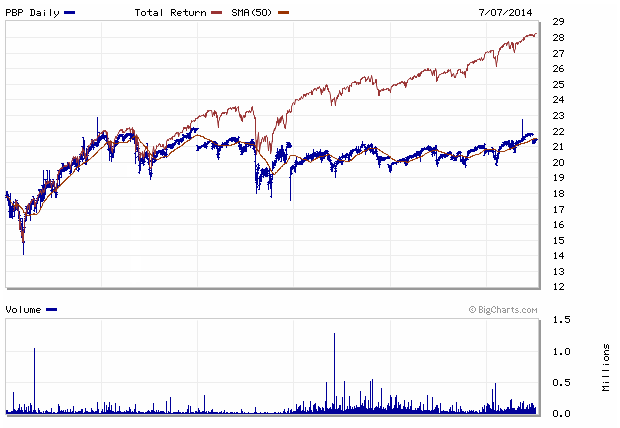 Chart obtained from MarketWatch.com
Let's review the results post-recession.
The total return from 1/1/2009 (not the exact date the recession ended) to 7/7/2014 would be 56.9% (18 to 28.25 est.). On an annual basis, this would equal a 10.34% annual return.
Dividend history
Dividend payments vary significantly from quarter to quarter. Take a look below.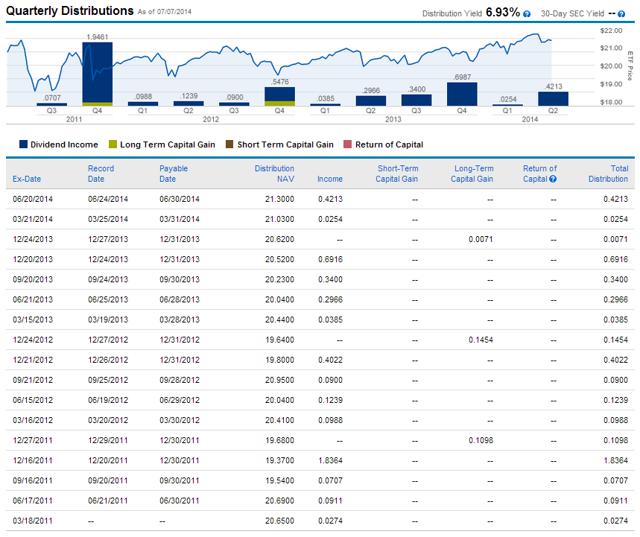 Chart obtained from Charles Schwab.
If we add the total distributions over the past three years, including capital gains, it would average out to 0.46556 per dividend/distribution. At the current share price, this is a trailing three year yield of 8.68%. The current trailing twelve month yield is 6.93%.
When focusing on yield in this ETF it is more important to factor in the longer term yield curve, than the current quarter's.
Do not let the capital gains distributions scare you.
What drives PBP?
PBP is driven by the CBOE S&P 500 BuyWrite Index (BXM).
This fund measures the return of a theoretical portfolio of S&P 500 Index stocks. It sells one-month at-the-money S&P 500 Index call options against its portfolio. S&P 500 Index options are European style and cannot be called early.
Historical BuyWrite Index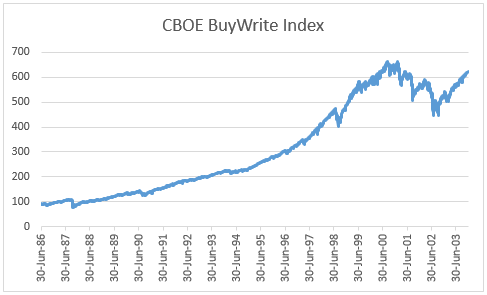 Chart created by Nathan Buehler using historical data provided on the CBOE website.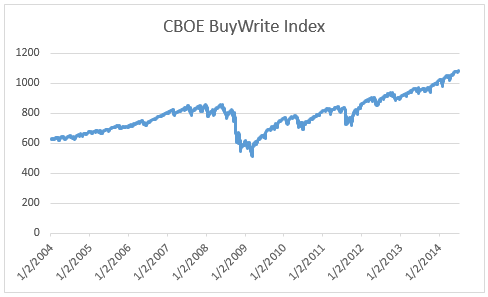 Chart created by Nathan Buehler using historical data provided on the CBOE website.
The above historical data shows that over time PBP is a safe buy and hold investment vehicle. We can certainly argue there are good and bad times to enter into this investment.
Divergence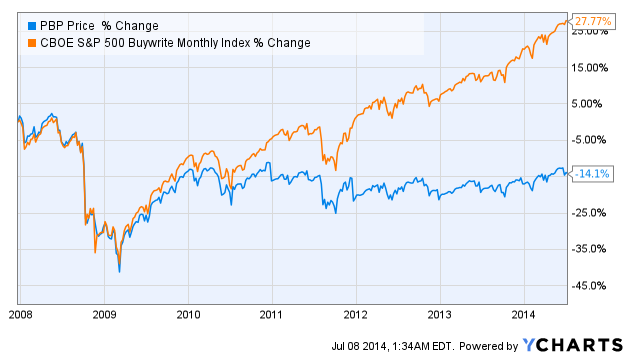 The divergence seen in the above chart stems from the payment of dividends by PBP. See below for a more detailed chart.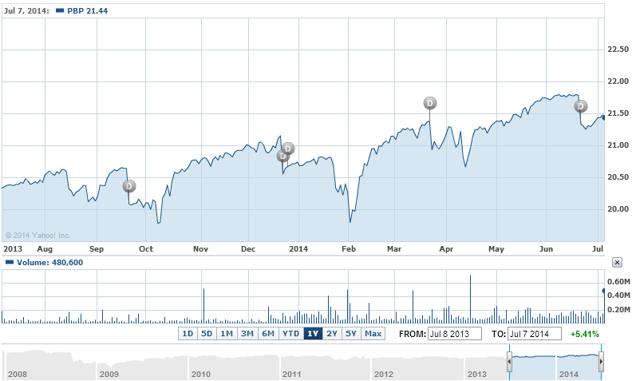 Each time a dividend is paid, the ETF drops by the same amount, thus creating divergence from the index. Otherwise the ETF, minus fees and expenses like any fund, does a great job at following its underlying index.
Conclusion
PBP belongs on your dividend radar. Using wise economic intuition, you can time market cycles and avoid large losses of value, such as those experienced in 2008. The annual and historic returns of this fund make for an attractive investment. Not something I say about many ETPs.
I will be looking deeper into these buy/put/write ETFs. I hope to bring you more coverage on what I feel is an under covered market. Please follow me on Seeking Alpha for regular updates. Thank you very much for reading.
Disclosure: The author has no positions in any stocks mentioned, but may initiate a long position in PBP over the next 72 hours. The author wrote this article themselves, and it expresses their own opinions. The author is not receiving compensation for it (other than from Seeking Alpha). The author has no business relationship with any company whose stock is mentioned in this article.