Since my previous review of Pan African Resources (OTC:PAFRF), the company's share price has not changed at all (still £0.14 in London exchange) and the company still remains significantly undervalued. I believe investors are grouping Pan African together with junior gold miners, and therefore attach a far lower valuation to its reserves, cash flow and dividends. In this article, I will clarify why I think Pan African Resources should not be regarded as a junior miner, but rather as a developed gold producer. At the same time, I will argue that the company is significantly undervalued compared to large-cap, low-cost gold miners, particularly Yamana Gold (NYSE:AUY).
Not the usual junior gold miner
I tend to avoid investing in small/micro cap mining stocks, as they are usually over-indebted and full of promises about a "bright future", yet their development projects are delayed and run over budget. And most importantly, even if these companies generate any operating cash flow, it is almost always reinvested into further development with a very "bright future". So the actual average returns to shareholders in this sector have been pretty bad.
However, Pan African represents a completely different investment opportunity. Actually, it better resembles a well-run, low-cost manufacturing business selling a commoditized product, rather than a junior gold miner. Here is why:
All of the company's properties are in full production - Thus, investors are getting part of the assets that extract gold on a daily basis, rather than buying only well-spoken management with a great plan for the future, as is the case for most micro cap junior gold miners;
No major capex projects are in the pipeline - The company recently finished its acquisition of Evander Gold Mines (which doubled production and revenues), as well as development of the Barberton Tailings Retreatment Plant (BTRP - a low-cost retreatment facility). Further capex will likely be spent on maintenance of existing properties only. Management is only interested in investment projects that are either near or at the production stage (like Evander Mines), and which in turn, enable the company to avoid huge bills for development. This leaves sufficient cash to be returned to shareholders.
Development/growth projects are being carried on time and within budget - This applies to both Evander Mine's integration and development of BTRP. Thus, management seems to be able to deliver on their promises.
No dilution for shareholders - Capex is mainly funded through internal cash flow. The company has issued equity only to acquire gold producing assets (share swaps for Barberton in 2007 and 2009 and rights issue for Evander in 2013). Having analyzed both acquisitions, it seems like shareholders of Pan African received a fair deal and were not diluted on value per share basis (see below table on EPS/share and NAV/share, all in £).
| | | | | | |
| --- | --- | --- | --- | --- | --- |
| | 2013 | 2012 | 2011 | 2010 | 2009 |
| EPS | 2.63 | 2.02 | 1.2 | 1.04 | 0.4 |
| NAV/share | 9.45 | 7.09 | 6.28 | 5.21 | 5.07 |
Source: Pan African Resources Annual Reports
The company is well-capitalized - Equity comprises 65% of its total assets. Pan African management has avoided using debt to finance its operations and growth (even though it has credit facilities available), with the only exception being £20m debt raised for Evander acquisitions, half of which has already been repaid.
The company produces strong operating cash flow that exceeds its capex needs:
| | | | | | | |
| --- | --- | --- | --- | --- | --- | --- |
| | H1 2014 | 2013 | 2012 | 2011 | 2010 | 2009 |
| OCF | 26.8 | 48.3 | 30.6 | 16.6 | 18.3 | 8.6 |
| Capex | -8.7 | -27.6 | -17.4 | -21 | -5.9 | -4.3 |
| Surplus | 18.1 | 20.7 | 13.2 | -4.4 | 12.4 | 4.3 |
Source: Pan African Resources Annual Reports
Pan African pays out most of it surplus cash flow as dividends - (Note: No dividend was paid in FY2013 due to acquisition of Evander). The company has an objective to maintain dividend payments to shareholders, and with the latest payment of £14m (Dec 2013), its current dividend yield stands at 5.6%. The company's ability to pay dividends so soon after the acquisition of Evander Gold Mines, and in an environment of depressed gold prices, demonstrates the quality and earnings power of its assets. As capex is likely to decrease going forward, I do not see any reasons why the current level of dividends should not be sustainable.
Low-cost producer
Pan African is one of the lowest-cost gold producers I have encountered. With cash costs at $834/oz and all-in sustaining cash costs (includes maintenance capex + corporate G&A) at $965/oz, it would remain profitable and cash flow-positive even with 30% lower gold prices.
The table below indicates costs for the largest gold miners in the world (AISC stands for all-in sustaining costs). The average of the indicated companies (and likely to be the average in the industry) is around $1,086/oz, which is materially above the $965/oz for Pan African. This indicates that gold price is unlikely to drop below $1,100/oz for a prolonged period, as industry wide gold extraction would simply become unprofitable, supply would diminish and prices would increase.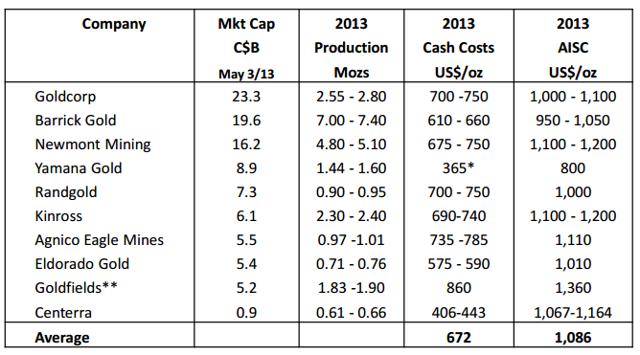 Source: Agnico Eagle 2013 presentation
Thus, with a cost basis materially below industry average, Pan African has a sustainable competitive advantage in this commoditized industry. This creates a certain moat for the company that should deliver excess returns for shareholders - with a lower cost base, Pan African profit margin would be c. 10% higher than the industry average. The chart below indicates the development of Pan African cost basis per oz - recently, the costs have declined due to the launch of the BTRP project.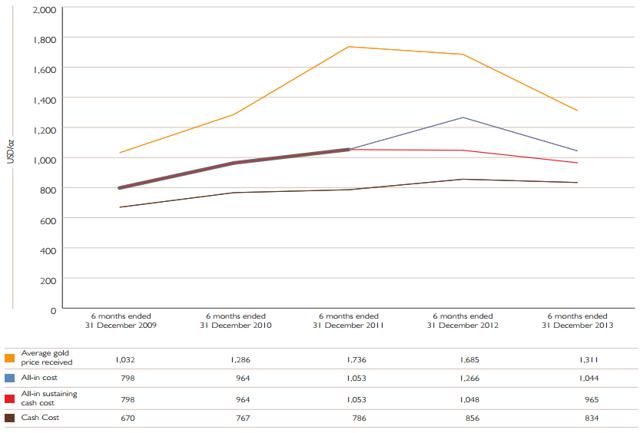 Source: Pan African H1 2014 results
Comparison to Yamana Gold
In this section, I will contrast the valuation attached to Pan African and Yamana Gold - the lowest-cost producer among large-cap gold mining companies. The table below lists several metrics and compares market valuations of both companies.
| | | | |
| --- | --- | --- | --- |
| | Pan African | Yamana | Difference in valuation |
| Market Cap ($m) | 444 | 7130 | |
| Enterprise value ($m) | 465 | 8150 | |
| Revenue ($m) | 283 | 1842 | |
| Reserves - proven and probable (oz m) | 9.2 | 18.5 | |
| Resources - measured and indicated (oz m) | 23.4 | 35.8 | |
| All-in sustaining cash costs ($/oz) | 965 | 925 | |
| Expected production 2014 (oz) | 215,000 | 1,400,000 | |
| | | | |
| Enterprise value/oz production ($) | 1,920 | 5,100 | 3x |
| Enterprise value/oz of reserves ($) | 47 | 440 | 9x |
| Enterprise value/oz of resources ($) | 19 | 230 | 11x |
| Enterprise value/FCF expected in 2014 | 8 | 20 | 2.5x |
| Dividend yield | 5.6% | 1.8% | 3.0x |
Note: FCF yield calculation assumes $1300/oz gold price
Thus, we can see that Pan African is approximately 3 times cheaper than Yamana in terms of FCF yield, dividend yield and enterprise value per oz of produced gold. Comparing resources and reserves, the valuation difference between the companies increases to 10 times.
Obviously, Yamana deserves a certain valuation premium, as it is a bigger company with longer operating history and its properties are located in more politically stable countries within South America. Also, it operates a higher number of facilities, compared to just 2 for Pan African. However, I do not believe the valuation difference should be so big. Pan African has been profitable through the cycle, whereas Yamana's profitability varied with the price of gold. And even though Yamana has more properties, 88% of its revenue still comes from the main 4.
Even with the £405m market cap (55% upside from the current prices) for Pan African that I have estimated in the previous article, Yamana Gold would still be 1.5x more expensive in terms of FCF yield (Yamana has EV/FCF multiple of 20, compared to the 13 I have applied in my valuation) and 5 times more expensive in terms of reserves and resources. Thus, my Pan African valuation seems to be quite conservative.
Thus, Pan African looks cheap overall, and even cheaper when compared to Yamana Gold.
Conclusion
I find Pan African to be one of the safest ways to play recovery in gold prices. The company has good governance, stable cash flows even with low gold prices and does not seem to be wasting money on questionable projects, but rather, returns it to shareholders in the form of dividends. Thus, one gets paid while waiting for gold prices to recover. In terms of risk, the biggest is the reliance on only two properties (both in South Africa) to produce the cash flow, but low valuation more than compensates for this.
The catalysts that are likely to propel the share price upwards are (for details refer to my previous article):
Annual results to be announced in July, which will show c. 80% YoY growth due to two mines being fully operational;
Likely dividend increase due to higher cash flow generation and lack of material capex expenditure going forward;
Potential recovery in gold prices.
Disclosure: The author is long PAFRF. The author wrote this article themselves, and it expresses their own opinions. The author is not receiving compensation for it (other than from Seeking Alpha). The author has no business relationship with any company whose stock is mentioned in this article.