Six years into a bull market that has seen broad multiple expansion of late, it is ever harder to find anything that has the faint whiff of value. Interestingly, asset managers including Franklin Resources (NYSE:BEN), Bank of New York Mellon (NYSE:BK), Eaton Vance (NYSE:EV), BlackRock (NYSE:BLK), and T. Rowe Price (NASDAQ:TROW) still offer a compelling valuation proposition even as assets have swelled in this bull run.
The Market Vectors Wide Moat ETF (NYSEARCA:MOAT) is stocked to the brim with asset managers. The portfolio -- which outpaced the SPDR S&P 500 ETF (NYSEARCA:SPY) since its start two years ago -- piggybacks on Morningstar's impressive Wide Moat Focus. It's reconstituted quarterly to hold the 20 stocks in Morningstar's (NASDAQ:MORN) small universe of stocks deemed to have wide moats, which trade at the most compelling discount to the research firm's proprietary estimate of fair value.
(Full disclosure: Morningstar is an investor in YCharts.)
All but T. Rowe Price are in the portfolio for this quarter, trading at discounts to fair value of nearly 10%. And T. Rowe Price is in the batter's box, barely missing inclusion as it trades at a 6% discount. Granted, single digit discounts are not exactly a wide margin of safety, but context is important. Morningstar says the overall market now trades at a 4% premium to fair value. And the 150 or so wide moat stocks now trade at a 3% premium. So even a modest discount is a relative plus. A year ago, the wide moat stocks traded at an average discount of 3%.
Affiliated Managers Group (NYSE:AMG) doesn't qualify as a wide moat in Morningstar's estimation, but this fast growing aggregator of boutique asset managers shares some of the same attributes as the wide moaters, and is growing at an impressive pace. Affiliated Managers Group was added to the S&P 500 at the end of June. It currently trades at a 6% discount to Morningstar's estimate of fair value.
Three of the asset managers have delivered double-digit revenue growth over the past five years: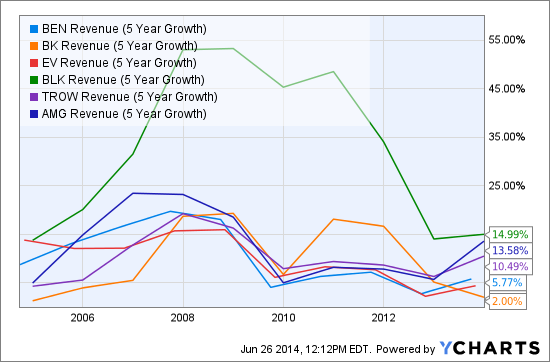 BEN Revenue (5 Year Growth) data by YCharts
From a moat perspective, T. Rowe Price has a unique stickiness factor; retirement accounts are a central piece of its assets under management, and it is one of the three largest providers (along with Vanguard and Fidelity) of the increasingly popular target date portfolios for defined contribution plans.
Despite its low revenue growth, Bank of New York also has a stickiness factor worth noting. While it manages $1.6 trillion, the heart of its business is the $28 trillion it holds in custodial accounts for institutional clients. While those assets will fluctuate with the markets, the switching cost is a prime retention tool.
The three old-school fund complexes, Eaton Vance, T. Rowe Price and Franklin stand out in terms of Return on Equity and Return on Assets.
Return on equity - ROE: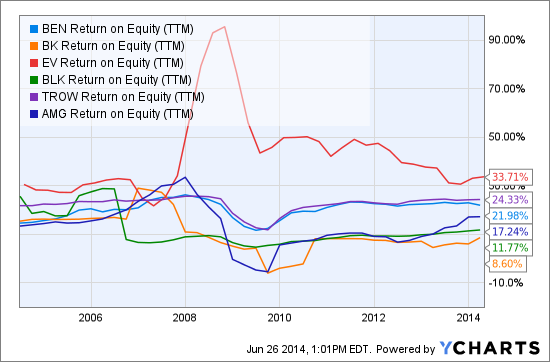 BEN Return on Equity (TTM) data by YCharts
Return on assets - ROA: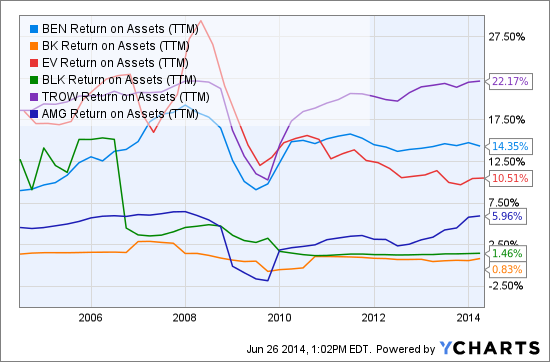 BEN Return on Assets (TTM) data by YCharts
With Franklin Resources and T. Rowe setting the pace on free cash flow growth: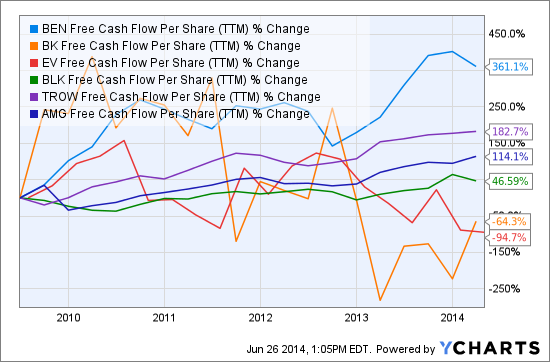 BEN Free Cash Flow Per Share (TTM) data by YCharts
From a valuation standpoint, it's no surprise the slower growth Bank of New York Mellon has the lowest trailing PE ratio, but the faster growing Franklin isn't far off.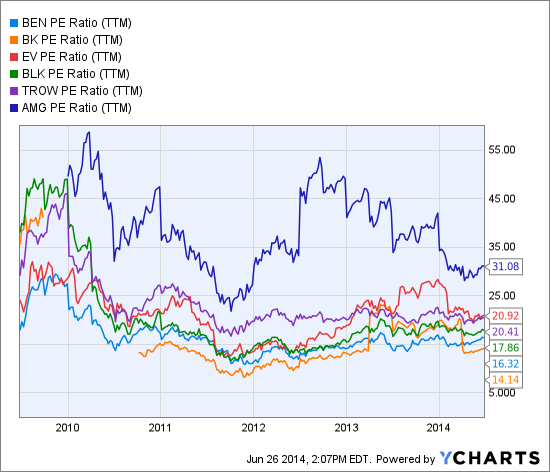 BEN PE Ratio (TTM) data by YCharts
Though Affiliated Managers Group looks pricey based on PE ratio, its price-to-free cash flow ratio is lower than both Franklin and T. Rowe Price.
Carla Fried, a senior contributing editor at ycharts.com, has covered investing for more than 25 years. Her work appears in The New York Times, Bloomberg.com and Money Magazine.
Disclosure: None