Aluminum is trading at the lowest levels since the Great Recession (Exhibit 1). This is primarily due to increased production combined with current high levels of world aluminum stocks (Exhibit 2). A strong downward trend beginning in 2010 has provided pricing advantages to end-users of the metal. However, the days of low base metal costs may be coming to an end.
Exhibit 1
Exhibit 2

Prices are currently following traditional seasonal patterns, albeit on the low side of the historical price range, only recently diverging from the trend (Exhibit 3), indicating seasonal patterns continue to hold (Exhibit 3).
Exhibit 3

Forward prices reflect chronic oversupply and high legacy stocks. Steep front month discounts compared to longer term contracts discourage forward pricing mechanisms and encourage spot price purchasing (Exhibit 4).
Exhibit 4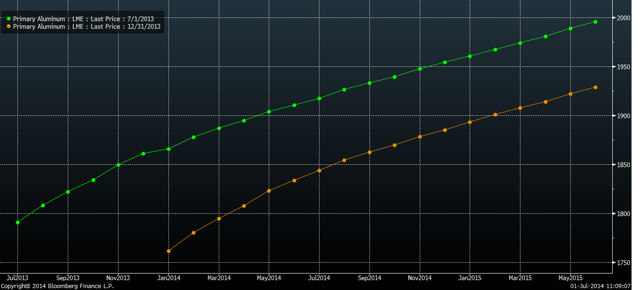 Forecast pricing for the metal resembles potential supply reductions and possible future supply shortages indicated by the gradual price growth with a sharp increase near the end of the term (Exhibit 5).
Exhibit 5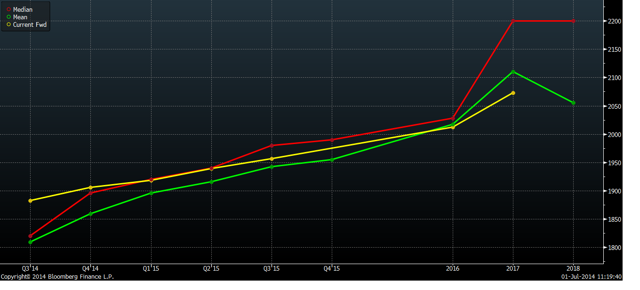 Focusing on demand forecasts, US Auto sales continue to be strong and are projected to grow well into 2015 (Exhibit 6). Additionally, Ford's (NYSE:F) all aluminum body F-150 will began production in September potentially significantly increasing demand, especially if other manufacturers such as, General Motors (NYSE:GM) and Toyota (NYSE:TM) follow suit.
Exhibit 6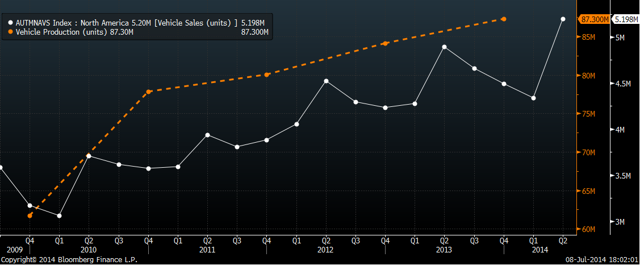 Moreover, Chinese New Vehicle Production continues to climb (Exhibit 7).
Exhibit 7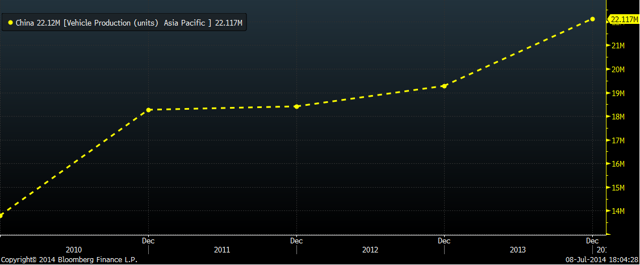 However, existing US Auto inventories are at levels not seen since 2007. (Exhibit 8). This may indicate a slowdown in production if forecasted sales are subject to future adjustments lower.
Exhibit 8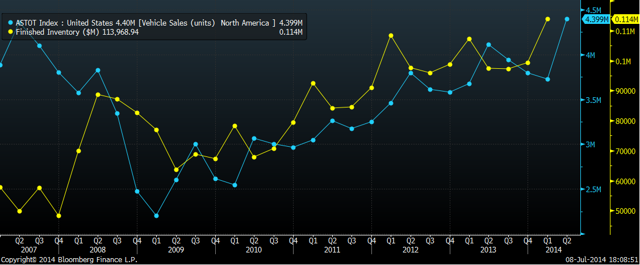 Furthermore, global aluminum demand may fall if China's Fixed Asset Investment falls from existing record highs.
Considering global economic activity, GDP in developed nations seem to have stabilized for the most part and forecasts are generally leaning towards increased growth (Exhibit 9).
Exhibit 9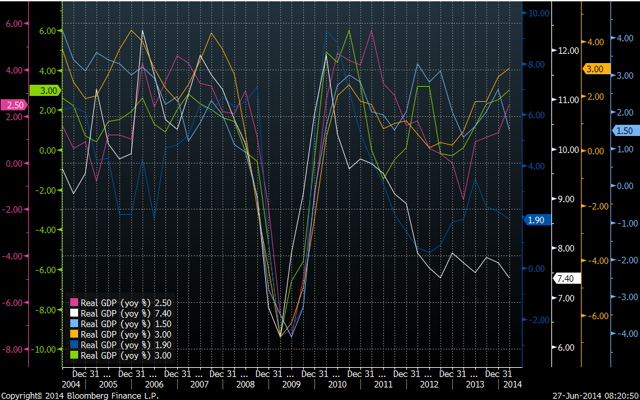 While the future for aluminum prices is a bit blurry, considering current historically low prices, potential demand increases and seemingly sustainable global economic growth; positioning a company in advance of rising prices by the use of futures, forward market securities and supplier contracts may be an appropriate consideration for the foreseeable future.
Disclosure: The author has no positions in any stocks mentioned, but may initiate a long position in F, GM, TM over the next 72 hours. The author wrote this article themselves, and it expresses their own opinions. The author is not receiving compensation for it (other than from Seeking Alpha). The author has no business relationship with any company whose stock is mentioned in this article.