By Jeff Bailey
Whole Foods Market's (NASDAQ:WFM) stock is off about 40% from its peak last October and its sales growth has slowed, making room in investors' hearts, just maybe, for another grocery chain stock, namely Kroger (NYSE:KR).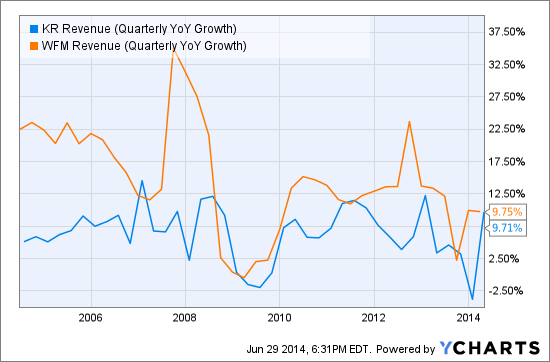 KR Revenue (Quarterly YoY Growth) data by YCharts
A smallish acquisition pushed up overall revenue growth, but Kroger, in its unusually helpful communications with investors, encourages a focus on same-store sales and that metric is seen rising by 3% to 4% in the fiscal year ending next February 1 or so. That isn't so much, but it's enough to achieve the company's long-term goal of 8% to 11% growth in diluted EPS, plus a growing dividend. Buybacks goose the EPS.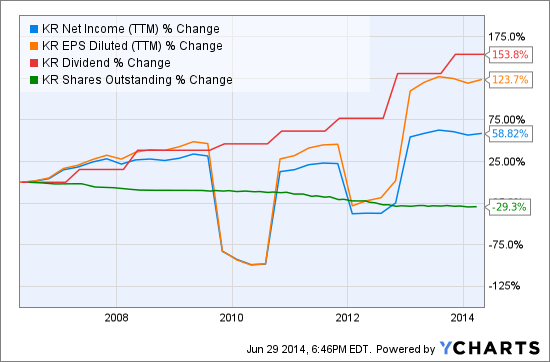 KR Net Income (TTM) data by YCharts
The Whole Foods growth story isn't over, but the easy work is done there. Kroger and other traditional grocery chain operators have raised their games, adding higher-end perishable items and organic produce and amping up the service. It's not unlike the difficult adjustments Kroger and its ilk had to make against Wal-Mart (NYSE:WMT), when the mega-retailer invaded the grocery business. Costs were cut, discounting of crucial comparable items became a habitual practice and supply chain efficiency was tightened.
We're accustomed to thinking the business stuck in the middle – between discounters on the bottom and pricey, higher-margin specialty operators on the top – are toast. But the middle ground has its strengths, one of them being great locations as a result of being around forever (since 1883 in Kroger's case). And Kroger in particular has shown an ability to adapt and succeed.
Before we turn to actual operations, a word about valuation. Kroger, based on forward P/E ratio, is a lot cheaper than Whole Foods and significantly cheaper than Wal-Mart, which is growth-challenged these days.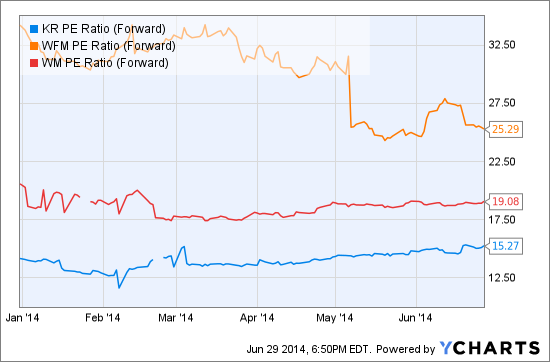 KR PE Ratio (Forward) data by YCharts
Kroger discusses market share in its 10-K, noting that boosting share lets it spread fixed costs over a larger business and thus operate more profitably. Overall market share was up 50 basis points last year at Kroger. And in the 13 market areas in which Wal-Mart supercenters are one of Kroger's top two competitors, Kroger gained share in 12 and lost slightly in one.
Kroger manufactures about 40% of its private label products, a high degree of vertical integration that involved 38 plants around the country. We're also accustomed to prefer simplicity as investors, valuing the company that narrows its focus and avoids complexity. But Kroger says the in-house manufacturing is a result of "make or buy" analysis in each case and the executive in charge of manufacturing, Erin Sharp, came from the former Sara Lee where she led some manufacturing and logistics operations.
Management is a mix of long timers, like CEO W. Rodney McMullen, who started at Kroger in 1978 as a part-time stock clerk (three other top executives started as clerks at the company), and talent from outside, including from companies such as Procter & Gamble (NYSE:PG), General Motors (NYSE:GM) and FedEx (NYSE:FDX).
The up-from-within approach mirrors that of United Parcel Service (NYSE:UPS), which also regularly gains in productivity in a business that's labor intensive and highly competitive. Like UPS, Kroger is largely a unionized shop, with some 300 collective bargaining agreements covering most of its 375,000 employees.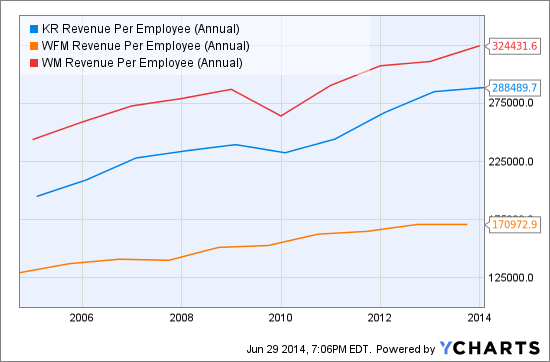 KR Revenue Per Employee (Annual) data by YCharts
Another thing many investors recoil from is that unionized workforce, but UPS and some others have shown that it works just fine when paired with smart management. Kroger's $3.5 billion or so of in-house pension obligations is more than 90% funded, and it also makes contributions to some multi-employer funds that some workers are covered by.
So, a lot of moving parts at Kroger and a company managing well against competitors above and below. Right now, there have been 42 quarters in a row of same store sales gains, through a nasty recession. That's more than good luck.
Disclosure: None