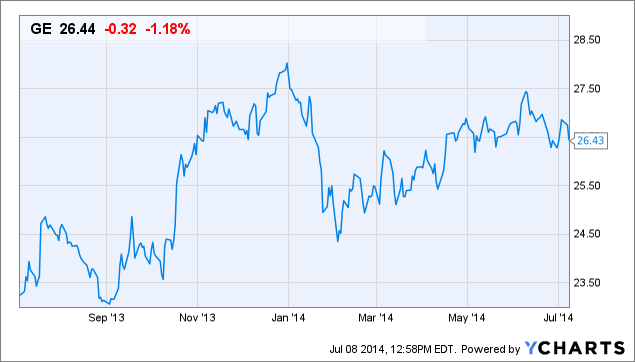 Background: General Electric (NYSE:GE) is one of the largest and most diversified industrial corporations in the world. The company's shares are liquid and trade an average of 26 million shares per day, and the company has a market cap of $265 billion.
52-Week Range: $22.92 to $28.09
Forward Price-To-Earnings Ratio: 14.5
Price-To-Book: 2
Investors are looking forward to improving second-quarter earnings before the market opens on July 18, 2014. The consensus opinion is presently 39 cents a share, a progression of 3 cents (8.3%) from 36 cents during the corresponding period last year.
Estimates from analysts range from a low of 38 cents per share up to the highest estimate of 40 cents per share. If General Electric meets or exceeds in the upcoming report, the earnings will also surpass the last quarter's. Last quarter sequentially, the company produced earnings of 33 cents.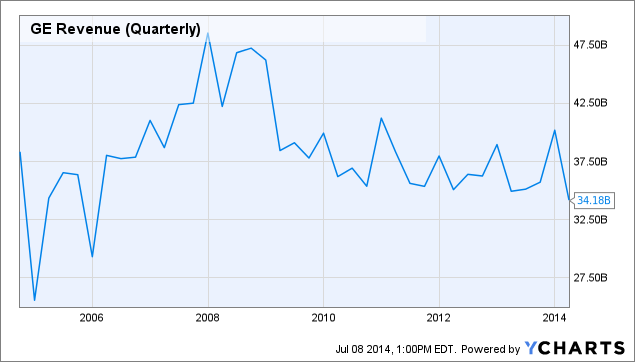 General Electric has met or beat analyst estimates in 13 out of the last 13 quarters. Whisper numbers I'm seeing expect a modest beat of two cents this quarter as well.
Analysts have not reached a consensus. All else being equal, it's generally a bearish indication when the majority of analysts don't get behind the stock. Analysts love to push stocks, and no accord is almost the same as a sell rating. Seven out of 14 rate this a hold. Seven recommend buying, and no analysts recommend selling. The stock appreciated 17% in the last year, and the average analyst target price for General Electric is $28.90.
The most recent analyst changes include Goldman Sachs (NYSE:GS) downgrading GE from a Conviction-Buy to Neutral on June 23rd, 2014. Before that, Zacks reiterated its Neutral rating and price target of $28, and that was back in April.
I like GE, and have for a long time. This stock currently has an annualized dividend of 88 cents, yielding an impressive 3.3%. For dividend seekers wanting reasonable safety, it doesn't get much better. The biggest thing I don't like about the company is I exited my position too early in 2009, out of fear it may become the next Lehman Brothers.
If we review the options market, and specifically the contracts that expire first after the earnings release, we can gain a better understanding of what other market participants are anticipating.
Traders and investors are expecting a 96 cent change higher or lower, or about a 4% change during the next 11 days.
In other words, shareholders or potential investors should reasonably expect the stock to trade as low as $25.79, and/or as high as $27.71, and still remain within one standard deviation. If you're not already fully prepared for at least that much volatility (and there's no guarantee it won't move beyond the expected range), you want to make the necessary adjustments before the last minute.
After last quarter's results, the shares increased only slightly 1.7%, or 44 cents, from the close before the earnings release to the closing after. The closing price before the release was $26.12, and $26.56 after.
From the closing price before last quarter's results, until now, the shares increased only slightly 2.4%, or 63 cents from the close before earnings release to the closing after. The closing price before the release was $26.12, and is currently $26.56 as of writing.
Shares moved slightly lower in the last month of trading. Shares are about breakeven at 1.9% less than a month ago. That implies a lackluster report one way or another, but highly subject to change in the days leading up to the report.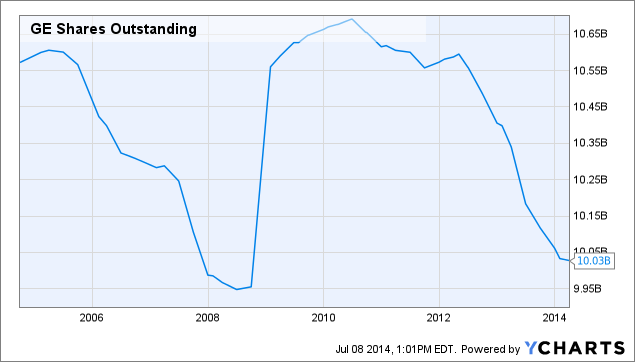 General Electric's move to buy back shares makes the dividend less costly and concentrates earnings into fewer shareholders.
Based on last quarter's results and the current implied volatility of options, it appears that all else being equal, selling premium is superior to buying. Shareholders wanting downside protection may be just as well off selling covered calls instead of buying puts.
Regardless of the change in price, the time premium between now and after the earnings release can be captured. If the shares jump higher, what you lose in stock appreciation is likely more than made up through the expected fall in implied volatility after the report.
If you want to enter before earnings, either for a trade or long-term investment, look to selling a comparable number of put options. It's an excellent way to gain exposure without as much risk.
Disclosure: The author has no positions in any stocks mentioned, and no plans to initiate any positions within the next 72 hours. The author wrote this article themselves, and it expresses their own opinions. The author is not receiving compensation for it (other than from Seeking Alpha). The author has no business relationship with any company whose stock is mentioned in this article.