I reiterate my bullish stance on AT&T (NYSE:T). The company's well thought out wireless segment growth strategies, Leap acquisition coupled with Next and More Value Share plans, have strengthened its competitive position by stabilizing its churn and modestly growing its subscriber base. Moreover, the company is well on track to further grow its wireless segment through its aggressive investments in LTE expansion plans. Also, the proposed merger with DirecTV (NYSE:DTV) will portend well for the company to grow its revenues and expand margins in the medium-to-long term. In addition, the company's compelling dividend yield of 5.2% is well covered by its strong cash flow base.
Wireless Segment - A Success Story
T's wireless segment's success story is well headed to continue in the exceedingly competitive U.S. wireless segment. The company ended 1Q14 by posting an impressive growth of 7% year-over-year in its wireless segment. The company's intelligent strategic initiatives have been fueling the wireless segment's revenue growth. The combination of T's NEXT and More Value Share plans, a recipe of transparency and simplicity, has done well to strengthen the wireless segment's subscriber base and revenues. In 1Q14, in its attempt to improve its subscriber base, T announced attractive pricing for 10GB or larger data plans for new customers; a similar value pricing was also rolled out for 1 and 2GB plans.
Also, subscribers moved to its traditional subsidy model as T offered them striking Mobile Share Value (MSV) pricing plans prior to upgradation. The combined effect of these pricing initiatives has been supporting the company's postpaid subscriber additions. Moreover, T's MSV pricing plans brought more upgrades and smartphone gross additions to T's effective handset financing program "NEXT", which allows customers to trade in their smartphones for new models or buy the new phones and pay for them later in installments. The company's initiatives have helped it stabilize its wireless churn rate around 1.4%.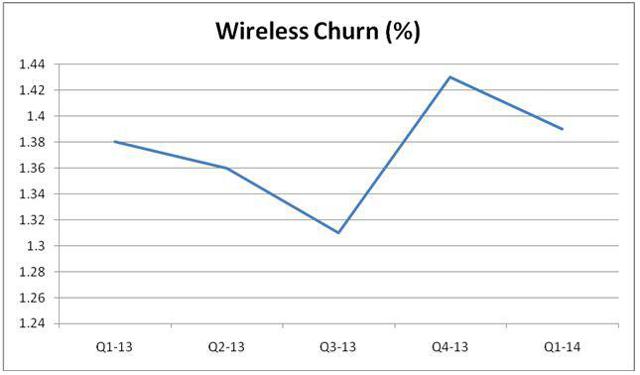 Source: Company's Quarterly Earnings Report
Going forward, as the company remains committed to introducing more pricing initiatives on customer choice plans by combining its NEXT plan with MSV, T will keep on growing its subscriber base. In addition, the iPhone 6 launch, which is highly expected in September, will also portend well for the company's subscriber base by bringing more upgrades through the NEXT plan.
Moreover, the company recently completed the acquisition of Leap wireless, but the integration process is still expected to take 18 months. T has managed well to tie Verizon (NYSE:VZ)'s market share at 34% through the acquisition of Leap. Going forward, the integration of Leap will not only portend well for the company's wireless segment's performance by providing its un-utilized spectrum, but will also grow the company's subscriber base by adding Leap's 4.57 million customers to T's subscriber base. Leap integration costs may remain a pressure on the company's cash flow base and margins in near term, but in the long run, this acquisition will create value for T.
Project VIP
The company's project VIP was initiated to boost both wireless and wireline segments through investments in LTE deployment, U-verse expansion and fiber build to business. T's VIP was expected to cover 300 million people through the 4G-LTE rollout by the end of 2014. The company rolled out its 4G-LTE coverage to 290 million people by the end of 1Q14.
The U.S. LTE market offers strong growth potentials and almost all carriers are aggressively investing to expand their LTE services and improve their market presence. T's LTE network is exposed to tough competition from its competitor, VZ, which recently expanded its 4G-LTE coverage to 305 million people in more than 500 markets. T has sensed the competition heat, and the company is making aggressive efforts for 4G-LTE expansion. In its attempt to deal with competitive pressure and grow its 4G-LTE services, the company recently announced its keen interest to enter several new markets across the U.S. I believe T's continuous investments to expand 4G-LTE in new areas will keep it moving forward in line with VZ in the LTE network expansion race.
T + DTV = large upside potential exists
Growth through mergers and acquisitions is a new trend in the Telecom Industry. T has also followed the norm by recently proposing a deal to acquire DTV. The deal will act as a tailwind for the company's growth, as it will result in synergies of approximately $1.6 billion over the course of three years. The combined company is expected to lead the U.S. content distribution industry in mobile, video and broadband platforms. DTV has approximately 20 million customers and the addition of DTV's customers to T's subscriber base will grow the company's overall subscriber base and will improve the bargaining power of the combined entity among the media conglomerates. With this increase in bargaining power, the company will be able to lower the U-verse content cost burden by approximately 20%.
Moreover, the deal will also grow the company's broadband reach to new locations; approximately 15 million new customer locations are expected to be covered by T within 4 years of the deal being completed. I believe the expansion to new locations will increase the company's market presence, keeping T on the growth track. Moreover, T's future revenues will also benefit from the expansion of the subscriber base.
Free Cash Flow Base = Securing the Dividend position
The company offers a high dividend yield of 5.2% and has been generating strong cash flows, which supports its dividends; the company has a free cash flow yield of 8%, which is covering its high dividend yield. Moreover, the company's dividend payout ratio of 53.1% indicates dividend sustainability.
In the near term, the company's cash flow base may get pressurized by the integration cost of Leap and acquisition cost of DTV. But going forward, once the integration is completed and its long-term growth-generating initiatives will start delivering results, the company's cash flow base will further improve, which will ensure the long-term sustainability of T's dividends.
Conclusion
T is driving its top line by steadily adding subscribers. The company's impressive pricing initiatives and device financing plan will remain key drivers for its wireless segment top-line growth. Moreover, the company's investments in 4G-LTE network expansion and the DTV acquisition will pressurize cash flows in the near term, but the long-term benefits from these growth initiatives make T's future outlook quite promising. In addition, the cash generation from these long-term growth initiatives will strengthen in the long term, which will support the sustainability of T's dividends. I believe T's growth potential makes it an attractive stock for long-term growth and dividend investors.
Disclosure: The author has no positions in any stocks mentioned, and no plans to initiate any positions within the next 72 hours. The author wrote this article themselves, and it expresses their own opinions. The author is not receiving compensation for it (other than from Seeking Alpha). The author has no business relationship with any company whose stock is mentioned in this article.